TF2K22: Duff Wins 100H
Mid-American Conference Championships Recap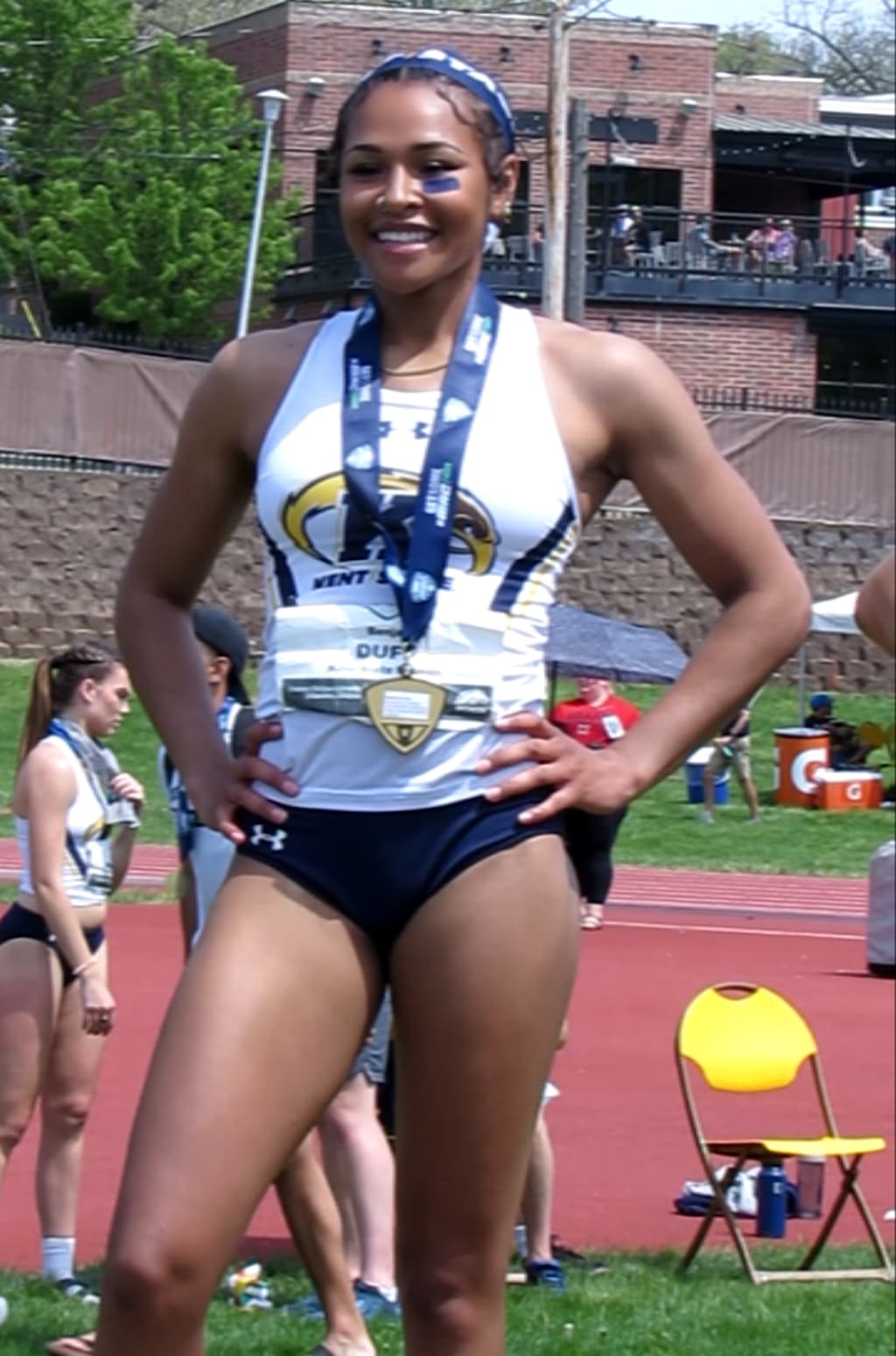 Benja Duff
The Mid-American Conference Championships were held May 12-14 at Western Michigan University in Kalamazoo, Michigan. Here is a look at some of the highlights from the weekend.
Duff takes MAC 100-hurdles crown
Kent State's Benja Duff entered the Mid-American Conference championship meet with the fastest time in the 100-meter hurdles for the season. She ran a time of 13.51 during a prelim heat at the Indiana Invitational. Despite being number one she had to take on a field of accomplished hurdlers.
In the final round of the 100-meter hurdles on May 14, Duff battled Eastern Michigan's Alysse Wade, the 2021 outdoor and 2020 indoor champ. Tw0-time indoor silver medalist Scout Regular of Northern Illinois also stood at the starting line as well as reigning indoor champ Mi'Angel Daniels, also of Kent State.
Duff dominated her competition with a personal best finish of 13.46, ahead of Regular's time of 13.64 and Wade's third place effort of 13.68. Daniels was fifth clocking in at 13.76. On her Instagram post celebrating her win, Duff said, "I wrote it into existence. I spoke it into existence. I worked it into existence. I manifested all of this."
Duff had by far the best season of her career. Her best outdoor conference meet finish came last season when she placed fifth at 14.25 in the 100-meter hurdles final. Prior that she was 12th in the prelim round in 2019 and 18th in the prelim round of 2018.
Her time of 13.46 in 40th in the East Region and has given her a first time opportunity to compete in the regional preliminary round hosted by Indiana University.
Akron's Pokuaah takes two golds in jumps
Jacqueline Pokuaah dominated the 2021 MAC indoor meet with wins in the long jump, triple jump and 60-meter hurdles. Since then the Akron star has battled injuries and hasn't won gold until May 13 and 14. Pokuaah won the gold in the triple jump and long jump and also took home a silver medal in the 400-meter relay.
Pokuaah won the long jump on May 13, beating out Northern Illinois' Jazmyn Smith as both landed at a mark of 6.15. Pokuaah to the gold by having the higher second best jump with a mark of 6.04, compared to Smith's 6.02. Smith's teammate Kenyae Majors was third at 5.95.
The following day in the triple jump Pokuaah's mark of 12.97, finished ahead of her teammate Fegor Clifford who placed second at 12.90. Clifford had a strong meet by winning the 400-meter hurdles and taking a silver medal in the 400-meter relay along with Pokuaah. Another Northern Illinois jumper Katrina Small took the bronze in the triple jump at 12.72.
Griffith sweeps MAC high jump titles
Ball State's Charity Griffith won the high jump and pentathlon during the indoor season. At the outdoor championship meet, May 14, she skipped the multi-event but went on to claim her the high jump gold with a mark of 1.76 meters. Buffalo's Zaria Fuller was second as she also cleared 1.76. Griffith edged Fuller out by being perfect from her opening height of 1.60 through the mark of 1.76. Fuller took three attempts to clear 1.70 before clearing 1.73 and 1.76 on her first attempts.
Eastern Michigan's Quintella Johnson was third at 1.70 meters. A senior, Johnson is a decorated performer as she was the outdoor Mid-American Conference champ in 2021 and the indoor champ in 2020 and 2021. Prior to transferring to Eastern Michigan she won both the indoor and outdoor 2019 high jump titles in the SWAC while competing for Texas Southern.
More Highlights
Kayla Jones of Ball State won the 800 meters at 2:07.61. She was the only competitor to run under 2:08 in the final round. Eastern Michigan's Mair Edwards earned two gold medals and a silver at the MAC meet. She won the 400 meters at 54.24 and was a member of the first place 400-meter relay squad (45.70). She also took second in the 200 meters at 23.87.