Should LeBron James Remain Loyal to Cleveland?
Even though King James isn't a free agent until 2018, his decision on where to play is already looking like it will be extremely difficult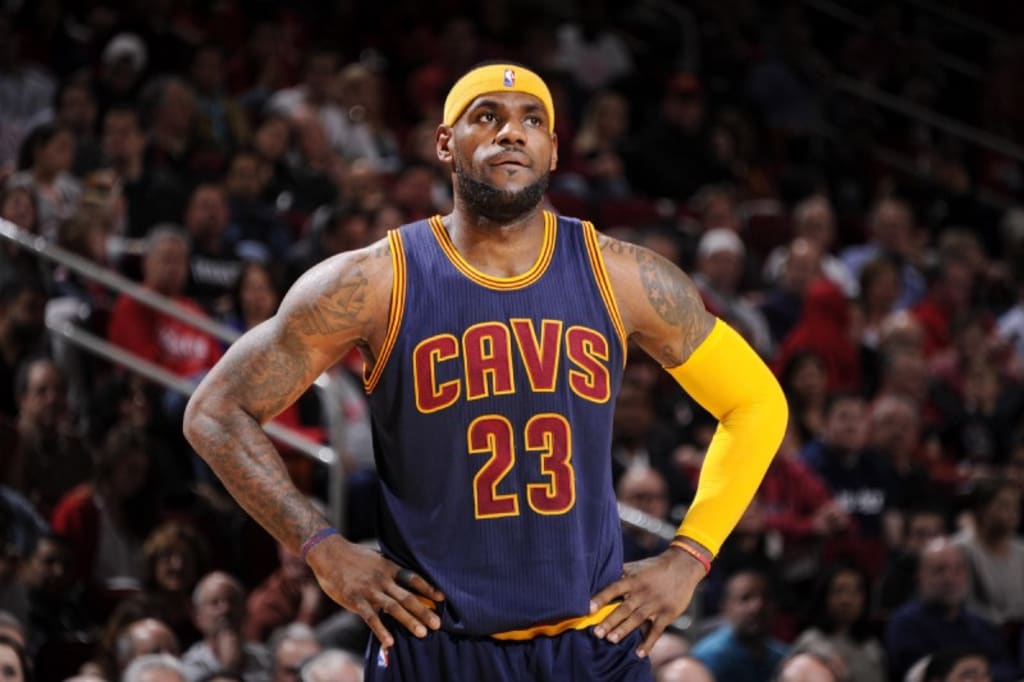 We're still more than a year away, with 82 regular season games to get through and one champion to crown, and we're already wondering where LeBron James is going to end up when he becomes a free agent next summer. That's what happens when you're the greatest player of a generation and a proven flight risk.
It already looks like we could be heading towards "The Decision Part III: This Time It's Personal" based on the way the drama is already swirling around James, and yet another choice to make about his playing future. While there are fans on both sides ready to sharpen their pitchforks and blaze up the ol' torches, this doesn't seem as cut and dry no matter which side he chooses. For the first time, LeBron might be facing a lose-lose situation.
Take Cleveland, for example. If you're reading their article with your big yellow pad featuring a Pros and Cons list on it, the pros are as obvious as can be: stay with the other two superstars already on your roster and finish your career at home. The only problem is, the Cavs look like they're doing every single thing possible to ruin the chance of keeping the King's crown in Cleveland.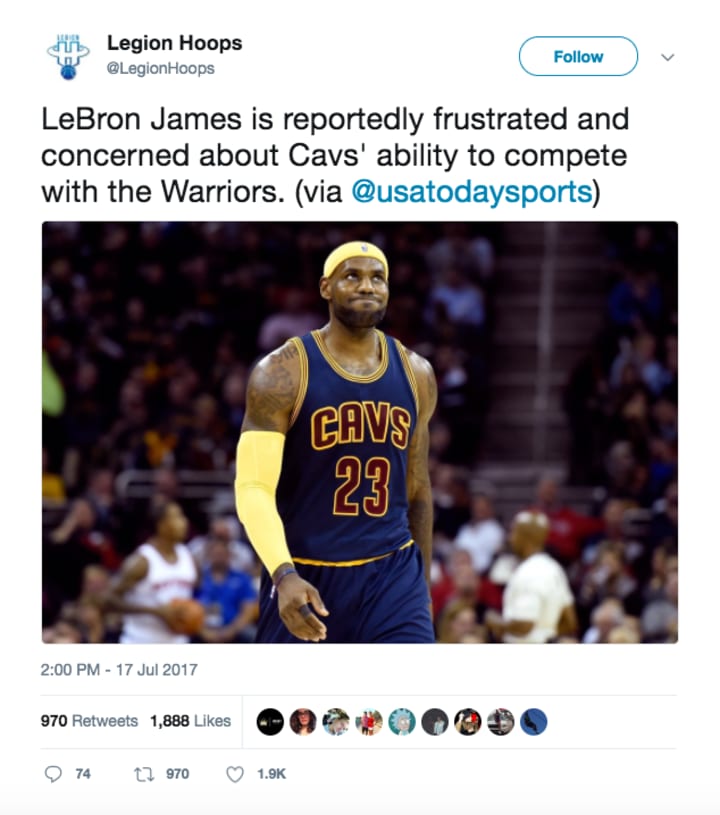 Look past the numerous Instagram stories and glimpses at LeBron's singing voice that he's put up while on vacation, and look at the last five weeks the man has had.
Cleveland falls to Golden State in a quick five-game series that doesn't even come close to living up to the hype surrounding the rubber match between the two teams. This proves LeBron was right when he openly complained the Cavs didn't have enough talent towards the middle of the season, as Golden State ran them out of the gym. The Cavs not only failed to bring home Paul George or Jimmy Butler, both of whom were acquired by Western Conference teams for scraps, but they lost two key front office members in the process.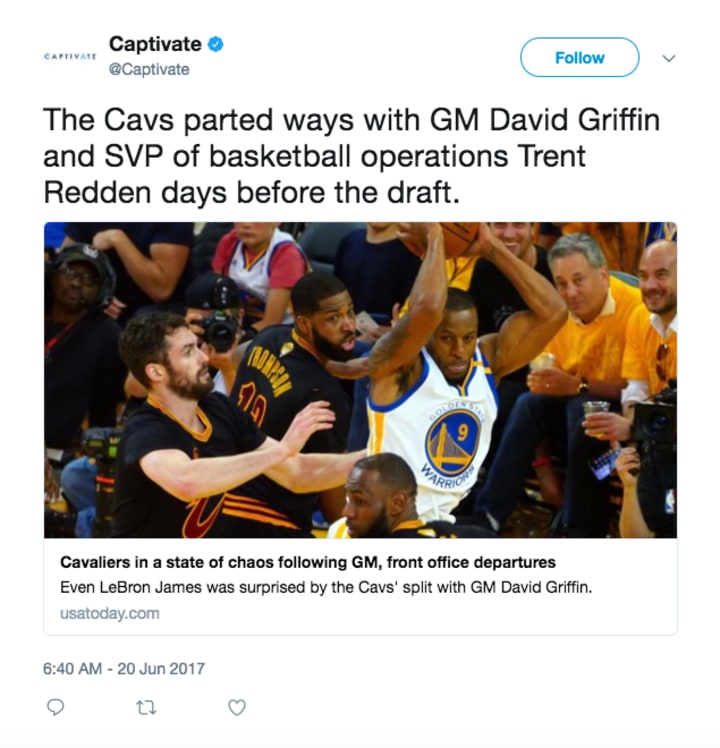 That's totally what you want as a player. Nothing screams "we got this" like letting two of your highest ranking front office staff members walk days before the draft and NBA free agency. Doesn't everybody like ships without captains? Who doesn't like flying without an experienced pilot? Anytime you can bring your franchise into the busiest time of the offseason without the people in place to make the right decisions, you have to pull the trigger, right?
For those keeping track at home, this is the situation LeBron James is now looking at. Instead of getting the pieces to truly take on the juggernaut that is Golden State, the team parted ways with front office members who he was fond of.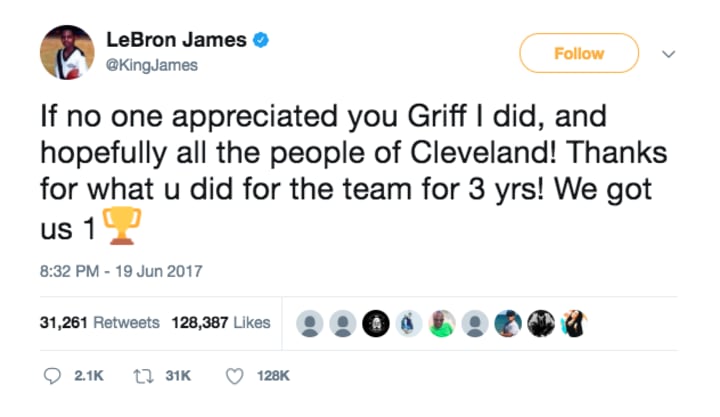 It is now mid-July, and the team still does not have a general manager. Still, do not worry. That did not stop the Cavs from bringing in big time players like Jeff Green and Jose Calderon — clearly the missing pieces of this jigsaw puzzle.
Meanwhile in Golden State, the Warriors have Durant and Curry under contract, kept Andre Iguodala, and added even more bench depth in Omri Casspi, Nick Young, and second round draft pick Jordan Bell. This team got better, while the Cavs are still floundering about and trying to find someone to fill the vacant GM spot.
For those still following, it's clear why staying in Cleveland is a "lose" situation. This team did not get better, the front office is making the Knicks look good, and the franchise clearly did not listen to the requests of their superstar player. It sounds absurd that failing to handle a team how a player wants it to be handled is a legitimate qualm, but can you truly blame LeBron at this point? The scary thing is, this still may be the best hand the King can be dealt.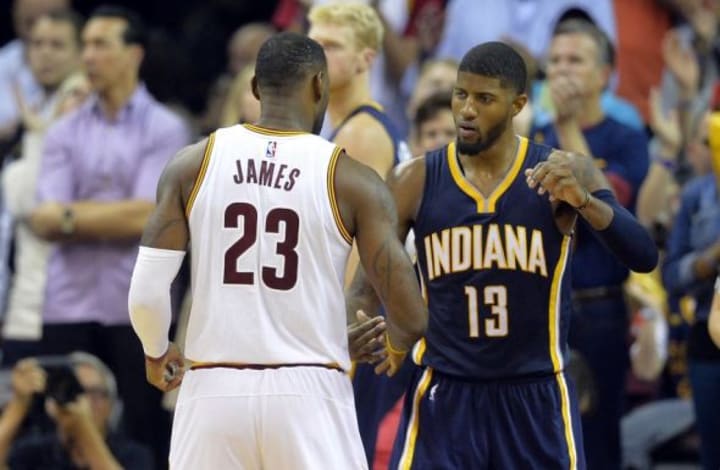 If LeBron decides he has had it with the cold winds coming off of Lake Erie and wants to take his talents westward bound, most signs point to the bright lights of LA. It's already assumed he won't be part of Lob City, but many believe he could end up donning the famous purple and gold.
While it's fun to speculate because he showed up at a Lakers' summer league game, it still doesn't look like the right decision. If he does join the Lakers, he'll be leaving Kyrie Irving and Kevin Love for Brandon Ingram and Lonzo Ball. If you think teaming up with a sharpshooting skeleton and LaVar Ball's son is an upgrade, you've already been polishing off glass after glass of the Laker kool aid for far too long.
Of course, there is the chance LA could bring in someone else to team up with LeBron.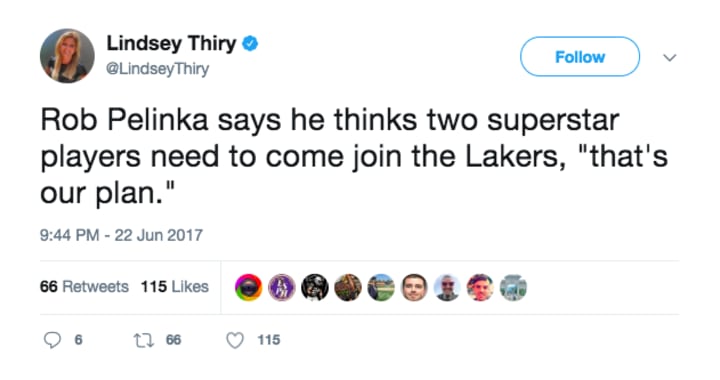 With the contracts of Brook Lopez, Corey Brewer, and Kentavious Caldwell-Pope coming off the books next season to free up a cap space, the Lakers could theoretically use the stretch provision on Luol Deng's contract. They'd then have roughly $57 million to work with without making a decision on Julius Randle or Jordan Clarkson. After some more moving around, they'd have just enough to bring in two superstars.
Still, this isn't your 2k franchise. Bringing in a second star to lure LeBron isn't easy. Russell Westbrook likely isn't going anywhere, and Paul George has already openly taken a step back from his Lakers love. The newest Thunder superstar said he would need other stars to head to LA and see a real team form before he rekindled his interest. LeBron could head to the Lakers first, but why would the best player in the world want to head to a destination before learning himself that there are other capable players on the roster?
Even if the Lakers land other stars who are set to become free agents in 2018 like DeAndre Jordan or DeMarcus Cousins, is that really enough to leave your sidekicks in Cleveland behind? If you're LeBron, you'll just have an earlier matchup with Golden State before they eliminate you and head to the finals, giving you a jump on fixing your golf swing again.
At this point, LeBron James doesn't owe anything to Cleveland. He returned from South Beach and brought his hometown a title. Now, the front office is in shambles. If Dan Gilbert wants to break out his pen and parchment to write another strongly worded letter when he leaves, so be it.
But for LeBron, the grass might not be greener on the other side.
About the Creator
Staff Writer at The Unbalanced. Aspiring trophy husband. Can be found arguing hot takes and hating Spike Lee. Stay positive, test negative.
Reader insights
Be the first to share your insights about this piece.
Add your insights