Running a Half Marathon: my first time
What I learned/tips, how it felt during, and some thoughts & what's next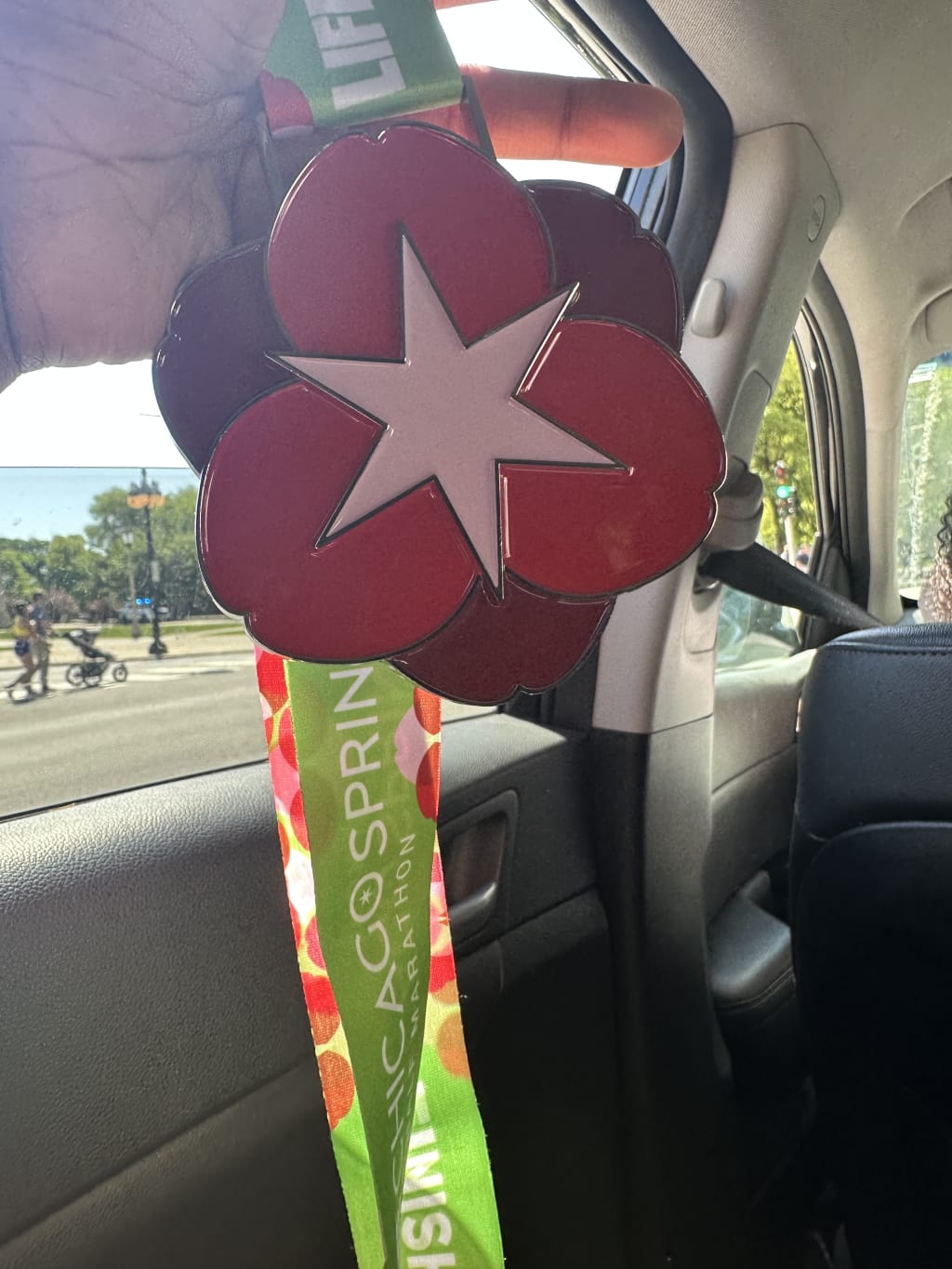 My medal! I haven't gotten one of these since I was a kid
I won't go into why I took up running, or give you the long background information that only recipes on grandma's cooking seem to need.
I will just say that running my first half marathon (Chicago Spring Half Marathon) was a pretty awesome experience and I learned a lot from it. I may not get to talk about it as much as a person who has ran a full one could talk about it (I'm not as cool as them yet, but one day I plan on being insufferable as well)(this is a joke. Laugh now), but I can write this article for fellow half noobs and hopefuls…or people who just care to read about running.
Tips/what I learned Before:
1. Make sure your shoes are decent and right for your feet
Now, I'm not telling you to go buy some expensive shoes. I actually wore some that weren't, and the only reason why I didn't go with the pair I was running in for longer…was because they were incredibly beat up (the soles were falling apart, I can feel the ground completely, and they're too loose). The ones I ran in, though decent shoes, were not ones I would've ran in had I had the funds & time to properly get my feet checked & get a pair meant for my feet.
I actually think I've been harming my feet for far too long. And making sure you get shoes that are good for running, and your type of feet is IMRPORTANT. But, I mean that for every day life too. We shouldn't be wearing shoes that smush our feet or cause them to feel numb (as I have been doing).
If you can: get your feet checked out, get shoes meant for your sport
And run in shoes that are broken in, but aren't falling apart
2. Check in with the doctor if you must
I know I've been having feet/ankle issues. Sometimes it goes up to my calves. Numbing feet, pain in the ankle…yeah, no good.
I advise making sure you're good to go beforehand.
I honestly did not due to timing, but as I ran and realized my calf felt very stiff and I was worried about my ankle, I wished I had checked to make sure I didn't have any issues. Or at least worn compression socks or something.
I learned that I needed to check in with my body more & that living with random pain shouldn't just be shrugged off and seen as normal for me. I should at least know why it's there.
3. Work up to the amount of running
I didn't start off being able to run 13+ miles. Heck, that was my first time (that I know of)(and definitely in the last year) that I ran for that long. Actually, I was scared I wouldn't be able to make it due to just barely reaching 10 a few days prior (I had hit 10 only about thrice before the run).
See what's a comfortable pace, and length and start from there.
I would up it one mile a week. I started off being able to get to a comfortable 5-6 before hitting a wall.
4.You should make sure your gear is very comfortable & practical
Do test runs in the fit you're planning to wear that day.
I'm glad I did this the day of my run, so I could make sure the new joggers I got had a pouch that actually fit my phone. I ran in it to make sure I never got uncomfortable in it
I noticed during the run, people had pouches and ways to hold their water bottles that didn't seem too horrible. I also saw pouches and bags I did not want due to them being in the way.
5. Try to snag an energy gel or something you can comfortably hold on you as you run
You may get tired. It'll also just ease your mind. But, don't worry because they have water + Gatorade stations for most, if not all, runs. You may not want to slow down enough to grab one out of their hand though.
6. Don't overhydrate or overeat before the run
Do a practice meal and a practice run. Sure, you won't know how your body will react till the day of, but it doesn't hurt to make check. Then, you'll have a good idea of how much or little you'll need before the race.
7. Get headphones!
Seriously. There were people playing some music here and there, and cheering…but since it's a mental game, you wanna be locked into your favorite tunes so that you can just focus on them and not how much longer you have to run.
During the race tips:
1. Stop, slow down, or walk if you need to. BE THERE FOR YOU
Yes, it's mainly a "mental" thing, but it's physical too. So, listen to your body when you just. If a cramp is persisting and or getting worse, then stopping to stretch would be better than doing damage or risking a fall.
Pace yourself. Don't run against others. You're there for you. REMEMBER HOW LONG YOU HAVE LEFT & CHECK IN EITH YOURSELF
There were people who paid to walk the entirety of the "race." And they were still badass to me! They walked for thaaaat long! That's awesome. I also saw people taking bathroom breaks and stretching one out. And then, they got right back to it. Awesome.
2. RUNNERS HIGH IS REAL
Remember when I said I could just barely do 10 miles? Well, those 13 dang near breezed by. The energy was soooo amazing. There were so many cheering squads and just good music playing. I felt awesome even though my calf was stiffer than a tree trunk and couldn't be helped. It just felt good.
3. Don't overhydrate as you run (but make sure you do hydrate)
I timed out my first hydration station/time. But, once I reached mile 10…I went a little off the plan. I downed too much and got a mild cramped that luckily subsided before I needed to panic. I had to slow down a bit though, but once it went away, I picked my speed back up and told myself "You can make it without more. You got lucky kid."
AFTER RUN:
1. I realized I should've been doing this.
Man, I love running and I love the community. It was such an awesome experience.
2. Don't overhydrate, but don't under hydrate & eat something!
Yeaaaah I completely annihilated a Gatorade (which is funny because I'm not the biggest Gatorade person and it was a yellow one…) and some water right after crossing that finish line.
My tummy was in shambles. It hurt so bad. But, as soon as it stopped for a millisecond, I had a snow cone.
Anyway, overhydrating can be fatal too. So, don't drink too much in too little time!
(I googled this after I had more to drink and felt off)
Have a banana or something after running
3. FEEL PROUD OF YOURSELF! You did it
What's Next/thoughts:
I have decided to run more interesting races & longer ones. I want to try my hand at different kinds of runs & courses. I think this might be more of a personality trait for me ya'll.
I will be getting shoes for my feet, and maybe I'll find a running buddy (I don't know how I feel about that yet).
Anywho, I'm super proud of myself and happy. I hope you give running a try. If it's not for you, I get it. Most runners would. I mean, sometimes we hate running too.
Thanks for reading! Peace!
Reader insights
Be the first to share your insights about this piece.
Add your insights