Reviewing Taya Valkyrie's AEW Debut
Taya Valkyrie surprised Jade Cargill with her AEW debut in her native Canada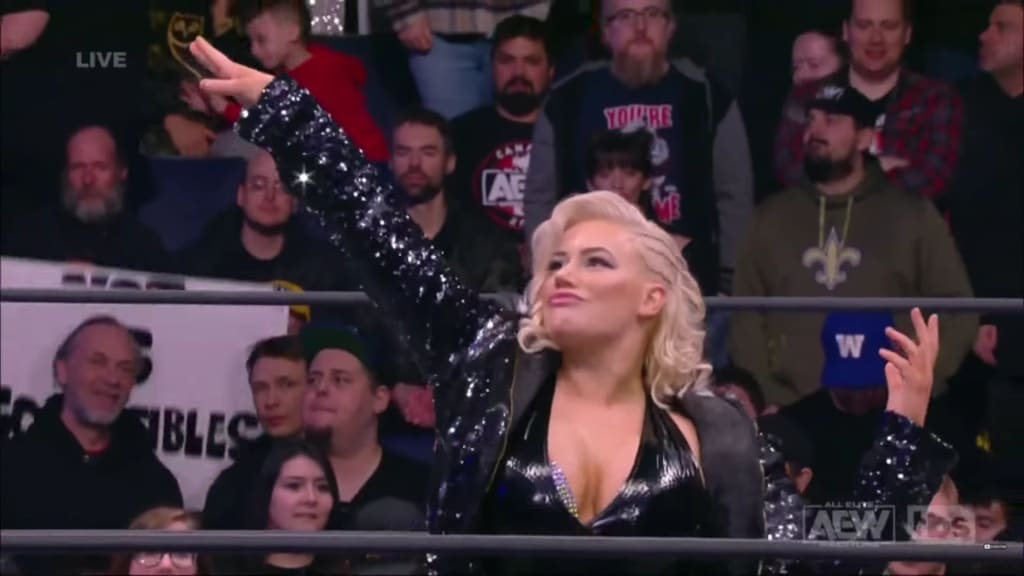 I started to notice something as I was still leagues above Cloud Nine over what I watched on AEW Dynamite: AEW's best moments seem to happen either on my birthday, or days before it. It was on my birthday (March 18) in 2020 that the late, great Brodie Lee made his AEW debut. On March 16, 2022--two days before my birthday, Thunder Rosa captured the AEW Women's World Championship in a thrilling main event against Britt Baker. The trend continued on the evening of March 15, 2023--three days before my 38th birthday, as one of my all-time favorites in women's wrestling made her All Elite debut.
A week prior, Jade Cargill laid out an open challenge to anyone from Canada, as this edition of Dynamite was hailing from Winnipeg. Sure enough, Jade received her challenge in the form of Nicole Matthews, one of my faves from SHIMMER (one half of the Canadian NINJAs with Portia Perez). Sure enough, Jade easily defeated Matthews, and afterwards, an interview with Renee Paquette (another Canadian) saw the TBS Champion degrade Canada for not having anyone good enough to step up to her.
That's when she came out: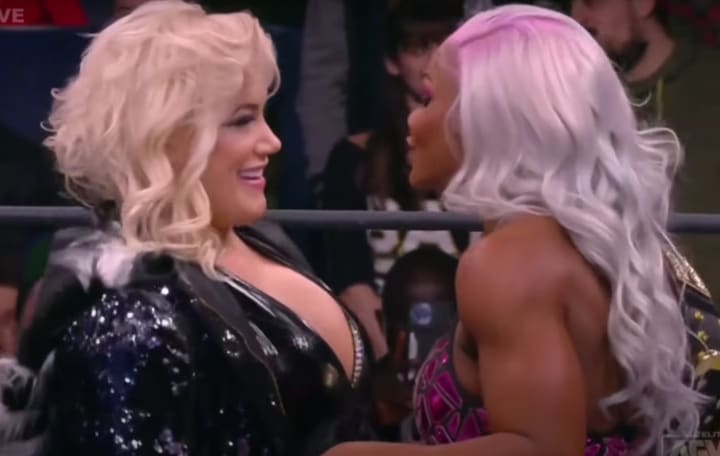 Lo and behold, out comes the legendary Taya Valkyrie, coming out to her recent (and awesome) theme and doing her spectacular dance before getting face to face with Jade. Leila Grey, now the lone remaining ally of Jade, stepped in between the two, and even tried to go after Taya. Yeah, that went about as well as expected. One Road to Valhalla later, and Taya was standing tall as only she can.
Taya's appearance on Dynamite was heavily rumored; a report was released days prior that Taya had wrapped up her second tenure with Impact Wrestling, which began in April 2022. She defeated Deonna Purrazzo for the AAA Reina de Reinas Championship, and she has spent several months as one-third of the Death Dollz group with Jessicka and Rosemary, with the group holding the Knockouts World Tag Team Championship on two occasions. Once the news broke that Taya was done in Impact, many believed that she would be the one who answered Jade's challenge, and while that was filled by a different Canadian, Taya did emerge after Jade's victory.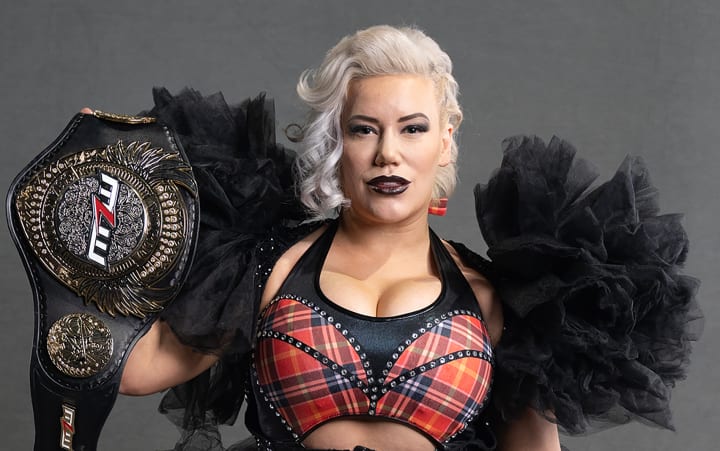 Taya is an absolute belt collector; not only is she in her fourth reign as Reina De Reina's Champion, she is also the first ever World Women's Featherweight Champion in Major League Wrestling, where she works her magic as a villainess (complete with a malicious cackle that is music to my ears). She is also tearing it up in NWA, as she is in a tournament to crown NWA's first-ever Women's World Television Champion. I beamed big time when Taya emerged, and I'm beaming more after reading that this isn't a one-off or short-term. According to Tony Khan, Taya is fully All Elite, she signed on the dotted line.
So it's clear that Taya will be AEW's second-ever TBS Champion. AEW needed a really big name to dethrone Jade and break that long winning streak, and Taya Valkyrie is one of the biggest names in wrestling, without question. Because of this, I have to believe that this will be a pay-per-view match, though AEW's annual Double or Nothing event is two months away. That's not a deterrent, though. This means we can see a long buildup that will see Taya go on a winning roll of her own in AEW before bringing up Jade and making that championship challenge. As for me, I will continue to enjoy watching Taya Valkyrie shine as only she can, as she goes on her way to win yet another championship.
If you like this story, click the heart and the subscribe button, and feel free to comment below! Tips and pledges would get greatly appreciated, but only if you want to do so!
Reader insights
Be the first to share your insights about this piece.
Add your insights