Reviewing Nikki A.S.H.'s Big Championship Win
The self-proclaimed "Almost a Superhero," cashes in Money in the Bank a day after winning the case, and walks out as champion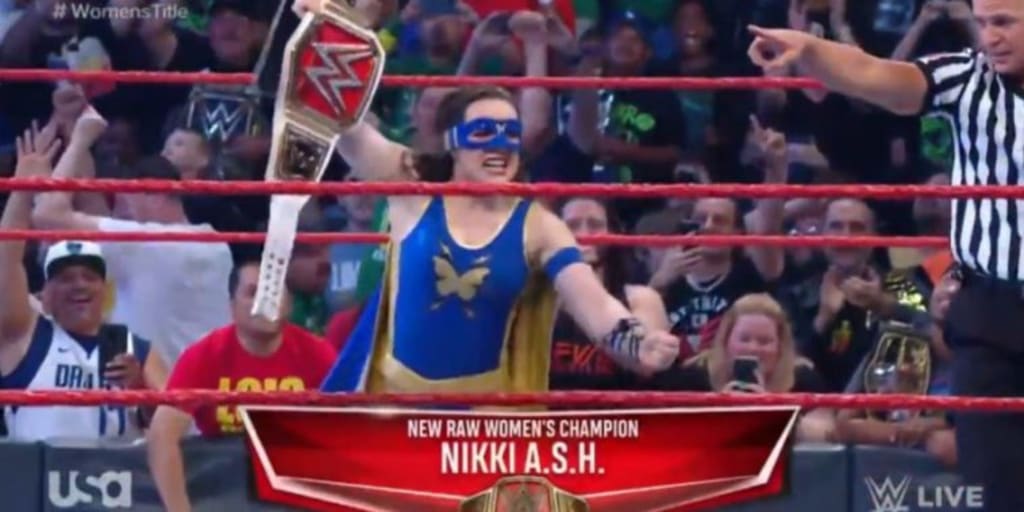 I watched Nikki A.S.H.'s big moment twice; once when it happened, and once again on YouTube. The second time, I cried. The reason: as I stated in a previous story, Nikki A.S.H. will always be Nikki Storm to me, and in her indy matches, she always gave these uproarious and boastful promos that would always get her over and get cheers (despite being a heel at the time). Part of Nikki's promos had her referring to herself as the "greatest in the galaxy." Those four words entered my mind when I relived her capturing the Raw Women's Championship.
It was an amazing two days for the woman now known as Nikki A.S.H., at the Money In The Bank PPV (the first with full capacity fans in over a year), Nikki captured the titular briefcase in the Women's ladder match. I myself was expecting her to either cash in that night on Raw, or at SummerSlam, and it would be the former that occurred. It all began with Charlotte Flair celebrating what was portrayed as her eleventh title win (it's actually her fourteenth counting NXT and her tag title run), before she was interrupted by the former champion, Rhea Ripley, who decided to challenge Charlotte's claim that she could be her any day of the week by challenging her that night on Raw--which was the first with fans in 16 months. Officials Adam Pearce and Sonya Deville came out and made this rematch official, and it ended up serving as the main event.
Now a lot of us, myself included, figured that it would be the night that The Man, Becky Lynch, who held that title for a year and never really lost it, would make her return. That did not happen. Instead, we saw a contentious bout that saw Charlotte get herself intentionally disqualified when she struck Rhea with the title. After a post-match brawl, Nikki's music hit, and the self-proclaimed "Almost a Superhero" handed in her briefcase, and you know the rest.
This was Nikki's third championship, counting her two times as tag champion with Alexa Bliss, but this win is clearly her biggest in her entire wrestling career. We are all drinking it in--I still am, but the questions remain. Where is this going? How long will she hold the title? Will she be a transitional champion? I'm honestly afraid to answer that third question, though the sentiment I've been getting for weeks is that they are high on Nikki, which leads me to believe that she should get a decent run of at least 3-4 months, which answers the 2nd and 3rd questions. As for the first question, I sense a triple threat at SummerSlam between Nikki, Rhea, and Charlotte. Rhea will have a legit claim due to the DQ win, and Charlotte will be in it despite the fact that she lost twice in just over a minute.
Hopefully, if that match happens, Nikki wins, but then there's The Man. What will happen once Becky Lynch returns? That's a question for another time. Again, this was an absolutely amazing moment for Nikki; not only does she capture the Raw Women's Championship, but she does it on an edition of Raw with fans in attendance, making her shining moment even more grand. Time will tell regarding the long aftermath of this big moment, but for now, this fan will continue to drink this in, and will look forward to the next Raw, where we should see Nikki speak about her win, and what both Rhea and Charlotte have to say about it.
If you like this story, feel free to click the heart below, and if you really love this story, feel free to leave a tip (if you want)!

Clyde E. Dawkins
Born on March 18, 1985. I am an avid fan of sports and wrestling, and I've been a fan of female villains since the age of eight. Also love movies--especially comedy and horror--and among my favorite TV shows are The Simpsons and Family Guy
See all posts by Clyde E. Dawkins →