Nwofor sparkles at Big Ten meet
Ohio State senior shakes things up to lead team to win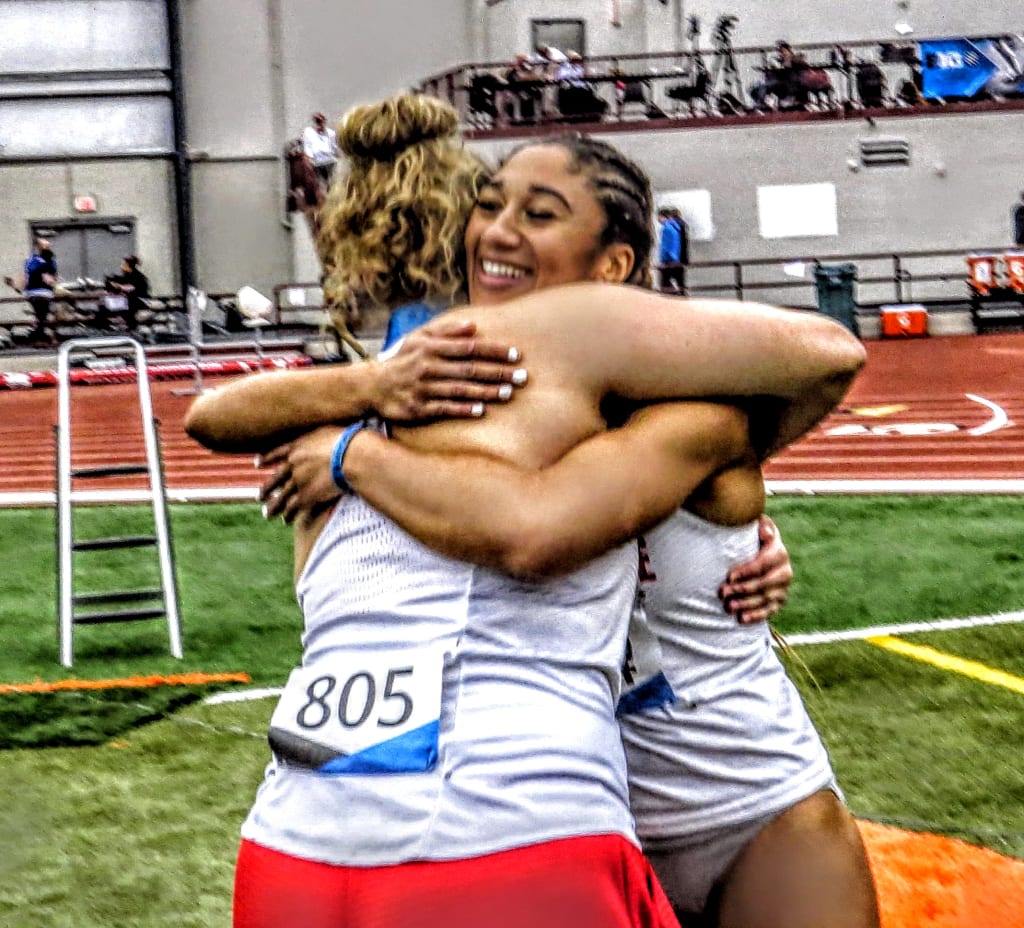 Emma Nwofor
Emma Nwofor became a star as her performance at the Big Ten Indoor Track and Field Championships led Ohio State to a narrow win over Minnesota.
"So yesterday I had the pentahlon, came third in that," Nwofor said. "Had the high jump today, came second. So the icing on the cake was definitely the 60-meter hurdles. And the time - the time was amazing."
On Saturday, Feb. 29, at Spire Institure at Geneva, Ohio, Nwofor, a senior, ran a career best time of 8.07 as she upset conference favorites Iowa's Jenny Kimbro (8.22), teammate Morgan Lewis (8.27) and Wisconsin's Destiny Huven (8.28).
Coming into the meet Nwofor's top time of the season was 8.39. During the prelims, she recorded the fourth best time of 8.33 as the freshman standout Huven shined with a school record time of 8.25. Lewis and Kimbro won their respective heats at 8.30 and 8.34.
During the final, Nwofor blew away all competitors and let out a roar as she crossed the finish line. Her time is currently the ninth best time in the NCAA.
Ohio State won its second straight team title with a total of 104 points. Minnesota finished a close second with 99 points. Nwofor scored a combined 24 points with her performances in the 60-meter hurdles, pentathlon and high jump.
During the high jump competition, Nwofor placed second to Purdue senior Janae Moffitt. Over her career Moffitt had won indoor championships in the event as a freshman and sophomore, but last year she hit a bump in the road as she placed second to Michigan State senior Ellen DiPietro.
At this year's meet Moffitt dominated the early portion of the high jump, as she was the only athlete to clear her first three jumps at 1.70, 1.73 and 1.76. Nwofor and Michigan's Katt Miner scratched and clawed to keep up with Moffitt. Miner placed third and bowed out when she wasn't able to clear the height of 1.79. Runner-up Nwofor had a clutch performance as she cleared 1.79 on her final attempt.
Moffitt won the crown at 1.82 on her second attempt at the height. Nwofor had some close moments at the height but wasn't able to keep things going after her third attempt.
The women's weight throw was competitive as seniors Tausaga Laulauga (Iowa) and Nayoka Clunis (Minnesota) had an entertaining battle of strength. Lauglauga won her first indoor conference weight throw championship despite having only two throws that were scored.
She kicked off the event with an aggressive no nonsense approach as she threw 21.83 on her first attempt. The more flashy Clunis, who shows her bright smile surpassed Laulauga on her second throw at 22.13. Clunis had the top throw of the opening round as Laulauga fouled on her final two throws of the stanza.
Laulauga kicked off the final round with her winning throw of 22.21 before passing on her final two attempts. Clunis wasn't able to better her opening round mark but she was the only performer to have three or more throws over 20 meters, with an actual total of five.
Laulauga and Clunis also competed in the shot put as they placed second and fifth respectively. The winner of that event was Adelaide Aquila, a sophomore at Ohio State. Her throw of 17.82 was a personal best. Adelaide's performance at the Big Ten meet now places her with the third best throw in the NCAA this season. One more note on Laulauga and Clunis. They currently rank ninth and 10th respectively among the best weight throws in the NCAA.
In our preview story we talked about how exciting the women's pentathlon would be, as that event was won by senior Madeline Holmberg of Penn State (4274). Minnesota senior Ayesha Champagnie powered her way to second place with 4,155 points, placing just ahead of Nwofor's 4,113. Outdoor heptathlon champ Asya Reynolds of Michigan State placed fourth with 4,105 points.
As a team Penn State finished third among the 13 squads competing. The Nittany Lions were led by a 400-meter dash win as senior Kiara Lester ran a personal best time of 53.37. It was Lester's first Big Ten indoor championship of her career.