NFL Week 1 Recap: A New York Minute
A huge part of the New York Jets' opener doesn't go as planned, but they end up with a big win nevertheless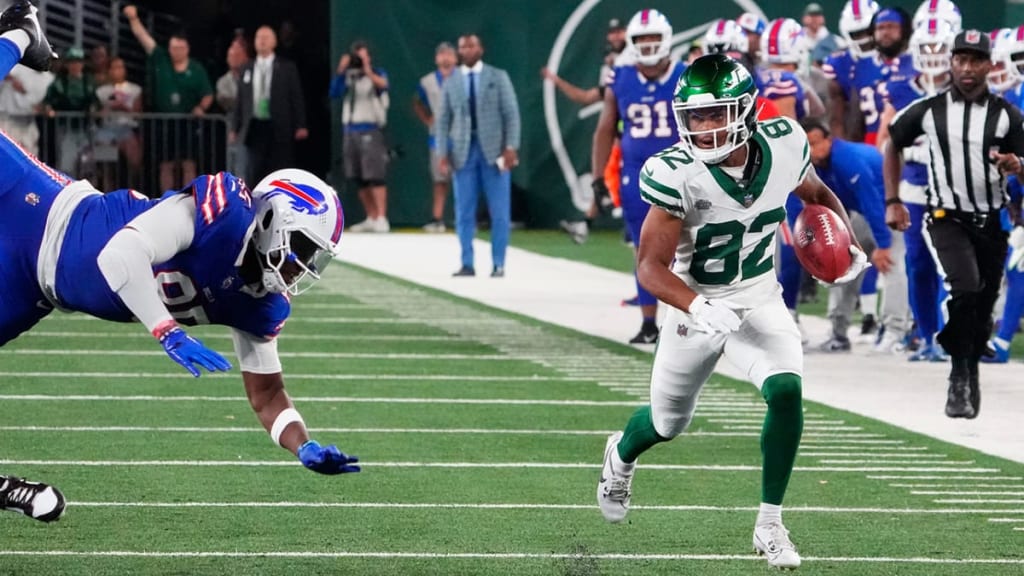 The NFL is back, and this fan was ever so eager for the season to start. My reasons were simple. One, I had a good feeling about Fantasy Football this year, and two, I'm a Yankees fan who wants to forget about this disaster of a season. With every new NFL season comes new storylines and new questions, and one of the biggest new storylines of the debuting 2023 NFL season had to be Aaron Rodgers making his New York Jets debut on Monday Night Football.
Before I continue, I want to point out that I almost didn't get to watch this game. This was because of this ongoing battle between Spectrum and Disney, which actually resulted in Disney-owned networks being pulled out of Spectrum. They did settle things on Monday morning, mainly because of MNF, so all was well. Anyway, Rodgers made his entrance, and I drank in every bit of Rodgers' time on the field as a New York Jet...until the time was suddenly cut short.
I knew something was up after that sack--when Rodgers was suddenly sitting down. It ended up turning into Zach Wilson entering the game, and then Rodgers was in the tent, and then on the cart. Done for the rest of the game after just four plays. The life was sucked out of MetLife Stadium, and the Jets were suddenly down, 13-3, against the Buffalo Bills. The Jets defense kept things alive for the whole game, namely Jordan Whitehead, who intercepted Josh Allen three times! After another field goal made it a one score game, the Jets got that score via an amazing catch from Garrett Wilson, which tied the game. Allen's fumble ended up recovered by the Jets, and it turned into a go-ahead field goal for New York. However, that left the Bills with just enough time to get into field goal range, with Tyler Bass doinking in a 50-yarder with two seconds left in regulation.
Overtime saw the Bills win the toss, but after going three and out, Buffalo punted. Xavier Gipson caught the punt at the NYJ 35, and ran the rest of the way. 65 yards! The Jets did it; against all odds, after losing Aaron Rodgers for the rest of the game (at the moment), they pulled off a big comeback and pretty much proved that their good 2022 wasn't a fluke.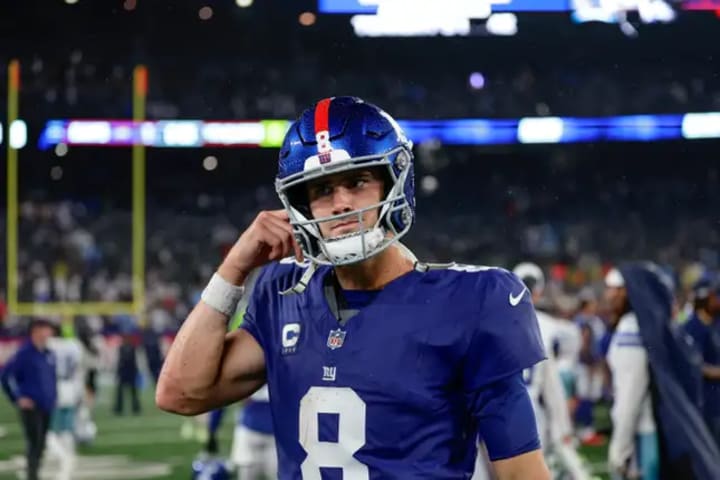 MetLife Stadium needed something good this week, because the stadium's NFC franchise certainly didn't deliver. It's a funny thing. The New York Giants' opening drive was a good one. They managed to get all the way to field goal range, and just when Graham Gano was set to kick the field goal, it was blocked, and returned all the way for a touchdown. That block opened the floodgates. Nothing went right for the Giants, and literally everything went right Dallas' defense. How much went right? Let's go to the numbers.
The scoring for team defenses/special teams on Fantasy Football goes like this: a shutout is 10 points, giving up 1-6 points is 7 points, 7-13 points is 4 points, 14-20 points is one point, 21-27 points is no points, 28-34 points is a one point deduction, and 35 or more points is a four point deduction. As for the rest, sacks are one point each, interceptions are two points each, as are blocked kicks, safeties, and fumble recoveries, while touchdowns are six points each. Dallas' defense shut out the Giants, 40-0 (10 points), had seven sacks (7 points), two interceptions (4 points), two touchdowns (12 points), a fumble recovery (2 points), and blocked a FG (2 points). A grand total of 37 fantasy points, the highest scoring defense on Fantasy Football during this opening week.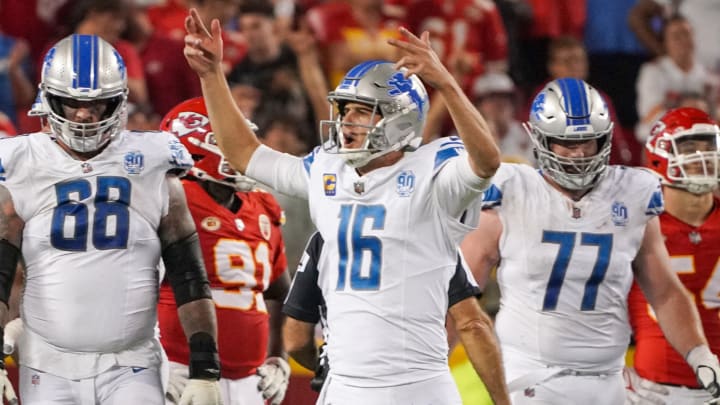 The 2023 season started with the defending champion Kansas City Chiefs hosting the Detroit Lions, having to do so without their hallowed tight end, Travis Kelce. The news about Kelce's injury broke on the day before, and as the final countdown commenced, it became official: out for the season opener. Either way, I figured that this would be close between these two teams. Yes, these were the Chiefs, but these are not the same Lions. Detroit was coming off an amazing season that saw them fall just a hair out of the playoffs, but end up at 9-8, leaving many believing that the Lions would break out in 2023.
I'd say beating the defending champs on the road is a good start, wouldn't you?
The Lions pulled off a massive upset, defeating the Chiefs, 21-20 to kick off the 2023 season. Amazing, isn't it? The Lions ended 2022 with a win in Lambeau Field in what would be Aaron Rodgers' last game as a Packer. Now, they started 2023 by defeating Patrick Mahomes at Arrowhead.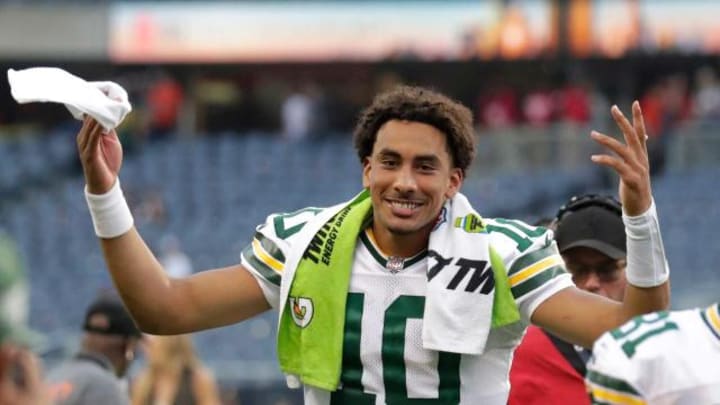 I mentioned the Packers; this was the official beginning of a new era. For three decades straight, we enjoyed seeing either Brett Lorenzo Favre or Aaron Charles Rodgers under center, leading the charge, and getting the big wins. On the Packers' season opener, it would be Jordan Alexander Love beginning his stint as the team's starting QB, and he would do so against our favorite punching bag, the Chicago Bears. So how did he do? 245 passing yards, three touchdowns, no picks. Packers won, 38-20.
I was very, very happy with Love's official debut. Yeah, I know what some are saying, "It was against the Bears." Yes, the Bears are an imitation football team. Even so, this was still a test for Love, and he passed. Love won a key division matchup on the road. He played flawlessly, and it helped that the people around him helped him out, held his hand just a bit. Love's next tests will see the degree of difficulty raise just a bit, but I have no doubt in my mind that Jordan Love will continue to receive high marks.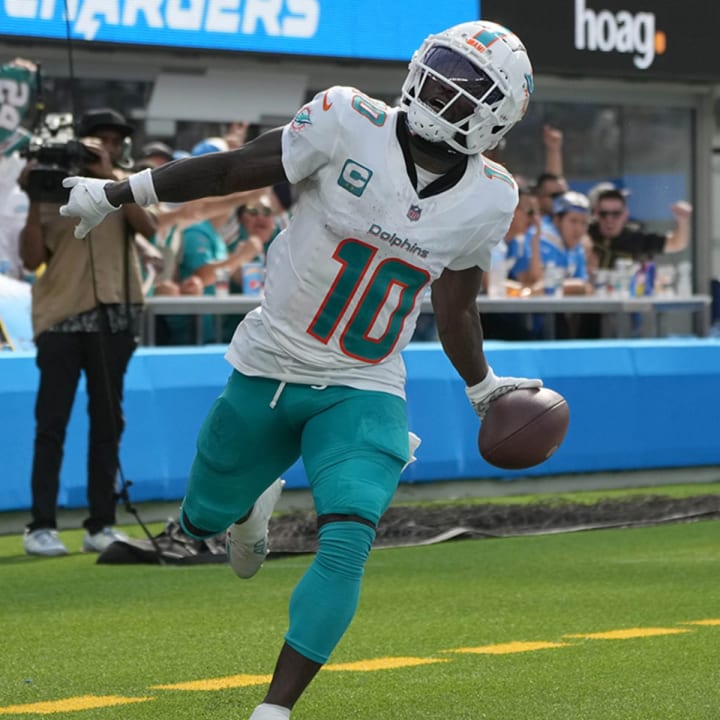 The opening week saw the Cleveland Browns actually pull off an upset win over the Cincinnati Bengals, while the Minnesota Vikings lost a home game against a Tampa Bay Buccaneers team that had Baker Mayfield as their starter. The Washington Commanders celebrated their first win in the post-Dan Snyder era, and the Miami Dolphins survived a shootout against the Los Angeles Chargers. The win was capped off by Tua Tagovailoa's 466 passing yards, with 215 of them belonging to Tyreek Hill. I said this on social media and I'll say it here: thank God for autopicks! That's how I ended up with Tyreek Hill on Fantasy Football. 11 receptions, 215 yards, two touchdowns, a whopping 44.5 fantasy points! Wowza!
A thought that hit me after the Monday game ended. The AFC's top three teams--Kansas City, Buffalo, and Cincinnati--all lost this week. Of the seven AFC playoff teams, only three of them (Chargers, Dolphins, Jaguars) won this week. Monday's thriller between the Bills and Jets was the only overtime game of Opening Week. Also, all of the newly hired coaches lost, and yes, that included Sean Payton's debut with the Denver Broncos.
Week 2 will kick off with Amazon Prime Video's season opener--their second of their 12 year deal with the NFL, which will see the Philadelphia Eagles (coming off barely surviving the New England Patriots) hosting the Minnesota Vikings. Speaking of the Patriots, they will be on Sunday Night Football hosting the Miami Dolphins, and Monday Night Football will feature two games; an NFC South battle between the New Orleans Saints and the Carolina Panthers on ESPN, and an AFC North contest between the Cleveland Browns and the Pittsburgh Steelers.
One week down, 17 to go! Let's enjoy the ride!
If you like this story, click the heart and the subscribe button, and feel free to comment below! Tips and pledges would be greatly appreciated, but only if you want to do so!
Reader insights
Be the first to share your insights about this piece.
Add your insights