Jordan vs. James
Who is the better player?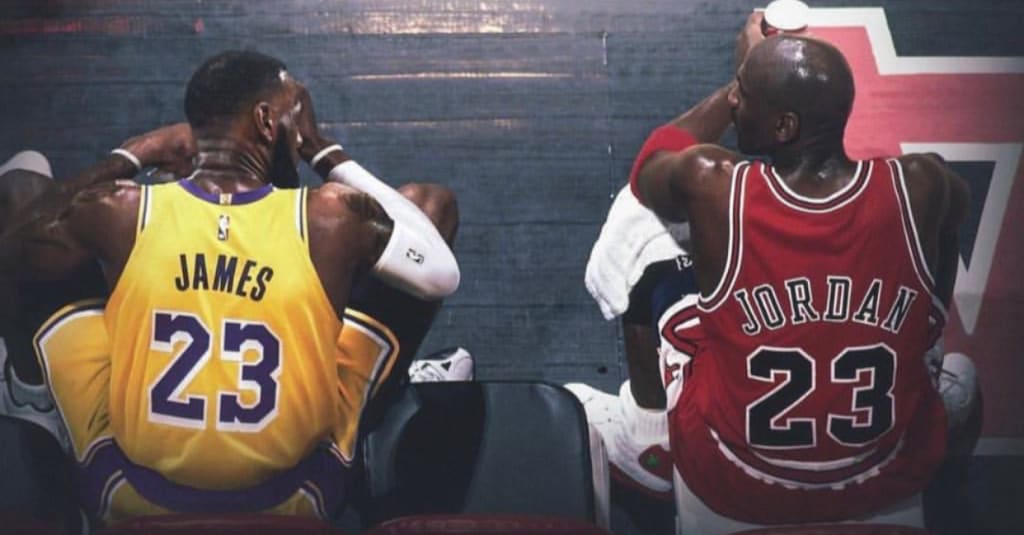 Before I dive into my article, I just wanna say that Michael Jordan has six rings. Now I know a lot of you Bron lovers will argue that that is Jordan's only argument, but that truly is the only argument you need. And I know that the next argument y'all will make is then in that case, Bill Russell is truly the GOAT. However, no one is making an argument about Bill. Everyone is making the argument Jordan vs. LeBron. So in the end, two players who seem level with each other, while one has six and the other is 3-6 in the Finals, I'm going with Jordan. The point of the game is to win. And Jordan has won more than James. But I know you guys will all freak out so I'm gonna make my argument here on why Jordan is better.
James's Argument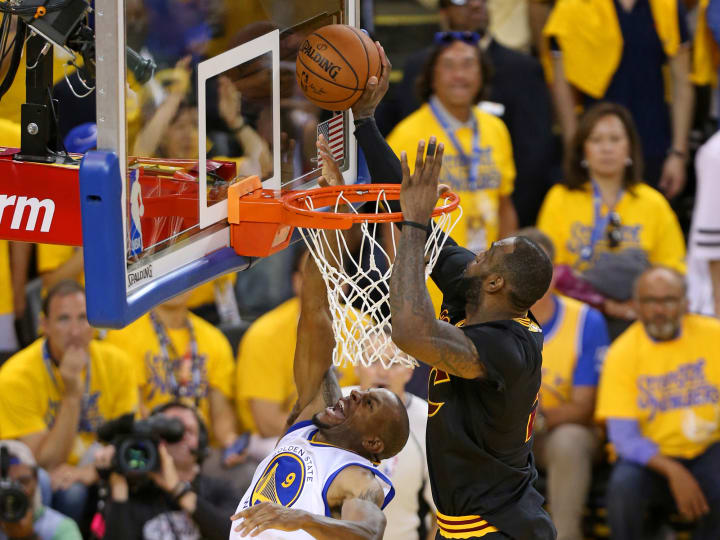 Now I wanna be fair and give an argument for James. This picture above gives him a huge reason why he's the GOAT. He is the only player that came back from 3-1 in the Finals and beat the overpowered 73-9 Warriors. Now that is impressive. Never been done before and probably won't happen again.
LeBron has also shown he is a better passer. The man has insane court vision and IQ. He is also a better rebounder. LeBron has the skill set all-around. The man can do almost anything. And he does all of this while carrying a bunch of scrubs on his back.
Offensive Threat and Clutch Factor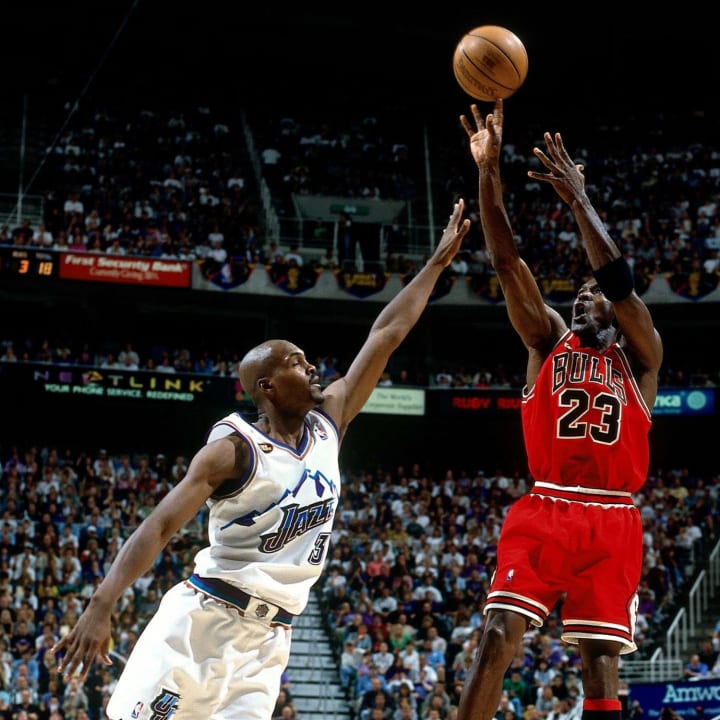 Now let me dive into Jordan. Jordan is the better scorer and there is no argument for that. Jordan's career PPG is 30.1 while LeBron's is only 27. LeBron recently passed Jordan on the all-time scoring list, but he did it with more seasons played and more minutes played. Yeah he did it on less shots, but Jordan's scoring still correlated to wins, so I'm not complaining. James also had a significantly larger amount of free throws and three-pointers made. LeBron can charge to the rim and get an easy basket any time he wants, but in the end, Jordan is the better scorer. LeBron is a one-time scoring champ, Jordan is a 10-time scoring champ. Jordan wins this one.
Another point is that in the clutch, who would you rather take that final shot? Easy. Jordan. LeBron has been heavily criticized in the past for choking, hence the nickname LeChoke. LeBron's free throw percentage during clutch minutes is terrible and remember that it was Kyrie Irving and Ray Allen, NOT LeBron, that hit those clutch threes to give him two of his three rings. When you think of taking the last shot, your mind generally goes to the best player on the team. But in Bron's case, you're not going with him. Yeah he's hit clutch shots many times before, but he isn't the one you rely on. I'm not saying that Allen or Irving are better than LeBron, but you would rather have them take those shots in the end.
Now what about Jordan? It's a no brainer that the ball is going in his hands at the end of the day. You're not giving it to Pippen or anyone else, but Jordan is taking that ball. Why? Because he is easily one of the best scorers in history and one of the most clutch ever.
Defense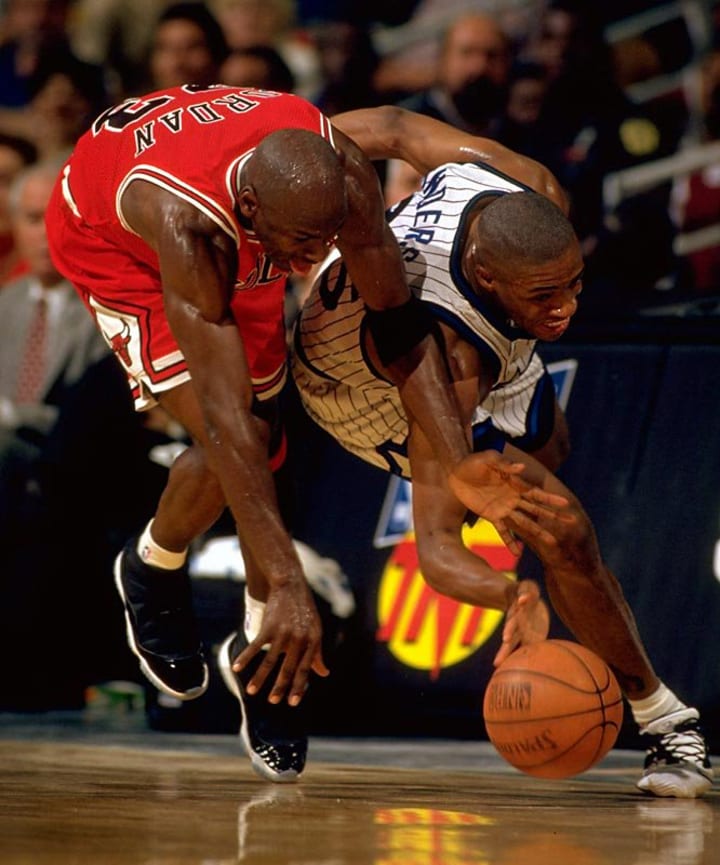 My last argument, and probably one of the biggest, is defense. You can argue lots about who is the better offensive player. Yeah Jordan is a better scorer but LeBron is a better passer. Each contribute to offense and you can make arguments about who is the better offensive threat. But you cannot argue who is the better defensive threat. Jordan wins that one by a landslide.
James is a five-time All-defensive first team and one-time second team. Jordan is a nine-time All-defensive first team. Jordan is also a three-time NBA steals leader. Oh yeah, and he was DEFENSIVE PLAYER OF THE YEAR. Not only that, but he happened to be MVP in that same year also.
This is not even an argument. Yeah LeBron plays good defense, but it has gotten worse and worse to the point where he has become a defensive liability. Some of you make the argument that LeBron is resting for the playoffs and can't wear himself out because he has to carry his team. That is no excuse. If you do that, then there will be NO playoffs for you. Look at the Lakers now. I'm positive that all of you have seen that video of Kuzma literally PUSHING LeBron to cover a guy. Even if that wasn't his assignment and someone else had messed up, he needs to recognize that there is a wide open player and he needs to pop out to defend him. LeBron has been a huge defensive liability for his team the past little bit.
Jordan? Yeah. He's one of the greatest defenders. Led the league in steals three times, and just up until recently when he was passed by Wade, he held the most blocks recorded by a guard. Jordan wins this one EASILY.
Conclusion
In the end, I see three big factors: Offensive game, defensive game, and wins.
You can argue that James has the better offensive arsenal, but Jordan wins by a landslide in defense. And wins? Jordan was six for six in the finals. James is three for nine. Overall, Michael Jordan takes home the crown for the GOAT.