How I ruined racing for myself
A day at York racecourse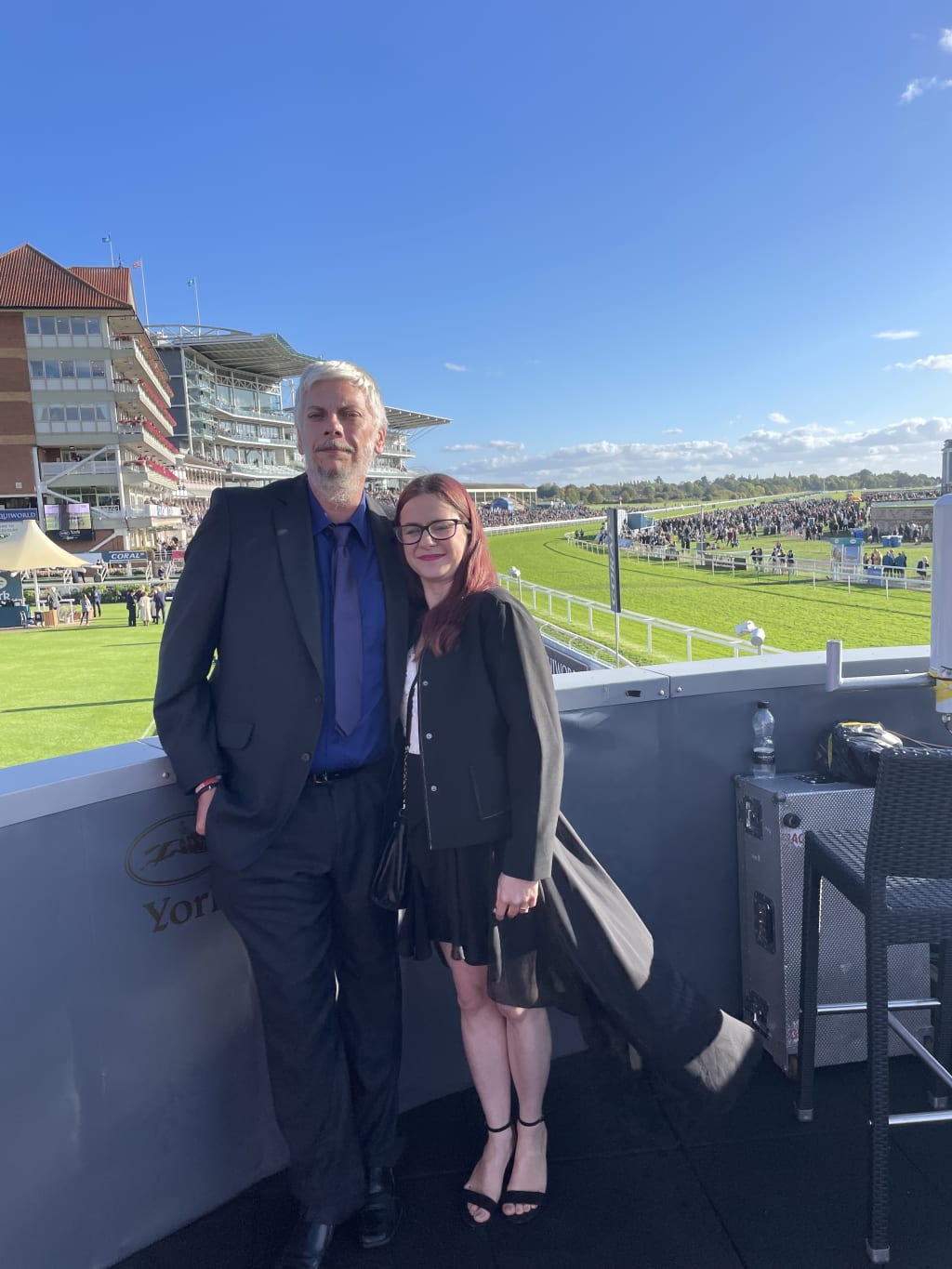 Back in March 2020, I won a competition through my work that entitled me and a guest to a day at a racecourse for an event that they sponsored. The people in charge or sorting this got in touch, and told me that they would produce a list of these events for me to choose from and get back to me in due course.
Then, the world turned upside down. Racing was suspended for three months, and fans were not allowed to attend for a while after that. Obviously, my prize would have to be put on the back burner.
Roll on to June and I am back at work, but still no fans back at the racecourses, and when they do I hear nothing from the events people. I figure these sort of things take a while to organise. As Christmas rolls around and I still hear nothing, I'm still patient. The world still looks a very different place to a year ago, and my partner and I have a baby on the way, so I'm still happy to let this one take it's time. I send a gentle email reminder to the guy that I dealt with back in March, and then forget about it for a while.
My patience starts to wear a little thinner around June 2021. I still haven't received a reply from events and I post a message on our company intranet asking for some more information, and a whole chain of events were set in motion before I actually got in touch with someone in October.
The next hurdle was a pretty big one. As I could only go to events that the company sponsored, and due to me living in East Yorkshire, a lot of the bigger racecourses were out as options. York was our nearest option, and the company sponsored only one event a year there, and it had just been.
This was annoying, but couldn't be helped. I get on with my job, celebrate my daughters first birthday, get married, live my life.
The big day arrives. Oh what a nightmare! A week before we are due to travel a rail strike is called and our train tickets are cancelled. Just great. It's ok, we arrange for a lift from my mother. It will be even quicker, and cost considerably less. And then misfortune strikes again. The day before we are due to go, the car breaks down, and then both myself and my wife come down with some sickness bug, and spend a fair portion of the evening vomiting.
We are both in bed by nine (for some idea of how unusual that is for me, it's 10:30 now, and right in the middle of my writing time) and decided to sleep on it and see how we felt. At 6:30 the next morning we got up and decided to give it a go.
We live in a tiny town on the east coast that is in the back end of beyond. There is only one bus out of town, that goes to Hull, and takes just under an hour and a half. Part one of journey done. Hull is just over 35 miles from York. On a bus, that apparently takes a little over two hours. With the rail strike the bus is packed, and is stopping at every stop. It is over three hours later when we arrive at York station.
It's 1:15pm and the first race of the day is at half past one. There is a shuttle bus that runs from the station to the racecourse, but the queue reaches half way down the street. We jump in a taxi, massively overpriced, but it gets us there with 5 minutes to spare.
So why have we made such an effort to go to a day of horse racing? Why would we fight through illness, and spend over six hours travelling for a three and a half hour day out?
For one thing, I had waited for two and a half years to get the chance to go. Neither me nor my wife had ever been to the racing before, and were told that it was quite the experience. The third reason was that these tickets were not just general admission, but our day was for the full VIP experience.
The Melrose stand is a series of private boxes for owners and sponsors, and we were on the top floor, looking down on the finish line and up the home straight. The host was a very jovial man, who was knowledgeable about both the racecourse, and his guests. We were sat at a table with a man who had worked with the company for 40 years, and his family. Very nice people from Glasgow, and it made for pleasant company for the afternoon.
After the first race we sat down for lunch and a drink. The food was excellent and the drink was free, which was a nice bonus. So we spent the next two hours watching the races from our box, and between going out and exploring the concourse.
As mentioned, I've never been to the races before, so I've got nothing to compare he experience to, but the pure spectacle of the day, wow. I don't know if it is the same at smaller courses, or if it just because this was the final meeting of the year at York, but everyone was dressed in their finest and the place was packed with racegoers.
You feel a little bit of imposter syndrome in scenarios like this, or I do at least. Like everyone knows that I'm too northern and working class to be at an event like this. You wrestle the feeling down, hope nobody notices. Honestly, I'm just happy to be out somewhere with my wife, we don't get to spend nearly enough time together.
The fourth race of the day was the big one. All race meets have a sort of main event race, and for reasons I can't figure out, it goes in the middle. All 10 of us crowded the balcony of the box to take in the race. The crowd were all enjoying the day and the atmosphere was fantastic, after watching the race we once again descended into the throng of people, just to be about the buzz. We headed with the crowd to the parade ring, to see the winning horse and jockey presented with the trophy. It was quite the spectacle, and afterwards we headed back upstairs, so as to be in plenty of time for the next race.
This is where things took a turn we were not expecting. When we got up to the suite, our host was waiting for us with two women who asked my wife and I if we would like to give an award to a groom in the upcoming race. See, it turns out that when you go to these events as VIP guests of the event sponsor, you are able to get a little more up close and personal to the action. We were of course honoured to be involved in any small capacity and readily agreed. So straight back into the lift we go, and back down to the parade ring we just left.
For those of you that aren't familiar with the horse racing world, each race has a little award at the start called "best turned out." This is awarded to the groom of the horse that the judges feel took the most effort with the presentation of the horse. Is it's coat well brushed and oiled, have the mane and tail been well styled, stuff like that. So we were going to be the ones to hand the prize to the winning groom. Nice.
Except not quite. As the lift reached ground floor, one of our accompaniers asked us if we wanted their help with the choosing, or if we were all right doing it ourselves! We weren't presenting the judges choice, we were the judges!
We confessed a lack of familiarity but our hosts were very understanding. It is likely common that corporate guests will not necessarily be racing experts. We found ourselves in the middle of said parade ring, watching 14 horses walk the circle, led by their stable lads and lasses. Our hosts pointed out various features, and we noticed things like when the mane had been braided, or when the groom had stencilled a pattern into the coat of the horse.
Anyone reading this who has been around horses will know that they are magnificent creatures. But racehorses are a different breed. Incredible size and strength, yet able to pick their way around the little oval track daintily.
Whilst I don't have what you would call a personal sense of style, I do find myself drawn to things that are remarkably similar. I dislike the ostentatious, and prefer sleeker and less garish design. As my wife is of a similar mind, we found that we agreed happily on our choice. The horse we chose raced under the name Garden State, and had exactly none of the features I mentioned earlier. It was just well presented. Everything about its appearance showed the care that was put into it, so we declared this our choice.
The groom was very pleased when we gave him the award. Apparently this was his first time receiving this, as it was our first time choosing. Apparently most people overlook his work due to not having any distinguishing markers. So we got to do something cool, and we made someones day, excellent.
We were then invited to watch the race from the roof of the owners lounge. Honestly, the view was better from the box we had watched the rest of the races, this was positioned further along and you couldn't see the finish line, but it was an experience to be so isolated whilst watching, and the lack of anything around us highlighted that we were somewhere not many people get to go.
After the race we were led back down, and we headed across the parade ring once more, job well done. Well, not quite. We stopped by the podium and watched the winning horse ridden in. We were then asked if we were ready to present the winners trophy. That stunned us. This meeting was a pretty big deal in the racing world, and we didn't really think of ourselves as big deal people. But it's not like you can say no, when you are already stood next to the podium and the trainer, owner and jockey were all approaching. Plus, when would we ever get the chance to do anything like this again?
So with a couple of hundred people around the stage, and a few thousand watching on the screens, we presented a trophy to Kevin Stott, one of the top jockeys in the UK, shook his hand and had our picture taken. The whole thing was so surreal. I'm not really sure how my wife handled it, but I just concentrated on looking at the cameras, and not the crowd or screens.
After this we were whisked away, back into the building we were just standing on, for a glass of champagne with the winning owners. Apparently this happens after every race so the owners can watch a replay of the race and enjoy their success. It's probably a testament to the experience that this was the least remarkable thing that happened to us in the last half hour.
We go back up to the box for some more drinks and afternoon tea, watch the last two races and leave pretty much as soon as the last race ends. It has been a magical time, but our day started at 6am and we are starting to flag. We aren't looking forward to the journey home, but we don't have any time constraints like we did on the way in. We ended up getting home at about half ten, and were straight to sleep.
So why am I saying that horse racing is ruined for me? Yeah the journey was hell, and my wife still has blisters from her uncomfortable shoes, but that isn't it.
It's because that will never happen again. Our first taste of horse racing came with so many perks, that we feel that going back will just be a letdown by comparison.
We may go back at some point, York is a beautiful place and the crowd were fantastic. But it will have to be at a time when we have more measured expectations. For now, I'll just wait to watch the Grand National on TV in April.
Reader insights
Outstanding
Excellent work. Looking forward to reading more!
Top insights
Easy to read and follow

Well-structured & engaging content

Excellent storytelling

Original narrative & well developed characters

Eye opening

Niche topic & fresh perspectives
Heartfelt and relatable

The story invoked strong personal emotions
Add your insights