How Far Can Barkley and McSorley Maturation Take Nittany Lions?
The Lions' two Heisman Trophy candidates are improving week after week. How far can it take them?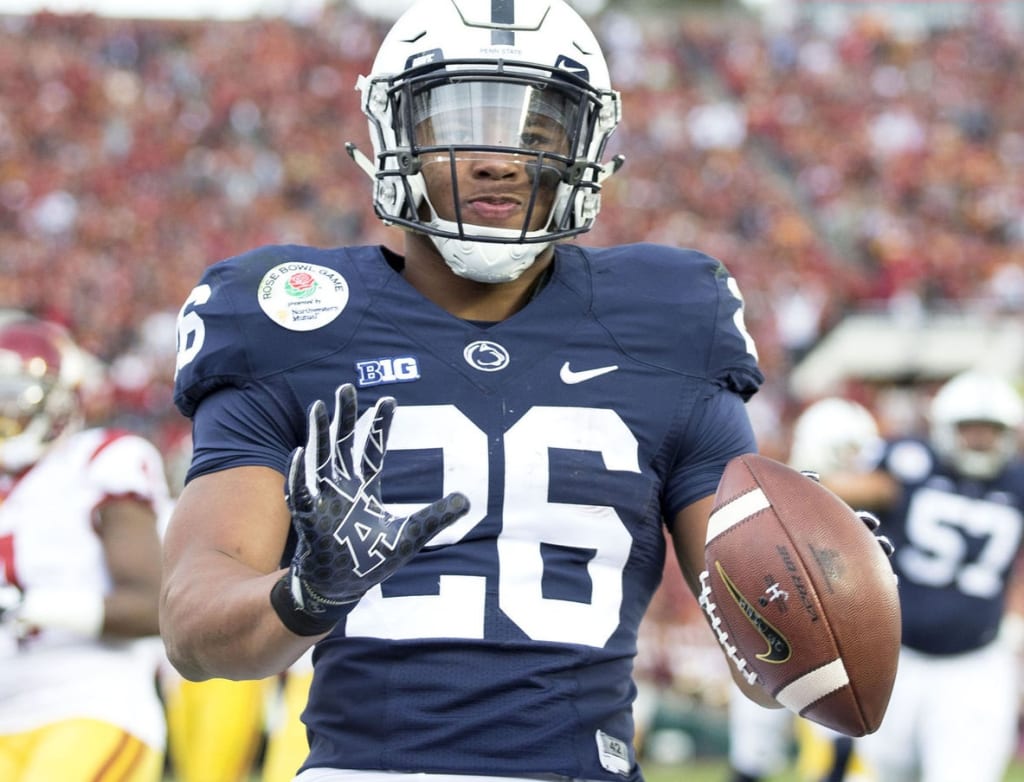 Plenty of college football fans and pundits have already penciled in Alabama Crimson Tide-Clemson Tigers III as this year's CFP National Championship Game.
Fair enough, too. They're easily one and two in the AP Poll and both have sweetheart schedules from here on out. Both Nick Saban and Dabo Swinney will contend there is still plenty of improvement in their squads, and they may be right.
However, with the trajectory the Penn State Nittany Lions have been on as of late, is there any team among the FBS with more improvement to come?
Behind running back and Heisman Trophy favorite Saquon Barkley, and quarterback Trace McSorley, Pennsylvania State is not just doing State College proud; they're outing themselves as potential national championship smokies.
Let's not discredit the entire Nittany Lions team. En route to a 5-0 start and fourth ranking on the AP Poll, they are a high-scoring, disciplined outfit, and have capitalized on their early-season chances. However, it's the production from Barkley and McSorley as the two best players on the team that causes this unit to stand out with a point of difference through five games.
The incredible improvement from last year for McSorley has stood out, giving this team its necessary steady head, which has proved game-winning at times—in particular, at Iowa in Week 3 (a 21-19 win).
Specifically as well, his ability to read what the defense is giving him, and his ability to select the appropriate option, has stood out. Talking to the Center Daily Times, McSorley said: "I think it's not forcing things, and taking what the defense is giving me, doing a lot better job of reading. Where I was at this point last year, and even where I was toward the end of the year, I felt like I was pre-determining things.
"I feel like I'm doing a better job of going through my progressions and finding the open guy. I'm getting to that third progression if the first two aren't there."
James Franklin, McSorley's head coach, pointed to the statistics reinforcing his quarterback's self-assessments. Through five games this year as opposed to last, McSorley's completion percentage is 65.6 (vs. 58.9), his throwing yards, 1,352 (1,284) and touchdown/interception ratio, 12:4 (6:3).
It doesn't matter that McSorley isn't throwing the ball down the field. As the man himself pointed out, he doesn't need to. "Some of [the deep shots] have been there and they've been a little bit covered up," McSorley told Penn Live. "We've had plays and haven't been able to connect. It's not anything we're worried about."
"We keep pressing on what we're doing and not forcing a really deep shot, but let them come when they get there and make the play."
Right now, what's there for his offense is working, and should only work better as the machine continues to lubricate.
There's improvement in Barkley, too; only his improvement is compared less to his previous season, and more so to his previous week. Such has been Barkley's rapid rise—some have called him "the best player in college football" (Joe Tessitore, ESPN), "the most complete back since Adrian Peterson" (Todd McShay, ESPN), among other superlatives.
His ability to wow has captured the imagination of the nation. BTN looks at Barkley's Top 10 plays here.
However, SB Nation takes it a step further, picking out 35 moments of madness from the junior running back, which it promises to update as the tide continues to roll in.
It's no surprise Barkley is listed in the first round of multiple mock drafts, including USA Today's. DraftWire goes even further, sending Barkley to the Cleveland Browns with the second overall pick.
Franklin also sees his team's ceiling as high and yet unreached; in particular, pointing to his offensive line. "It's the little things," he told the Reading Eagle. "It's the details. It's the focus. It's the finishing. It's the straining. That's been my argument to the coaches, the trainers, the doctors, and the players. If everybody can just get a little bit better, just one percent better, then that's going to add up.
"I think the biggest thing for the offensive linemen is finishing. We're in good position for the most part. Our fundamentals and techniques have been good.
"We need to finish blocks from an aggressive demeanor. That's the next step for us. Let's create a little bit more space."
Franklin is right, and if he gets his extra pound of flesh from each member of his team each week, they're going to have built a massively impressive resume by the end of the season. Either way, the feeling is we'll find out plenty about the Lions over the next few matches. After a bye following this week's encounter with Northwestern, PSU hosts Michigan and visits Ohio State and Michigan State.
It will be a revealing month and could very well leave everyone running scared of Penn State football.