How Do You Hit 30 HR While Being the Worst Hitter in Baseball?
Ask Rougned Odor.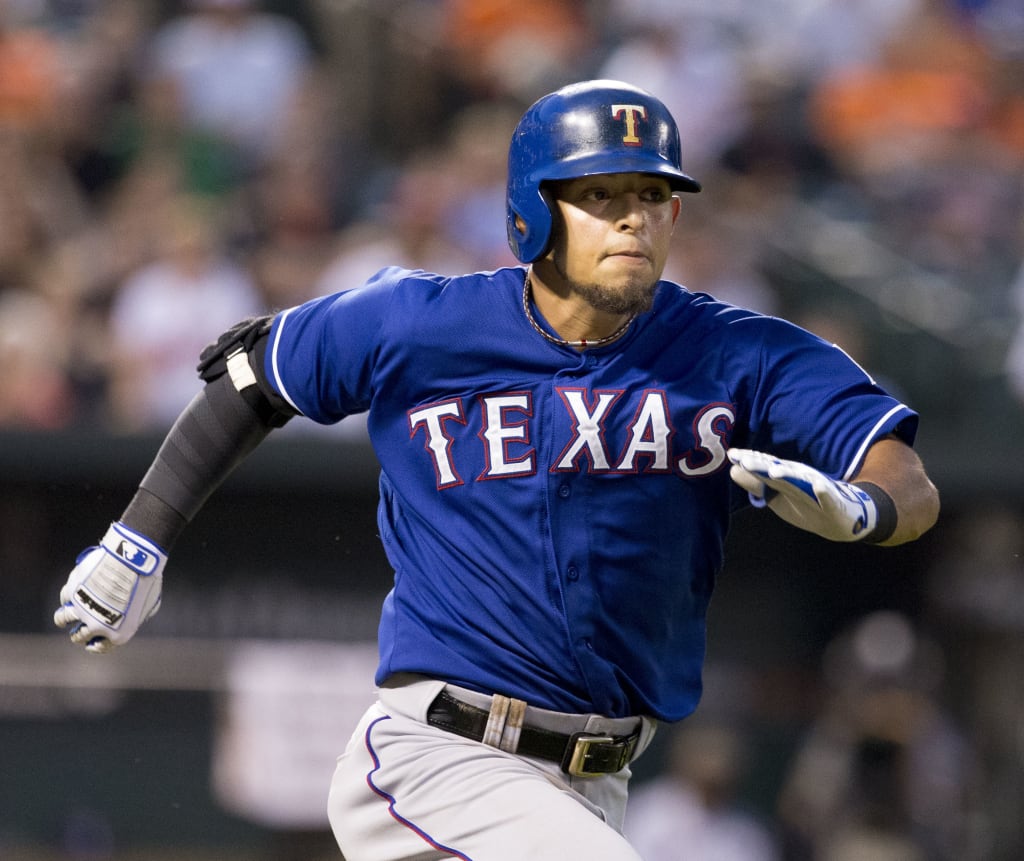 Keith Allison/Flickr
On the surface, Rougned Odor had a pretty decent 2017. He got paid $1.3 million, was healthy the whole season, and on top of it all, he hit 30+ home runs for the second straight season. That is about as far as good things go; Odor posted the single worst wRC+ and OBP of 2017 among qualifiers, and barely hit above the Mendoza line. Yes, someone who hit 30 home runs was worse at the plate than Alciedes "What's an extra-base hit?" Escobar.
The fact that Odor hit such a milestone while being so terrible places him in unique company. Of all the sluggers who hit 30+ home runs this season, here is where he ranks in wRC+.
Single Season wRC+ with 30+ HR (2017)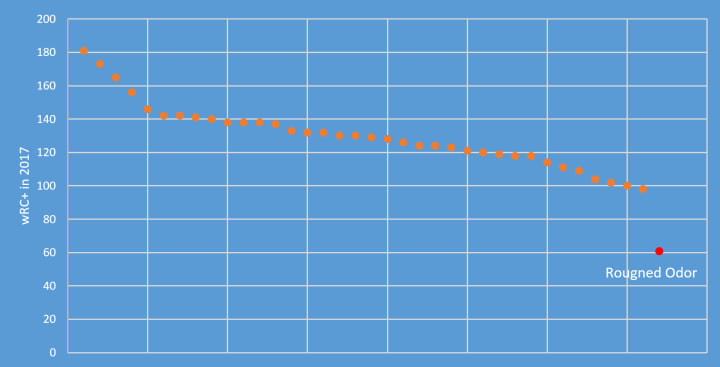 Ouch. Almost every single player who hit 30+ HR in 2017 posted a wRC+ that was at least average, but Odor was 39 points below average.
If you are reading this, Odor, please stop, because it is going to get worse before it gets better. Actually, I lied, it does not get better. It only gets worse.
Here is how Odor's season ranks historically among all seasons with 30+ home runs.
Single Season wRC+ with 30+ HR (All-Time)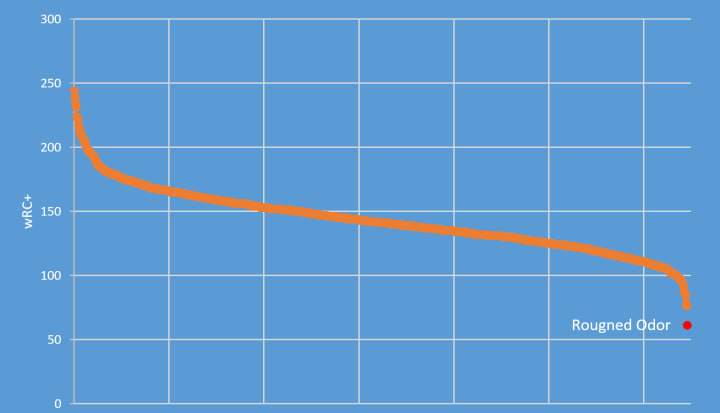 Words escape me. Hitting 30+ HR is typically a recipe for success. We have seen 1,292 individual seasons of 30+ HR, and in those seasons, 98.3 percent of those hitters posted a wRC+ of at least 100. 99.9 percent of those seasons, those hitters posted a wRC+ of at least 70. Odor only barely broke 60, posting a wRC+ of 61.
Every single hitter who hit 30+ HR in a season posted an SLG over .400—except Odor (.397), who finished 20 points behind the second lowest SLG in a 30+ HR season, Dave Kingman's 1985 season (.417).
Across individual seasons with 30+ HRs, hitters posted an average wRC+ of 143. Odor is about -3.45 standard deviations from the mean. For context, Babe Ruth's 1921 season, where he hit 59 home runs, drove in 168 RBIs, and posted an OPS of 1.359, was +3.41 standard deviations from the mean.
In other words, Odor's 2017 was a historical oddity.
Single Season wRC+ with 30+ HR (All-Time) Histogram
How was Odor so brutally bad, in spite of hitting 30 home runs? Jeff Sullivan identified an issue with Odor back in June in that Odor was hitting too many pop-ups, leading to poor production. Compare Odor's batted ball data from 2016 to 2017. From 2016 to 2017, Odor's batted balls did not change that much, aside from his infield popup rate almost doubling.
Rougned Odor Batted Ball Data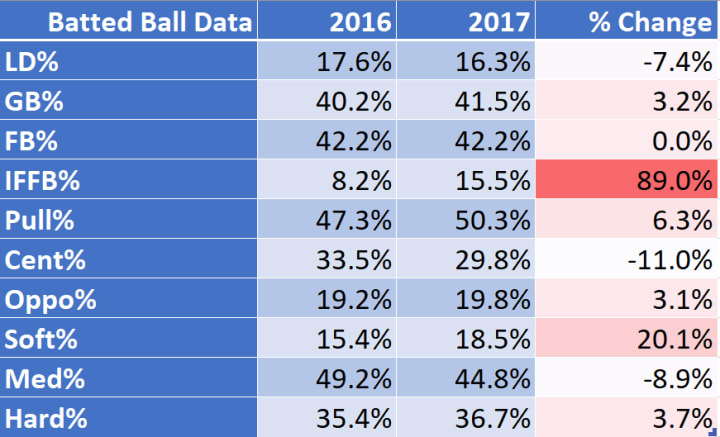 Essentially, Odor was still squaring up and hitting dingers, but the rest of his fly balls were not leaving the infield at the same rate they were in 2016. Odor recorded 16 fewer extra-base hits in 2017 than he did in 2016, despite appearing in 12 more games.
Sullivan predicted Odor would not finish "all that close to a wRC+ of 54" because Odor would adjust and correct his infield pop-ups. And yes, Odor managed to adjust, dropping his IFFB% a good amount during the second half (first-half IFFB% of 20.6 percent, thirrd most in the MLB, second-half IFFB% of 9.4 percent, 67th in the MLB), but Odor did not get that much better.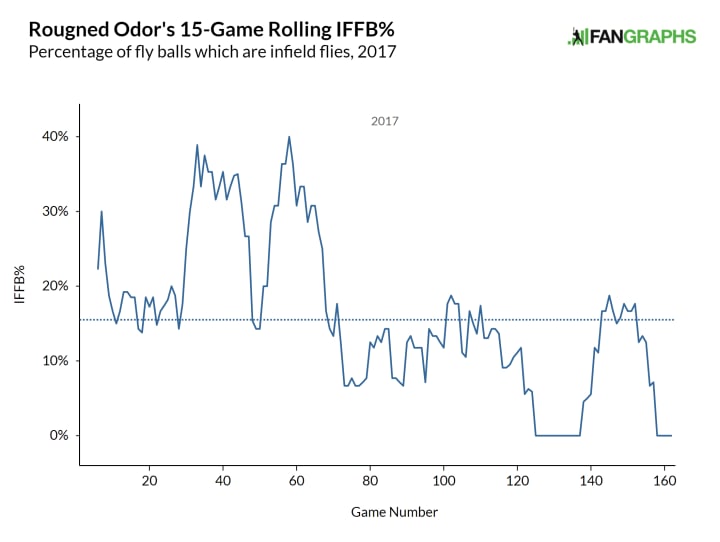 In fact, Odor actually got worse in the second half. Odor posted a wRC+ of 69 in the first half, but only 50 in the second half. Despite cutting down on his biggest issue, Odor struggled even more.
Maybe it was just bad luck. Odor saw his BABIP drop by 46 points (.244 to .198) and his wOBA drop by 27 points (.284 to .257) from the first half to the second half, despite his batted ball data staying roughly the same, and his xwOBA dropped only from .288 to .281.
The portion of Odor's production that relied upon home runs was still intact, but the rest of Odor's production was practically non-existent. Odor does not rely on walks, and the balls he puts in play tend to run low BABIPs. His non-home-run production is extremely BABIP reliant and therefore extremely volatile, so when BABIP turned against Odor, the only form of production he could fall back on was home runs.
Odor's 2017 resembled that of a three-true-outcomes hitter who does not walk. For example, if we gave Odor's BB% rate to his teammate, Joey Gallo, Gallo's 2017 wOBA would drop from .364 to .296, which resembles Odor's 2017 wOBA of .272 (the difference between the figures can be accounted for by Gallo's higher HR/PA).
Take this as evidence that Odor could be a productive hitter. If, all other things held equal, he walked as much as Gallo did, his fly-ball-happy approach would not be so problematic. But he does not, so Odor will need to radically change his approach at the plate to achieve consistent production.
Reader insights
Be the first to share your insights about this piece.
Add your insights