Greatest Quarterbacks of All Time
From Brett Favre to Johnny Unitas, these are the greatest quarterbacks of all time.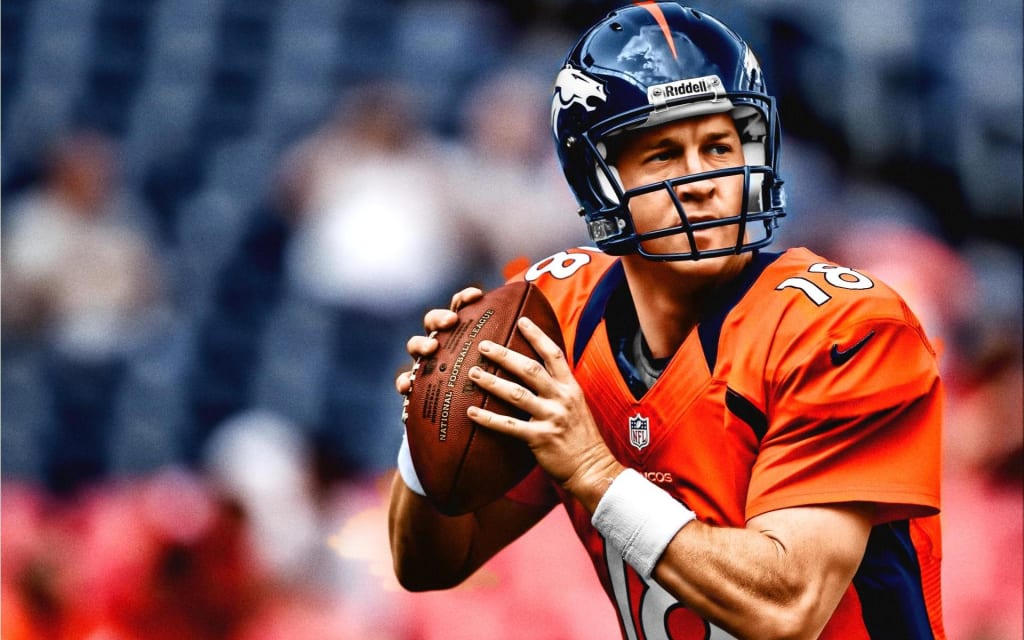 The NFL is full of legends, including Vince Lombardi, Jerry Rice, and Jim Brown. But at the center of every great team is a legendary quarterback. Each quarterback has their own set of skills, whether it's accuracy, strength, or mobility. But it's also how they lead and how they win games when it may seem impossible. Some quarterbacks will be remembered for their personality and play-ability. And some will be remembered as the greatest quarterbacks of all time.
Green Bay Packers legend Brett Favre is often considered one of the greatest quarterbacks of all time. From his Super Bowl win in 1997 to his three MVP awards, Favre set records for passing yards, touchdowns, completions, and interceptions, later surpassed by Peyton Manning. But perhaps, out of his 298 career starts,
his best was the night his father died
.
On December 22, 2003, Favre was tasked with the difficulty of playing against the Oakland Raiders on Monday Night Football, while still reeling from the death of his father, Irv. Favre scorched the Raiders for 399 yards, four touchdowns, and no interceptions. Favre's receivers were just as good that night, hauling in passes no matter how many defenders were on them. The Packers won by a score of 41-7, keeping their playoff hopes alive and becoming one of Favre's best performances.
Peyton Manning currently holds the record for most passing yards and passing touchdowns. The five-time MVP led the Indianapolis Colts to its first Super Bowl since the franchise moved from Baltimore. One of Manning's crowning achievements was the way he responded to a serious neck surgery that could've ruined many careers.
In 2012, Manning's first year back in the NFL following his surgery, he led the Denver Broncos to a 13-3 record and a heartbreaking loss in the Division game to the Baltimore Ravens. The Broncos finished in first place the next two seasons, losing in the Super Bowl in 2014. Manning finished his career on top however, winning it all in 2016 against the Carolina Panthers.
Roger Staubach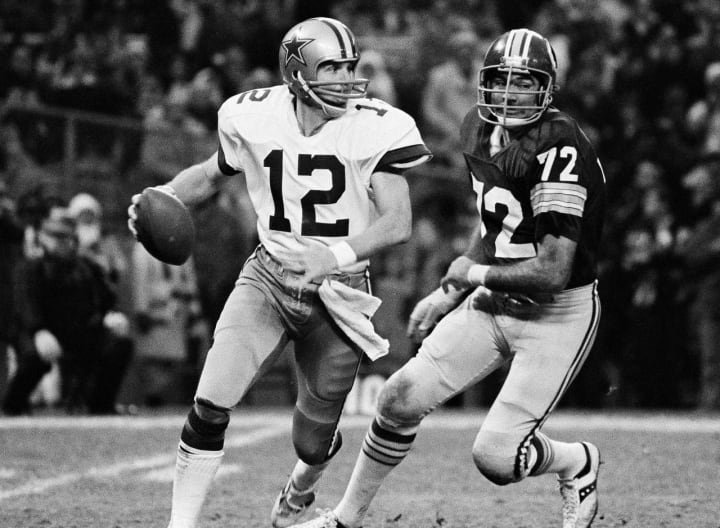 Despite starting his career at the age of 27, Staubach is considered one of the greatest quarterbacks of all time for his clutch performances. Staubach is said to be the father of the Hail Mary after throwing a 50-yard touchdown with 24 seconds left in a playoff game in 1975. Nicknamed "Roger the Dodger," Staubach was also known for his scrambling abilities and late-game heroics with 23 fourth quarter comeback victories. Staubach's Cowboys never had a losing season, giving him a 74.6 career winning percentage and a plaque in the Hall of Fame.
Tom Brady will be remembered as the greatest quarterback of all time. Ever since taking over for Drew Bledsoe, Brady has done nothing else but win. He led the New England Patriots to a Super Bowl victory in his rookie season at age 24. The Patriots would earn four more Super Bowl wins, becoming the
most dominant team in the NFL for nearly two decades.
Brady's ridiculous 1.8 interception percentage ranks 2nd all-time, trailing only Aaron Rodgers. For a quarterback who almost won his sixth Super Bowl at the age of 40, his career is timeless. Brady looks as if he could play til he's 45.
Though Dan Marino never won a Super Bowl for the Miami Dolphins, he still had one of the best careers in football. Marino had one of the quickest releases in history, easily winning Rookie of the Year in 1983. When Marino retired in 1999, he held virtually every passing record, including passing yards and touchdowns. Marino was known for his ability to scan and fool defenses, throwing for accuracy, and was inducted into the Hall of Fame in 2005.
Johnny Unitas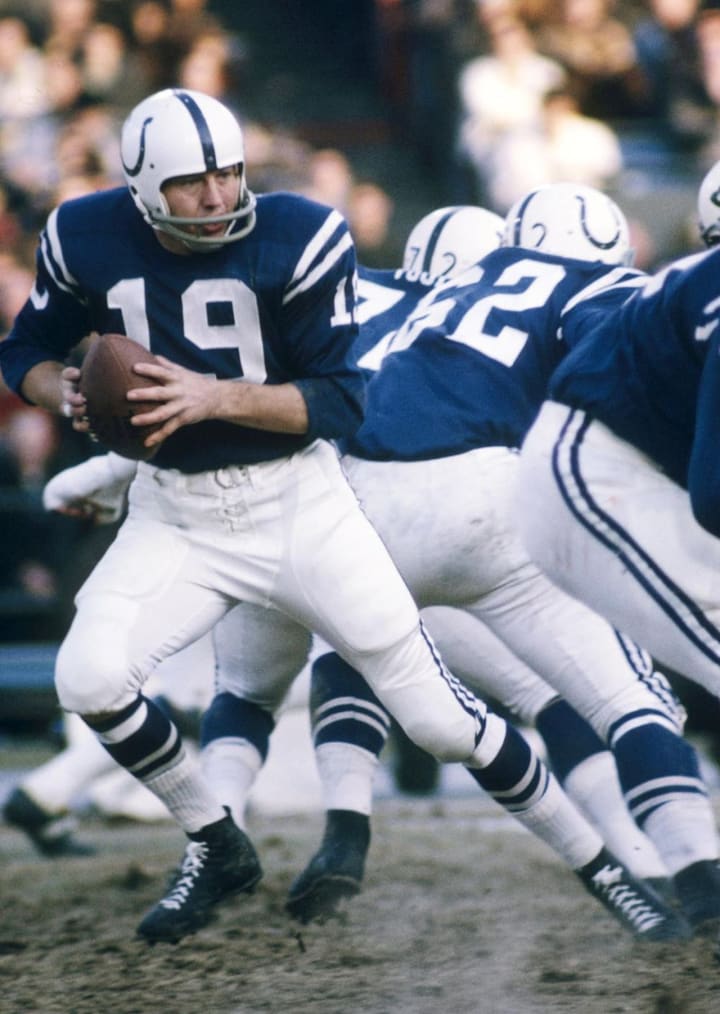 Johnny Unitas didn't have the kind of accuracy as Tom Brady might have, but he was considered one of the greatest quarterbacks of all time and a natural-born leader. In 1959, Unitas led the NFL in passing yards, touchdowns, and completions, winning the MVP that year. Unitas led the Baltimore Colts to its first Super Bowl victory in 1971 against the Dallas Cowboys.
NFL great John Elway is the only quarterback to have a rushing touchdown in four different Super Bowl games. Elway was known for his clutch performances, with four fourth quarter comebacks. With 300 career passing touchdowns, Elway is just outside the top ten all-time. In addition to being a Hall of Fame quarterback, Elway won his third Super Bowl with the Broncos in 2016 as their general manager.
Aaron Rodgers may be the king of Hail Mary's, throwing three majestic touchdown passes for 172 yards. Although Rodgers has dealt with his fair share of injuries over his career, he has shown that when he's healthy, he's one of the greatest quarterbacks of all time. If Rodgers continues to play at such a high level, he will surpass many of the all time leaders and be remembered as
one of the most accurate quarterbacks in the NFL
.
Otto Graham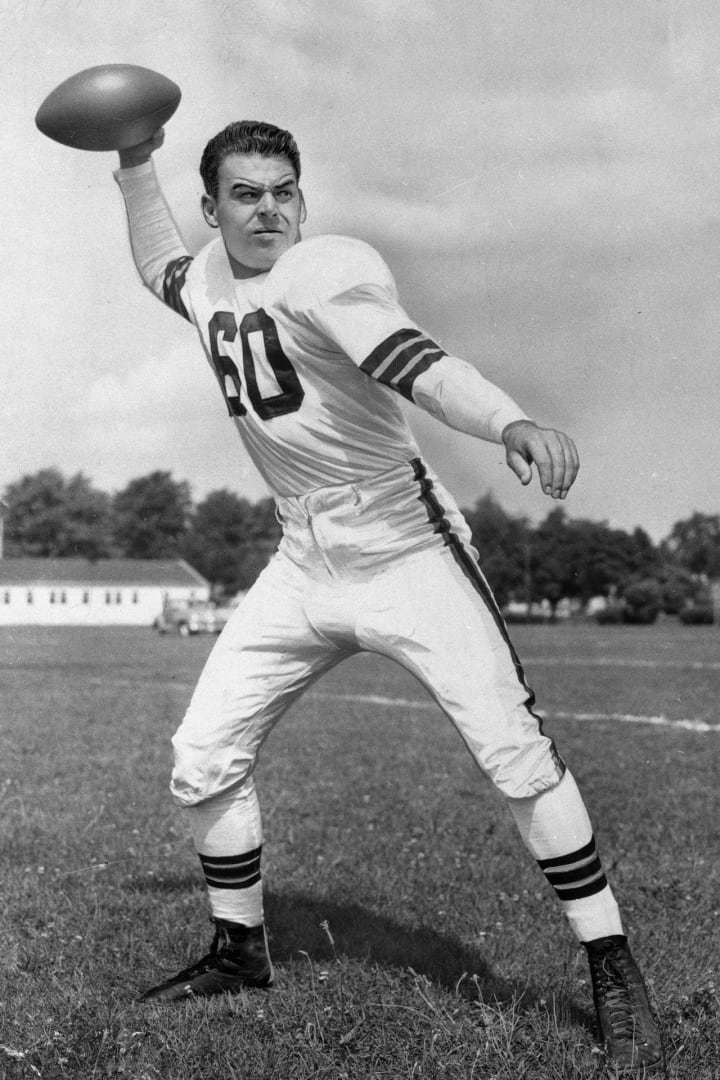 Otto Graham's career may have been short, but he managed to lead the
Cleveland Browns
to ten straight championship games from 1946-1955. This Hall of Famer's career yards per pass attempt still ranks above any other quarterback in NFL history. Graham was inducted into the Hall of Fame in 1965 and had his number retired by the Browns. Graham went on to a relatively successful coaching career with the Coast Guard football team.
One of the greatest quarterbacks of all time is four-time Super Bowl champ, Joe Montana. Known as "Joe Cool," Montana remained calm in most dire situations, including the famous fourth quarter drive in their Super Bowl XXIII victory. In all of Montana's playoff starts, he's only thrown one interception with 19 touchdowns. Montana never lost a Super Bowl and was always prime for a comeback, no matter how steep.
Reader insights
Be the first to share your insights about this piece.
Add your insights