Grading the Seattle Kraken's 1st Postseason
The Seattle Kraken's cinderella playoff run ended up striking midnight in Game Seven vs the Dallas Stars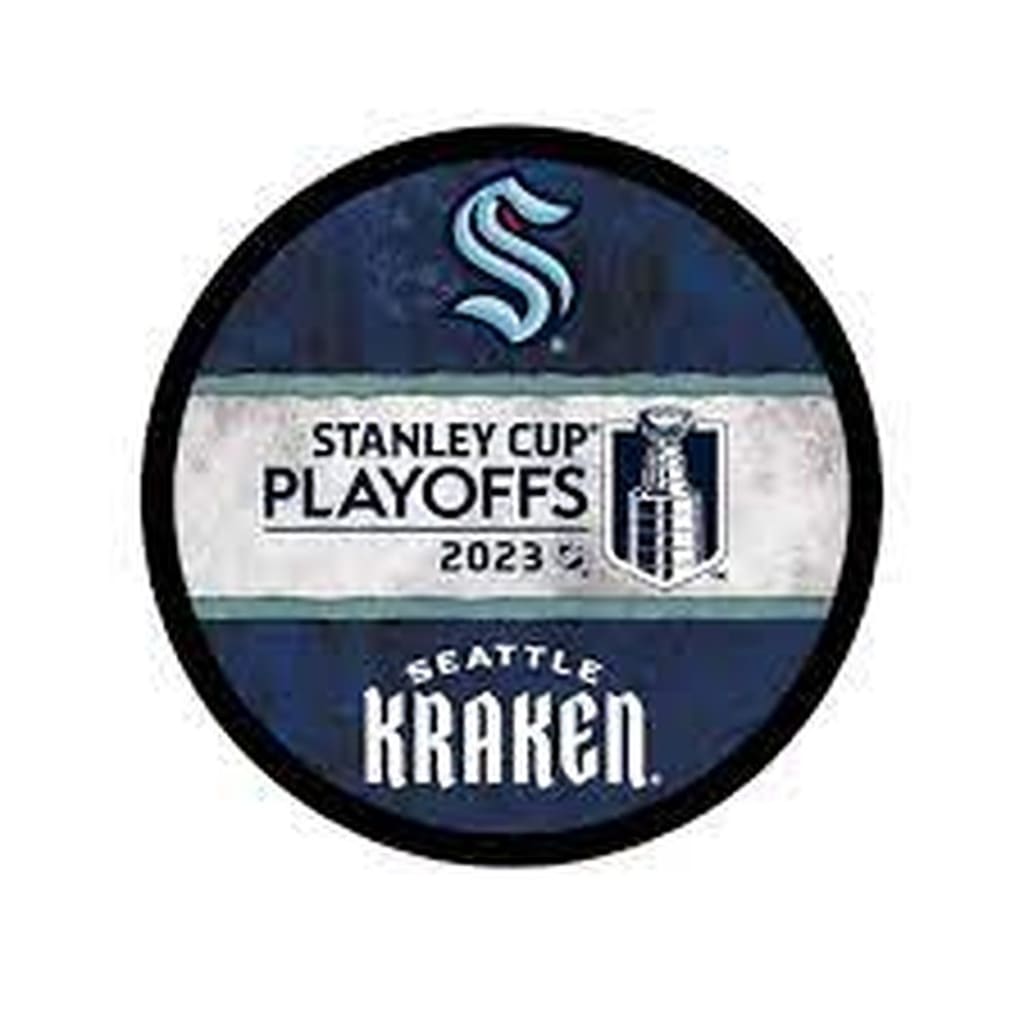 The second season of existence for the Seattle Kraken is definitely one they will remember for years to come. The Kraken became the NHL's 32nd franchise, joining the league four years after the Vegas Golden Knights, and because Vegas went all the way to the Stanley Cup Final in Year One, a lot of fans expected something close to that for the Kraken. Seattle was nowhere close to that level in their inaugural season, but their sophomore year saw some big time signings, and a huge turnaround.
46 wins, 28 losses, 8 overtime/shootout losses, totalling 100 points--their first 100 point season in franchise history. On April 6, 2023, the Kraken qualified for the Stanley Cup Playoffs for the first time in their brief history, and they had an opportunity to actually move into third place in the Pacific Division, but ended up locked in as the Western Conference's 1st Wild Card. So how would they fare in their first-ever postseason?
The task wasn't an easy one, as the Kraken went up against the defending Stanley Cup Champions, the Colorado Avalanche. A lot of fans figured that the Avs would make mincemeat out of Seattle, but even as an Avs fan, I know nothing comes easy. That was proven when the Kraken suddenly took Game One in Denver. The Avs won Games Two and Three, but Game Four went to overtime, and it saw Seattle pass that test quickly. Another road win in Game Five, but a loss in Game Six forced another trip to Denver, but it ended with the Kraken victorious by a 2-1 score. The Kraken made history twice on April 30, 2023; not only was it their first playoff series victory, they also became the first team to have their first-ever playoff series victory come against a defending Stanley Cup Champion!
So next up on Seattle's docket was the Dallas Stars, and I had said right before the playoffs started that Seattle was actually better than Dallas. They definitely showed that in Game One, when they actually ruined a four-goal performance from Joe Pavelski to win in overtime again.The Kraken actually led 2-1 after three games, but dropped the next two to end up facing elimination returning home for Game Six. Seattle actually won big that evening, a 6-3 win to force another Game Seven for the budding franchise. On that night, it was scoreless after one, and was close to being scoreless after two until Roope Hintz struck first late in the frame. The third period saw Dallas strike again, and that ended up being enough, despite Seattle scoring with 17.6 left in regulation.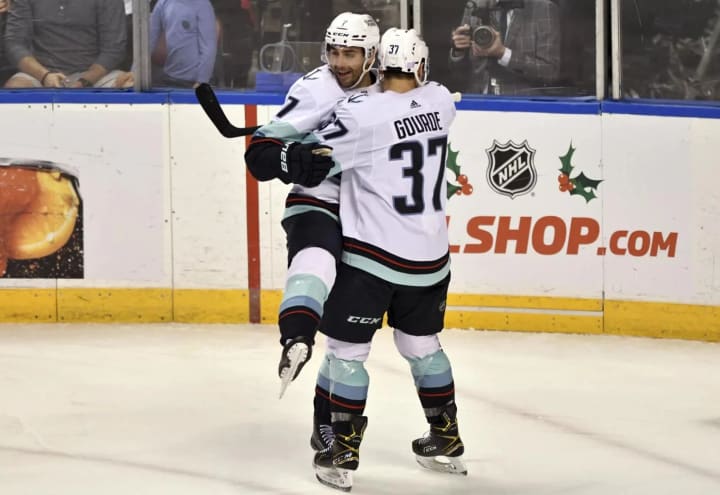 This is not a "What Went Wrong" piece, because there's nothing negative to really look at. Here are some other firsts. Eeli Tolvanen scored the Kraken's first-ever playoff goal; they really need to thank the Nashville Predators for him. Tolvanen added two more goals after that, and had five assists for eight points total. Playoff overtime is a big test, as well, but the Kraken left the playoffs at a perfect 2-0 in OT games, with both wins being on the road. Jordan Eberle scored the Kraken's first-ever playoff OT goal, coming in Game Four against the Avalanche, while Yanni Gourde scored the second one in Game One vs the Stars. Amazing, a former Lightning player and a former Islander, after clashing in the Final Four in 2020 and 2021, coming together on this new team to make history.
Gourde and Eberle were the point leaders for the Kraken in the 2023 playoffs. Gourde had 13 points (4 G/9 A), while Eberle had 11 points, with six of them being goals, which led the team. Oliver Bjorkstrand also had four goals, with two of them coming in Game Seven against the Avalanche. Matty Beniers, who is up for the Calder Trophy this year, had seven points (3 G/4A) in his first postseason. Regarding goaltending, Philipp Grubauer started all 14 games for the Kraken, going 7-7 with a 2.99 GAA and .903 SV%. However, he has to be happy with his revenge tour against the Avalanche, my goodness.
So what grade does Seattle deserve for their very first postseason? They accomplished quite a bit: eliminating the defending champs, winning a lot of road games, winning twice in overtime, and falling one win short of the Western Conference Final. They didn't do anything wrong in their elimination; Jake Oettinger was just a tough nut to crack. I'm a generous grader, and the Kraken gave me shades of the 2003 Minnesota Wild, but that team actually won back-to-back seven game series in their first postseason. The Kraken, despite a very game effort, fell short of that. Based on that, I'll give the Kraken a high B+. I really wanted to give Seattle an A-, but...they didn't advance to the Final Four. They definitely get an A+ for effort, but I stand by the B+ grade. This was one hell of a first postseason for the Kraken, and I can definitely see them returning to the playoffs next year, maybe with higher seeding.
If you like this story, click the heart and the subscribe button, and feel free to comment below! Tips and pledges would be greatly appreciated, but only if you want to do so!
Reader insights
Be the first to share your insights about this piece.
Add your insights