Five Week 2 Running Backs to Draft in DraftKings
(And Two to Avoid)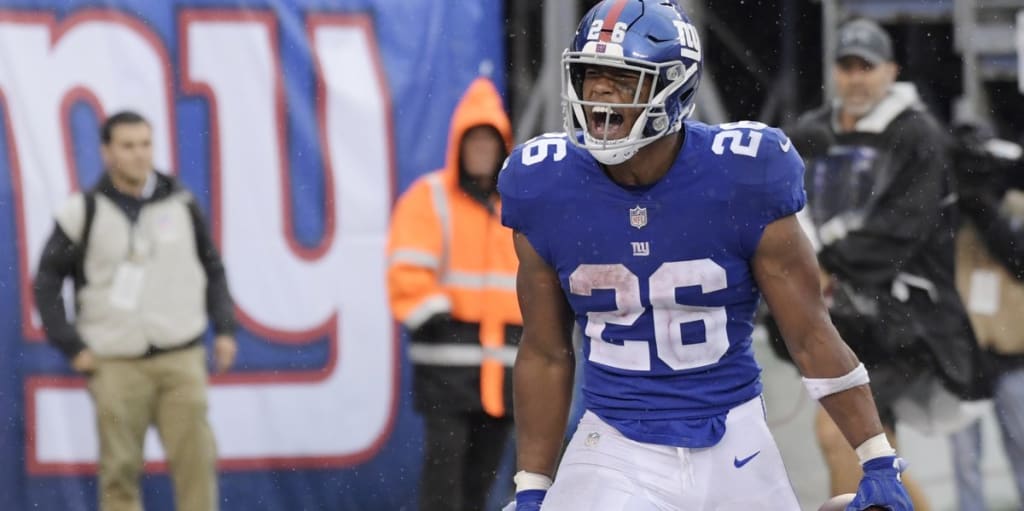 Another week, another matchup and even more ways to win a million. Yesterday, we looked at Three Quarterbacks to Consider Drafting and today we'll be looking at five running backs.
Arguably the most important position as far as value, running back production can make or break an entire lineup; in terms of volume, none fluctuate like the running back on game day. You'll have an average salary of $6,000 for two rostered running backs (three if you count/use the flex).
We'll be looking at running backs with steady workloads in prolific offenses that factor into the passing game, as well as running backs from teams that are unlikely to fall behind. Although you CAN play/ start three running backs, it's highly recommended to use two and leave the flex for an additional WR. So below are the five running backs expected to greatly perform above their ROI to give you the best chance to win this Sunday (and two more running backs you should avoid).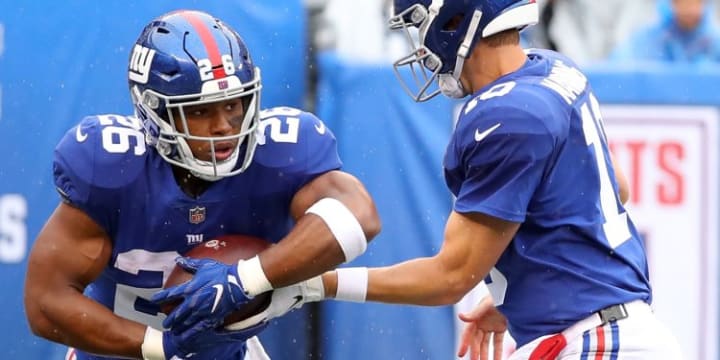 1. Saquon Barkley ($7,300) @DAL
Barkley rushed 18 times for 106 yards and 1 touchdown while also having 2 catches for 18 yards. 68 of the 106 rushing yards all came on one long pull but those are still some wildly impressive numbers for a debut. That and the fact that no other running back on the Giants roster had more than 2 carries bode well for a heavy workload going forward. Going into Dallas, expect Giants #26 to have something to prove. Saquon is a little expensive causing you to trim salary in other places, but the point reward may be worth the splurge.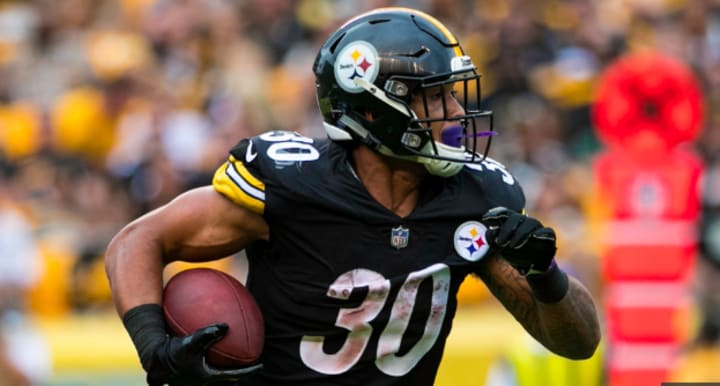 2. James Conner ($6,700) vs KC
Conner rushed 31 times for 135 yards and 2 touchdowns while also having 5 catches for 57 yards, diminishing Bell and his contract hold out with every single all-purpose yard. James steps into a hefty workload and was on the field for 77 out of 84 snaps, siphoning the majority of Bell's production as well. This week the amazingly vaulted Steelers offense looks to recover from off field distractions and last week's tie to the Browns and move forward with their centerpiece speed back, proving once again it's system, not player. Conner has a lot to prove this week.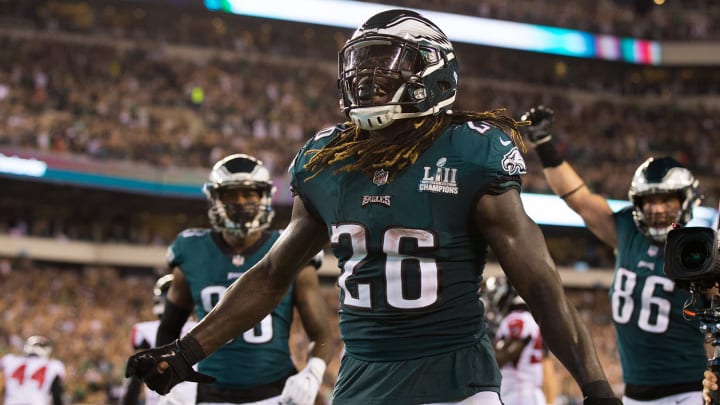 3. Jay Ajayi ($6,300) @TB
Ajayi rushed 15 times for 62 yards and 2 touchdowns but still had a low snap/ share count. Owners shouldn't worry as Ajayi comes back from a foot injury and his workload should definitely increase moving forward as Doug Pederson stated. The Bucaneers have the 26th ranked run defense allowing a nice floor and bounce back for Jay, who is ready for a breakout.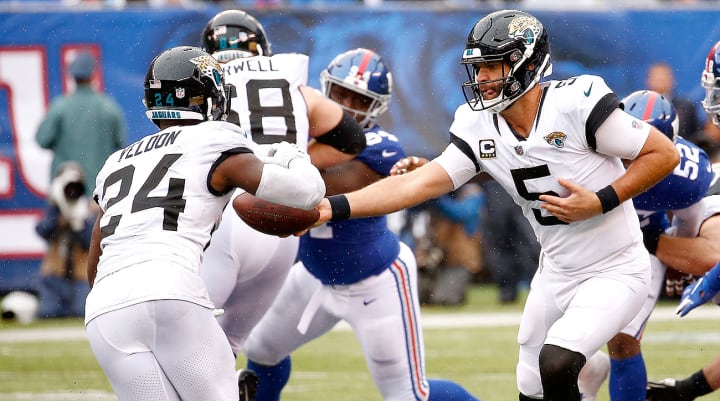 4. TJ Yeldon ($5,600) vs NE
Yeldon rushed 14 times for 51 yards while also having 3 catches for 18 yards and a touchdown. Yeldon is a surprise play here seeing extended time. Even if Fournette is available, he will be limited. Expect Yeldon to take full advantage in an already run-heavy format. The Patriots defense is middling at worst and top 10 at best but Yeldon is what you call a must-start in PPR formats for his ability to extend the play. Yeldon is below budget and streaming, making him a great second option when budgetary concerns are needed.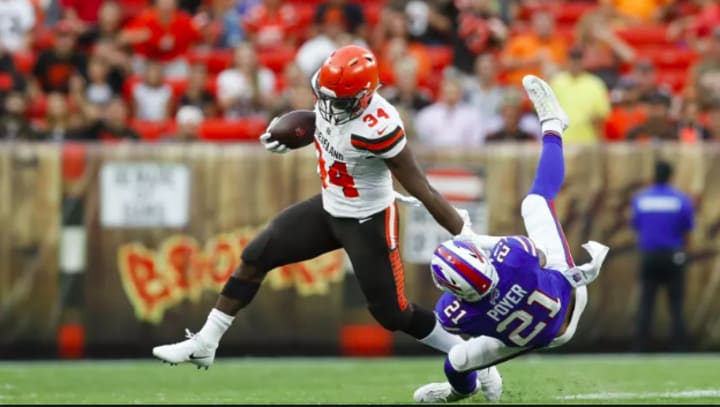 5. Carlos Hyde ($4,900) @NO
Hyde rushed 22 times for 62 yards and 1 touchdown while also having 1 catch for 3 yards. The committee turned out to be theory as Hyde is the workhorse with backups Duke Johnson and Nick Chubb totaling eight carries. The Steelers had a stifling defense so Hyde's 2.8 YPC is eye-catching but it was more so Cleveland's O-line being overwhelmed by the Steelers D-line. Expect a little bit more wiggle room with the atrociously bad Saints D-line for Hyde and Tyrod Taylor to continue to return back to form. Hyde falls way under budget and pairing him with someone like James Conner saves incredible running back salary to be used in other places. Hyde is a great return on investment at such a low price.
Two to Avoid
1. Dalvin Cook ($6,500) @GB
Cook rushed 16 times for 40 yards while also having six catches for 55 yards against the 49ers. Cook was given full workload responsibility in his return from injury last season but still played with a cautious mentality. It's a red flag from a DraftKings standpoint as the cautious campaign may continue into Green Bay, a top 10 rushing defense, whom unanimously gets the best of Minnesota twice a year. Cook may put up numbers but this week is more of a test making him overpriced this week.
2. Kareem Hunt ($6,200) @PIT
Hunt rushed 16 times for 49 yards. Hunt saw most of his heavy action taken away; his third down and two minute drills and goal line work went to the likes of Spencer Ware, a telling sign for Andy Reid's long term thinking. The Chiefs aren't known for prolific FPPG and friendly reminder: Hunt didn't have a single catch, a no-go for PPR format. Pair all that with a match up IN Pittsburgh and Hunt should be avoided at all costs.
Everyday we cover a new position to get you ready for Sunday, Check back tomorrow for Eight Receivers to Draft in DraftKings (and three to avoid).