Eight Week 3 Wide Receivers to Draft in DraftKings
(And Three to Avoid)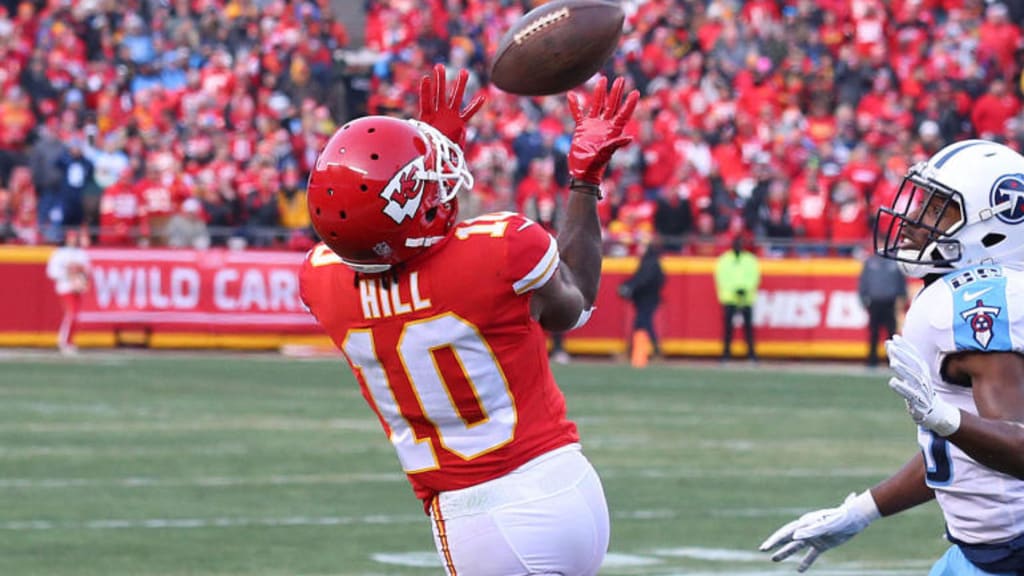 You hopefully made good money last week if you went with Adam Thielen, Ty Hilton, Golden Tate, JuJu or Allen Robinson; however, Odell, Demaryius Thomas, and Ted Ginn Jr all flopped while Julio Jones, Tyreek Hill, and Mike Evans weren't as avoidable as we had thought. Sorry. But welcome to a new week and all the ways to win a million are available again. We've already covered three quarterbacks and five running backs and today we are covering the eight wide receivers. Undoubtedly the heart and soul of your team, your four (yes four) wide receivers will be the bread and butter of your winning line up. Cutting costs at other positions and paying for premium running backs leaves about $6,000 for all four spots; so you will once again need to get creative in your flex if you overspend at WR1 and WR2. Every dollar here counts. Here are eight wide receivers to pick n choose from and three to avoid.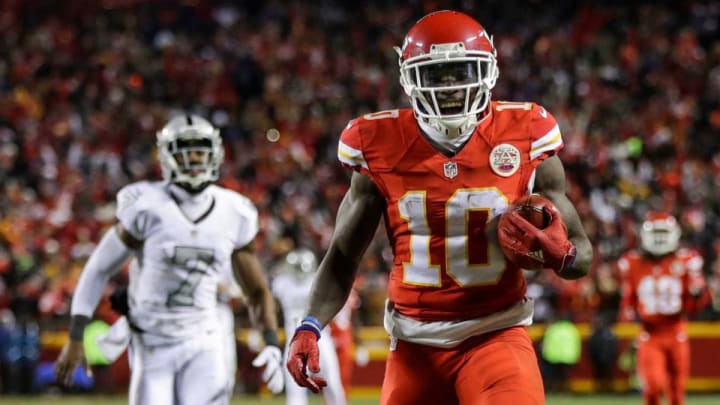 1. Tyreek Hill ($8,500) vs KC
Hill had five catches for 90 yards and one touchdown against a distracted, struggling Steelers defense. Last week, he was on our do not draft list and he made us and the Steelers defense look silly. Hill is a human highlight reel and the Mahomes-Hill connection is quickly becoming one of the most potent in the NFL, hence the hefty price tag on Hill. The Chiefs boast the #1 offense and are hosting the 49ers and the 29th ranked defense. The only caveat is if the Chiefs jump out to an early lead or decide to stretch the game and end up relying heavily on the run. Fret not, Hill will still be a touchdown machine for you if you can overcome the price tag.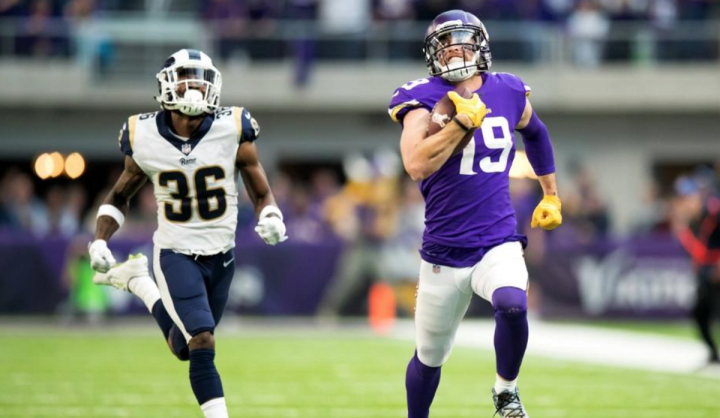 2. Adam Thielen ($7,800) vs BUF
Thielen had 12 catches for 131 yards and one touchdown in a tie with the rival Packers. This one could go either way as QB Kirk Cousins split targets evenly with Thielen and Stefon Diggs last week and now, facing the abysmal Bills defense should contribute to another even usage rate again. Thielen and Diggs are only $100 apart making it even more of a toss up. With that being said, Thielen and Cousins have built up some rapport through the preseason and Week 1, the #2 receiver has been #1 in targets and receptions. Expect Thielen to put up numbers against the Bills albeit as an expensive #1 receiver. Bet with caution.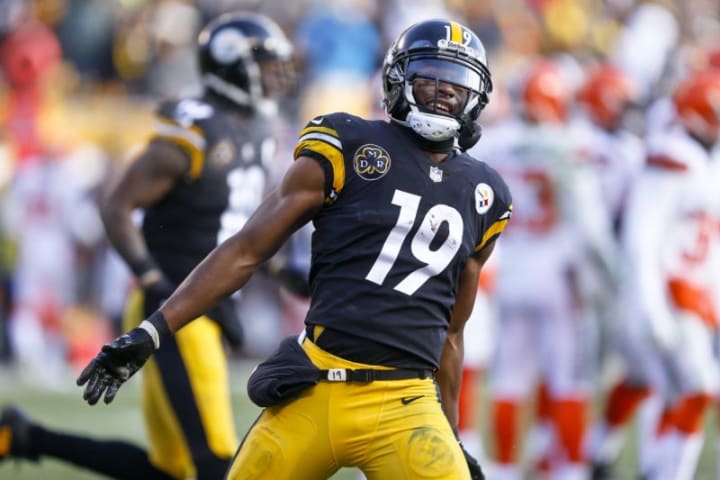 3. JuJu Smith-Schuster ($7,200) @ TB
Smith-Schuster had 13 catches for 121 yards and one touchdown. JuJu is proving to be a reliable #2 and sidekick to Antonio Brown, taking advantage of defensive openings, making plays all over the field, taking whatever the defense gives him and getting great success along the way. Last week he put up 34 points, proving to be an efficient #2. The Steelers have been in shoot out after shoot out and a visit to Tampa Bay probably won't change that this week. At $7,200 he's borderline expensive making him a gamble as your #1 receiver but playing a more expensive receiver beside him REALLY eats into the budget. Start with confidence but proceed with caution.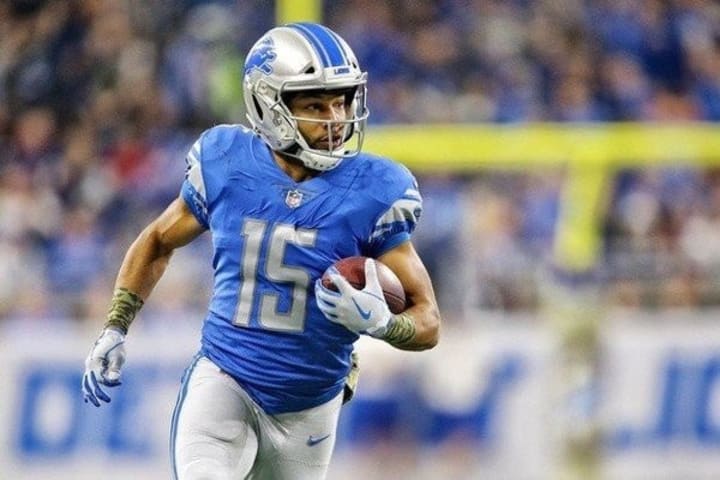 4. Golden Tate ($6,800) vs NE
Tate had seven catches for 109 yards against a weak 49ers defense. The Lions continue to struggle to get anything going but Tate proves to be a solid beacon of light through these dark times. Playing from behind, Tate sees his volume usage and makes production out of nothing; forcing him to offset for his skill set when his team isn't. If the Lions are going to need to keep pace with the Patriots, then the Patriots defensive backs need to keep pace with up with Tate and Stafford's desperation throws. At $6,800, Tate is slightly over budget but still keeps plenty of salary to make ends meet at other positions.
5. Chris Hogan ($6,300) vs NE
Hogan had four catches for 42 yards and two touchdowns unsurprisingly seeing low volume and high usage against that stingy Jaguars defense. For the second straight week, Tom Brady is on the do not draft list at QB because his #1 target option is Chris Hogan and that's EXACTLY why Hogan is on here. Ironic. We avoided Hogan last week altogether as the Jaguars defense was too much, but this week's low salary tilt against the 24th ranked Lions look a lot better. With his heavy usage and heavy Tom Brady reliance expect volume to appear and at barely above salary, Hogan is a smart, safe play.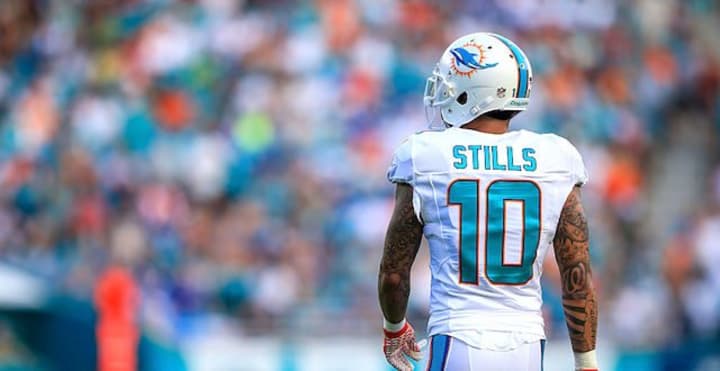 6. Kenny Stills ($5,800) vs OAK
Stills had two catches for 17 yards against what's truly a stifling Jets defense. Stills is this year's boom or bust receiver, putting up 29.6 points in Week 1 and then 3.7 points last week. We think it's based solely on defensive match ups he's facing, which bodes well for him and the 17th ranked Raiders this week. Jarvis Landry is questionable with a knee injury boosting Stills upside; not to mention, the Raiders do not how to stop the pass yet, making Stills a really smart play. At the cheap price of $5,800, Stills fits in nicely as the second or even third receiver on your lineup and will still be the top dog in Miami.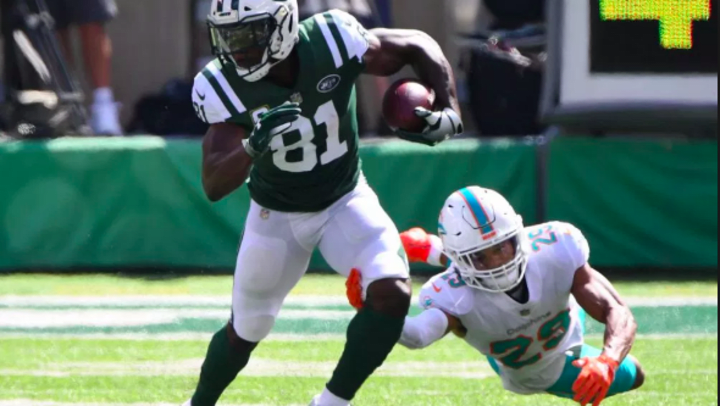 7. Quincy Enuwa ($5,600) @ CLE
Enuwa had seven catches for 92 yards and is proving to be the go-to option in the Jets offense. The defense in New York is surging but the offense is still finding its way with Sam Darnold at the helm. Enuwa is proving to be a reliable option, leading the team in all receiving categories. Expect the rapport building to continue when they visit an okay Browns defense when Enuwa will be asked to do a lot and benefit greatly because of it. At $5,600, Enuwa is a reliable #3 or flex play that'll help balance out your roster.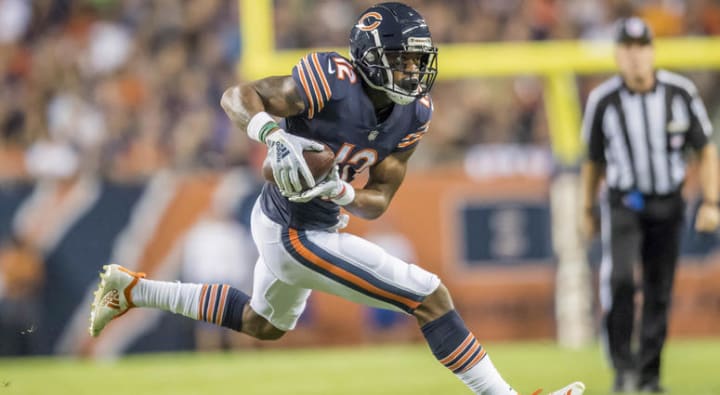 8. Allen Robinson II ($5,400) @ ARI
Robinson had 10 catches for 83 yards last week against the Seahawks. We had Robinson as an underrated flex play last week, betting and underestimating the Seahawks defense. We were wrong as Robinson only put up 18 points and was barely a factor. He still leads the Bears in every receiving category and Trubisky trusts him implicitly. Expect a little—no, a lot more—wiggle room this week when they visit the dead last Cardinals. Last week was a blessing in disguise as Robinson's value is still low. Robinson is the perfect flex play at $5,400. Start him again.
Three to Avoid
1. Odell Beckham ($8,200) @ HOU
Beckham had four catches for 51 yards. Yikes, our sincerest apologies if you overpaid for him last week but oh how the mighty have fallen. Big Blue is back in Texas this week facing a better defense in Houston. The Giants offense is a mess altogether and Beckham usually has to make something out of Eli's nothing. Friendly reminder: the Giants haven't scored a touchdown 'til the 4th quarter now in consecutive weeks and Beckham hasn't found the end zone at all. Expensive again, but not worth it.
2. Davantae Adams ($7,600) @ WAS
Adams had eight catches for 64 yards and one touchdown. The leading option at receiver in Green Bay, Adams has experienced the expected surge of value of production. However, Aaron Rodgers has been and continues to nurse a knee injury, leaving him less than 100 percent. A visit to Washington and the 20th ranked defense leaves a boom or bust scenario for Adams, making him an expensive price to play if you have to bet the whole receiving corps on them.
3. AJ Green ($7,500) @ CAR
Green had five catches for 69 yards and three touchdowns against division rivals the Ravens. Green now has four touchdowns through two games and the fun times keep rolling. However, as teams begin to come down on the Bengals offense, the focus is always on Green; he'll need to get creative if he wants to get the ball in space. A $7,500 price tag is hefty so I would avoid; however, I may end up eating these words.
Every week we cover every position and we've already done the positions of value. Come back tomorrow for two tight ends and two defenses and one of each to avoid.