Carmelo Anthony: How Did It Go so Wrong, so Fast?
With All-Star weekend in the headlights, and the playoffs soon approaching, I look at how Melo has gone from outright MVP candidate and team star, to being traded from team-to-team without a chance of redemption.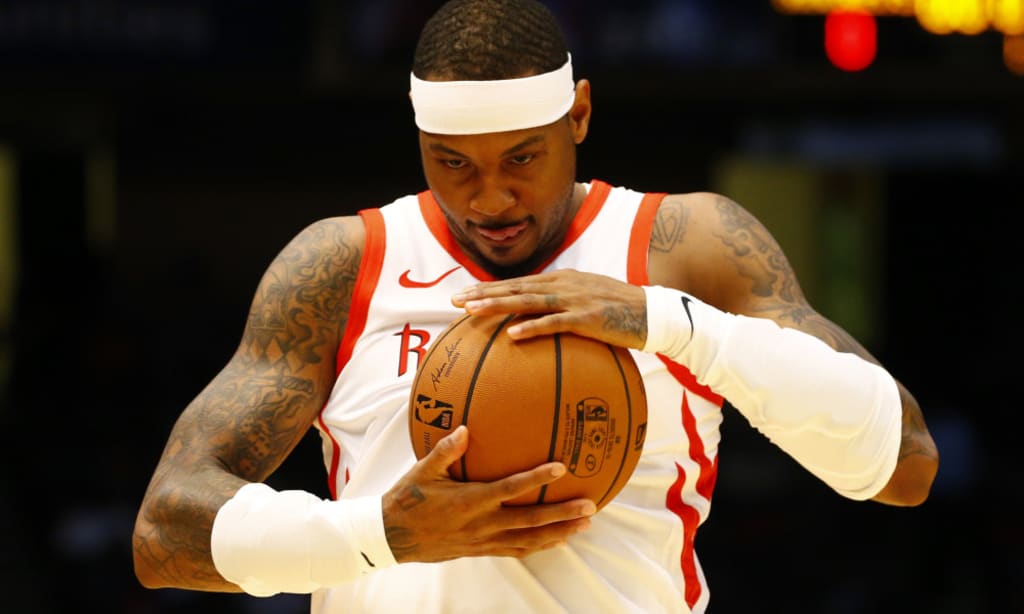 Personally, I'm a fan of Melo. His days in New York were one of the many highlights of my love for basketball when growing up. The way he had the confidence to dribble up the court with no fear and hit the go-ahead or game-winning jumper right in a defender's grill. His 62 at the garden which was capped with a half-court heave at the end of the first half. Even his highlights in Denver are something to be awed.
However, times have changed for the 10 time All-Star and scoring champ. The NBA is always evolving. The days of Iso-ball are over. The days of one player scoring 66 percent of their team's points in a game is something that will live in the NBA archives. The days of team and unselfish basketball has well and truly begun. It's just Melo that hasn't gotten the message yet.
How It Began
Melo. A US Mens Basketball icon. A college champion. A high school prodigy. It seemed all of the pieces were in the right place to have a stellar NBA career, full of Championships, MVPs, scoring titles and unfathomable success. This, however, is only half the story.
Starting at Oak Hill Academy, and crowing a 42-game winning streak from his time there, Melo went on to capture the attention of many high profile college programmes and NBA teams, eventually committing to a one and done stint at Syracuse, which provided a National Championship and national attention. The man that was in the same draft as future champions Lebron James, Dwyane Wade, and Chris Bosh looked as though his personal parade was only moments away.
After successful rookie and sophomore years in Denver, the future looked bright for the future no-teamer. 30 points in only his sixth game can't be that bad right? Especially since it took LeBron 17 games to record 30 points in his rookie season (although LeBron is best described as a point forward rather than a pure scorer). This made him the youngest player since Kobe to record 30 points in a game.
Things would only go up for the young Melo when he recorded 40 points in a W over the Seattle Supersonics (now the Oklahoma City Thunder). He would win Rookie of the Month after that performance and would earn an All-Rookie first team selection, whilst coming second in the Rookie of the Year voting and leading his team to the playoffs that year. This would continue for Melo for around seven to eight years. Putting up consistently excellent scoring and rebounding numbers, never really excelling in assists or defensive stats and being ultimately average on the true shooting, FG and FT percentage side of things, albeit having that first elusive scoring title slip through his fingers, despite his best efforts. Then came New York, Melo's original stomping ground.
Scoring Titles, Lin-sanity, and Contracts
In 2010, Anthony became a New York Knick. Kind of like coming all the way back around. It just felt right. Syracuse was obviously close to Melo's heart and, therefore, was the only real option that was an applicable solution at the time. Through his time in New York, Anthony would lead the Knickerbockers to the Playoffs three straight years from 2011. He would also record a 62 point game in 2014 against Charlotte at MSG, which would end up being a Knicks franchise record from a player. This would come with 13 rebounds, 6 three-pointers, 0 assists, and 0 turnovers (typical and non-typical Melo). After this game, he would lead the Knicks on to win five of their next eight and average 33.6 points over that stretch. Everything was a dream for Melo at this point. Then an un-drafted Harvard rookie came in, and the jealous and needy Melo emerged.
According to sources, Melo didn't like the attention that Jeremy Lin was getting over his incredible scoring period and impressive games for the Knicks. He was called 'the most popular [Knick] player in the last decade, and, oh, how green that made Melo. He felt as if he was the most popular player on the Knicks roster and that everyone should be paying attention to him, and not this up and comer of whom nobody had ever heard of (being a veteran after-all). This, eventually, led to New York shipping out Jeremy, where he had pretty successful tenures in Houston, LA, Charlotte, Brooklyn and, now, Atlanta. Imagine LeBron being in LA when Lin was there? Or being around the upstart Nets at this time? Or continuing his run in Houston with CP3 and Harden? Imagine.
Anyway, off topic. Melo continued his so-called "the man" run and won the Knicks the second seed in a pretty weak eastern conference, where they would lose in 6 to the unstoppable Miami Heat, with LeBron as their leader. Just goes to show that Iso-ball and post up play doesn't always win Playoff Games and Championships. Fun fact. That playoff run contains Melo's one and only Playoff series win, which makes him 1 out of 11 in playoff series wins. (Yikes.)
After failing to reach the playoffs with, arguably, the best European player at the time since Dirk Nowitzki in Kristaps Porzingis, and having one playoff series win under his belt, Melo would tease the idea of becoming a free agent. Now. If I was a GM or NBA coach at that time, I would be thinking, "Melo is an excellent scorer..." That's it. I wouldn't truly believe that Melo could be the emotional leader towards a Championship. Or would sacrifice his own minutes for the team to capture a title. He is too self-preserved and that was solidified in an interview with reporters at his OKC's training camp. Which Melo replied, "Who, me? Ay, P they say I gotta come off the bench!" This, to me, was the start of an epic decline for Carmelo Anthony.
The Free Agency Period—What Next?
After a pretty underwhelming stretch with OKC, whence they were blown out in a six-game 1st Round Playoff Series by an upstart Utah team, in which Melo averaged his lowest playoff PPG since his rookie season, this was the first of the free agent period for the 10 time All-Star. Since then, we have seen Melo working out with LeBron, working out on his own and had many conspiracy theories promoting a Melo and LeBron reunion, even though he has no interest in playing with LeBron and vice-versa. Many teams have been linked to the scoring champ and there are a lot of decent fits and a lot of very bad fits. Teams like:
San Antonio: Has a prehistoric system that promotes ball movement and all of the players touching the ball. Refuses to let go of the past and is not a team that is too set on moving forward. Something I think Melo would be content with, but not fully behind.
Boston Celtics: A young core with an experienced Point-Guard and has a lot of good years to look forward to. Any player that passes through Boston and Brad Stevens system is ultimately elevated to be a better player. I mean, look at Isaiah Thomas. This is great for Melo to develop a less Kobe-esque mentality, but as an overall fit to run for a title, I think he will fold again in the playoffs and become Melo of old. Not helping team-mates and only being concerned about what he is doing on the court.
LA Lakers: This has already been established. As good of friends as Melo and LBJ are, they cannot co-exist on the same team. Both need the ball in their hands, both need to score and both want to be "the man" on that team. Be it LeBron will ultimately make his team better, I have a feeling if it does happen the James will get tired of Melo's ball-first and not team-first mentality, even though LeBron has been somewhat distracted this season.
I genuinely think that Melo is the last of his kind. A narcissistic player that craves the net and only passes when it best suits himself. For him to become a better player, he needs to learn to take a back seat role on top tier teams. This is the only way that Melo will truly meet the pinnacle of sports, and until that happens, he will, to me, be only a player that should've won it, not could've.