Best NBA Podcasts to Listen to Right Now
From game highlights to behind-the-scenes drama, here are the best NBA podcasts to listen to today.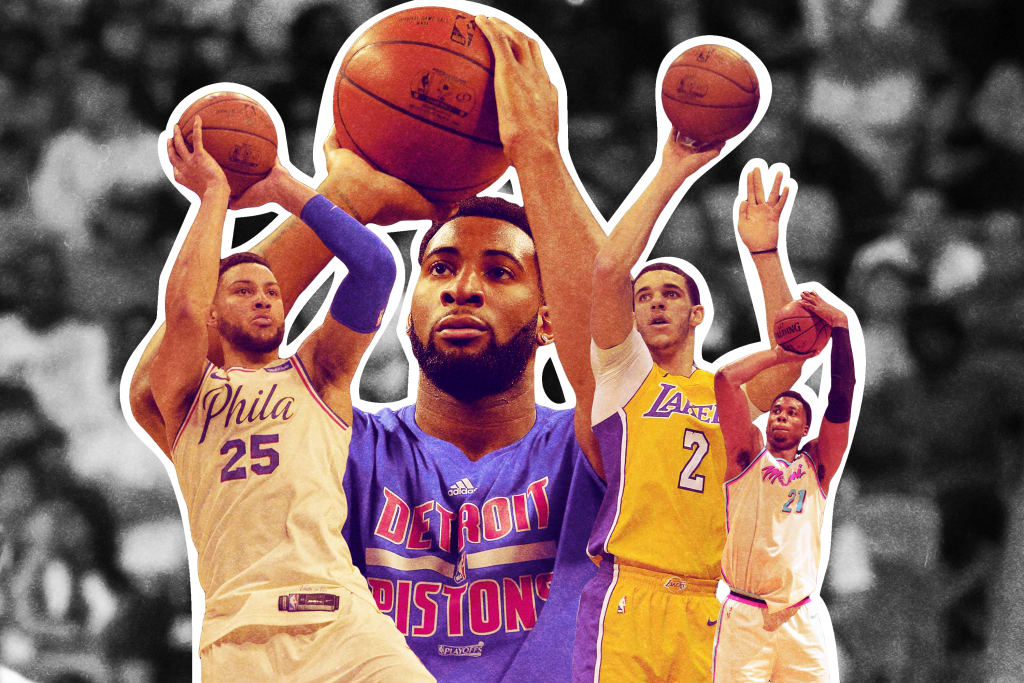 When you're a real NBA person, just watching the games is never quite enough. You also want to be in on the behind-the-scenes drama, the hot takes, the commentary and interpretation from every side. That is why there is a thriving market for podcasts in sports' industries: It's not just about rehashing the latest game and highlights—it's about hearing from experts and amateurs alike on the season's trajectory, the player's growth, hearing the best (and worst) predictions and calls, and even just getting some sound life advice from some of the most successful athletes in the United States. So when watching the game and anticipating the story lines of the 2018-2019 season only leaves you wanting more, check out these NBA podcasts to fill in the gaps.
The King is not only known for opening schools in Akron. The first thing you need to know about if you're getting into the world of podcasts exclusive to the NBA is UNINTERRUPTED, a company run by LeBron James that brings us a whole host of interesting podcasts (and YouTube channels and other media) for the NBA fan. Road Trippin' is one of the most well-loved of these shows, and not only for its charming background: It was born on a road trip with Channing Frye and Richard Jefferson, who were, at the time, teammates for the Cleveland Cavaliers. It's a fun podcast hosted by Frye and Jefferson, along with co-host Allie Clifton, a reporter. They talk about a host of topics, from the obvious (sports, the 2018 NBA season, eastern conference news, etc.), to the less obvious (travel, food, culture). All of it will give you a little sneak-peek into the actual lives of NBA players and teams. Special guest stars often appear, including LeBron James himself.
What makes The Starters one of the best basketball podcasts out there is that it offers daily episodes for most of the year (weekly in the summer), which cover everything from game highlights to trade rumors to personal anecdotes. Hosted by J.E. Skeets and Tas Melas, The Starters is not just a podcast about the NBA: It's actually one of the few true NBA podcasts, produced bythe NBA. Of course, some would be skeptical that an NBA-produced podcast could remain unbiased or be trusted to deliver the truth if it put them in a bad light, but the light tone of the podcast and the regular, insightful updates make it worth the gamble. Plus, you're guaranteed to get quality, official news and insights into the 2018 NBA season, the western and eastern conferences, and major players like Kevin Durant and Kyrie Irving.
Another from LeBron James' company, UNINTERRUPTED, Open Run is one of the most fun NBA exclusive podcasts out there. Hosted by Grey's Anatomy star Jesse Williams and writer Stefan Marolachakis, the podcast rides mainly on its generally amiable, light-hearted interviews with everyone from current 2018 NBA stars to sports statistics experts and more. They cover every topic, from free agency to controversial trades, to the nitty-gritty details of life off-court for major NBA teams. The tone makes this podcast a fun listen, but the hosts are far from just good hosts—they also offer calculated views and real insights in their commentary, and bring in a range of exciting guests to offer further perspectives.
If you're not already familiar with The Ringer, you're probably missing out on one of the best podcasts for all your pop culture interests. They offer shows for a wide range of interests, which of course includes an NBA podcast. Though primarily hosted by Chris Vernon, The Ringer also sees frequent guest hosts like Kevin O'Connor and Bill Simmons.
The Ringer NBA show has three major types of podcasts that it runs: Heat-Check, which are episodes devoted to the, unsurprisingly, "hot" players of the last week and include information about their most recent episode, another set of episodes that deals with recent rumors in the world of professional basketball, and then one that follows major events and storylines in an in-depth fashion. They also host special podcast episodes for major events and news, so they can really operate as your one-stop-shop for everything you need to know. This is an especially good podcast for fans of the Celtics and the Sixers, but they do try not to let their own interests and biases interfere with delivering the best in NBA news and commentary. This podcast is truly one of the best basketball podcasts for fans.
The Hoop Collective is one of a number of NBA podcasts brought to you by ESPN. They put out new episodes quite regularly, and so manage to cover just about all your NBA-related topics and genres, from breaking news to game recaps and highlights, to commentary from hosts and guest stars alike. And that's another thing that makes The Hoop Collective a uniquely well-rounded NBA podcast: The "collective" part means that there are many hosts who take turns speaking with each other, and with guests, about the game and related news and rumors, giving you a range of perspective and expertise that you often don't get with the single-host or two-host formats that most podcasts follow.
Hosted by Zach Lowe, one of ESPN's top NBA analysts, The Lowe Post is perhaps most noteworthy for Lowe's connections—that is, his ability to bring in big-name guests, including fellow NBA analysts and podcast hosts like Bill Simmons, Adrian Wojnarowski, and Kevin O'Connor. But the weekly basketball podcast is a far cry from the daily work of these ESPN employees, and Zach Lowe is a master of the interview, getting at some of the most interesting and otherwise unexplored topics relating to basketball, the teams, the players, and the life that surrounds the NBA.
With 300 episodes to date, Dunc'd On Basketball is one of the most prolific outputs from the world of NBA podcasts. It's also likely the most academic and rigorous in terms of analytical ability and approach. In this podcast, Nate Duncan takes in-depth, and I mean truly in-depth, looks at individual teams and players from a statistical standpoint, taking a look at the NBA from the numbers side of things, especially as it pertains to professional basketball as a kind of business, and how various changes and trades effect that business.
The Woj Pod is the NBA podcast of Adrian Wojnarowski, one of the few truly big names in NBA podcasting. Wojnarowski, or Woj, is most particularly known for breaking big news in the NBA early, through his Twitter account. The podcast, however, is not so much another medium for these "Woj bombs" that the NBA insider is so adept at getting, but rather for the basketball expert to get down to details with a host of guest stars, including high-profile players like Paul George and trade experts like general managers and fellow NBA podcast hosts and basketball analysts.
Locked On is an NBA podcast hosted by David Locke, a veteran basketball announcer and all-around expert of the game. Like many of his peers in podcasting—Zach Lowe and Adrian Wojnarowski, to name a couple—he balances many different aspects of the NBA that intrigue fans by setting up informative and entertaining interviews with analysts, players, and others involved in the NBA, as well as providing game highlights and recaps, and expert commentary on breaking news, changes, predictions, and new insights into the inner workings of the NBA.
Open Floor is among the most popular in the realm of classic NBA podcasts because it is hosted by Sports Illustrated. It's hosted by Andrew Sharp and Ben Golliver, who tackle recent developments and news in each bi-weekly episode. They offer careful analysis and practical prediction from a statistical standpoint, balanced alongside engaging stories and anecdotes about NBA players and teams, which range from charming to colorful. The dynamic works to bring fans a genuinely informative experience, without ever feeling dry or boring. As part of Sports Illustrated, they are also able to bring in many high-profile guests for interviews and discussions.