LeBron James Opens School in Akron
The Ohio native is still giving back to his hometown.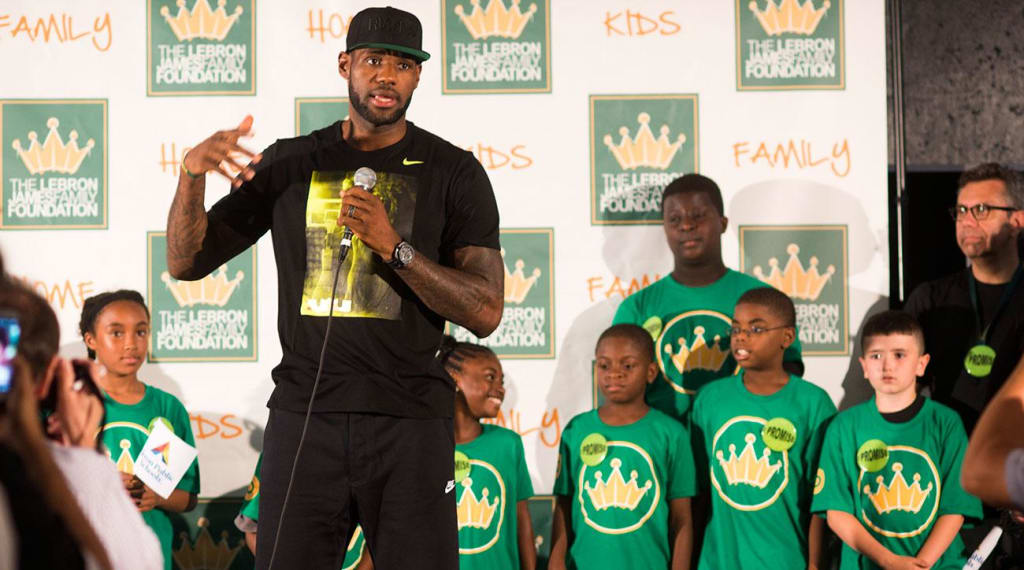 LeBron James continues to do amazing things on and off the court. On Monday, James opened the I Promise School, a public school, in his hometown, Akron.
James has been a philanthropist nearly his whole career. As an Ohio native and Cavs fan. I remember his annual bike-a-thon. The bike-a-thon was bike ride through the city of Akron, where kids were given new bikes. His friends such as Carmelo Anthony and Dwyane Wade would sometimes participate in the bike ride. I don't know how much information is available today about the bike-a-thon, but I remember them like it was yesterday. They were earlier in his career before his I Promise campaign started. In fact, if I remember correctly, the I Promise campaign evolved from his bike-a-thon.
The I Promise campaign's focus was a bit from the bike-a-thon. In recent years,the campaign focused on education. Around 2015, James announced an initiative that would pay for more than 1,000 kids to attend college. Now, James has went further and established his own school.
The I Promise school is a is a joint venture between the LeBron James Family Foundation and Akron Public Schools. The foundation approached the Akron School Board in hopes of creating the school and collaborating with them to make it happen. In other words, the dream became a reality.
The school will hold 240 third- and fourth-grade students, but will add other grades throughout the years. They intend to have grades first through eighth by 2022.
I've seen pictures of the school and I have to admit—it looks amazing! Everyone involved with this school should be proud of what they've done. There are a few tweets with images of the school beneath this article. I love the way the school is designed and also what the school will include.
The school will focus on bringing kids up to speed with accelerated learning. If a kid is falling behind for whatever reason, they school ensures that child will be brought up to speed. The school will also include services to help students deal with issues they may face such as financial difficulties. The school will also include services to families. The services include job placement assistance for parents and an on-site food bank. The food bank will allow parents to pick out foods they can prepare at home. All of the services provided by the school will beneficial and useful for its student. Especially those who come from low income families.
I also forgot to mention that every student will receive a bicycle when they arrive. Sound familiar? This is reminiscent of his bike-a-thon in past years. James has combined his love for bikes (which he credits as something in that gave him an escape from dangerous parts of his neighborhood) and his emphasis on education and put them towards the school.
Brandi Davis, the principal of the I Promise school, spoke on to USA Today about the newly established school.
"We are going to be that groundbreaking school that will be a nationally recognized model for urban and public school excellence," I Promise principal and Akron native Brandi Davis told USA Today. "We are letting people know it is about true wrap-around support, true family integration and true compassion."
This is unprecedented for any athlete. Althletes giving back to their communities is nothing new (even Kevin Durant just won the Muhammad Ali Sports Humanitarian Award at the 2018 Sports Humanitarian of the Year Awards), but this is unlike anything we've ever seen. LeBron James is breaking barriers unlike anyone before. For someone who was told to "shut and dribble", James is doing his part in creating better opportunities for our youth. Congrats to LeBron James and anyone else involved in the I Promise school.
basketball