Best Basketball Shoes for Speed
If you want to keep up with the most explosive players, you're going to need a pair of the best basketball shoes for speed first.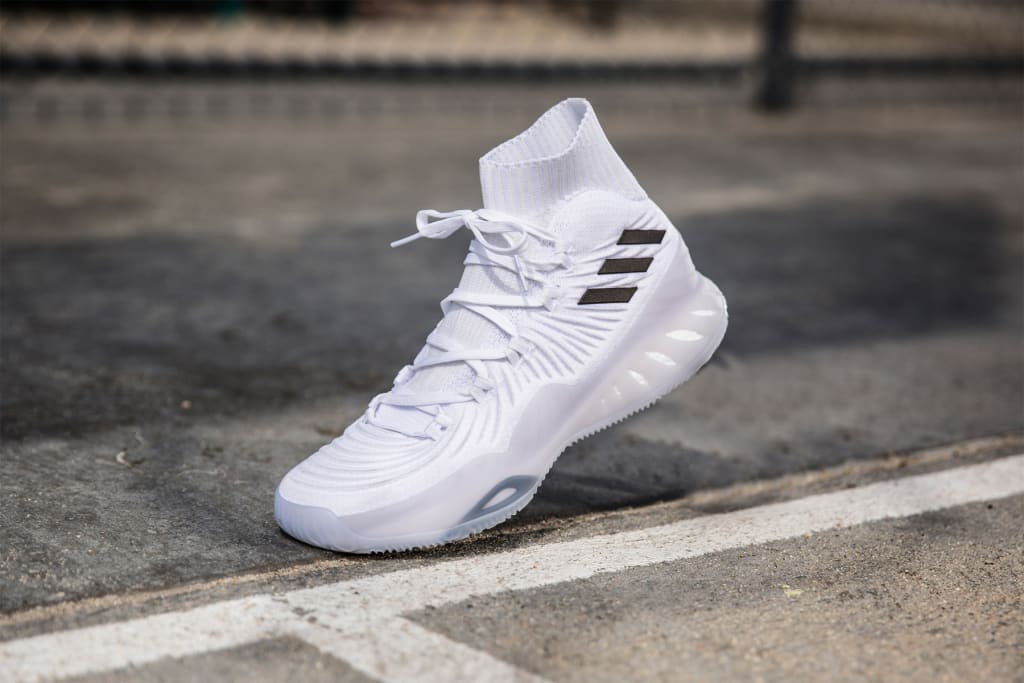 Basketball has evolved over the years into an explosive, guard dominant game that requires elite athleticism. With the plodding pace of the 90s officially extinct, players are more reliant on speed than ever before. In order to get that quick first step that most new-age players desire though, finding the right pair of sneakers is imperative. Luckily, some of the best basketball shoes for speed are not very hard to find. In fact, they're pretty much available on the shelf of any store that sells sneakers. So let's go over some of the marquee shoes that any "true baller" should cop.
After all, you don't want to get those ankles broken on the court.
The Crazy Explosives by adidas really live up to their billing—they'll make you "crazy explosive." With the lightness and flexibility of a low top and the ankle support of a classic high top, the Crazy Explosives are perfect for guards and perimeter slashers who make a living getting to the rack. The best part is—your speed won't ever be compromised, keeping your killer crossover in tact.
These might not be the latest pair of kicks from James Harden's adidas collection but Volume 2 remains the best for guards with a need for speed. The rubber outsole on the Hardens give them great traction, while the synthetic support cages give high-octane players ideal ankle support. They're the perfect combination of support, comfort, and lightness, making them a must-have for any guard trying to replicate the creativity and explosiveness of the best two-guard in the game today. I mean, if the shoe fits...
Damien Lillard is arguably the NBA's most underrated player, and it's pretty easy to say the same thing about his sneakers—especially if you're of the speedy point guard mold. The D Lillard 3 are great for both smaller and bigger players on the court, as their flexible support and comfortable lining make for a great shoe in terms of fit. However, they're also light enough and offer enough support for those whose game is totally based around speed. So if you're trying to emulate the game of the Portland Trailblazers point guard, you might as well give his sneakers a try.
LeBron James' combination of size and speed makes him a once-in-a-lifetime talent; and if you want to at least attempt to emulate his game, the best thing you can do is wear his sneaker, right? The LeBron 16s are great for any type of player whose game is predicated on getting to the rack. Whether they're a facilitator, scorer, or both, the LeBron 16 basketball shoes remain an intriguing option for explosive basketball players everywhere.
Despite his laundry list of injuries throughout his career, Kyrie Irving remains amongst the leagues' fastest guards. His reliance on speed and elusiveness warrants a pair of shoes that can both protect the lead guard's lower body, while also providing enough flexibility to do all of those crazy feats on the court. His own personal shoe (and in particular, the Kyrie 4s) embody every ounce of Irving's play style and then some. They're light, offer amazing support, and perhaps best of all, are highly durable.
Kobe Bryant may or may not have been the second coming of Air Jordan back in his heyday (but let's chill with the GOAT talk for now), so it's no surprise his ensuing shoe legacy might also be up there with his Airness. The Kobe A.D. basketball sneakers are amongst the best for quick twitch guards and wing players who tend to play on the perimeter. The A.D. basketball shoes have a great court feel and, at least for me, the shoes fit perfectly upon first use. It was almost like Cinderella's slipper, except instead of becoming a beautiful princess, I became an absolute menace on the court. Even for a huskier guy like me (coupled with the fact that I was primarily playing on outdoor courts) these shoes made me feel quicker than ever.
With Derrick Rose's career resurgence this season, it's only fair to put a pair of his signature basketball shoes on this list. The D Rose 5 Boosts might not be the speedy guard's latest shoes, but it might be his best version—at least when it comes to maintaining a quick first step off the dribble. The 5s offer solid support, and its boost technology will give you extra bounce on the court. If your playing style is anything like D-Rose's (easier said than done) than you may want to give his own signature shoes a try.
If you're looking for a cheaper shoe that still cater to your burgeoning speed, the UA Havocs are a solid option. They're lightweight, super flexible, and above all else, reliable. No, they might not have zoom air cushioning or an insane traction pattern like some of the other fancy brands of basketball sneakers, but the Havocs will certainly do the trick in terms of helping you maintain your speed.
If you thought the Kobe A.D. basketball shoes were ideal for your style of play, then you'll absolutely love the NXTs. Another great choice for any high-octane wing players, the NXT features state-of-the-art Zoom Air technology, an adjustable toggle system, and a micro-tread pattern for added traction. There is definitely plenty to love about Kobe's latest sneaker, so long as you're comfortable with the higher price tag.
Considering the best basketball shoes for speed, there's no leaving out the best basketball shoes for guards. The PG2s might have cut it last season, but now, the PG 2.5s are where it's at. The signature shoe of Oklahoma City Thunder forward Paul George, the PG 2.5s provide ankle support and stability for bigger players, yet are lightweight and flexible enough for smaller, explosive guards. Even if you're a bit tired towards the end of games, you'll find your energy returning after you slip on these bad-boys—almost like you drank MJ's special water from Space Jam. You might not be able to stretch your arm from half court, but it should certainly suffice.