Goat Talk...
Why Kobe Is the Goat, Even If You Won't Admit It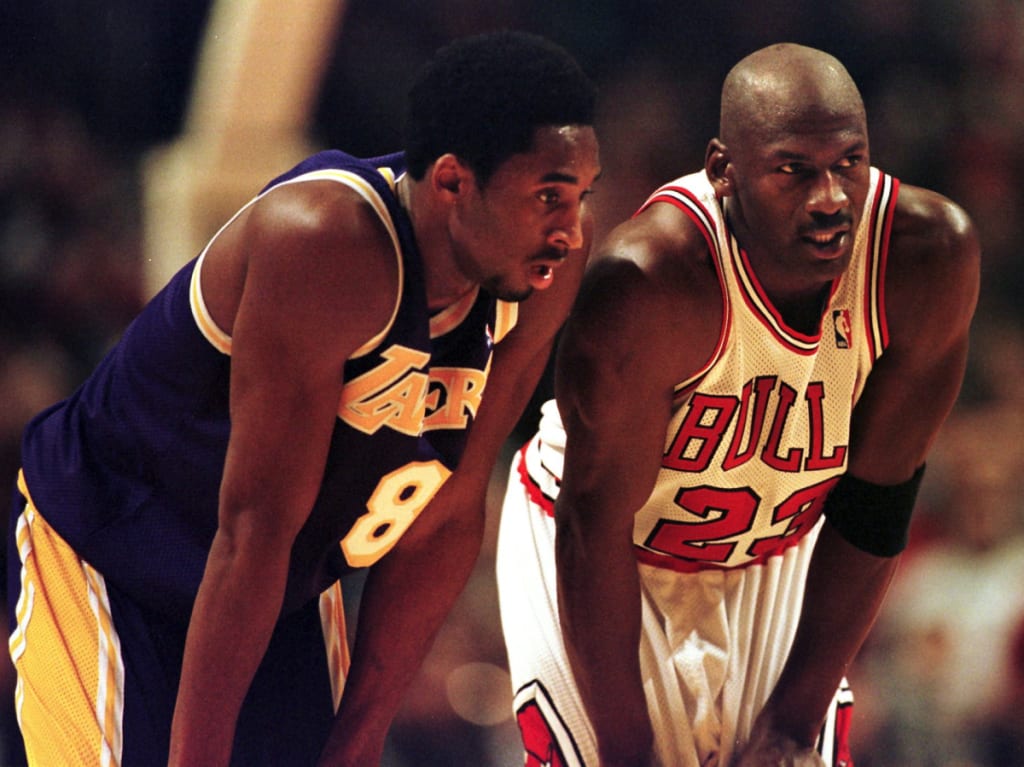 Kobe's number 8 and 24 jerseys were retired earlier this year and straight from Magic's mouth the words "Greatest Laker" were uttered. The greatest player in a franchise that saw Cap, Magic, Baylor, West, and many others, Bryant stands atop them. A legendary career ended a few years ago with a closeout game fit for a storybook 20 years in the making, in the form of a 60-ball from Bryant. Kobe gave us memories that will never be forgotten. From 81 points in a game to the lob to Shaq in game seven of the Western Conference Finals against the Trailblazers, he has given the fans something to remember. More than that he gave us a storyline to go with it. The great ones have something to cling to. Jordan had his maniacal competitive spirit, and Magic was the most likable man in sports with an infectious smile and personality.
Kobe was polarizing. Those who hated him, hated him with a fervor often undefined. Ask any Kobe hater a simple question, why? He or she will probably not have an answer of any substance. While you hated him, he loved and thrived off the fact that you did. In that way he is unique. Never has a player that great garnered the attention of detractors hoping to see him fail often having their minds changed in the process, subdued to an 'I can't believe he just did that,' head shake.
With that said, it is time to talk about it. Kobe is the greatest basketball player to ever live. Before you close your laptop hear me out. You are probably thinking, "another Kobe-stan caping for Mamba." I understand that this is not the consensus given Magic and Michael. But, five rings, 18 All-Star game appearances, two Finals MVP's, and one MVP later Kobe has etched his place on the Rushmore of basketball immortals. Let's refer to logic. Consensus tells us that Michael Jordan is the choice for the NBA throne. To that, we often refer to Kobe as the closest to Jordan. At worst, he is second.
Eleven All-NBA first team appearances ranks first tied with Lebron James and Karl Malone. And fifteen total All-NBA team appearances rank him first tied with Cap and Tim Duncan. The most impressive single game performance in the history of the league for a guard in the form of 81 points. Five titles and two Finals MVP's that should be more given he shared air with Shaq, no doubt submit his legacy. So, to split atoms and name the elite of the elite you must compare attributes. The first small guard to make the leap from high school to the NBA successfully adds to the legacy. Not only did he skip college, he was good from the moment he saw meaningful minutes. After joining a roster that was already solidified with All Star talent in Shaq, Nick Van Exel, and Eddie Jones; Kobe made his mark.
So why do we take him for granted? Why would a player so decorated be left out of conversations when discussing the greatest of all time? In part, our willingness to cling to the past. The audacity of a player to attempt to chase and surpass Jordan. The arrogance that which he played with, (that one night in Colorado certainly does not help). Let us not forget that Kobe once averaged 35.4 points per game in a season in which he dropped 81 points and 62 points in three quarters a week earlier and three voters left him off the MVP ballot. That is hatred, period.
When you look at the eras, Kobe and Lebron overlap. Lebron, another high school to the NBA, phenom was good from day one and in 2003, during peak Kobe, began his own legendary career. The years that Jordan dominated there was never another guard that could contend with his greatness. He never had to deal with the thought that someone had surpassed him. Kobe had to fight off McGrady, D-Wade, and James. In some ways, we are clouded with choices.
Bryant is one of the last of a dying breed in the new NBA. Birthed by the previous generation he operated in the era of hero ball in which Michael Jordan laid the blueprint. Throughout his career you saw the progression as the game changed. Early it was about proving that he could score on anyone from anywhere irrelevant how many guys or how many looks you threw at him. Fro Kobe was meeting you at the rim, period. As the game changed and zone was instituted the jump shot took the forefront. Thinking back to the Phoenix series in 2010 in the Western Conference Finals, Alvin Gentry ran a match-up zone hoping to slow him down. Only to provoke an onslaught of jumpers from around the arc including the final dagger over Grant Hill and pat on the buttocks for good measure and good riddance.
He has been dominant in every era of basketball. He dominated the Jordan era reaching the All-Star game in just his second season in the league. A young bright-eyed star in the making, ready to take the league over in the close to Jordan's illustrious career. Post-Jordan, an era dominated by himself and Shaquille O'Neal, Kobe was the best perimeter player in the NBA eclipsing the talents of Tracy McGrady and Allen Iverson. A time in which the game was just beginning to become guard-dominant. Iverson had carried a team to the finals and the Pistons won a title with a trio of wingman in Chauncey Billups, Richard Hamilton, and Tayshaun Prince. Finally, the rebirth. Twenty-four Kobe, fully self-actualized and ready to accept the NBA crown. This was the greatest version of Bryant in popular opinion. Still gifted athletically, his game was more refined. What separated Kobe in this era from the McGrady's, Dwayne Wade's and even Lebron James was the footwork. Taking what he had learned from the Jordan era, this Kobe was essentially un-guardable. That footwork in conjunction with akin to Kareem's sky hook one of the most indefensible shots in basketball, the post fadeaway.
Kobe from a basketball perspective in combination with his impact off the court put him in rare air. Only a handful of players have been good enough to both infect the public with their skill set and captivate the casual fan with their personality. He delivered his biggest games in the biggest moments. The largest to memory was his performance against Spain in the 2008 Olympics. A roster studded with the likes of Lebron James, Dwyane Wade, and Carmelo Anthony; Kobe took center stage down the stretch. Assisting on multiple scores and nailing threes including the and one with just over a minute to go all while defending Spain's best perimeter player in Rudy Fernandez.
With all of that, you may still hold your own judgments of who the GOAT is. The NBA has no doubt given us multiple greats to select from. Should you still hold that Michael is the greatest to ever lace them up I am certainly not mad at you. Just understand that the game changes and evolves. Certain aspects of the game such as zone and 7'3'' unicorns did not exist in the eighties or the Jordan era. Players will be surpassed, and records will be broken. That's the game (I will write the Lebron argument in what looks like a year or two). When thinking of Kobe, I think that we take him for granted because he is so much like Jordan. The idea that we have seen this before. That is something that he had to face throughout his entire career and ultimately overcame. Regardless, the numbers, the rings, and the story are there. Those that can view them with objectivity can view them in the proper light. For right now, he is the GOAT from where I sit.