A Look Back: Team Orton vs Team HHH (Survivor Series 2004)
The fate of Monday Night Raw was decided in the main event of Survivor Series 2004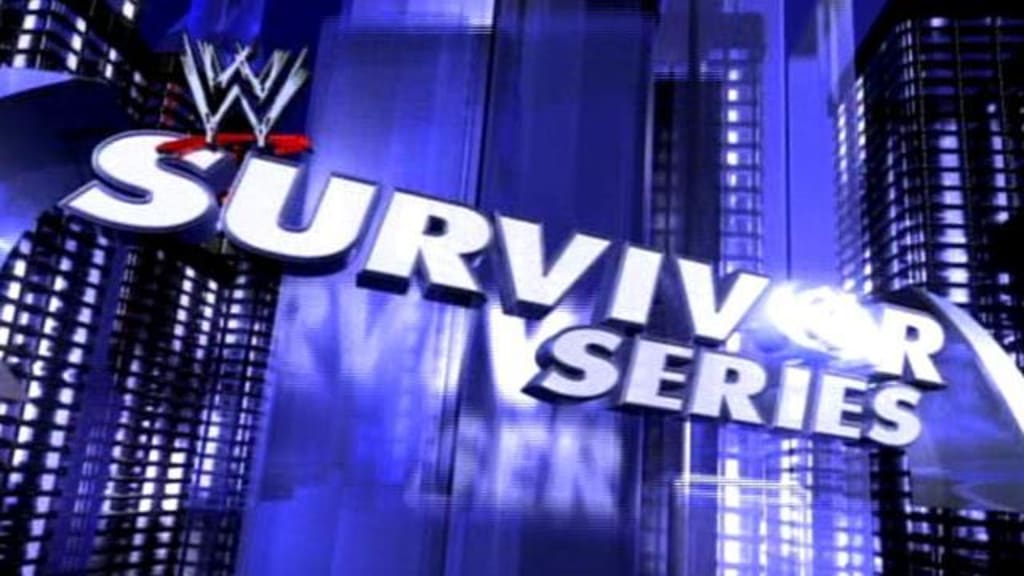 The very first Survivor Series event that I watched was the 2004 event; 2004 was a very fun year for me as a wrestling fan. Both Raw and SmackDown were on tap back then, and regarding the former, it was dominated, at the time, by Evolution--the faction led by Triple H and consisting of Randy Orton, Batista, and Ric Flair. Things came to a head on the Raw brand in the 2004 Survivor Series, but here's a look at the events that led to this bout.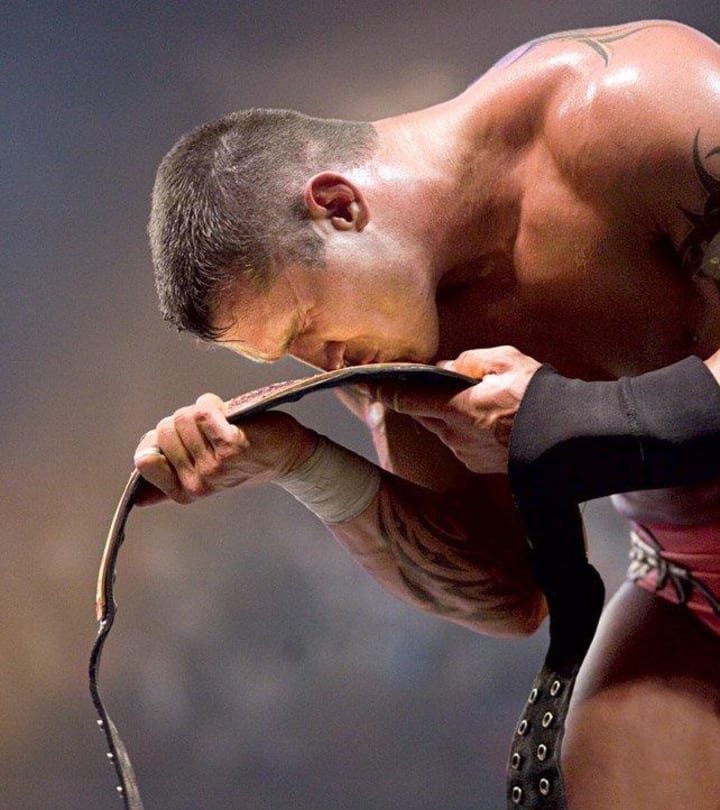 The Origin: The date was August 15, 2004--SummerSlam. On that evening in Toronto, Evolution had their hands full. Triple H was fighting Eugene, Batista challenged for the Intercontinental Championship, but the biggest task went to Randy Orton, as he challenged Chris Benoit for the World Heavyweight Championship. In his first try, his first one-on-one title opportunity, Orton was successful--becoming the youngest World Heavyweight Champion at the age of 24. I remember this vividly; SummerSlam 2004 was the very first PPV I watched, and I still remember how surprised I was when Orton won, an amazing moment.
The rematch came on the following evening, and it was Evolution's involvement that led to Orton retaining. Afterwards, Evolution celebrated Orton's success, with Triple H giving a thumbs up to his protégé. However, in a split second, that thumbs up became a thumbs down, and The Game led an orchestrated assault on Orton. So why the assault? As Triple H put it a week later, it's because Orton held a title that was supposed to be The Game's, and afterwards, Triple H ordered Orton to hand him the title and walk away. Orton chose Plan B: keeping the title and spitting in The Game's face.
The Announcement: With the help of Batista, Flair, and even Jonathan Coachman, Triple H took the World Heavyweight Championship from Orton at Unforgiven; but after defeating Flair at Taboo Tuesday, Orton demanded another shot at the title. Triple H agreed, but only if Orton faced Flair again. This time, a stipulation was added: Orton wins, he gets his shot, but if Orton loses, he never gets a shot at the title as long as Triple H is champion. It was already a shaky night, as Raw's General Manager, fresh off an embarrassing night at Taboo Tuesday, decided to take that night off, and Evolution had been putting themselves in charge. Needless to say, the rest of the Raw roster didn't take too kindly to this, and Evolution costing Orton against Flair that night? That was the last straw, as the rest of the Raw roster laid into Evolution, with Triple H being saved for last, as The Game as taken down in the ring.
The four men that stood tall that night were Orton, Chris Jericho, Chris Benoit, and Maven, and on the following week, Flair approached Bischoff and demanded repercussions for the people involved in the attack on Evolution. Not only did Bischoff deny Flair's demand, he doubled down by making the following announcement for Survivor Series: a 4-on-4 Elimination Match pitting Orton, Jericho, Benoit, and Maven against Triple H, Batista, Gene Snitsky, and Edge. Even better, the winning team would run Monday Night Raw, with each member taking turns being in charge.
Now, in the weeks leading into Survivor Series, there were problems in Triple H's team. First off, there was Snitsky. We all know how he debuted--facing off against Kane and bowling over a (kayfabe) pregnant Lita, causing a miscarriage. We also remember Snitsky's response: "It's not my fault." So when it came to being a team player, well, it was a given that Snitsky didn't have that in mind. In fact, Snitsky told Triple H right to his face that when they win and he gets to run Raw, he's going right after that World Title.
And then there's Edge. Edge's 2004 was interesting; he was drafted to Raw while on the injured list, and he returns and captures the World Tag Team Championship with Chris Benoit. However, as the year progressed, Edge became obsessed with wanting to become World Champion--an accolade he never had before--and that obsession consumed him and turned him into a bitter man who felt that everyone was screwing him over. So after Snitsky made his proclamation, Edge made one of his own to Triple H--he'll go after The Game's gold once he runs Raw.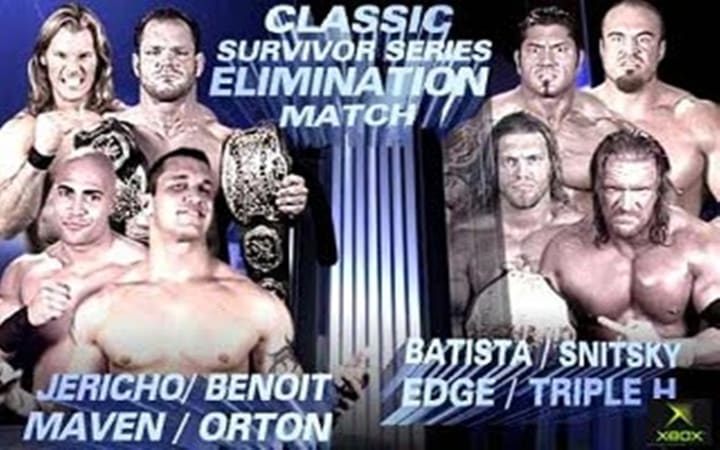 The Match: Survivor Series 2004 took place on November 14 of that year, and featured two elimination matches (among other things), one from SmackDown, and the aforementioned Raw match. However, things got interesting before the match even took place; Maven was interviewed by Jonathan Coachmen, but he would be beaten down and attacked by Snitsky. As a result, Orton's team began shorthanded, as after the three remaining members came out, out came Team HHH in full form. So it was 4-on-3 to start it off, and The Game's side was dominating, working as a well-oiled machine. Benoit's elimination at the hands of Edge (and Triple H's Pedigree) made things more difficult for Orton's team, but then came the in-fighting between The Game and Snitsky, with Batista getting involved in the obscenity-laden confrontation.
Team Triple H's first hit came when Flair was ejected, and later on, Orton struck Batista with The Game's World Title belt, allowing Jericho to eliminate The Animal. Even so, Orton's side was down 3-2, and Batista took down Orton and Jericho. The fight continued on, with Orton taken outside while Jericho had no one to tag...until a beaten Maven emerged. Maven entered and beat down Snitsky and the rest of Team HHH, but the fight ended with Snitsky striking Maven with a chair, and getting eliminated via disqualification. Snitsky laid waste to Orton and Jericho as well, and afterwards, Edge and Triple H officially eliminated Maven, and did the same to Jericho.
So it was down to Orton on his own against Triple H and Edge. This was great storytelling here. Orton was leading this charge due to being screwed over time and time again by Triple H, and he knew from jump street that it would be an uphill battle. Orton faced that same uphill battle that night; though, Orton managed to eliminate Edge due to a miscue, he still had The Game to deal with. Triple H relished the thought of taking down Orton and humbling him further, but Orton and his RKO had other ideas. Orton pinned Triple H and stood as the Sole Survivor, and that meant Orton's side would run Raw for four straight weeks.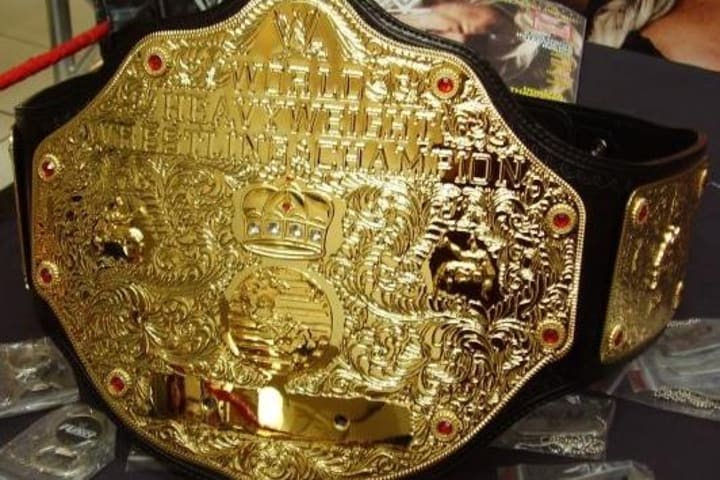 Aftermath: The aftermath of the 2004 Survivor Series on the Raw side? Oh boy, was it chaotic. So Orton's team ran Raw for four straight weeks, and leading off was Maven. Knowing that Maven would go after the World Title, Triple H attempted to get him to join Evolution, with Chris Benoit and Chris Jericho talking him out of the attempted Faustian-esque deal. Maven took his shot at the World Heavyweight Championship, but came up short that evening. Benoit was next, and he planned to face Triple H for the World Title in a Steel Cage, but there was a problem: The Game had been attacked earlier. Benoit ended up having to face Edge in that cage, and as for the attack, well, that was phony--Evolution staged it to avoid Benoit's title hunt.
And then, Orton had his turn. Now, Triple H wasn't worried about Orton, as he was the only one on the team who couldn't challenge Triple H for the title. However, it's always the person with nothing to gain or lose that causes the most chaos. Orton announced that a brand-wide battle royal would take place for the World Heavyweight Championship, but on that night's Raw, Vince McMahon came out and turned the battle royal into a #1 Contender's Match. It was down to Benoit and Edge, and that's where the controversy came in. Both men went over the top rope at the same time, leaving the officials differing on who won. As a result, Orton decided to make a Triple Threat Match for the title: Triple H vs Benoit vs Edge. Orton ejected Evolution and then levelled Triple H with a chair, leaving the challengers in the ring on their own.
And yes, you guessed it, more controversy. Edge tapped to the Crossface while Benoit's shoulders were counted down for three, now it's an argument over who won the World Championship. That ended up settled on Jericho's night in charge, and on the Highlight Reel, Vince announced that the title would be vacated, and a week later, Eric Bischoff returned and announced that the vacant title would be up for grabs at New Year's Revolution. Triple H, Benoit, Jericho, Edge, Batista, and Orton, all facing off in the sinister structure known as the Elimination Chamber!
I really enjoyed the 2004 Survivor Series; loved every bit of that event, including the Raw elimination match. The aftermath and buildup following the event was even more epic; in all, it was a very fun period for me as a wrestling fan.
If you like this story and review, feel free to click the heart below, and if you really love this story and review, feel free to leave a tip (if you want)!
fighting
About the author
Born on March 18, 1985. I am an avid fan of sports and wrestling, and I've been a fan of female villains since the age of eight. Also love movies--especially comedy and horror--and among my favorite TV shows are The Simpsons and Family Guy
Reader insights
Be the first to share your insights about this piece.
Add your insights