WOMEN IN HISTORY
Mary, Queen of Scots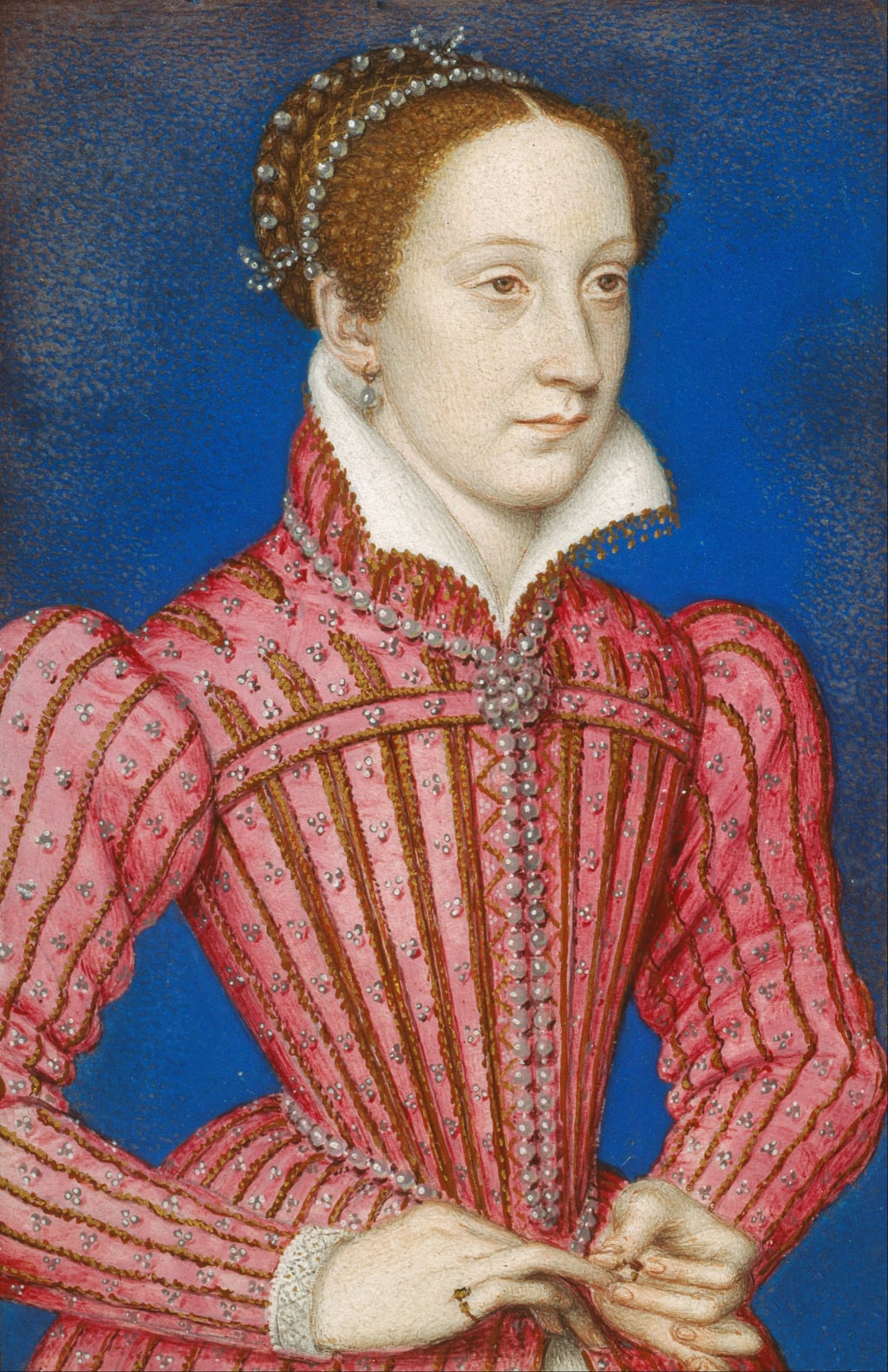 Mary Stuart, also known as Mary, Queen of Scots, reigned over Scotland from 1542 to 1567.
She was the only surviving child of King James V of Scotland, who died when Mary was six days old. At this age, Mary acceded the throne. Having been born in 1542 at Linlithgow Palace, Scotland, Mary's parents were King James V and Mary of Guise. She was the great-niece of King Henry VIII, her paternal grandmother being Margaret Tudor, king Henry VIII's sister. As she was six days old when she succeeded to the throne, regents ruled Scotland until Mary became an adult.
A marriage was proposed between Mary and Edward (King Henry VIII's son) and Henry wanted his great-niece to move to England when she was ten years of age to oversee her upbringing. This provided a treaty between England and Scotland. However, Cardinal Beaton (one of the ruling regents of Scotland) began to push for a pro-Catholic pro-French agenda. This angered King Henry VIII who wanted Scotland to break its alliance with France. Mary was taken to Dunkeld for safety, after her coronation which was in 1543.
After King Henry VIII died, the Scots turned to France and now a marriage was proposed between Mary and the three years old Dauphin Francis. At five years of age, the little queen was sent to France and spent the next thirteen years at the French Court. She was 'vivacious, beautiful and clever' and was a favourite at the French Court. Mary learned to play the lute and virginals, and was competent in poetry, horsemanship, falconry and needlework, and was taught French, Italian, Spanish and Greek (as well as her native tongue 'Scots').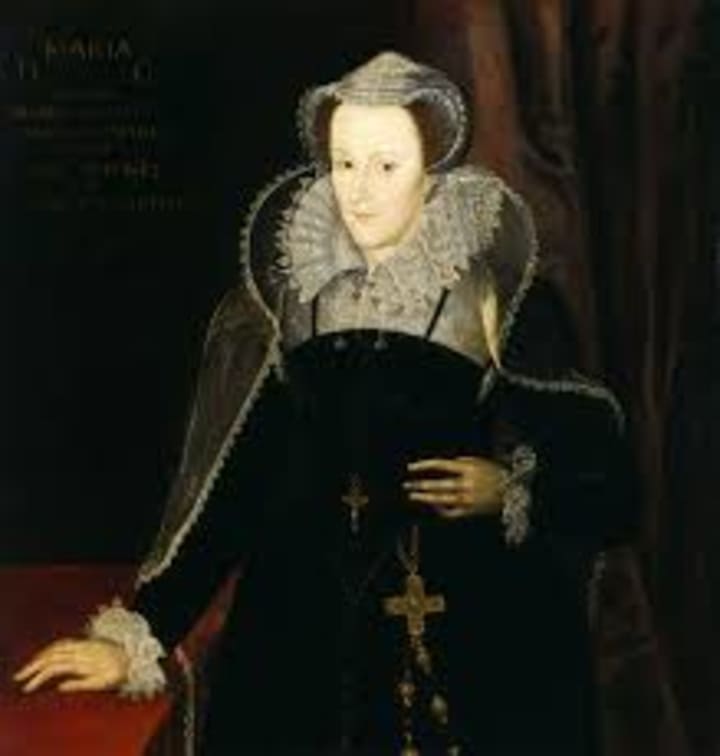 Portraits of Mary show her to have a small, oval head, a long, graceful neck, bright auburn hair, hazel-brown eyes, smooth pale skin, a high forehead and firm features. She was a pretty child and a strikingly attractive woman. She became eloquent and tall (5 feet 11 inches as an adult) --- the complete opposite to her future husband who was short and who stuttered. In 1558, the young couple married at Notre Dame de Paris.
In 1559, the fifteen year old Francis and sixteen year old Mary became the King and Queen of France. It was a short reign, as in 1560 Francis II died of an abscess in the brain. Mary was grief-stricken and now returned to Scotland, arriving in Leith in 1561. Elizabeth I reigned over England and Mary's claim to the English throne was a consistent thorn between the two cousins.
Scotland was now in the throes of Reformation and a widening Protestant-Catholic split. A protestant husband for Mary seemed a good choice to help stabilize the country. Mary fell in love with the wrong man. Henry, Lord Darnley, seemed a good choice but it was soon discovered that he was a weak man and soon became a drunkard. Mary now ruled entirely alone, giving Darnley no authority at all. Mary was now pregnant, and when her son was born, he would eventually become the King James VI of Scotland and James I England. This little prince was baptized into the Catholic faith in Stirling Castle. Lord Darnley later died in 'mysterious' circumstances in Edinburgh.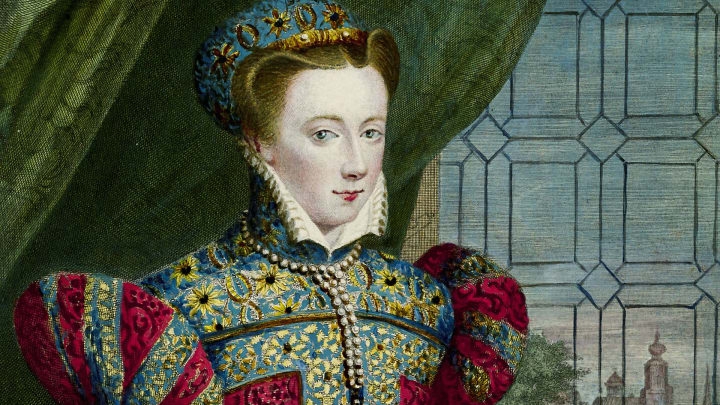 Mary was now free to marry again --- if she so desired to. Mary, again, made a bad choice and married James Hepburn, Earl of Bothwell. The Lords of Congregation did not approve of this marriage and imprisoned Mary in Leven Castle. Bothwell fled to Dunbar. He died in Denmark in 1578, he was insane.
Mary escaped in 1568, gathered a small army but was defeated at Langside. Mary now fled to England.
The queen of Scots now became a political 'pawn' in Queen Elizabeth I's hands and was imprisoned for 19 years in various castles in England. Mary became careless and was convicted of plotting against her cousin, Elizabeth, and thus was found guilty of treason.
Having been taken to Fotheringhay Castle, Mary was beheaded in 1587, executed for treason.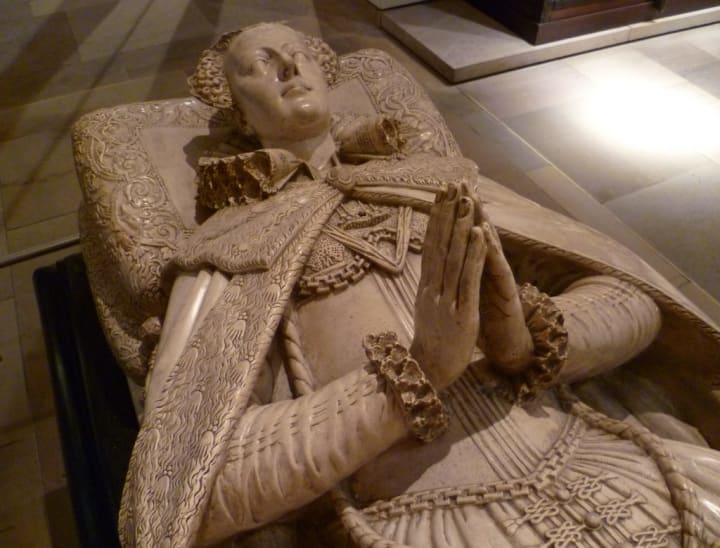 To me, it seems that Mary had a sad and 'unfortunate' life. Taken to live in France at five years of age (such a young age) and then coming back to Scotland, as a young widow, only to find her country split by religion. Mary found it hard to take control of her country and throne, with so many men 'fighting' for that same control. She married three times but her only happiness was with her son, who eventually became the King of both Scotland and England, uniting the two countries.
I'm not sure I find Mary, Queen of Scots an Inspiring woman for follow but I have to admire this woman to who refused to give up her throne --- to a man or a woman!
Look out for more articles on "Women in History."