What Do We Do When the Music Stops?
Recent Thoughts on Being a Part of Works Such as 'Cabaret' in Today's America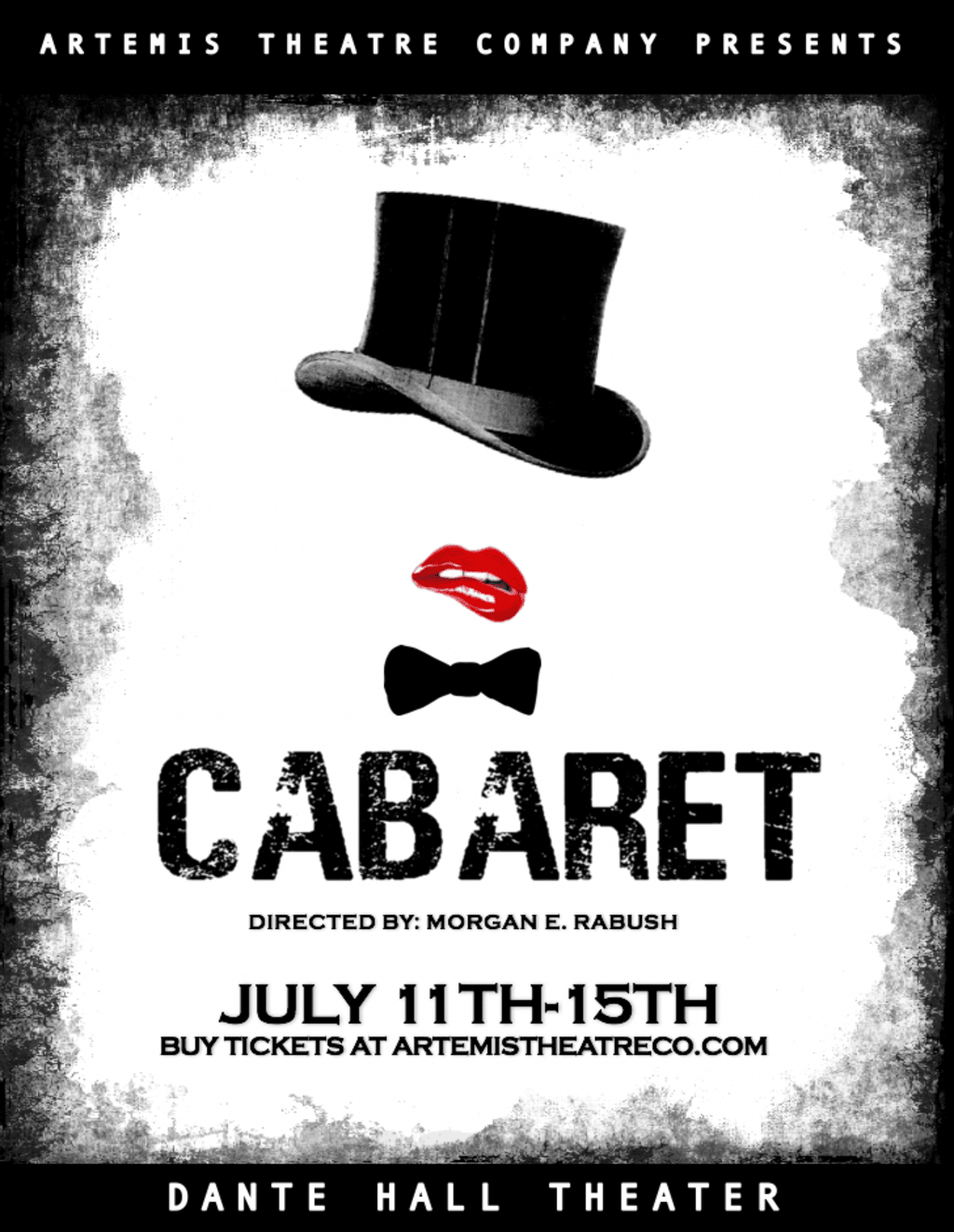 Keep things light. Don't dance faster than the music. How could things get bad? How could we ever allow ourselves to get to that point? There may be a select few fleeting moments in which we feel such a strong connection and resonance with a work of art and what is happening with current events, or just our everyday lives. Personally, as an actor, I naturally live for those moments—that sort of rush of electricity of relevancy with what's going on in the world.
Certain works and certain shows, however, are at times that much more relevant and poignant to us than the rest... especially when you're a witness to history repeating itself in today's society, culture, and politics. All of these thoughts and then some came crashing through me like a train within this past month in helping to put together our recent production of Cabaret from the up and coming Artemis Theatre Company at Dante Hall Theater in Atlantic City, with a run that we had from July 11 to the 15.
Set in the early 1930s, Cliff, a young American novelist and expatriate, travels to Berlin in looking for inspiration for something to write about. He may get more than his fair share of material in encountering various sorts of characters around the vibrant city. From Ernst Ludwig, a friend he encountered on the train with private and peculiar political connections; his pragmatic landlady, Fraulein Schnieder, who, against her better judgement, falls more and more for one of her tenets and friends, Herr Shultz, a local fruit seller; and Sally Bowles, a wild and spontaneous English singer at the Kit Kat Klub, a hotspot and nightclub where we're "delighted" and shown through all that would ultimately transpire with the fever and rise of the Nazi party in Germany by the Emcee and his Kit Kat Klub boys and girls.
Amongst other roles within the ensemble, I played Bobby, one of the Kit Kat Klub boys. I actually knew very little of the show previously, aside from my early days of first getting involved within theatre and had come across it only in passing, as well as watching a YouTube recording of Christopher and His Kind; a PBS film based off of the autobiography of English writer, Christopher Isherwood, and how his experiences in Berlin became inspiration for his famous "Berlin Stories"—which in turn became inspiration for Kander and Ebb's Cabaret.
All of this being said, I wasn't a total stranger to Cabaret and its setting. Nor was I obviously not familiar with the rise of the Nazis, as well as its consequences that would lead to the Holocaust as well as World War II. A little bit more than a year ago, I was actually part of a dramatic adaption of a Holocaust survivor's story with the Holocaust Research Center at Stockton University, and we as a cast traveled with the survivor to share her story amongst many of the local schools in and around Atlantic County in South Jersey. Once again in playing numerous roles, in going from a family member, to Banderovsky, to Nazi, amongst other things, you could say with my experiences with this show that I became more than well prepped in awareness and open-minded understanding of character, as well as the inevitable emotional drain that goes with various works and projects like that.
For all of my experiences with this, however, as well as my own general growth I'd like to think I've had in theatre, I still very much had the wind taken out of my sails in tackling Cabaret. Oddly enough, it wasn't for just one specific reason—more like just exceptional emotional responses and sensations I would notice always stirring within me. Granted, it wasn't nearly as intense as being a part of the Holocaust drama, but it still continually struck me on a much more introspective level. I guess what probably disturbed and continues to disturb me the most in looking back on it now is the subconscious realization I had that everything that happened with the events related to the Holocaust drama was the aftermath of the rise of fascism and the Nazis... and that everything related with Cabaret was all that led to this rise and the various consequences and events that would happen in the first place.
Adding on to this, from my first time watching a YouTube recording of the 1994 production at the Donmar Warehouse in London prior to starting rehearsals, to gradually putting it all together, to finally going into the run of the show itself, I felt this continuous whiplash effect of how eerily similar everything was that happened then to what's happened here, in the United States... And what continues to happen now. Much in the same way that Hitler and the Nazis came to power, we also, as Americans, have allowed the same exact thing to happen with Trump and his corrupt administration and platform that's dictated solely by greed, prejudice, and bigotry.
This realization had haunted me from beginning to end of the production—as much as it haunts me now. It seems like it would only make sense with, really, having that much more of an intense level of stream of consciousness that goes hand in hand with acting. Along with Bobby, and all of the various other roles I played for the show, I felt the sweet bliss and escape to be oneself openly in their sexuality and lifestyle, and the naivety of thinking nothing could possibly go wrong. I felt the misplaced aggression and hatred of those downtrodden who blamed specific minorities as to why our country wasn't "great." I felt the disbelief that those who would persecute and see to exterminate us could ever possibly come to power... as much as I know that they are, and there's nothing that can possibly stop it.
For those out there that may somehow hold on to the conviction that theatre and the arts have no place in politics, or that this current state of affairs in the United States hold no substantial weight or evidence to compare to the rise of Nazism in Germany—which would you like to reference first? The headlines in the news of all that's been going on for nearly two years? Quotes from Trump and his cabinet? The rapid, newfound rise of white supremacy and Neo-Nazism within groups young and old such as Identity Evropa, the Ku Klux Klan, and the Alt-Right movement, altogether? Or better yet, maybe the numerous laws and actions that have been implemented that specifically target various minorities based on their religion, their sexual orientation, or the status of them simply being an immigrant?
And if it isn't Trump or his cabinet, then it's the atmosphere he's created within Congress, itself; this new sensationalist wave of radical conservatism and nationalism that's leading us more and more towards a downward spiral of cruel and vicious actions ridden with hate and bigotry that betrays our laws, our principles, as well as who we were as a people. Following a Saturday matinee performance we had of the show, I had just grabbed some food when I came across an article from LGBTQ Nation on Facebook. The headline read as, "Republicans vote to make it legal nationwide to ban gays & lesbians from adopting." Delving more into the article, apparently the House Appropriations Committee had just passed an amendment on a funding bill for the Departments of Labor, Health, and Human Services, and Education, allowing taxpayer adoption agencies to deny LGBTQ families the ability to adopt based solely on religious objection.
It was a 29-23 vote along party lines, and it seems like it's pending whether or not this amendment actually makes it into the final bill. But still, all the same, the amount of intense emotions I felt then, in between all of these epiphanies and revelations I had been undergoing through my experiences with Cabaret, as well as just being vigorously challenged for this show in general, had just boiled everything down to such livid rage for me. I had suddenly felt what I thought I could never possibly feel again: just sheer outrage and bewilderment. I knew these feelings at a time when I was an early adolescent, well before I ever got involved in theatre and acting, and I suddenly became aware of how controversial gay rights were, particularly gay marriage.
It was just such a huge wake-up call at the time simply because of family and friends I knew who were gay. Particularly, I have two close aunts of mine who are like a second family. And they have a beautiful little girl together, my cousin, who is now 11. They were also just such a refreshing and supportive presence in my life that really held me together and encouraged me to go for theatre and acting when I got into high school.
A few years after that, I remember taking such a huge amount of joy and pride in the United States when I thought we were just starting to become more open-minded and accepting in our values as well as in each other when the Defense of Marriage Act was finally repealed in 2014. There's so much more to be fixed with the world right now aside from this more than likely permission of agencies to ban American gay couples from being able to adopt, but at the same time, where do we draw the line? When do we say, "enough is enough?" What do we do when the music stops?
A lot like Cabaret, with the backdrop and setting of the night club scene of early 30s Berlin, we live right now in the United States in the midst of so much abundance, yet impoverishment; information, yet sensationalist bias; and growing opportunity and progress, yet being constantly in conflict with those who seriously seek to oppress and even persecute those whom they deem to not deserve the rights of all American citizens—let alone human beings. But what is perhaps the most important to keep in mind as an artist in being a part of productions and works right now, such as Cabaret, is that there is still work to do, that we must do. Just within the various arts communities and disciplines in the United States, many diverse voices have been and are currently speaking out in commentary, satire, and criticism of this current era we're in through their work, particularly in theatre.
All I can say is I hope to be more a part of this current movement and discussion through what I do, and wish to continue doing, as an actor and as an artist. And I hope you're there alongside me... to help prevent the past from repeating itself, or to ensure that the stories we share on stage aren't much more of a reality than they already are.
art

Anthony Cornatzer
An actor, technician, singer, musician, writer, and journalist, Anthony Cornatzer is a senior pursuing a BA double major in Theatre Performance and Media Production, as well as a minor in Writing, at Stockton University, New Jersey.
See all posts by Anthony Cornatzer →