Virginia Museum Employees Demand Accountability In Petition to CEO
Reaching 1,000 signatures in less than a week, the petition contains a wide range of demands.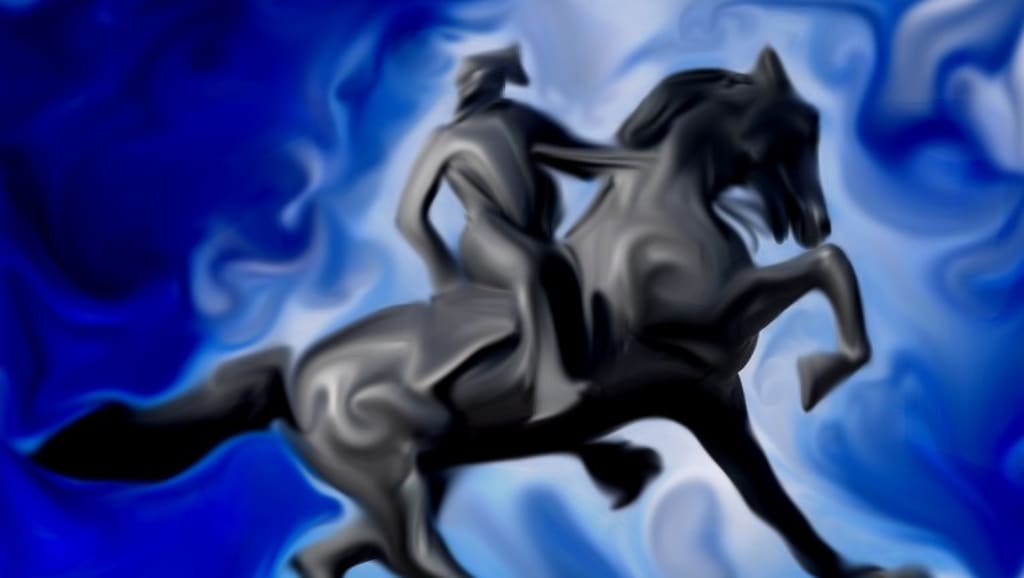 RICHMOND, Va. — As Confederate monuments topple from their pedestals, accusations of racist, sexist and otherwise abusive acts have risen from a chorus of frustrated present and former museum employees. The museum in question, the Virginia Fine Arts Museum, sparked a stream of negative comments on an Instagram post made on June 3.
Sharing a photograph of the recently installed Kehinde Wiley sculpture Rumors of War, the VMFA Board of Trustees president Dr. Monroe E. Harris, Jr. and Director and CEO Alex Nyerges mused in a statement about current social affairs, mentioning the recent murder of Minneapolis resident George Floyd.
Below the statement, the comments section contains over 700 angry testimonies from employees of the museum and members of the public. Many included the hashtag #boycottVMFA as instances of racism, homophobia, sexual harassment and failure to properly address health concerns in the midst of an ongoing pandemic were referenced.
On June 21, the newly formed Virginia Reform Committee issued a petition, reaching 1,000 signatures within a week. Eleven demands were outlined, and elaborated in statements from past and present employees quoted below, submitted through emails, phone calls and an anonymous Google form.
Demand 1: Donate to and create sustained partnerships with local, grassroots BIPOC run organizations.
"Provide donations or promote fundraisers for organizations supporting the concerns of Richmond's BIPOC communities. Utilize the member and donor lists of the museum to promote this effort... Reduce food waste within the museum, specifically by establishing relationships with Richmond food banks to donate food in a safe manner." —VMFA Reform Committee
Calling on the Museum to redistribute funds into the community, particularly to a long list of organizations included in the petition's footnotes, the petition's demands begin by highlighting financial issues found particularly egregious by employees.
"Obviously large events aren't happening currently, and won't be for a long time, so the question might be asked, 'Why does this matter now?'. It speaks to the inequities in Richmond: waste while others are hungry. When we return from the pandemic, we want to return to better conditions," said an employee who works in food service at the Museum.
"The scale of the waste is shocking. Entire platters of meats, cheeses, vegetables, rolls, crackers and plated meals (if we were doing a sit-down dinner). It's sickening to train kind and thoughtful people that they have to throw it away to keep their job."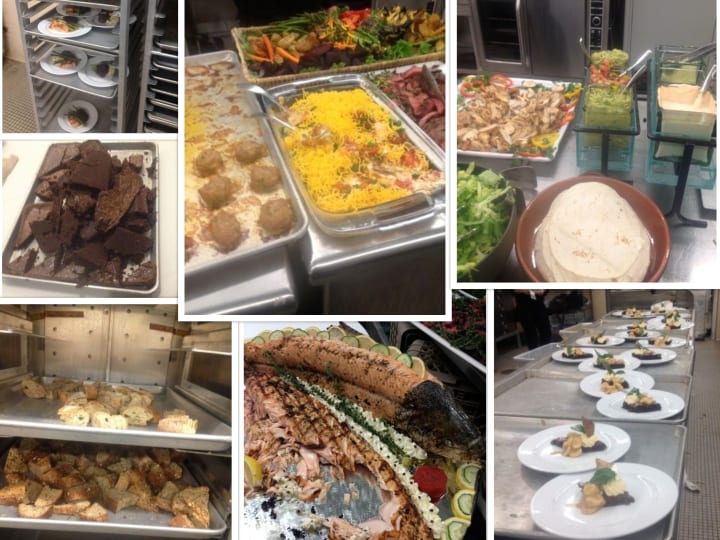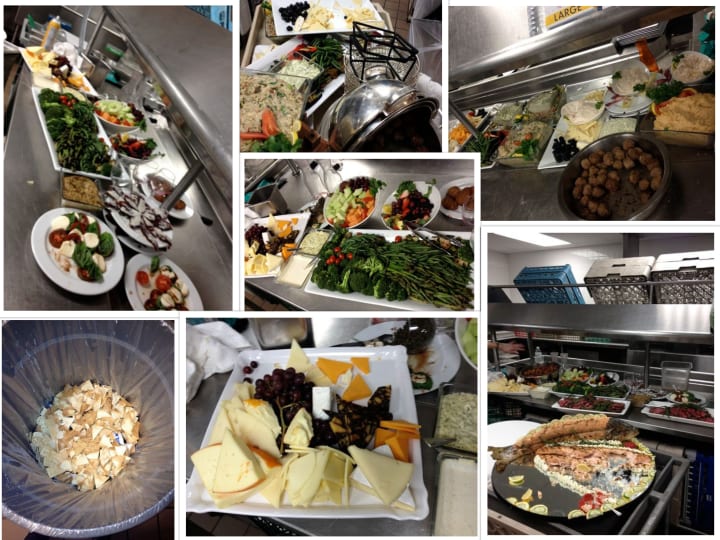 "The keystone in this specific problem is the state's policy of institutional liability. When we addressed that the policy could be reworked to safely deliver food stuffs to existing community resources, we were effectively told: this is just the way it is. This mentality is the hurdle museum-wide. We need someone at the leadership level to be willing to seek an actual solution, not offer us token paternal concern. The food service department is constantly chastised for wasting money. But that is our policy; we're set up to fail. I have perpetually watched food service management in the position of fitting a square peg in a round hole. They must stop wasting food, but they are encouraged to keep the buffet ludicrously stocked until the very end and then toss everything."
Demand 2: Do not rely on Richmond Police Department (RPD) to resolve community problems. Begin to develop and implement nonviolent security programs.
"I do not understand the necessity for a guard with a revolver on her hip, but very little about this 'stay' makes sense… around three in the morning I am forced awake when (I think) I feel someone touch me with what feels like a rounded stick. I wake up and cry out. I want to run out and see if the guard is actually awake and present, but then I think that a black man running out of a room in an agitated state with no one with me to bear witness when I encounter personnel who carry firearms and instead I wait."—Seph Rodney, How Does a Black Man Fit Into an Edward Hopper Painting?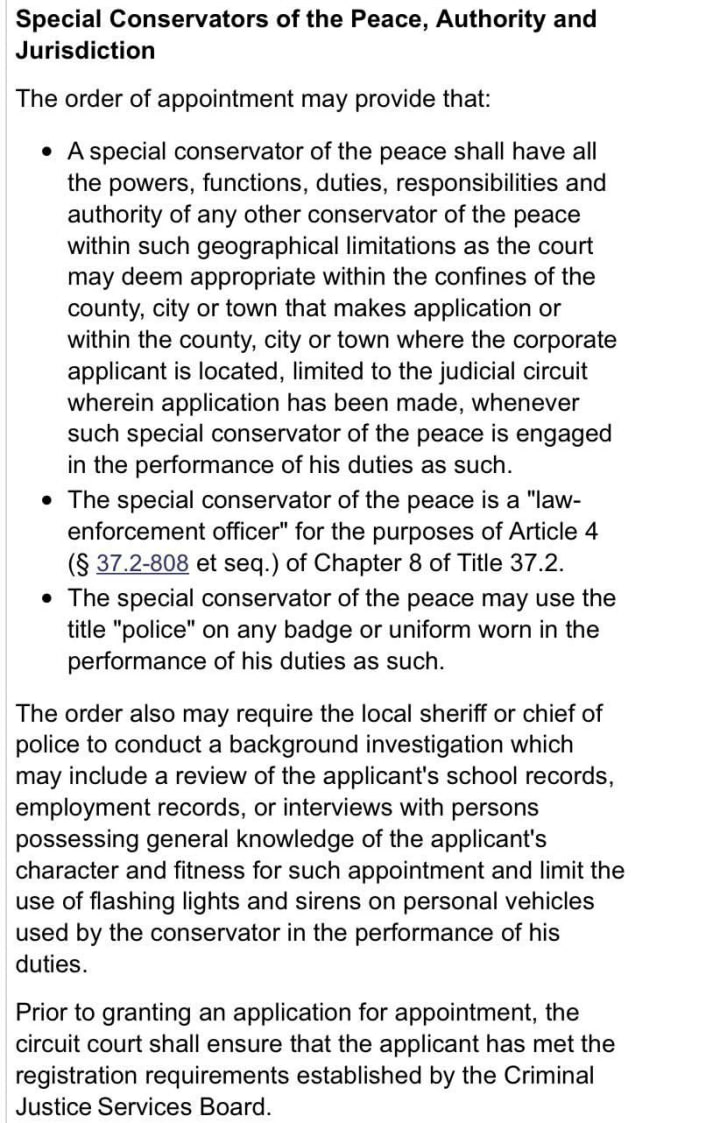 "The VMFA has a long history of hiring former police officers as SCOP (Special Conservators of the Peace) officers," said a former security employee of the Museum. "They lose their jobs as cops and the Museum invites them with open arms to do the same thing again. You would think an art museum would be a peaceful, safe place, but it's full of people with guns. For a lot of people, that doesn't feel safe."
Further, the petition asks that the Museum "apologize for the VMFA's collaboration with militarized police forces during the Richmond Black Lives Matter protests." This incident was recorded in an internal email, below.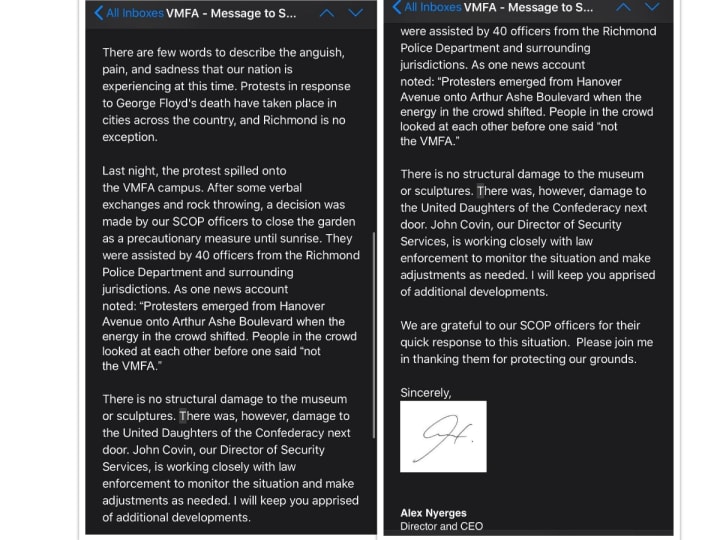 Demand 3: Denounce all expressions of violent white supremacy at the VMFA, including: unacknowledged investigations of employee ties with white supremacist organizations and the Virginia Flaggers.
"When it was discovered you had a fat-phobic WHITE NATIONALIST in your security department, watching your cameras and tracking the movements of all of your Black employees, and you did nothing and continued to allow him to work amongst the rest of the staff, where was your support?"—Former employee's comment on Instagram
Many complaints raised in the comment section of the Museum's Instagram post were focused on former security employee Dan Morley, a recruiting member of white supremacist hate group Identity Evropa. Morley, whose career has come under scrutiny by members of the reform committee for possibly involving nepotism, worked alongside family members and associates who were also frequently noted to be racist and sometimes vocally antagonistic toward employees and patrons who were LGBTQ or for their body types.
Other concerns about the link between the VMFA and white supremacy are focused on the Virginia Flaggers, an organization primarily focused on preserving Confederate history and raising the flag of the Confederacy, often on the sidewalk directly outside of the Museum. However, on July 1, the Flaggers announced a "full and complete boycott" of the city of Richmond, resulting in a pause in their activities beside the Museum. The petition's request for a denouncement from the Museum has not been modified.
Demand 4: Display provenance for the VMFA's collection. Provide plans to repatriate works that were stolen or unjustly obtained.
"After 1885, the start of Belgium's colonial enterprise in the Congo, the government encouraged resident Europeans to investigate traditional Congolese life, art, and ritual ceremonies. As a result, as early as the 1880s, masks were collected by Europeans (some of which are included in this book and exhibition)."—Closing sign from Congo Masks: Masterpieces from Central Africa
In addition to requesting changes to the working conditions of employees, the petition asks that the VMFA "conduct an independent audit of museum collections and/or decolonization committee in collaboration with BIPOC communities."
This demand is closely tied to the next.
Demand 5: Proper contextualization that addresses the impact of oppressive systems must be included for all exhibits and displays.
"Under Leopold, the Congolese fought not only for their lives, but for their identities. A struggle against an oppressor who wanted to take more than just their sovereign wealth: Belgium was a colonizer who wanted to take their languages, their beliefs, and their very selves. It was these people, and this struggle, that shaped the art of the Congo during the colonial period. And it is the context of these people and this struggle that is missing from the exhibit at the VMFA."—Dr. Amy Rector, The VMFA's 'Congo Masks' Exhibit Leaves Out Much-Needed Historical Context
The petition asks that the Museum "consult with a diverse cross-section of departments/employees to create these displays." Many employees who come from diverse backgrounds have felt that the Museum's lack of sensitivity to colonialist and oppressive history is mirrored in the treatment of employees.
"During different 'foreign' exhibits different staff members would be picked out as the 'I just saw you in such and such' manner of joking that during Kehinde Wiley['s featured exhibition] became extreme microaggression to members of staff from the sheer number of hourly incidents let alone daily," explained a current employee.
"I have a personal story about when I worked in the gift shop for Forbidden City," said Tyler, a former VMFA Senior Associate. "They told us to speak to anyone 'who looked Chinese' in these three Chinese words they taught us, which obviously no one did. They also had mock 'imperial ponytail' caps that stereotyped people who were forced to wear their hair like that to show loyalty to the emperor or risk death. And the absolute worst of it all is they had ping-pong sets for literally no reason which me and a coworker hid in the stock room."
"Also, I have witnessed that events representing the Black community or that are celebrating Black artists aren't given the same attention and perhaps resources as other events," said a food service employee. "I have had conversations with multiple guests at these events that pick up on this inequity. There have been notable exceptions, but let's just say that the less press that the museum is expecting for a certain event, the less concern is given to it. I don't know at what level this originates, I only see the outcome."
"I have seen Black coworkers endure racism from staff and visitors," said Kate, whose employment at the Museum was terminated on June 23 along with around 30 others, including Tyler. "This was especially prevalent during the Congo Masks exhibit. It took a Black employee reaching out to HR and managers about these racist comments for them to establish a meeting, well after the Congo exhibit had been up and running, [in] which the only solutions they had were to tell the Black employees how to react. They told the Black employees to 'just walk away if this happens or call a SCOP officer if you don't feel safe.' The Museum itself had done nothing to educate its viewers about racism, they took no preventative measures."
Demand 6: Expand Native American representation and permanent collections by collaborating with and acquiring artworks from each tribe in Virginia.
"Create educational programs focused on the history of local Indigenous communities from their perspectives. Annual recognition and programming for Native American Heritage Month. Territorial acknowledgement of Indigenous land occupied by VMFA buildings."—VMFA Reform Committee
While the Committee is asking the Museum to reconsider acquisitions with possibly violent or larcenous history, the sixth demand suggests acquiring Native American collections through collaboration with Virginia's indigenous populations, in order to maintain representation but avoid disrespecting or minimizing the present-day Native American population whose history is involved.
The petition lists the following communities as local to Virginia: Cheroenhaka, Cherokee, Chickahominy, Eastern Chickahominy, Mattaponi, Monacan, Nansemond, Nottoway, Pamunkey, Patawomeck, and Rappahannock.
Demand 7: Compensate all staff at minimum $17/hour for the duration of the COVID-19 pandemic.
"Give departments who are considered essential direct representation in the museum's BeWell COVID-19 Committee. Immediately create and share an evidence-based plan for reopening so that essential staff can be assured of their safety. Reduce museum operating hours."—VMFA Reform Committee
The VMFA has released a statement outlining its plan for reopening during the COVID-19 epidemic. However, some employees have expressed concerns about the risk of exposure to the virus when returning to work. "It is egregious that the VMFA BeWell committee for reopening the museum during the ongoing COVID-19 pandemic does not include representatives from any of the departments that are actually required to work on-site and are therefore at highest risk for infection," lamented an anonymous current employee.
"Most of these 'essential' departments—housekeeping, visitor services, café employees—are predominantly comprised of Black and POC employees, who are statistically at high risk for life-threatening complications related to COVID-19. Nearly all of the employees in these departments work for around $11/hour and do not have access to health care. It's shameful that no one from these departments is directly involved with the reopening committee."
Another employee added that safety of employees during hazardous times has been a concern in the past, due to the VMFA's commitment to staying open 365 days a year. "There were instances where a natural disaster was occurring or the weather was bad and we were expected to be there no matter what.
"The Museum was always open, 365 days a year, no matter the weather, unless someone higher up made a stink. If there was ice on the ground, we had to be there. Tornado warnings, we had to be there, except for one instance in which then-Governor McAuliffe told the powers-that-be that they had to close being that there was a natural disaster currently going on.
"Even when there is clear and present danger weather-wise, we would get the third degree from our supervisors for either not showing up, or being late as a result—it wasn't even their fault, but from their bosses. We were the lowest rung of the ladder apart from B&G (Building and Grounds) and were treated as such which little to no opportunity to move up on the job scale. B&G was treated even worse."
Demand 8: Acknowledge racial and sexual harassment claims and protect employees that have spoken out. Develop staff and public anti-racism programs. Reform harassment accountability measures.
In addition to the racism cited during special events such as the Congo Mask exhibition mentioned above, many employees have come forward with personal accounts of harassment within the museum.
"The Congo exhibit wasn't the beginning or the end of racism within the VMFA," said Kate. "It was always around and I always heard experiences from Black coworkers. Our manager told a Black employee that they need to 'tone down their appearance' when they were wearing an orange belt and nail polish. I am a white female, whenever I would wear nail polish, makeup, lipstick, accessories, I was never told to tone down my appearance. That same employee by that same manager was also told that they appeared 'mangy' when wearing their hair naturally. I have big, thick, curly hair almost down to my butt. Sometimes I don't wash it for up to 4 days, sometimes it was full of knots and I was NEVER told I looked 'mangy.'"
"I was a Gallery Associate at the VMFA starting September 2019," stated Jake, a former employee who chose to quit his job in early June. "I'm a white man, but I've seen first hand the way that Black people are mistreated at this job and heard multiple accounts of women experiencing sexual harassment from SCOP officers and museum guests."
"While working at the VMFA, I've always had my hair untied and natural," Jake continued. "It goes down to my shoulders, but no manager has ever said anything about it and I've even been complimented about it. A Black coworker of mine also wears their hair naturally and long, but they are told repeatedly that it looks 'wild,' 'unprofessional,' and 'unkempt.' The difference here is that I'm white and they are Black. This is blatant racism in the workplace."
"I and another Black woman were discriminated against based on the color of our skin and the shape of our bodies," stated Heather, a former employee in the food service department of the Museum. "The other Black woman sometimes got in trouble just for wearing leggings. On one particularly hot day, I was wearing a slightly cropped shirt. I made sure to wear a cardigan and an apron during the whole shift. A white woman wore short shorts for three Fridays in a row. After all of the customers left, when staff were the only people in the building doing cleanup, I felt hot, so I took off the cardigan and the apron. The manager pulled me aside, looking visibly upset, and she told me not to wear my top to work again and that I was violating the dress code."
Heather went on to explain how the circumstances were discriminatory: "When we asked why the curvier Black women were taken aside for the dress code but the white woman was not, management told us that they had not noticed her wearing short shorts. They didn't want to notice it on her. They didn't look for problems on her. They looked for things to be problems when it was us. At the time it hurt my self esteem, and it was unfair in many ways."
"Personally, I have experienced heavy sexual harassment within the museum," said Kate. "I am a 22 year old white female. I was used to experiencing sexual harassment from visitors and staff. We have weddings and events at the VMFA where there are heavy alcohol sales, on Friday nights and weddings or special events especially almost all visitors are drunk. One night an event had ended, and I was just standing in front of a column waiting for the last table of three men to leave the event. I was alone. As they finally started leaving, one of them came up to me (I couldn't back away, because there was a column behind me) and got very close to my face. He proceeded to ask me if I normally work late, when I get off, questions like that. I avoided eye contact, looking away trying to make him know that I was uncomfortable."
This was not the only harassment Kate faced. "Staff, the SCOP officers especially, had harassed me verbally since day one. I'd be called 'sunshine, sweet cheeks, cutie, darling,' etc. I had an officer, old enough to be my great grandfather, stop me while I was walking and tell me 'I was looking at a bridal magazine and I thought of you and what a beautiful bride you'd make. You'd look so gorgeous in a white dress,' etc. I just nervously laughed and walked away."
Kate even went to Human Resources to report harassment on one occasion. "The incident I reported was when a SCOP officer, who I had never spoken to in person, found and messaged me on Facebook. He was also a very old white man. He has a son my age. I had not added him, his messages were unopened and went to my message requests. He messaged me and said something along the lines of 'Great pics,' then some more messages which I didn't accept or respond to. Then he said 'You should come spend the weekend at my house.'
"I emailed HR, it took multiple emails and my screenshot before they took me seriously. At first they told me it seemed like a Facebook issue more than a workplace email. It took a long, aggressive email where I convinced them why this was a workplace issue and sent them my screenshot. I met with Kimberly Wilson from HR and John Coven who is the head of SCOPs. They gave him a warning and didn't schedule us together for about a month. After that month it was never talked about again, and I was scheduled with him again."
Jenny, another former employee, described her own similar experiences being harassed in a public Instagram story. "A VMFA SCOP officer sexually harassed me. He sent me an Instagram message instructing me to 'feel free to send him any inappropriate pictures that I couldn't post to my feed.' I reported it. He even reported himself and confirmed my story. I was then gaslit, manipulated, belittled, made fun of and made to feel like it was my fault… BY HUMAN RESOURCES."
"I believe that it is important not to place the burden of calling out harassment solely on the shoulders of survivors. Their claims have been repeatedly dismissed, belittled, or at best, addressed with unsatisfactory results by the VMFA Human Resources department," said an anonymous current employee. "Many survivors have tried fruitlessly to bring these issues up with their managers, only to be repeatedly directed to HR employees that are unsympathetic or powerless to help."
"[Human Resources] asked if I felt comfortable sitting down with him to discuss the incident. I said absolutely not and that I didn't want him to see how upset I was because that wasn't fair to me. I told her I was afraid of him retaliating. I said 'that makes me feel weird, I mean, the man carries a gun,' and her response in a very condescending tone was 'are you afraid he's gonna shoot you? Do you think he's going to come to work and shoot you?' I was absolutely flabbergasted and immediately felt like I was in an abusive relationship," said Jenny.
"I asked why that was a weird thought seeing as many violent workplace shootings were committed by white men with anger towards women. She blew this off. She then started to tell me that I really seemed to care about people and that I should consider getting into HR myself. She started to talk to me about how the VMFA could help pay for my schooling. This was all an attempt to get me to drop the issue. She then told me that the officer would have a note put in his file. She then said my manager had been contacted and for 60 days he would not be allowed to be scheduled while I worked."
Both Jenny and Kate felt discomfort and anxiety as a result of harassment. "I had to face [the officer who harassed me] one day when I forgot my badge, he was working at the place where we get a temporary badge. I had anxiety and was extremely uncomfortable. Even though he didn't say anything, I was scared and hated having to face him," said Kate. "I thought about quitting because of this."
"When I entered the cafe within 20 seconds of clocking in, the officer entered the cafe, on duty," said Jenny. "Terrified and humiliated, [I] immediately ran to the back to my manager's office. Guess what? Human Resources had never ever contacted her in regards to my schedule or to ask about keeping me away from said officer. She was floored and upset. I resigned on the spot. Kim in Human Resources… you should be ashamed. You protect predators and abusers and you are abusive in your manner towards victims reporting incidents and harassment."
"A former Watch Commander used to sexually harass me and a few other female employees," stated an anonymous Gallery Associate. "He went into an elevator with me, got incredibly close, and started asking me very personal questions. I would answer blandly thinking that would be enough information but he kept probing and maintained disturbingly close eye contact and proximity the entire time. I was terrified and couldn't wait to get out. I never reported it because he was my superior and I knew nothing would get done."
Demand 9: Hire more employees with disabilities, increase accommodations and accessibility for staff/visitors with disabilities and chronic illnesses.
"I'd like to see more celebration of disabled people," stated an anonymous museum worker. "They should make us feel comfortable for once. What do disabled people have to offer you if they're telling you what they need?" She added that the Museum lacked resources, and rarely accepted input from workers with disabilities.
"There's no real resources at all to get the help that you need if you really are sick, and you have Medicaid or Medicare and they refuse to give you the help that you need. And we get paid less money but we need more money because of our medical conditions. Down the road if I get sick and I get the virus, what's going to happen? If we're struggling to get help, we feel left out, because we're disabled, but yet they say they want to hire more diverse people."
In addition to the request for more employment opportunities for people with disabilities, the petition asks that the Museum "provide essential signage around the museum to increase accessibility and safety for all," such as more detailed directions to ramps and elevators as well as water fountains and restrooms.
"Favoritism is real problem for people with disabilities," added the employee. "I have experienced that." Favoritism was also noted by a former SCOP officer. "At the time of my hire, my roommate/friend was working as a Gallery Associate, and recommended me for hire when I applied; this friend witnessed [the department head] take my application from the bottom of a pile of applications and place it on top, after which I was hired on my own. This was unusual for two reasons: Gallery Associates have historically always been hired in groups, and it is a state-funded job, requiring unbiased hiring practices."
Demand 10: Lobby for increased pay and benefits for all VMFA employees. Minimum $15/hour, increasing to $20/hour by 2025.
"Provide interdepartmental programs in order to encourage professional advancement, education and training. Transition more part-time employees into full-time employees."—VMFA Reform Committee
Many of the comments on the Museum's Instagram statement centered on the wages employees received, and the few opportunities for advancement. "It should also be noted that almost all of the salary workers in my department are White people, while a majority of the cleaning staff (the lowest paid department) are Black people," said Jake.
"Positions that also are in the sight of the public are also mostly worked by White people such as Gallery Associates and Front Desk Associates. It's funny to me that the museum claims inclusion, but almost every single event I've worked has been for wealthy, upper class white people. I don't think I've worked an event at this museum that has ever had a majority of Black people and POC. This museum very blatantly seeks to prioritize the wealthy people who they rely on for donations. This does not reflect their claim to provide a space for diversity and inclusion."
Heather felt that favoritism and discrimination were involved when she was repeatedly overlooked for promotions. "They started having a Friday Happy Hour position called Bar Captain. They had people that they liked do it. There were two guys and one girl they seemed to really like. They were like supervisors, but a step below. They would help set up on Friday nights. I ended up becoming one, but that was far in the future. They never told the rest of us who might have been interested that the openings were going to happen. They didn't say it, but they opened the position for those two men, made sure they applied and then gave them the job, which had a wage increase.
"Later, a supervisor position opened up. Several people had strongly encouraged me to apply. The interviews opened up around November 2018. They chose a white male for the position. A lot of people had complained about him not doing his job. He was missing major requirements. I had been told many times that I was their best employee."
Another food service employee, who chose to remain anonymous, had a similar story. "After 4 years of underpaid, exemplary work in the Cafe, Special Events, and Amuse staff, (including juggling shifts in all three food service departments and being the go-to-girl for training new hires), I applied for an open Cafe Supervisor position. I was never contacted for an interview, nor was I told that I would not be considered. I followed up with an existing supervisor about the position a few weeks after submitting the application, at which point the position had already been offered to someone from outside the museum. The department never took the time to acknowledge me or my application."
"I brought up the discrimination to my assistant manager and her reply was 'Well, we all thought you were going to be busy with college,'" recalled Heather. "Everybody in the cafe knew I was graduating in less than a month. I was told the position would begin in the middle of December, and I graduated college on December 8. I was then told that the Bar Captain position had really been made for those men to become supervisors.
"They tried to tell me that it wasn't discrimination, but I had been there for three years. In the whole food service department, I only saw one Black supervisor. I was there for three years and they never promoted any Black people."
Current and former employees often feel exploited and overworked. "We would get reprimanded for talking to one another or leaning against a wall for a period of time," recalled an anonymous former employee. "Keep in mind, we had to stand or walk around for sometimes 8 hours or more a day and were not allowed to sit down except for our lunch or a 15 minute break (which was never truly 15 minutes because we were never allowed to sit in the galleries).
"We never had a proper break room, at least not one that was close enough to easily access, making lunch time incredibly difficult and harried and we were often admonished for coming back from lunch late as a result."
Demand 11: A response must be issued by the VMFA by Friday, June 26th, 2020.
"The Virginia Museum of Fine Arts' institutional response to the Black Lives Matter protests against police brutality failed to critically evaluate the institution's own role in upholding structural racism and other forms of oppression. The VMFA issued a statement of solidarity, but did not provide sufficient actionable guidelines or material support for Richmond's Black communities or for the VMFA's Black staff members."—VMFA Reform Committee
According to the VMFA Reform Committee Instagram account, no official response has been issued as of Friday, July 3. The Museum, which reopened to its paying members on July 1, is scheduled to reopen to the public on July 4.