The Obama Era
Democratic Conventions 2008-2012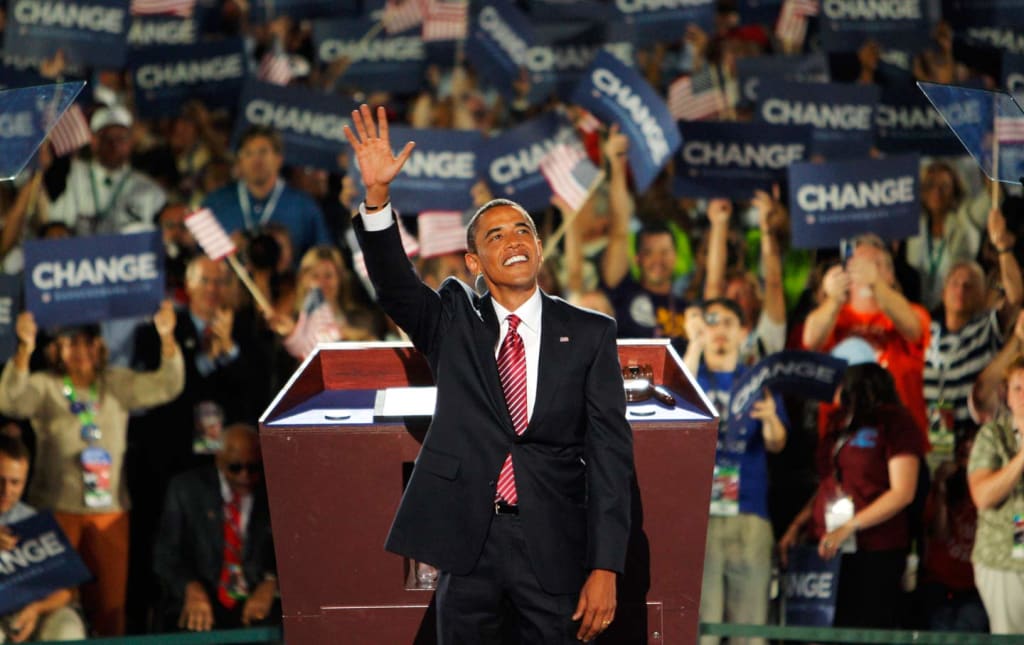 Barack Obama, 44th President of the United States
2008: Yes We Can (And Did)
Dates: August 25 – 28, 2008
Venue 1: Pepsi Center, 1000 Chopper Circle, Denver CO. Home to the Denver Nuggets and Colorado Avalanche, the arena was completed in 1999. The first three days of the convention were held here.
Venue 2: Invesco Field, 1701 Mile High Stadium, Denver CO. Commonly known as Mile High Stadium, home of the Denver Broncos, it was opened in 2001. Barack Obama gave his acceptance speech here during the closing night of the convention.
Events: Hillary Clinton and Barack Obama fought a bruising battle for the nomination, with Obama narrowly ahead at the start of June (1747 to 1730). Superdelegates pushed Obama over the top. During the count, Obama was ahead 1549 to 341 when Clinton called for the count to end and for the convention to unanimously nominate Obama for President.
Obama had chosen Delaware Senator Joe Biden as his running mate, and the convention approved by acclamation.
One of the most dramatic moments of the convention was the appearance of Senator Edward Kennedy, after a tribute by his niece Caroline. Kennedy had brain cancer and died almost exactly a year later. He was a strong supporter of Obama and did get to see him become President.
Celebrity Watch: If you enjoy music, the 2008 convention was the place to be. Stevie Wonder, will.i.am and Sheryl Crow all performed, and John Legend performed twice.
My Convention: Best movement was when a group of protesters tried to levitate the Denver Mint, in homage to levitating the Pentagon in 1967. They threw plastic coins around, yelling "It's working!" Got to meet conspiracy theorist Alex Jones, Robert F Kennedy Jr and Congressman Keith Ellison.
Election 2008: Fed up with the Bush administration, Americans sought change, and that was the very theme of the Obama campaign. Obama defeated Arizona Senator John McCain 365 to 173 in the electoral college, and won the popular vote 69.5 million to 59.9 million. Obama flipped nine states, including Virginia, North Carolina and Indiana (first Democrat to win Indiana and Virginia since Johnson in 1964).
2012: The People's Convention (The actual theme)
Dates: September 4 – 6, 2012
Venue: Time Warner Cable Arena, 333 Trade Street, Charlotte NC. Opened in 2005, it is now known as the Spectrum Center and is home to the Charlotte Hornets NBA team.
Events: The 2012 had little drama. Barack Obama had run for re-election with no serious opposition. Obama was re-nominated with 97.7 percent of the vote, and Vice President Joe Biden was re-nominated by acclamation. Ohio put Obama over the top during the roll call.
The convention did mark the rise of Latinos in the party. San Antonio Mayor Julian Castro gave the keynote address, and Los Angeles Mayor Antonio Villaraigosa was the convention chair. Castro was named Secretary of Housing and Urban Development in 2014.
Celebrity Watch: Scarlett Johansson, Kerry Washington and Eva Longoria were among the celebs on hand. Actor Kal Penn talked about working in the Obama White House. Jeff Bridges, fresh off his Oscar win for "Crazy Heart", performed at Monday's street festival. Wayne Knight from "Seinfeld" and John Legend were among the celebrities attending.
My Convention: Played "Politics and Pints" Trivia hosted by Chris Cillizza of the Washington Post. Had a bizarre conversation with Victoria Jackson from "Saturday Night Live" who is now a clueless Conservative.
November 2012: While Barack Obama won election handily over former Massachusetts Governor Mitt Romney, 332 to 206, it was a closer race than in 2008. Obama defeated Romney in the popular vote 65.9 million to 60.9 million. Romney chose Wisconsin Rep. Paul Ryan (later Speaker) as his running mate. Ryan lost his home county of Rock, his home town of Janesville and even his home ward, along with the state of Wisconsin.