Red States and Blue States
Democratic Conventions 2000-2004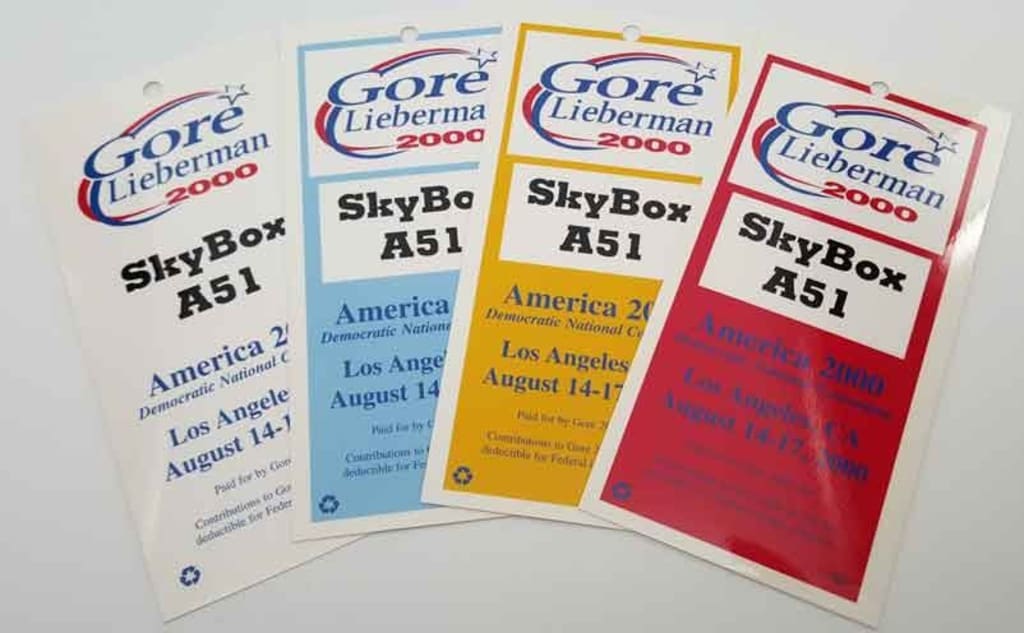 The 17th in a series of 20 on the Democratic National Conventions
2000: The Machine Rages On
Dates: August 14 – 17, 2000
Venue: Staples Center, 1111 South Figueroa, Los Angeles CA. Built in 1999, it is home to the Los Angeles Lakers.
Events: Al Gore's only serious challenger had been former New Jersey Senator Bill Bradley. Gore got 76 percent of the vote in the primary, Bradley just over 20 percent. Bradley decided not to challenge for the nomination and Gore was nominated on the first ballot with 99.8 percent. Ohio was the state that put Gore over the top during the roll call.
Gore chose Connecticut Senator Joe Lieberman as his running mate, making him the first Jewish candidate on a national ticket. Lieberman was accepted by acclamation.
There were several fun moments during the convention. Gore was nominated by Academy Award winning actor Tommy Lee Jones, who had been his roommate at Harvard. Gore was introduced by his wife Tipper, and gave her a huge kiss known as "the smooch seen round the world."
Outside, Alt-Rock band Rage Against the Machine was involved with a riot started by the Los Angeles Police Department.
My Convention: Attending the AFSCME breakfast, where Senator Ted Kennedy gave a shout-out to the waiters and then had two of them get on stage with him. He made those guys heroes; classic Kennedy. The Shadow Convention, held by Arianna Huffington, which had great comedians, including a hilarious set on Soren Kierkegaard. Waited out a bomb threat with Gore Vidal, who was remarkably funny.
November 2000: Gore fought Texas Governor George W Bush in one of the closest battles in US election history. Gore actually won the popular vote by 500,000 votes, but lost the electoral vote 271 to 266. Quite literally any state could have tipped the balance in Gore's favor. In the end, the battle came down to the state of Florida, which was governed by Bush's brother Jeb. The Supreme Court stopped the vote count in Florida when Bush was ahead, securing the victory for him.
2004: The Audacity of Blue States
Dates: July 26 – 29, 2004
Venue: The Fleet Center, 100 Legends Way, Boston MA. Built in 1995, it is now known as the TD Garden, and is home to the Boston Celtics and Bruins. It was the first national convention held in Boston.
Events: John Kerry's main opponent during the primaries had been North Carolina Senator John Edwards, after Vermont Governor Howard Dean flamed out early. Kerry had 2701 delegates to Edwards 549. Edwards decided not to contest, and Kerry won the nomination with 98.4 percent.
Kerry chose Edwards as his running mate, and he was accepted by acclamation.
The breakout star of the 2004 Convention was a US Senate candidate from Illinois named Barack Obama (more about him next). Obama gave a remarkable speech about unity. "There are no red states, there are no blue states, there is only the United States of America."
Celebrity Watch: Glenn Close introduced women Senators. Ossie Davis and Ruby Dee talked about the 1964 convention and the Mississippi Freedom delegation. And for younger viewers, Benjamin McKenzie of "The OC" was there.
My Convention: Best moment was watching Randall Terry of Operation Rescue (the ulta-extremist anti-abortion group) confront Fred Phelps of the Westboro Baptist Church. "God is about love, Fred and you are about hate!" Phelps and Terry then argued over who had God on their side. Got to meet Barack Obama, who gave a great environmental speech near Boston Harbor. And met Ben Affleck, of course, but he was everywhere that week.
November 2004: John Kerry was narrowly defeated by George W Bush, losing the electoral college 286 to 251. The whole race came down to Ohio, which Bush won 51-48. Bush won the popular vote by around 3 million, 62 million to 59 million. Thanks to the 2000 census, Bush actually picked up 7 new electors due to population shifts.