Russia: Prigozhin Calls for Rebellion
Has he gone too far for his own health and why is he risking it?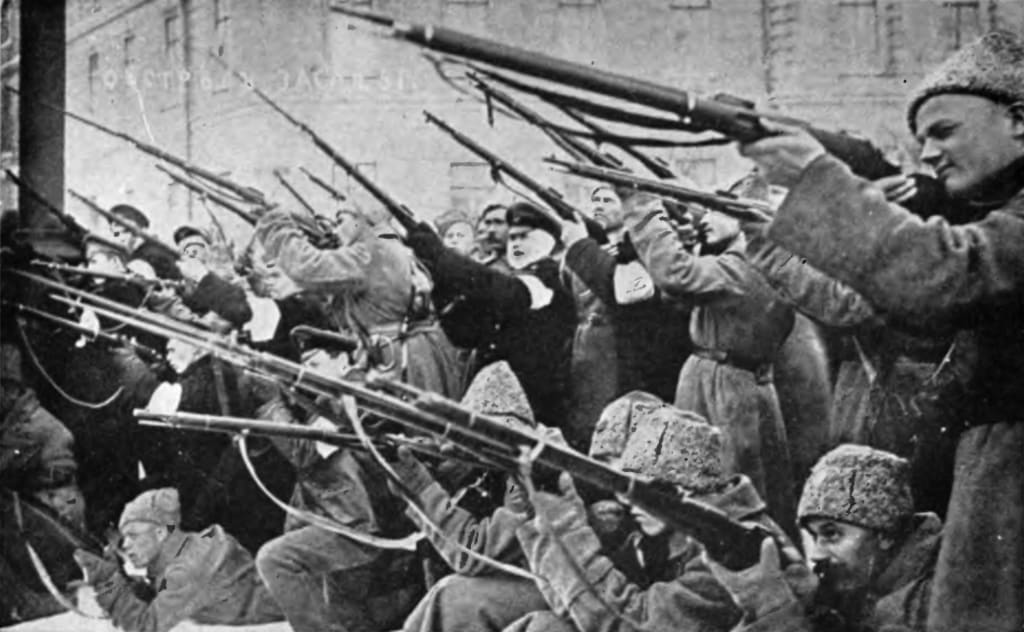 Revolutionaries attacking the Tsarist police in the early days of the February Revolution. Credit: By Unknown author — Ross, Edward Alsworth: The Russian Bolshevik revolution (1921)https://archive.org/details/russianbolshevik00rossuoft, Public Domain, https://commons.wikimedia.org/w/index.php?curid=5891582
Has he gone too far for his own health and why is he risking it? Or is it just disinformation with a fake video to cause more confusion in Moscow?
There is some choice language from Putin's chef in his latest video, including a call for rebellion in the ranks.
Don't forget that Russia's October Revolution of 1917 started in the army. I'll quote this verbatim from Wikipedia and ask you see any parallels with the situation in which the Russian armed forces now find themselves:
By the spring of 1915, the army was in steady retreat, which was not always orderly; desertion, plundering, and chaotic flight were not uncommon. By 1916, however, the situation had improved in many respects. Russian troops stopped retreating, and there were even some modest successes in the offensives that were staged that year, albeit at great loss of life. Also, the problem of shortages was largely solved by a major effort to increase domestic production. Nevertheless, by the end of 1916, morale among soldiers was even worse than it had been during the great retreat of 1915. The fortunes of war may have improved, but the fact of war remained which continually took Russian lives. The crisis in morale (as was argued by Allan Wildman, a leading historian of the Russian army in war and revolution) "was rooted fundamentally in the feeling of utter despair that the slaughter would ever end and that anything resembling victory could be achieved." (Wikipedia)
I picked up this story about Prigozhin's rant from the Live: Ukraine Telegram channel. I couldn't find any details of it on Reuters but other news channels are reporting it. I did find it on Twitter.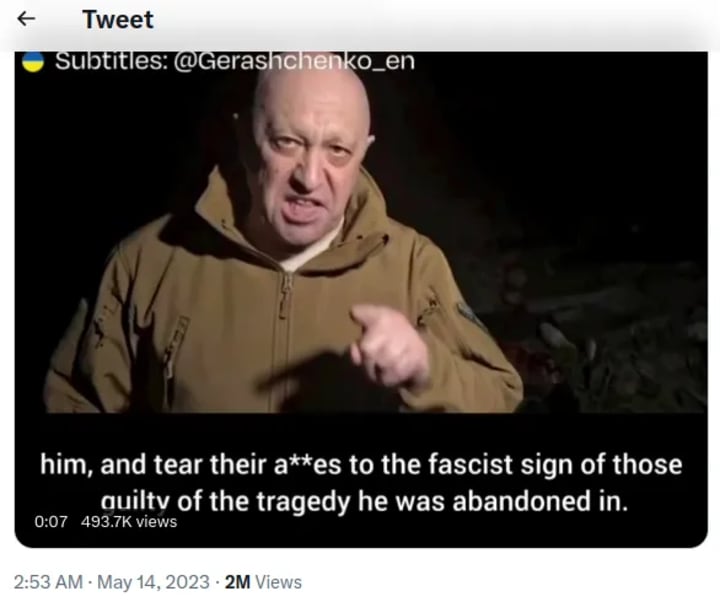 It was pushed out by Anton Gerashenko, 'Advisor to the Minister of Internal Affairs' of Ukraine: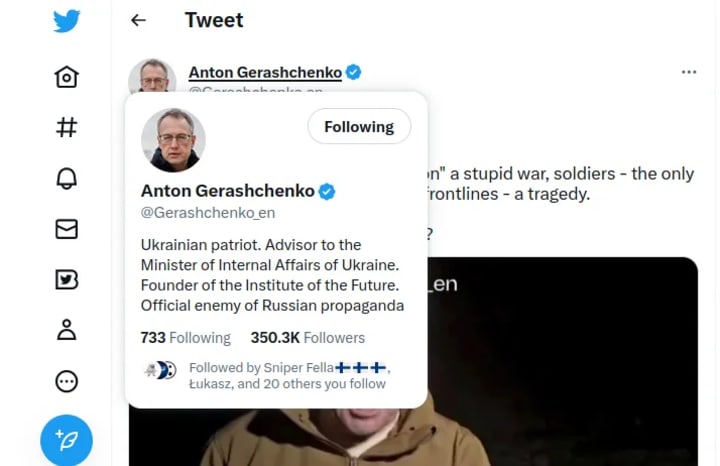 So, fact or fiction?
Let's look at the possibilities.
Fact?
It's a real video, prepared and posted by Progozhin.
Is Prigozhin aiming for Putin's chair in the Kremlin?
We know he's fallen foul of his old pal Mad Vlad, so what has he got to lose?
If so he'll have to get past Gerasimov and Shoigu in the Defence Ministry. But if he has other senior Army leaders onside then a putsch could be in the offing.
It seems to me that Prigozhin has recently gone to great lengths to publicise the reality of Bakhmut. He's put himself on the front line amongst the corpses his dead Wagnerian troops. He has, apparently, shown little regard for his own safety (at least in Ukraine), painting himself as a soldier's soldier (sorry, soldier's chef). Near the front line (seemingly) in battledress.
How will the Russian man in the street view him in comparison with Putin?
Fiction?
I don't have the tech to hand to assess whether the video below is one of the latest deep fake AI videos.
Ukraine certainly has the tech and personnel to do it. Here's one of President Zelenskyy which has being doing the rounds for many months, out of the Kremlin's Area51 no doubt:
The deepfake video of Zelenskyy could be 'tip of the iceberg' in info war, experts warn.
We would not expect many Russians to see Progozhin's video as the media is so tightly controlled.
And would Putin have seen it? That's doubtful too.
The video's use as a Kremlin de-stabiliser might therefore be limited.
Except that Prigozhin is really talking to the Army. Many of them reportedly hate the Wagner Group but they might just wonder if there's 'truth' in it. He sees himself as a lightening conductor for the ordinary soldier, accusing their leadership of incompetence.
Whatever we may think about Russian military communications, the informal comms network amongst Russian troops is effective and far reaching.
Conclusion
Prigozhin is definitely 'upping the ante', based on what I read (some of which is probably fog, I admit).
The rate of issue of his demands and rants is increasing as the Russian Bakhmut disaster unfolds. Let's not forget that he accused the Russian 72nd Separate Motor-rifle Brigade of abandoning its positions on the southwestern outskirts of Bakhmut and exposing one flank of his Wagner troops. It's a claim that has subsequently been confirmed.
The confirmation claim came in a ridiculous statement from the Russian Defence Ministry which indicated that the Brigade had made a strategic withdrawal to 'stronger defensive positions'.
Why is he risking it? Probably because he's got nothing to lose. There are not many places he can run to now if his gamble fails. Central Africa maybe, where he has significant business interests. Diamonds and death.
We should be careful what we wish for.
Prigozhin is a dangerous ultra-right madman who scrambles eggs.
Putin is a proven war criminal who scrambles armies.
Who is worse?
And here's a later update on Prigozhin's shit-stirring. He strongly implies that the four Russian aircraft shot down over Bryansk (Russia) on 13 May were hit by Russia's own air defence systems. Boy oh boy!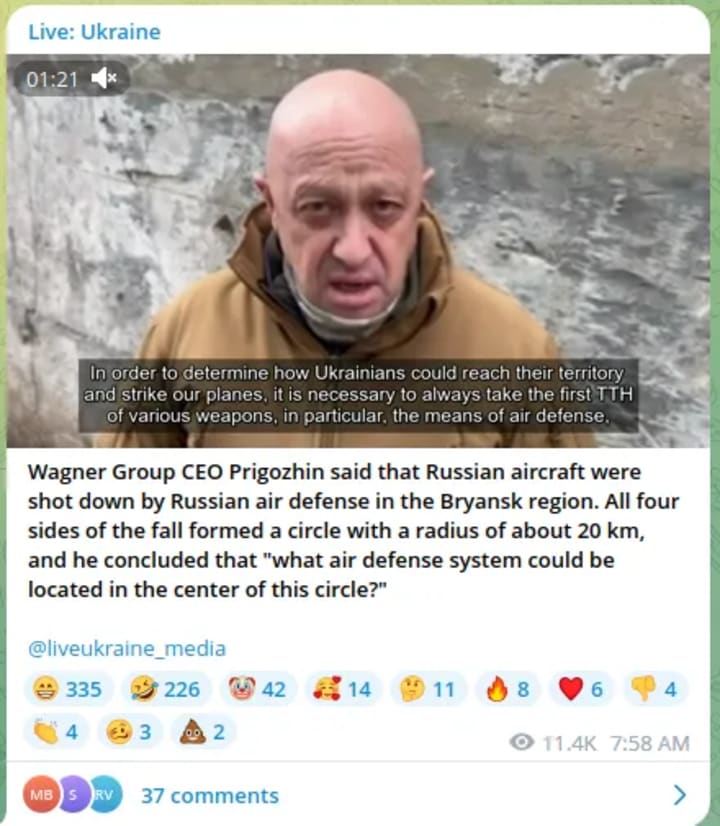 There's more analysis here about that own goal story:
***

My novels are available at my Gumroad bookstore. Also at Amazon and Apple
Canonical link: This story was originally published in Medium on 15 May 2023
About the Creator
I live on a boat and write as I sail slowly around the world. Follow me for a varied story diet: true stories, humor, tech, AI, travel, geopolitics and more. I also write techno thrillers, with six to my name. More of my stories on Medium
Reader insights
Be the first to share your insights about this piece.
Add your insights