MSNBC Leans to the Right, a Little
New conservative additions to the cable channel's lineup have progressives and media watchers concerned. They needn't be; ratings for its liberal programs are high as ever.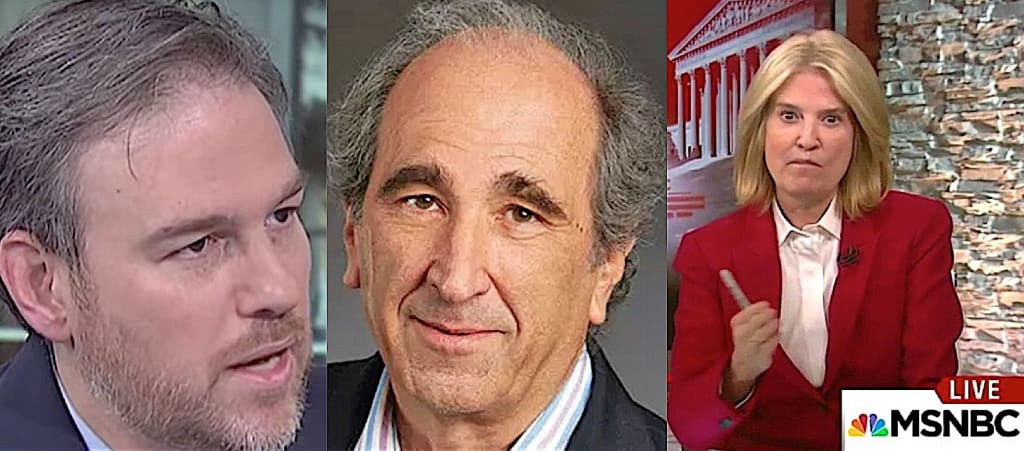 What do Bret Stephens and Greta Van Susteren have in common? (a) Both are conservative journalists recently in the pay and orbit of conservative media; (b) both have history with MSNBC. There the similarities end, since one's just started at MSNBC, while the other just left. This latest TV minute, the square dance of talking heads has got people's attention and sent fearful progressives rushing to social media to express their concerns.
But for longtime MSNBC viewers, this is about as reliable as the seasons changing — the political seasons. It's been done before, and more than once.
Stephens, a former columnist for The Wall Street Journal, and as of April an opinion writer with The New York Times, just joined the lineup of commentators on MSNBC, the longtime cable stronghold for liberal American television viewers, and a fresh source of conservative voices added to the "Lean Forward" channel since the start of the year.
Stephens, who started at MSNBC on June 28, has drawn heat for neoconservative positions on social and political hot-button issues; a one-time Iraq War hawk, he advanced the viewpoints of a climate change skeptic in his maiden Times column. Winner of the 2013 Pulitzer Prize for Commentary, he joins conservative pundit and author Hugh Hewitt; conservative columnist George Will; and Nicolle Wallace, author, chief political analyst for MSNBC and NBC News, and an able water carrier of the neocon agenda guesting on the Morning Joe program.
◊ ◊ ◊
Progressives with short attention spans will look at MSNBC's lineup changes surprised by what seems like a sea change at what's been the most politically liberal network on cable. In fact, the recent changes have a lot of precedent.
Like a relentless flirt who relishes the attention of various suitors, MSNBC has done this dance before, partnering with liberal or conservative voices in the political culture whenever the (national) mood strikes.
Consider what I wrote in June 2005 about MSNBC's chameleon tendencies over the previous three years, in response to the Sept. 11, 2001, terrorist attacks and the ensuing rush to the colors during the first blush of the Iraq war, in early 2003:
"In a series of chameleon shifts, MSNBC ("America's Newschannel") brought on (and eventually cashiered) Phil Donahue, talk-show veteran and political moderate; Alan Keyes, erstwhile presidential contender; Michael Savage, rabidly homophobic conservative author, commentator and syndicated radio rottweiler; Pat Buchanan and Bill Press; point-counterpoint hosts and commentators; and others, in a desperate-seeming search to rebrand itself and find the right media mix for a nation that was increasingly restive and, to go by the Republican victories of 2000 and 2004, increasingly conservative.
Former U.S. Rep. Joe Scarborough, a conservative Pensacola attorney, was called up to take the helm of Scarborough Country in 2004. And in early 2005, the point-counterpoint approach got a kinder, gentler treatment with the debut of Connected Coast to Coast, with parallel hosts Monica Crowley from MSNBC's East Coast studios (on the political/geographic right) and Ron Reagan from msnbc.com studios on the West Coast (on the left).
"For some, the proof of pandering to an audience perceived to be growing in its conservatism was there in a Washington Times article published in early 2003. The article claimed to quote an internal MSNBC memo noting that Donahue was considered 'a tired, left-wing liberal' whose antiwar, anti-Bush sentiments represented 'a difficult public face for NBC in a time of war.' MSNBC brass denied the memo even existed."
◊ ◊ ◊
Some things at MSNBC haven't changed from that era, a passion for ideological diversity being one of them. So the channel's addition of Stephens and other conservative voices shouldn't be a complete surprise. What's different this time — besides the change in MSNBC's leadership; news veteran Andrew Lack took over as chairman of MSNBC and NBC News in early 2015 — is the fact that the programming shift isn't prompted by a large-scale terrorist event or the war started in the wake of that event.
Why's MSNBC bulking up on neocon perspectives this time? Is it audience pandering or C-suite prerogative? It's hard to say; there's no one external driver of change — and wooing conservatives doesn't always work out. Van Susteren, formerly at Fox News and made anchor of MSNBC's For the Record, in January, was fired June 29 from MSNBC, exiting a show in deep ratings crisis. "The anchor, whose show struggled to gain traction even as the rest of her colleagues were buoyed by anti-Trump hysteria, has parted ways with the network," reported Emily Jane Fox at Vanity Fair.
Apparently, it all comes down to the ratings — and the grand design of Lack, who orchestrated this latest bid for MSNBC re-identification.
◊ ◊ ◊
In May, Ryan Grim reported in The Huffington Post that master builder Lack "has made quite clear his plan to move the cable news network away from its bedrock liberalism and toward a more centrist approach personified by Brian Williams — even including hosts of a conservative bent, as typified by hosts like Megyn Kelly [gone from Fox and now at NBC] or Greta Van Susteren ..."
It's good to be king. Even when the king's master plan don't exactly pan out. Grim at HuffPost: "Across the board, shows that Lack has put his stamp on and moved to the center or to the right have not performed as well as the ones he has left alone, despite MSNBC's ability to get the media-industry press to write flattering stories about the network's 'dayside turnaround.' ...
"Since the election of Trump," Grim said, "MSNBC's liberal primetime programs hosted by Chris Hayes, Rachel Maddow, and Lawrence O'Donnell have surged not just in ratings but in the share of the cable news audience they're capturing." Maddow's a perfect example. TVNewser reported June 27 that her show "finished this past quarter as the No. 1 show across all of cable news in the all-important [ages] 25-54 demographic."
◊ ◊ ◊"Van Susteren's slightly wonky right-centrism didn't catch," Vanity Fair reported. "It is unclear whether she made sense outside of Fox News in 2017, and whether a star at that network can shine anywhere other than the very particular universe that Roger Ailes and Rupert Murdoch created."
So MSNBC's seeming lurch to the right may not be all that it appears, not as long as progressive stalwarts like Hayes, Maddow and O'Donnell — and even old-guard liberals like Chris Matthews of Hardball — maintain their place in the network's generally progressive DNA. And not as long as MSNBC keeps confounding expectations: HuffPost reported on June 28 that the news org "recently signed Democratic pollster Cornell Belcher, former Hillary Clinton adviser Maya Harris, and former Obama administration official Wendy Sherman as contributors."
Change is the only constant at MSNBC — that, and the power of unintended consequences: Over the two years of his tenure, and in the process of deepening the network's political diversity, Lack did damage to MSNBC's racial and ethnic diversity, taking a network with one of the most demographically diverse lineups on television and transforming it, in very short order, into one of the least.
But that's another story.
trump
politics
pop culture

Michael Eric Ross
Michael Eric Ross writes from Los Angeles on pop culture, politics, film and other subjects. His writing has also appeared in TheWrap, Medium, PopMatters, The New York Times, Entertainment Weekly, msnbc.com, Salon, and other publications.
See all posts by Michael Eric Ross →