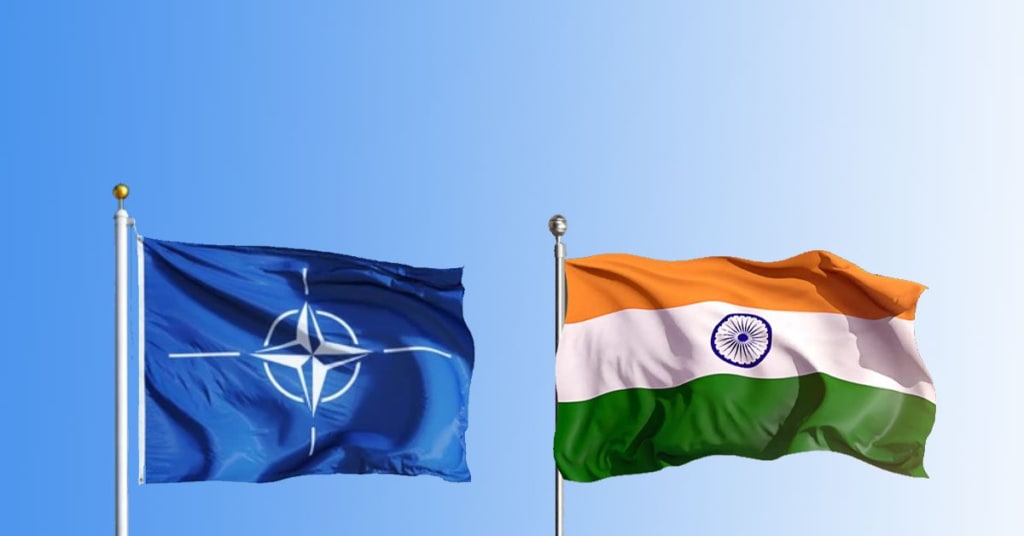 The idea of India joining the NATO-Plus framework, an extended security arrangement including NATO and its treaty allies, has gained traction in American policymaking circles. This proposal aims to enhance global defense cooperation and counter China's influence in the Indo-Pacific region. However, before India embarks on such a path, it is crucial to examine the implications and consider the country's unique positioning and aspirations.
Benefits of Non-Treaty Defense Partnership:
India's current status as a major defense partner of the United States without a formal treaty alliance offers tangible benefits. The Critical and Emerging Technologies (iCET) initiative, signed in 2023, has already facilitated defense industrial cooperation and technology partnerships. For instance, a potential multi-billion-dollar deal between General Electric (GE) and Hindustan Aeronautics Ltd (HAL) for coproducing F414 jet engines showcases the progress achieved under the iCET framework. India's involvement in NATO or a similar alliance may not be necessary to access advanced military technology.
Challenges of Binding Security Alliances:
Joining a security alliance like NATO may limit India's maneuverability and hinder its pursuit of great-power aspirations. As an aspiring leading power, India needs the flexibility to leverage rival power centers and create policy space. A hub-and-spokes alliance system, which NATO has evolved into, may not align with India's goal of becoming a third pole in global affairs. India's independent China policy, vital in addressing the challenges posed by China, may be compromised if it becomes part of a security pact.
Maintaining Strategic Autonomy:
India's current approach of managing external turbulences, leveraging rival power centers, and safeguarding its own interests has proved effective. Maintaining strategic autonomy allows India to pursue an independent China policy, which aligns with its own security priorities. While deepening security and defense cooperation with the United States, India retains the flexibility to navigate great power rivalries and pursue its interests in a balanced manner.
The Importance of Diplomatic Nimbleness:
India's neutrality or non-direct involvement in potential conflicts between China and the United States or its allies can serve as a diplomatic advantage. By not taking a direct part in confrontations and avoiding an antagonistic posture towards Beijing, India aims to ease tensions along its Himalayan border. Joining a security alliance might restrict India's ability to walk the diplomatic tightrope and hinder its agility in dealing with complex geopolitical scenarios.
India as Asia's Democratic Bulwark:
India's rise as a democratic bulwark against China's authoritarian system is in the interest of the West. Facilitating India's growth as China's primary rival in Asia should be prioritized over pushing India into a treaty alliance. India's unique positioning, fast-growing economy, and robust military capabilities make it well-suited to play a crucial role in countering China's regional ambitions.
While India's inclusion in NATO-Plus may not be the most viable option, there are alternative measures that can be taken to strengthen regional security and address concerns related to China's assertiveness.
Strengthening Quad Cooperation: The Quadrilateral Security Dialogue, or Quad, comprising the United States, India, Japan, and Australia, has emerged as an important platform for security cooperation in the Indo-Pacific. Deepening collaboration within the Quad framework can provide a mechanism to address regional security challenges and ensure a rules-based order.
Enhancing Bilateral Defense Cooperation: India has been actively expanding its defense ties with key partners such as the United States, France, and Japan. Further strengthening these bilateral relationships, including defense technology cooperation, joint exercises, and information sharing, can enhance India's defense capabilities and contribute to regional security.
Encouraging Multilateral Security Partnerships: India should continue to actively engage in multilateral security mechanisms such as the ASEAN Defense Ministers' Meeting Plus (ADMM-Plus) and the Indian Ocean Naval Symposium (IONS). These platforms enable dialogue, cooperation, and confidence-building measures among regional countries, promoting stability and security.
Fostering Maritime Security Cooperation: Given India's strategic location in the Indian Ocean region, there is a need to enhance maritime security cooperation. Initiatives like the Indian Navy's Information Fusion Centre for the Indian Ocean Region (IFC-IOR) can facilitate information sharing, maritime domain awareness, and collaborative efforts to address common security challenges.
Strengthening India's Indigenous Defense Industry: India has made significant progress in developing its indigenous defense industry. Further investment, research, and development in defense technologies can enhance India's self-reliance and contribute to regional security by fostering a more balanced distribution of power.
Engaging in Military Exercises and Training: Participating in joint military exercises and training programs with partner countries can enhance interoperability, build trust, and improve collective capabilities. Regular exercises, such as the Malabar naval exercise, should be continued and expanded to include more regional partners.
Leveraging Soft Power and Diplomacy: India's soft power, cultural influence, and historical ties with countries in the region can be leveraged to build stronger diplomatic relationships. Engaging in dialogue, promoting economic cooperation, and offering developmental assistance can help forge closer ties and foster regional stability.
While the idea of India joining the NATO-Plus framework may seem appealing, a closer examination reveals that maintaining strategic autonomy and pursuing a non-binding defense partnership with the United States can offer significant benefits. India's aspirations as a leading power, its ability to navigate great power rivalries, and its pursuit of an independent China policy are best served by maintaining flexibility and diplomatic nimbleness. The West should support India's rise as a democratic bulwark against China without pressuring it to join a formal security alliance.
Reader insights
Be the first to share your insights about this piece.
Add your insights