Canada's Prime Minister Hashtagging Near You
#JustinTrudeauPickUpLines highlights PM's good looks and Canada's benefits.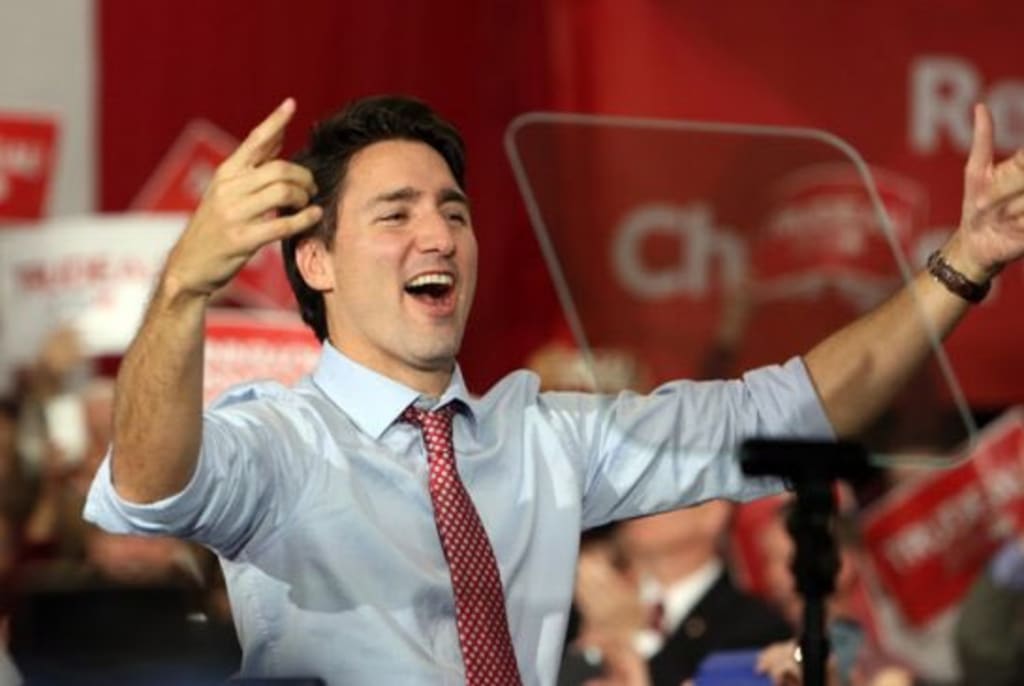 "I'm not Donald Trump" (All of America immediately falls in love).
"Hey, girl. I could get you that good health insurance."
Thanks to the trending topic #JustinTrudeauPickUpLines, these lines and more are currently making the rounds on Twitter, begging the question: has Canadian prime minister Justin Trudeau become more known for his good looks than his policies?
This is probably the only time in the Twittersphere when a world leader has had such a topic trending about him or her. Could you imagine substituting "Justin Trudeau" for, say, "Vladimir Putin?" It just doesn't have the same ring to it.
Admittedly, when Trudeau first took office over a year ago, he was a media sensation. He still is a media darling; one need only look at how cheerfully he greets the media, how willing he is to pose for selfies, and just how camera-ready the man is to understand that he's a good camera subject. Agree or disagree with his policies; he makes good press because he's apparently endlessly optimistic - a rarity in a politician nowadays - and he's good looking.
But with #JustinTrudeauPickUpLines, one need only wonder if perhaps Canada's current leader is not being taken as seriously as he should be. Certainly, there were questions in 2012 about whether the Liberal Party of Canada, the political party of which Trudeau is now the leader, even took the young politician seriously. This was prior to Trudeau becoming a leader, when Stéphane Dion didn't even give him any sort of a critical role against any of the Conservative departments, and both Michael Ignatieff and Bob Rae put him in roles where he was a critic for Youth and Multiculturalism - and later Citizenship and Immigration - and then Post-Secondary Education and Youth and Amateur Sport, respectively.
Is Trudeau youthful? One need only look at the perfectly coiffed hair and the broad smile to realize that; also, Trudeau is the second youngest person to be elected Canadian prime minister - he was just 43 years and 314 days old. He has a connection with the youth of Canada like no other prime minister has ever seen, certainly not recently.
He's also very charismatic; any media that discusses the Canadian PM shows him as personable, friendly, and seemingly genuinely interested in things that are said to him. He's immersed himself in pop culture as much as he has in politics and the world stage; there are images of him and his wife, Sophie Grégoire-Trudeau, on the cover of Vogue shortly after his election win and he's even tweeted images of himself and his wife with the multi-talented Lin-Manuel Miranda of Hamilton fame. There are images of him signing a range of United Nations documents, visiting world leaders, and holding town hall-style meetings across Canada, among others. This is a man who seems to understand, as former president Barack Obama did, that the office of leader is as much a media and publicity game as it is about policy, and it's a game that he plays well.
But knowing how to work the publicity machine does not mean you are taken seriously.
The fact that something like #JustinTrudeauPickUpLines was trending on Twitter speaks to something inherently wrong. While politicians can sometimes be ridiculously infantile, confronting each other in their various government houses in playground style shouting matches, there have very rarely, if ever, been people thinking "I wonder what this politician would sound like if they were using a pick up line."
Is there anything wrong with having a good looking person running a country? Of course not. However, there's a fine line between acknowledging that your country's leader is good looking and having some serious fun at that leader's expense because they are good looking. Prime Minister Trudeau needs to take a look at how he's perceived by all of his constituents, and act accordingly. Politics is very often a game of perception, and if Trudeau is perceived as someone who should not be taken seriously to that degree, there are definitely some adjustments to be made.