Bryan Watch: June III
Steil Against Discovering Truth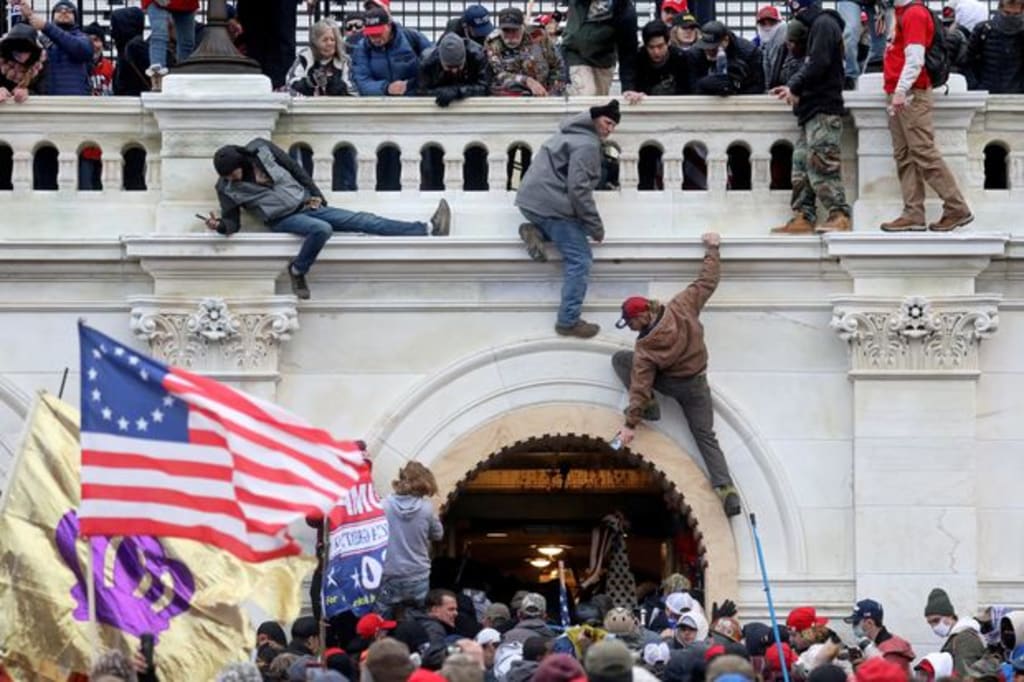 Steil has consistently opposed investigating the events of January 6
The big vote this week was on H Res 503, which established a Select Committee to investigate the January 6 attack on the Capitol. Steil sustained his record as a Trump toady by refusing to investigate what happened (RC 197, June 29). The only Republicans to support finding the truth were Liz Cheney (WY) and Adam Kinzinger (IL).
On Tuesday, the House voted to replace a statue ot Supreme Court justice Roger Brooke Taney, the author of the notorious Dred Scott (1857) decision, with a statue of Justice Thurgood Marshall. The bill would also remove statues of supporters of the confederacy from the US Capitol building. To his credit, Rep. Steil voted for this progressive legislation (RC 196)
In the wake of several abuses of the Inspector Generals position by the Trump administration, the House passed HR 2662, which would provide greater independence for the officials who investigate wrong doing by other government officials. Steil voted against this common sense reform legislation (RC 195, June 29) Steil also voted for an amendment by Rep. James Comer that would effectively gut the effectiveness of the IG Improvement bill (Comer Amendment No 4, RC 194, June 29) And Steil voted against an amendment by Rep. Carolyn Maloney (NY) containing several improvements to the bill offered by Democratic legislators (RC 193).
The week started with the House passing three fairly non-controversial bills. HR 391, the Global Health Security Act, passed 307 to 112. Interestingly, Steil was among the conservative 112 that voted against (Republicans 90-112). (RC 188. June 28)
Steil did vote for both HR 3593, the Department of Energy Science for the Future Act (RC 187, June 28) and HR 2225, the National Science Foundation for the Future Act (RC 186, June 28). Republicans supported both bills by a margin of about 2-1.
Steil also voted for HR 567, the Trans-Sahara Counterterrorism Partnership Program Act, which passed by a margin of 395 to 15. (RC 192, June 29)
As usual, Republicans voted against even considering Democratic legislation. On Tuesday, they voted against considering HR 2662, HR 3005, HR 3684 and House Res 503 (RC 189 and 190, June 29).
And on Wednesday, Republicans voted against bringing up HR 3684, the Federal Highways bill (RC 198 and 200, June 30). Steil also voted against an effort by Rep. Mark DeSaulinier to add another amendment to the highway bill. It failed 84 to 325 (RC 199, June 30)
On Thursday, the House debated HR 3684, the INVEST In America Act, which passed 221 to 201 (RC 208). Steil voted the party line on all votes on HR 3684, voting against, and voting for a motion to recommit by Bob Gibbs of Ohio to send the bill back to committee (RC 207). The bill funds federal highways for FY 2022.
Steil also voted against both amendments to HR 3684: An amendment by Susie Lee of Nevada regarding wastewater treatment plants (Amendment 132, RC 206) and an En Bloc amendment by Sharice Davids of Kansas containing about two dozen different amendments (RC 205).
Once again, the House passed a cornucopia bill containing a variety on non-controversial bills, which passed easily (395 to 15; HR 567, RC 191, June 29). The bills which passed were:
HR 1500 Global Learning Loss Assessment Act
HR 2471 Haiti Development, Accountability and Institutional Transparency Initiative Act
HR 3261 Repeal of Authorization for use of Military Force Against Iraq Resolution
HR 3283 Repeal of Joint Resolution to Promote Peace and Stability in the Middle East
HR 3385 Honoring Our Promises Through Expedition for Afghan SIVS Act
H Res 186 Calling For the Immediate Release of Trevor Reed (Reed is being held by the Russian Federation for relatively minor offenses)
H Res 402 Urging the Administration to Facilitate Assistance in Response to the Devastating Impact of COVID-19 in India
It is rather interesting that the end of Public Law 102-1, which authorized the 1991 war in Iraq, only passed in 2021. It only took Congress 30 years to recognize the Gulf War was over. Public Law 85-7, which was repealed by HR 3283, was an Eisenhower era bill that promoted US assistance to the Middle East in the wake of the Suez crisis of 1956.
Scorecard
Total Votes: 19
Party Line (14): Steil 14-14
NPL (5): 186, 187, 191, 192, 199