100 Suspected Gay Men "Rounded Up" In Chechnya, 3 Killed
Respected Newspaper Reports Slayings, Chechen Government Denies Homosexuals Even Exist In Region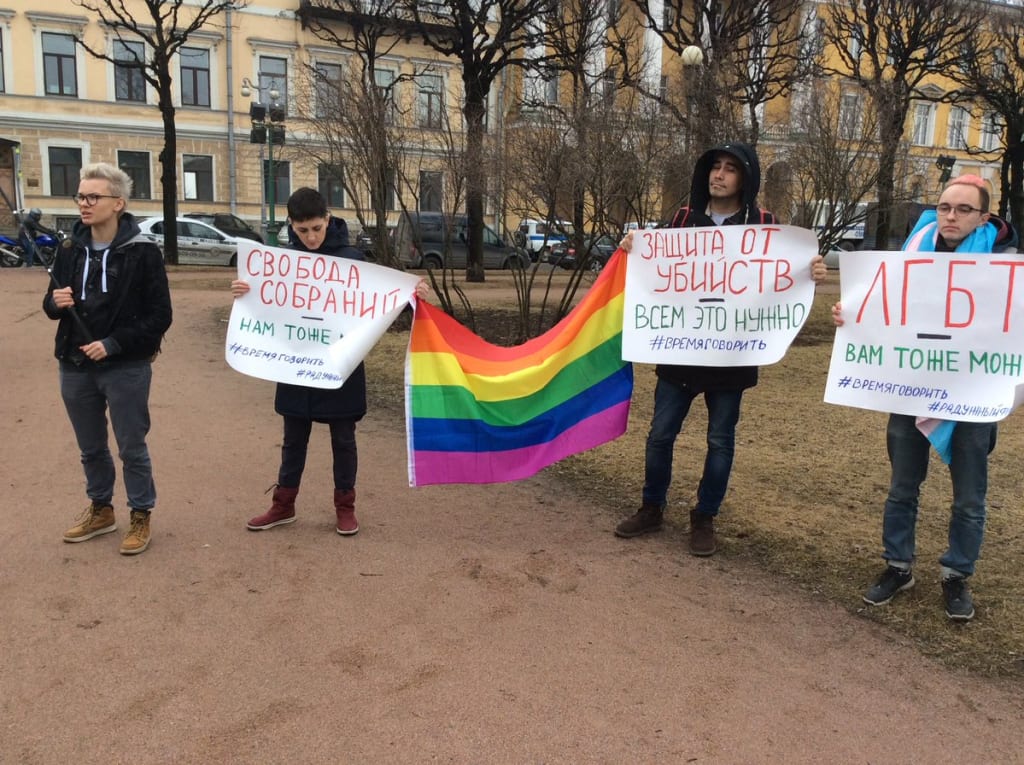 Source
Novaya Gazeta, one of the most respected newspapers in Russia, has reported that 100 men suspected of homosexuality have been "rounded up" this past weekend and three of them killed.
However, Chechen President Ramzan Kadyrov's spokesman Ali Karimov vehemently denied the report, stating that, "It's impossible to persecute those who are not in the republic," according to state news agency RIA Novosti.
The region under scrutiny has seen its president come under fire for a range of human rights violations from a wide number of sources, including MI5. According to BBC News, the intelligence agency believes that Kadyrov could be responsible for the deaths of his political opponents, a claim which Kadyrov scoffed at when interviewed by Steve Rosenberg of BBC News.
However, Karimov added further fuel to the idea that perhaps those who identify as LGBTQ would not be accepted in Chechnya.
"If such people existed in Chechnya," he said, "law enforcement would not have to worry about them, as their own relatives would have sent them to where they could never return."
Russia has come under fire over the last several years due to what some have tagged "homophobia laws." The Russian federal law "for the Purpose of Protecting Children from Information Advocating for a Denial of Traditional Family Values" was passed in June 2013, and caused global outcry and questioning of Russia's stance on human rights as a whole.
For the 2014 Sochi Olympics, for example, several ads mocking the then-new law aired in North America, including one from Canada which implied that there might be those participating in the Olympics that year that would identify as LGBTQ.
In a June 2013 report entitled "The Global Divide on Homosexuality," the Pew Research Center discovered there was a "broad acceptance of homosexuality in North America, the European Union, and much of Latin America, but equally widespread rejection in predominantly Muslim nations and in Africa, as well as in parts of Asia and in Russia."
Indeed, since that June 2013 report, there have been many advances for those who identify as LGBTQ - the United States making gay marriage legal across the board would perhaps be the biggest example of this. In other areas of the world, though, there have been an equal number of backsteps, including Russia's anti-gay law. Then-US President Barack Obama, for instance, chose three openly gay athletes - Billie Jean King, Caitlin Cahow and Brian Boitano - to be a part of the United States delegation while Obama himself did not attend. While some may have seen the satirical pokes at the Russian stance on homosexuality as immature, LGBT athletes participating in the Olympics were concerned for their own well being throughout the Games, though they were assured of their safety.
Under Kadyrov's rule, Islam has been brought into Chechnya, with "Europe's biggest mosque" being built for practitioners of the religion. However, human rights issues remains a concern for the Chechen administration, and if the scant information coming out about this situation is correct, the region's stance on human rights will only continue to worsen.
Ekaterina Sokirianskaia, Russia project director for the International Crisis Group, said she was monitoring the situation and concerned.
"I have heard about it happening in Grozny [the Chechen capital], outside Grozny, and among people of very different ages and professions," she said.
Pride parades have been banned in major centers such as St. Petersburg and Moscow, and while it is somewhat easier to live as a homosexual individual in the larger centers in Russia, the smaller regions, such as Chechnya, can be a real threat.
"It's next to impossible to get information from the victims or their families, but the number of signals I'm receiving from different people makes it hard not to believe detentions and violence are indeed happening," Sokirianskaia said.