April Declared Sexual Assault Awareness Month By President Donald Trump - Oh, The Irony!
Current President Stands Accused Of At Least 10 Sexual Assaults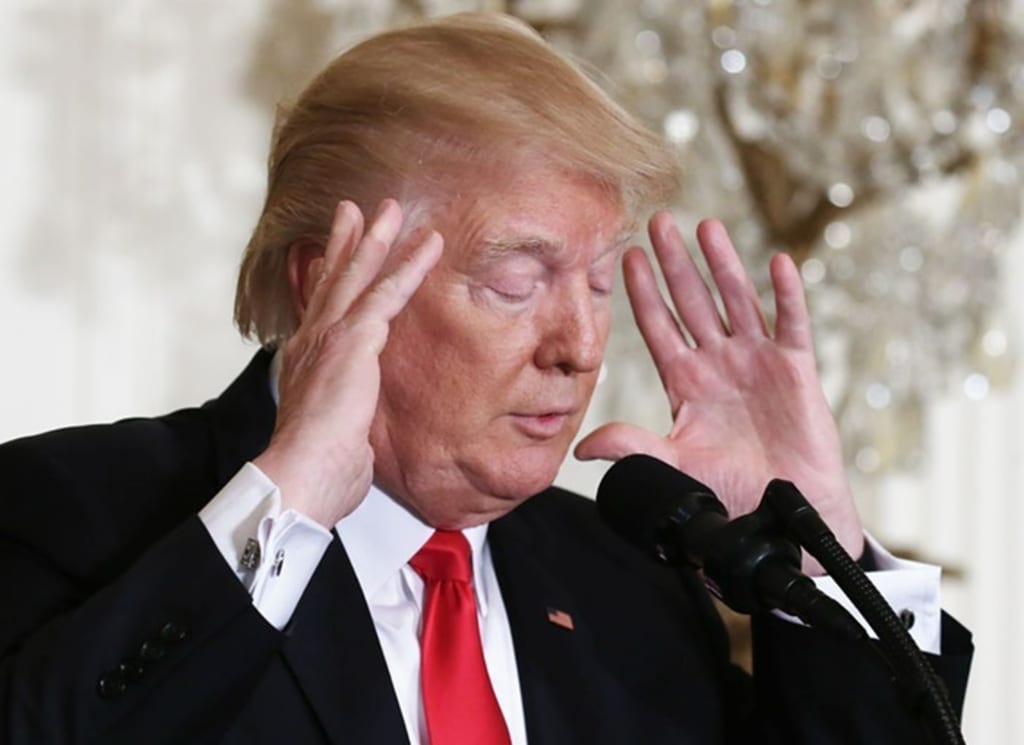 Source
April has been declared Sexual Assault Awareness And Prevention Month by President Donald Trump, who himself has been accused of the sexual assault of at least 10 or more women.
The month has been declared as Sexual Assault Awareness And Prevention Month dating back to President Obama in 2009. Naturally, given the trouble that the current president has found himself in with the number of accusers that have come forward, Twitter has had a bit of a field day with Trump's declaration.
One tweet plays out like a conversation between Trump and his much-beleaguered press secretary, Sean Spicer. The Twitter handle @sarahcpr, Sarah Cooper, posted the following:
"Trump: I am so excited to celebrate National Sexual Assault Month
Spicer: uh, Awareness and Prevention Mr. President
Trump: Oh"
Chris Jackson acknowledged the irony of President Trump declaring April to be Sexual Assault Awareness And Prevention Month on April 1.
"Worst April Fools joke I've ever heard," Jackson posted.
According to the proclamation, which was released March 31, President Trump has already directed the attorney general to create a task force on crime reduction and public safety. He also acknowledged that there were some 300,000 people annually who were impacted by sexual assault and its aftermath.
"Behind these painful statistics are real people whose lives are profoundly affected, at times shattered, and who are invariably in need of our help, commitment, and protection," the proclamation reads.
In the proclamation, President Trump also encourages the public to become more actively engaged in raising awareness about sexual assault and its effects, noting that men and boys should also step up to help stop the violence.
"Recent research has demonstrated the effectiveness of changing social norms that accept or allow indifference to sexual violence," he says in the proclamation. "This can be done by engaging young people to step in and provide peer leadership against condoning violence, and by mobilizing men and boys as allies in preventing sexual and relationship violence."
The statements in the proclamation appear to stand in stark contrast to the much-discussed "hot mike" tape that came out during the election campaign, when then-Access Hollywood co-host Billy Bush and Trump were discussing some of the perceived "perks" of stardom.
"You know, I'm automatically attracted to beautiful — I just start kissing them," Trump was heard saying on the tape. "It's like a magnet. Just kiss. I don't even wait. And when you're a star they let you do it. You can do anything."
In the wake of Trump's proclamation, some on social media have said that Trump has, in effect, admitted to the sexual assaults and sexual harassment that he has stood accused of.
Twitter user Julia Claire, who goes by the Twitter handle @ohjuliatweets, said, "This April let us all remain aware that Trump has admitted to sexual assault."
Trump's response to the allegations of sexual assault against him range from flat-out denial to implications that those accusing him of the crime were simply not attractive enough to warrant being sexually assaulted. In mid-January, an unnamed woman and her lawyer, high-powered attorney Gloria Allred, filed a suit against Trump for sexual assault. Allred has represented several other women who have made claims against the president, including former Apprentice contestant Summer Zervos, adult film performer Jessica Drake and former Miss USA contestant Temple Taggart.
For all of the negative press surrounding President Trump, however, at least he has continued to be consistent with regards to what his predecessor did in proclaiming the month to be Sexual Assault Awareness and Prevention Month. It's simply unfortunate that Trump will more likely be remembered for the sexual assaults he's been accused of rather than the good he might do while in office.