Top 4 Body Washes with Himalayan Pink Salt
Shower Gel, Soap Bar and Body Wash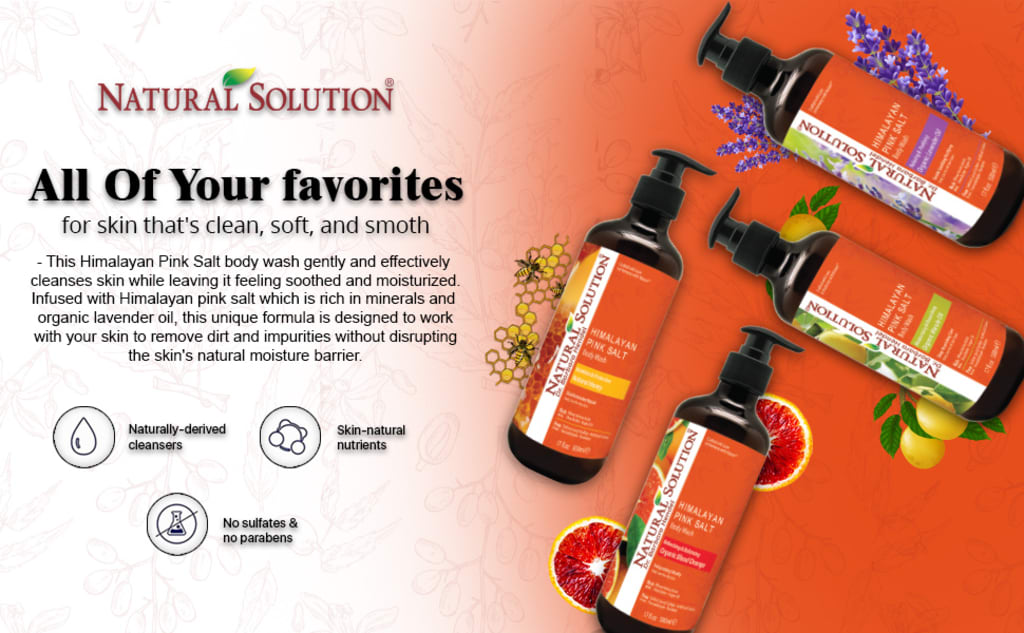 What Is Body Wash?
A body wash is also a gentle cleansing product that removes dirt, debris, and excess oil from your skin. However, they often contain ingredients intended to restore moisture to the skin and treat dryness, clogged pores, and flaking skin. As a result, organic body wash has a thinner, creamier consistency that doesn't produce heavy suds.
Some washes contain fatty acids to help produce the detergent properties of these products. Additionally, they are usually fortified with ingredients to treat acne, sensitive skin

Body Washes with Himalayan Pink Salt
Lavender Body Wash | Natural Solution
Liquid soap natural solution, organic lavender oil with Himalayan pink salt, relaxing and purifying. The Himalayan pink salt body washes gently and effectively cleanses the skin while leaving it soothed and hydrated.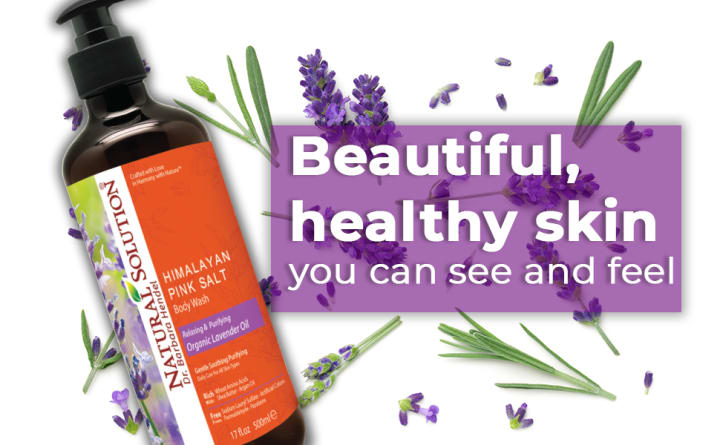 • Natural Solution Organic Lavender Oil Body Wash
• Gentle, soothing, and purifying daily care for all skin types.
• Rich in wheat amino acids with Shea butter and argan oil
• Relaxing and Purifying Organic Lavender Oil
Blood Orange Body Wash | Natural Solution

Mineral-enriched natural body wash with pink Himalayan salt. The body wash gently cleanses the skin to hydrate your body. The moisturizing body wash is designed to work with your skin to remove dirt, oil, and impurities to nourish the skin's natural barrier. The Blood Orange Body Wash is ECO Certified and contains Shea Butter and Argon Oil.
Marula Oil Body Wash | Natural Solution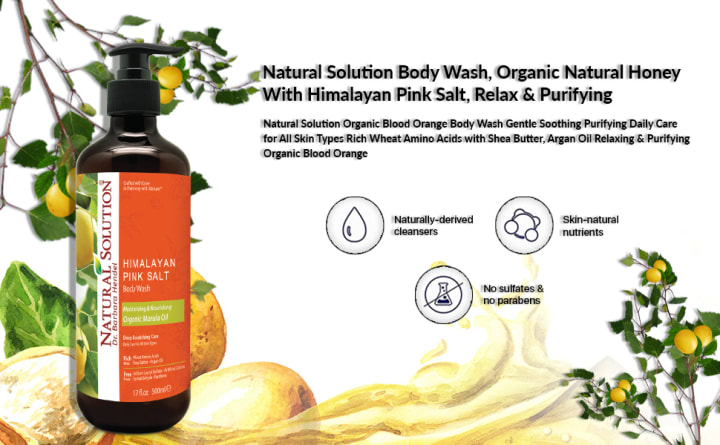 Natural bath gel enriched with minerals such as Himalayan pink salt, natural Shea butter, and argan oil. The moisturizing body wash asserts itself thanks to our key ingredients Himalayan pink salt and Marula oil. The body washes deeply cleanses and moisturizes your skin. WBM Body Wash does not contain parabens or SLS.
Natural Honey Body Wash | Natural Solution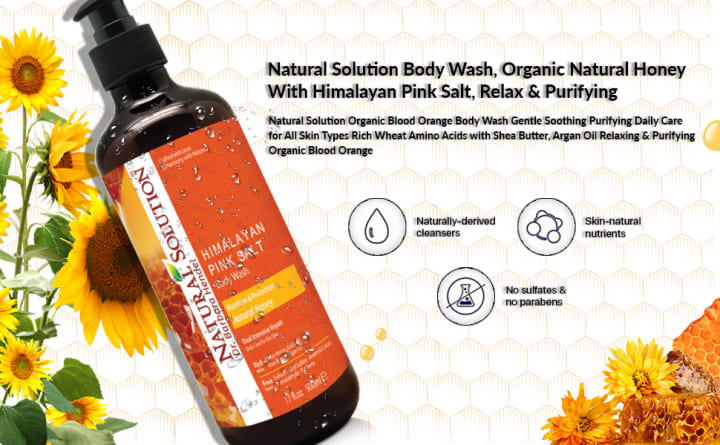 Natural body washes are moisturized to hydrate your body. Himalayan pink salt and pure honey extracts are key ingredients in body washes that gently cleanse to hydrate skin. The liquid body soap nourishes and hydrates your skin. The body soaps are ECO-certified.
Benefits of Body Wash
The Body wash is the newest entrant in the market, but it has gained immense popularity in recent years. This admiration is due to its amazing aromas, after all, who doesn't want to smell like vanilla or enjoy the fresh scent of lemon and Aloe Vera? Whatever the scent, body washes are delicious to smell.

Besides diffusing soothing scents, there are also several other uses for body wash. Let's see how important a body wash is besides being scented:
Helps with Hydration
Body washes are loaded with moisturizing and hydrating properties. They provide adequate nutrition to the skin, which helps in making it soft and supple. Don't let the skin dry out after showering.
Using a gentle body wash will encourage your skin to retain moisture longer without over-cleaning it so you can have nourished and healthy-looking skin.
It Foams Very Well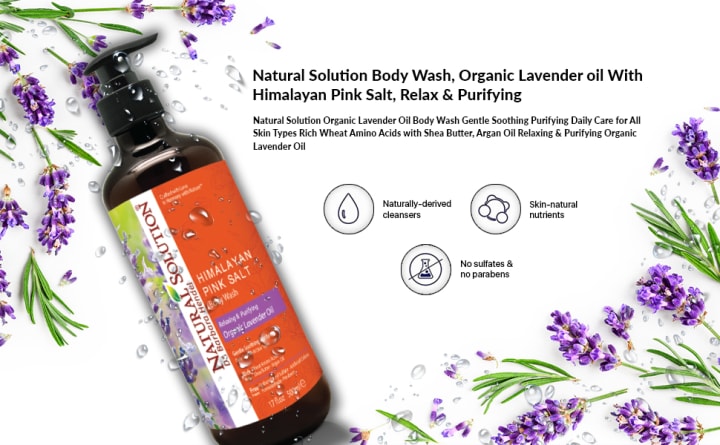 For anyone who loves the experience of lathering up in the shower, the body wash can be your perfect companion. Unlike other skin cleansers, the body wash produces excellent lather, allowing you to enjoy a relaxing bathing experience. A bubble bath can become much more enjoyable when accompanied by a sponge bath.
Body Wash Promotes Better Hygiene
If you only have bath soap in your bathroom, your skin is in great danger. Sharing a single bar with multiple people can easily spread skin infections, allergies, and many other contagious diseases. Also, most of the time, soaps are kept unwrapped in bathrooms, which can make them a breeding ground for bacteria.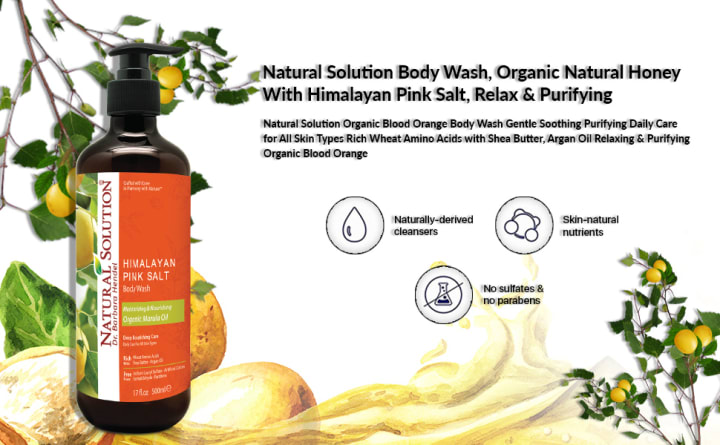 Body washes are very well packaged in bottles and come in liquid form. The part that is used once by an individual cannot be used by another person. These two qualities make shower gels a more hygienic alternative than others.
A Little Goes a Long Way
A few drops of body wash can do all the cleaning. It is not necessary to squeeze the whole bottle at once. If more than the required amount is used, it may feel sticky or greasy. Since the body washes lather a lot, a small amount can do a thorough cleanse.
Travel Friendly
Whether it's an adventure trip or a family vacation, the body wash can go with you everywhere. No need to wrap them, just close the lid and you're good to go. Moreover, they come in bottles of different sizes which can be easily carried for traveling.
Exfoliates the Skin
Your skin needs exfoliation to enhance its radiance. The cleansing agents in the body wash contain certain synthetic or natural ingredients that help exfoliate the skin.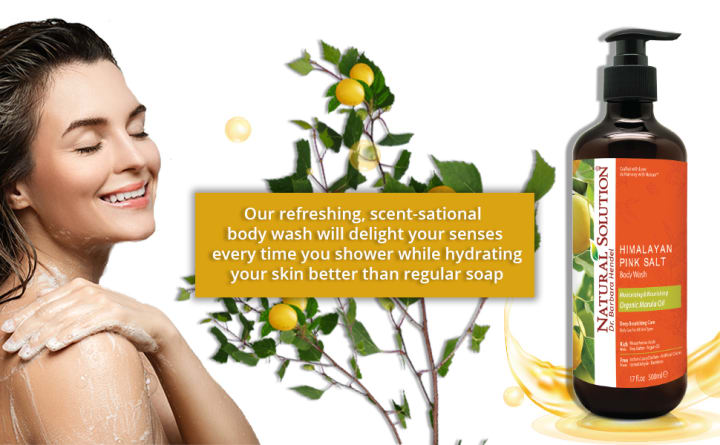 What About Soap Bars?
For the sake of differentiation, let's also look at the classic bar soap. Essentially, bar soap is soap that comes in the form of a solid bar. They work by dissolving dirt and oils on the surface of the skin and killing pathogens on the skin.
Unfortunately, many bar soaps have high pH levels that can damage and dry out the skin. They are also known to sometimes disrupt the skin microbiome by removing all bacteria, both beneficial and harmful, from the surface of the skin, thus upsetting the balance and ecosystem of the skin.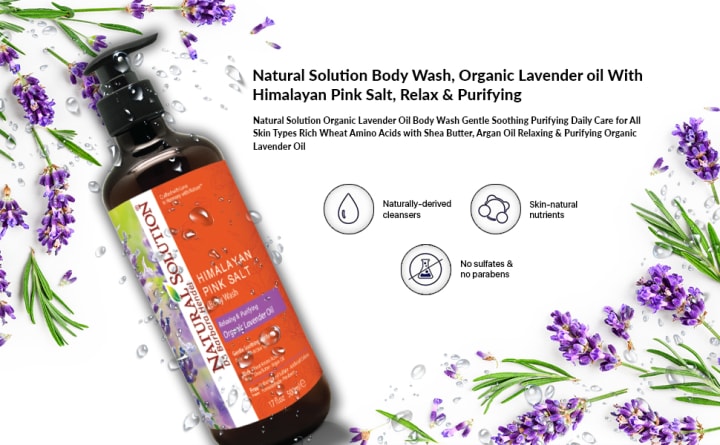 Shower Gel, Soap Bar and Body Wash
At first, bar soaps, shower gels, and body washes all seem the same. After all, they all serve the same purpose: to cleanse your body. However, although we don't give enough thought to the act of showering, the amount of time we spend in the shower, the products we use, and even the temperature of the water can all affect how our skin behaves through the after.
Although all types of soaps can help remove impurities from the skin's surface, they do so in very different ways.
For example, soap bar breaks down the oily layer on the surface of our skin to kill skin pathogens. Body washes use a similar mechanism to remove debris from the skin, but they also infuse the skin with a blend of ingredients that can help moisturize and hydrate the skin. Shower gels also work the same way, but they don't contain as many moisturizing ingredients.
As you can see, there is a difference between shower gels and body washes, and these differences are significant depending on your skin type, where you live, and your skin condition. So let's take a look at these differences to find the perfect cleansing solution for your body.
Reader insights
Be the first to share your insights about this piece.
Add your insights