The Fashion World
Paul Poiret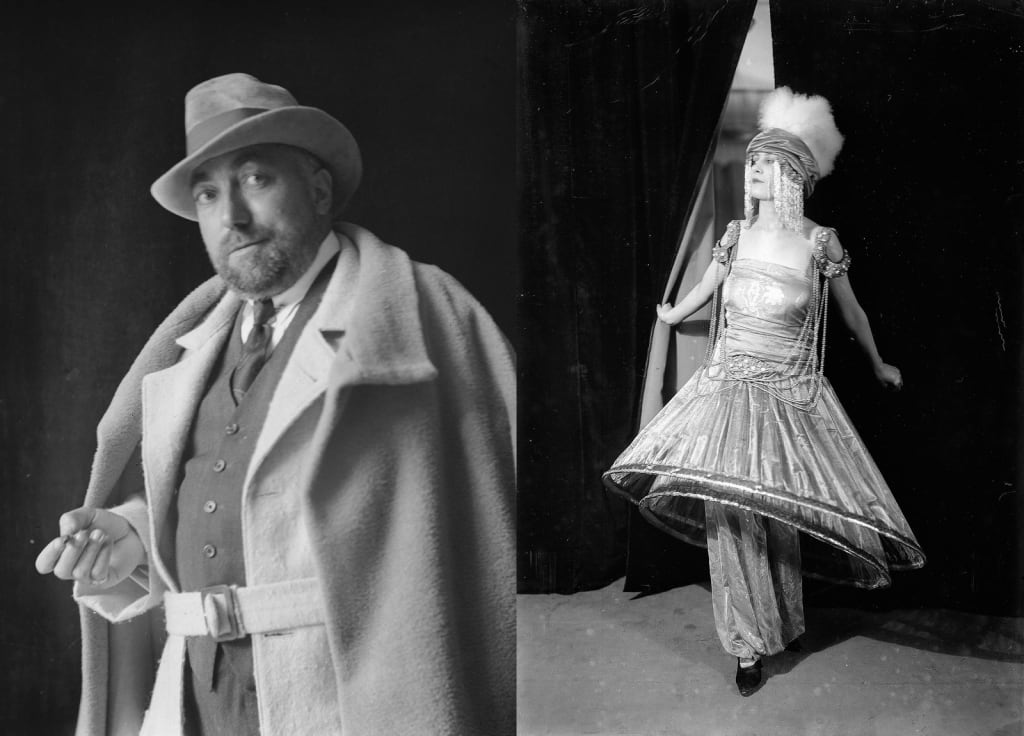 1879 - 1944
Known as the creator of modern clothing and shapes, Paul Poiret greatly influenced ladies fashion in the Edwardian Era. His designs were inspired by classicism, Orientalism and Art Nouveau and 'freed' women from the constriction of corsets.
Paul Poiret was born on 20th April, 1879, to a cloth merchant in the poor neighbourhood of Les Halles, Paris. He was apprenticed to an umbrella maker where he collected scraps of silk left over from the cutting of umbrella patterns, and he would fashion clothes for a doll that one of his sisters had given him. As a teenager, Paul took his sketches to Louise Cheruit (a prominent dressmaker) who purchased a dozen from him. Paul continued to sell his sketches to some of the major Parisian couture houses, until he was eventually hired by Jacques Doucet in 1898.
His first design sold 400 copies --- it was of a red cloth cape. After designing a black mantle of tulle over a black taffeta, Paul became famous, especially when it was worn by the actress Rejane in the play "Zaza." Using the stage as a runway became a typical strategy of Poiret's marketing practices, which enabled him to present his most 'avant-garde' creations. "All the sadness of a romantic denouement (the outcome of the play), all the bitterness of a fourth act, were in this so-expressive cloak, and when they saw it appear, the audience foresaw the end of the play --- Thenceforth, I was established, chez Doucet and in all of Paris." (Poiret's quotes) In 1900, Paul left Doucet to do his military service, which was a shame as he had risen to become the head of the tailoring department.
Paul joined the House of Worth in 1901. He was responsible for designing simple, practical dresses, called "fried Potatoes" by Gaston Worth, as they were considered 'side dishes' to Worth's 'main course' of "truffles." However, Paul's 'futuristic' designs were too much for Worth's conservative clientele. When he designed a Confucius coat for the Russian Princess Bariatinsky, she exclaimed: "What a horror! When there are low fellows who run after our sledges and annoy us, we have their heads cut off, and we put them in sacks like that." The coat had an innovative kimono-like cut.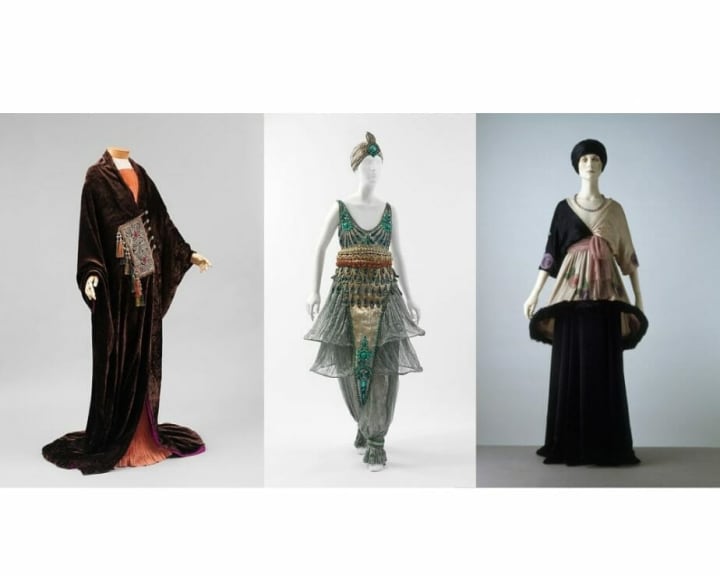 It was at this time that Poiret decided to fund his own "House." In 1903, Poiret started his "Maison de Couture" at 5 rue Auber. In 1906, he moved his atelier to 37 rue Pasquier, and the, in 1909, to 9 avenue d'Antin. He also established a perfume and cosmetics company he named "Rosine" (after his eldest daughter), and a decorative company he named "Martine" (after his second daughter). Both of these were located at 107 Faubourg Saint-Honore. Poiret was the first couturier to align fashion with interior design and promote the concept of a "total lifestyle."
Learning his 'craft' from two of the oldest couture Houses, Poiret now spent the first ten years as an independent couturier 'breaking' with established conventions of dressmaking. Starting with the body, he liberated it from the petticoat (1903) and then the corset (1906). Poiret made his name with his controversial kimono coat and similar, loose-fitting designs created specifically for an 'uncorseted, slim figure.' With this, Poiret started a revolution in dressmaking. The emphasis was on the skills of draping, which was a radical departure from the couture traditions of the 19th Century which relied on pattern pieces.
He looked at the antique and regional dress of the Greek Chiton, the Japanese Kimono and the North African and Middle Eastern caftan. Poiret advocated fashions cut along the straight lines and constructed of rectangles. The emphasis on flatness and planarity required a complete reversal of the 'optical' effects of fashion. The cylindrical wardrobe replaced the statuesque, turning, three-dimensional representation into two-dimensional abstraction. Poiret's process of design through draping is the source of fashion's modern forms.
Many of Poiret's designs were attempts to cement the relationship between art and fashion, and they relied on the stencilling technique known as "Pochoir," which relied on brilliantly saturated areas of colour. This showed Poiret's 'novelty' in his designs and also his unique palette.
The Ballets Russes production of "Sheherazade" (1910) inspired Poiret with regards to his Orientalist sensibilities, thus launching a sequence of fantastical confections, including "Harem" pantaloons (1911) and the "Lampshade" tunic (1913), having already introduced the "hobble skirt," which has also been interpreted as an expression of his Orientalism (1910). Poiret had designed costumes for several theatrical productions with Oriental themes, (for example, "Le Minaret" by Jacques Richepin, 1913).
Poiret left his fashion House, at the beginning of World War One, to serve in the military. Returning in 1919, The House was on the brink of bankruptcy. New competition, such as Chanel, was taking over the Fashion Industry. Poiret was invited to New York to design costumes and dresses for Broadway stars (1922). He took his top designer, France Martano, and an entourage with him, but New York was not home and Poiret returned to Paris, leaving France Martano there.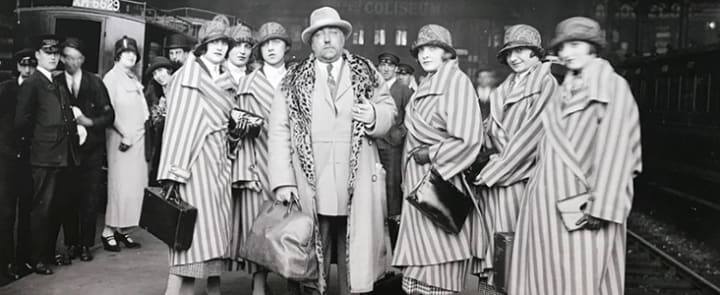 Unfortunately, Poiret became unpopular (more like out-of-date) and was in debt, with no support from his business partners. The House was closed down in 1929, the leftover stock being sold by the kilogram as 'rags.' Paul Poiret died a pauper in 1944, his friend Schiaparelli paid for his burial.
During his lifetime, Poiret married Denise Boulet (1905) and they had five children. "My wife is the inspiration for all my creations; she is the expression of all my designs," Poiret told Vogue in 1913.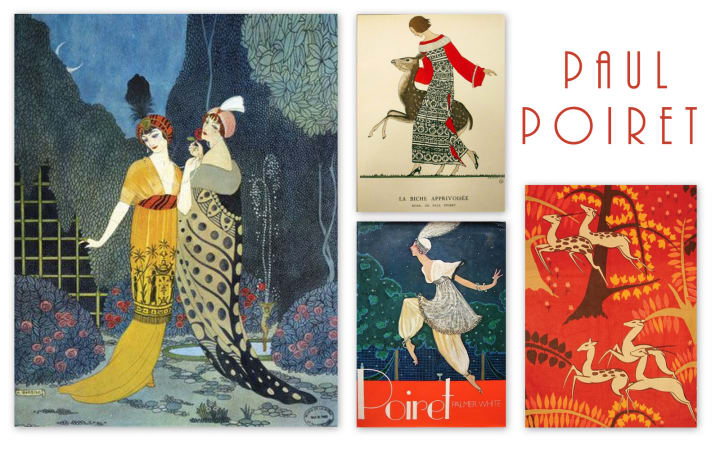 (My research comes from Wikipedia and The Met 150)
industry
I love all things Earthy and Self-Help
History is one of my favourite subjects and I love to write short fiction
Research is so interesting for me too
Receive stories by Ruth Elizabeth Stiff in

your feed
These are the best in song and style. More than ever in Nigerian music, women are dominating the scene. While it is still very much the case that the men rule the radio stations, the women are stepping up now more than ever and we have a whole range of women in music today.

From years of purchasing vintage I've realised one thing…. vintage clothes can come in irregular sizes, dimensions and shapes.

For so long I have wanted to be a designer, creating pieces that I can fit into properly. Being taller and curvier, I have always found an issue with how my clothes fit, well, and an issue with being able to go shopping with confidence that I'd find the perfect dress for this event, or the perfect top that won't shrink after I wash lol! Being inspired by people like Dapper Dan, I knew there was a huge need for me to get creative. My very first project, I made a fur coat to wear for my birthday. I saw a picture of Rihanna with a Blush pink suit and fur to match that inspired me, but while searching online, there were no shops that sold anything close to that. That year, I settled for a pink jumpsuit, but I was determined to make the fur coat. With the help of YouTube, my very first fur coat was created.

With summer coming to an end, fashion lovers around the world prepare to hit the streets of New York for another iconic and exciting week of fashion, better known as New York Fashion Week (NYFW). Between the months of September and February, New York City hosts the first of four major fashion events, including Paris, London, and Milan to follow. New York, and Bryant Park and the Lincoln Center in particular, will be full of both new and seasoned designers, models, and fashion influencers like Vogue's Anna Wintour. As well as tons of press, buyers, and, of course, a handful of trend-setting celebrities who are lucky enough to score front row seats and the opportunity to claim any Spring 2020 runway stunners, this show is open to the public and kicks off Friday, September 6, with designs and "performances" from Telfar. Closing, once again, with Marc Jacobs on September 11, these American designers are sure to set the standard for the newly shortened schedule that will showcase the world's most talented and creative fashionistas and all the things you need to know about New York Fashion Week.

By Cara Siera Twenty-twenty has been one weird year. Thanks to stay-at-home orders and remote work, pajamas and house slippers became the new office attire. When we tired of getting ready by not getting ready, house dresses and other comfy business casual garments made an unprecedented comeback.

Think of it as a discipline if you want, a cleansing. Some might say, minimalism is about imposing less effort into items you own. In actuality, when you become a good minimalist everything you own matters to you in a very specific way. In fact you're going to have to put in a lot of time pondering something you may or may not buy, and also making sure the items are quality. The goal is you aren't going to spend money and time replacing it because if you own something there's a reason for it.