Rihanna's Red-Hot Super Bowl Show
Rihanna Sends Super Bowl Crowd into Frenzy with Fiery Red Performance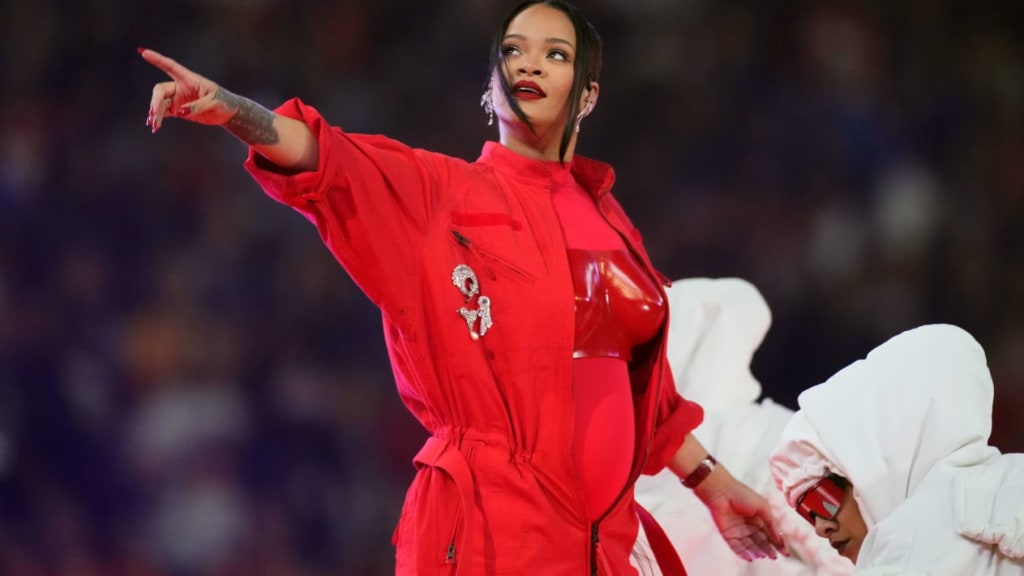 Rihanna's Red-Hot Super Bowl Show
Spectators hoping for the theatrical costume changes of Super Bowls past may have been left unfulfilled. But Rihanna nonetheless captivated audiences with her halftime performance in a head-to-toe red ensemble specially crafted by high-end brands Loewe and Alaïa.
Following rumors of her pregnancy, the Barbadian songstress kept things straightforward and comfortable with a pair of red sneakers.
She took to the stage on a levitating platform, belting out "B**** Better Have My Money" in a cotton flight suit with the zipper down, revealing a matching silk jersey catsuit and a leather corset designed to highlight her curves (and a growing baby bump, as later confirmed by her representative to The Hollywood Reporter).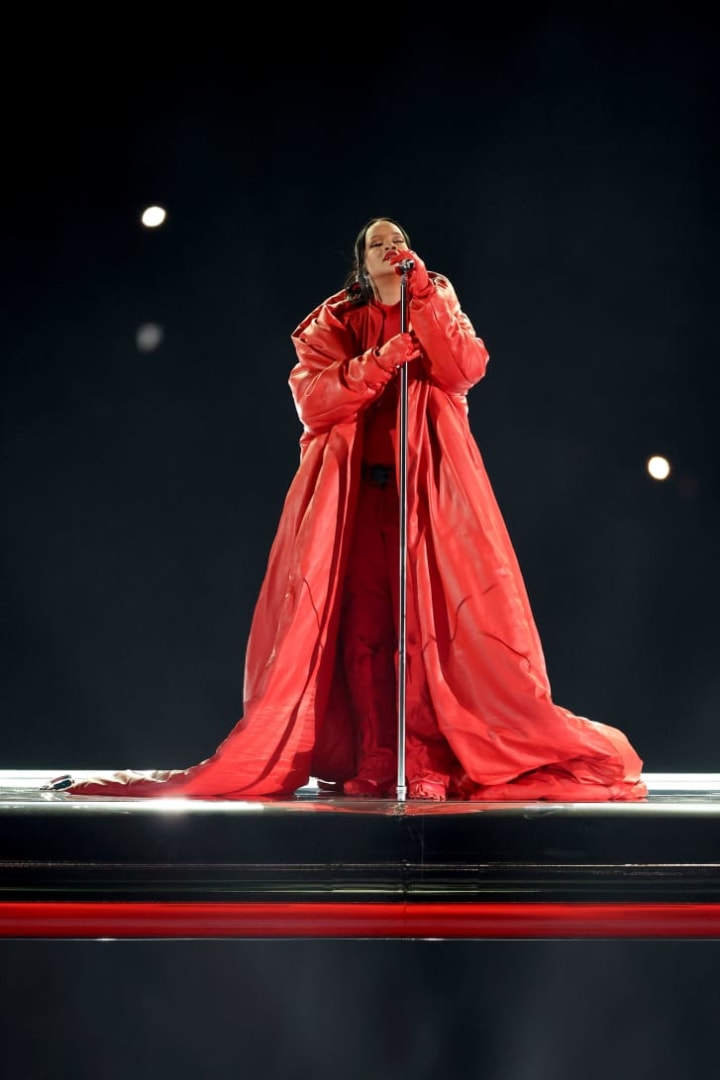 Jonathan Anderson, the visionary behind Spanish label Loewe, was the mastermind behind the custom-made garbs that Rihanna donned during her Super Bowl halftime performance. The fashion house, which showcased a similar red chest plate as part of their Spring 2022 ready-to-wear collection, described Rihanna's ensemble as an ode to flight gear that was designed to amplify the dynamic stage design.
Adding to the bold look were a pair of red sneakers from Maison Margiela's partnership with Salomon, as well as a leather puffer scarf with integrated gloves from the late Tunisian designer Azzedine Alaïa's eponymous label.
Throughout the show, Rihanna made a few wardrobe changes, starting with a medley of hit songs including "Rude Boy" and "Umbrella." She finished the show with a grand finale of "Diamonds" in a red leather maxi puffer coat with integrated gloves, masterfully crafted by the creative director of Alaïa, Pieter Mulier.
As a final touch, Rihanna also sported an aviator jacket by Alaïa during the halftime show press conference, just days after the label opened its first brick-and-mortar store in New York after a thirty-year hiatus.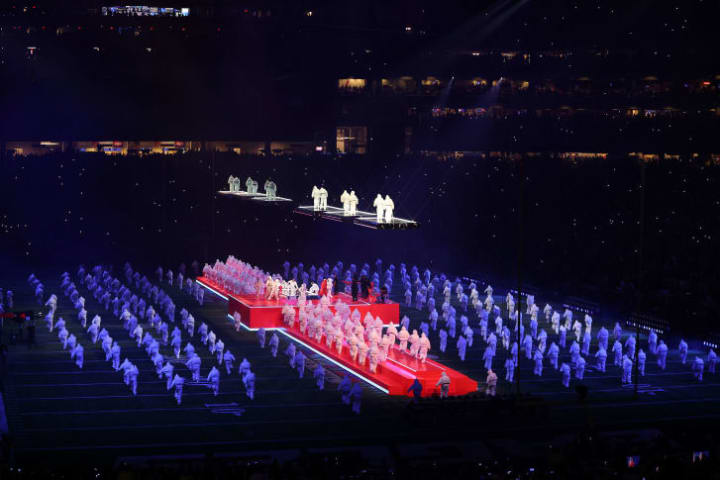 Rihanna made her highly-anticipated return to the stage after six years, captivating audiences with her performance at the Super Bowl. The lingerie and beauty mogul, who has been busy building her empire, sparked speculation as to what she would wear. While she didn't don any pieces from her Savage X Fenty line, her backup dancers made up for it, with their white hooded jackets revealing a range of lingerie from the brand. The fashion label seized the opportunity, taking to social media to remind fans that the sports bras, boxers, and mesh tank tops were all up for sale.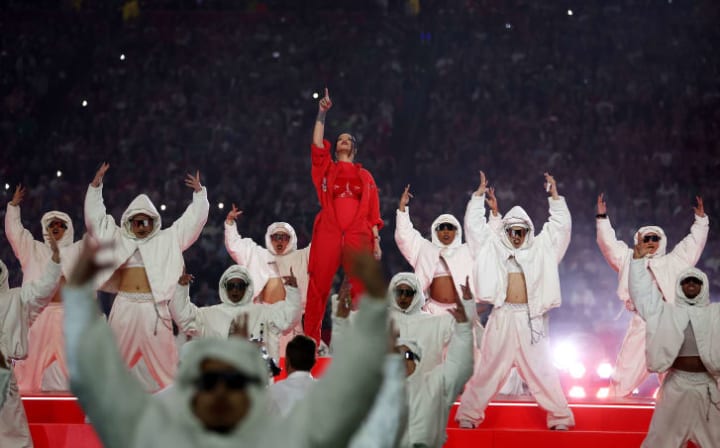 In a statement from Loewe, the brand shared their excitement over working with the icon, Rihanna, on such a memorable performance. Their creative director, Jonathan Anderson, expressed it felt like a dream come true to bring her stage ensembles to life. LVMH, the parent company of Loewe, also owns a significant portion of Rihanna's beauty brand, Fenty Beauty.
Rihanna's Super Bowl performance was a true spectacle of fashion and music. As the first public performance by the star in six years, the anticipation was high, and she did not disappoint. Rihanna was dressed in a head-to-toe red ensemble that was custom-designed by Jonathan Anderson, the creative director of Spanish fashion house Loewe. The outfit was inspired by flight gear and was designed to create volume and enhance the dynamic energy of the performance. The red boots that she wore added an extra touch of boldness and whimsy to her overall look.
Her back-up dancers, meanwhile, were dressed in white hooded jackets that opened to reveal various items from Rihanna's lingerie brand, Savage X Fenty. The brand was quick to capitalize on the moment by promoting the sports bras, boxers, and mesh tank tops worn by the dancers.
Anderson was elated to have worked with Rihanna on her Super Bowl performance, calling it an "unforgettable moment." In a statement issued by Loewe, he described the experience as a "wild, wonderful dream" and spoke of the star's iconic status.
To complete the outfit, Rihanna added a touch of edge with a pair of red sneakers from Maison Margiela's collaboration with sport shoe brand, Salomon. Over the top, she wore a leather puffer scarf with integrated gloves by Alaïa, the label founded by the late Tunisian couturier Azzedine Alaïa. The star soon discarded the scarf and performed a medley of hits, including "Rude Boy" and "Umbrella." The finale of the performance was just as memorable, with Rihanna back in another Alaïa piece, a red leather maxi puffer coat that was designed by the label's creative director Pieter Mulier.
All in all, Rihanna's Super Bowl performance was a true celebration of fashion, music, and the power of creativity. It was a testament to the star's influence and her ability to captivate audiences around the world.
Reader insights
Be the first to share your insights about this piece.
Add your insights