Reworked Clothing: Combining Creative Design and Sustainability.
How I turned my passion for design and fashion into a sustainable business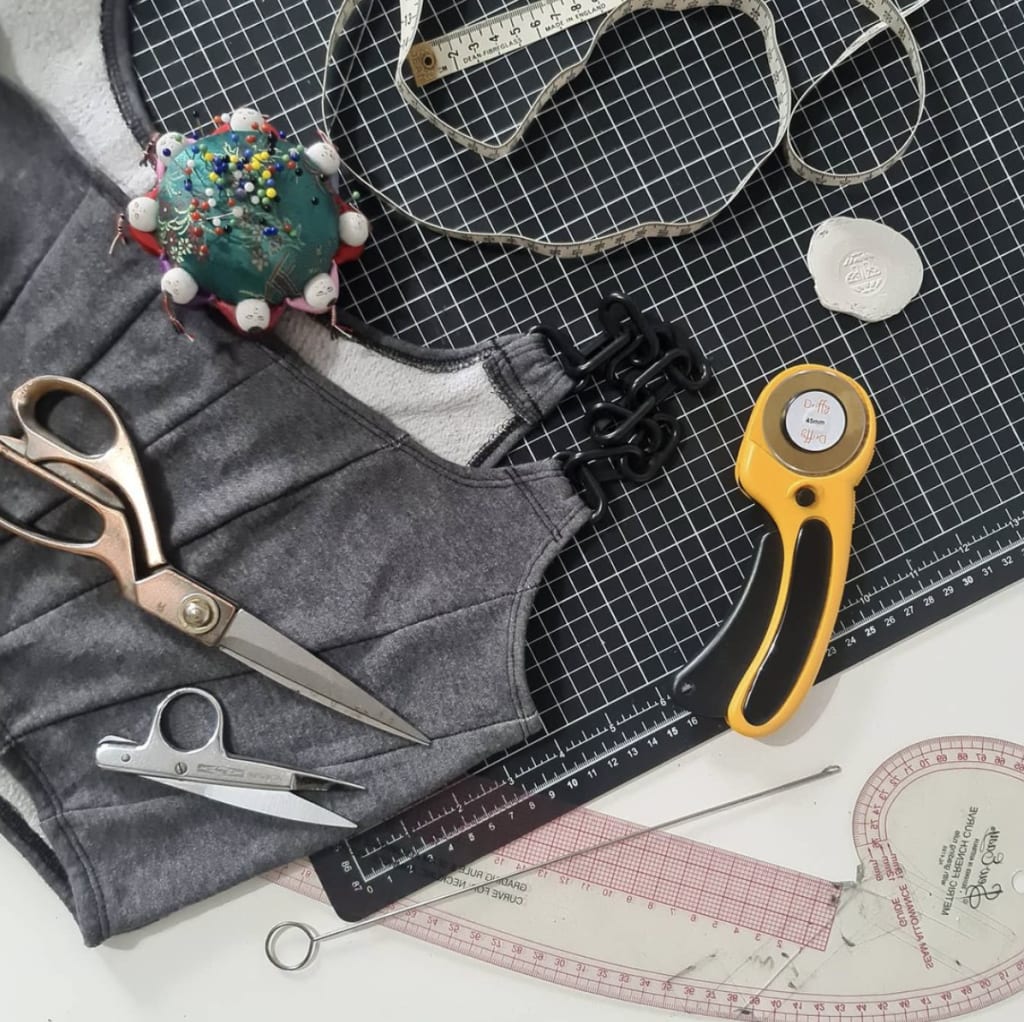 On my seventh birthday, I was given my first ever sewing machine. It was a little, pink, plastic thing with a mini foot pedal and everything. I remember sitting on the floor by my nana, who in contrast was sewing on a big industrial machine, and cutting out her leftover scraps only to sew them back together with my wonky stitching. My first creation was a 'skirt' for my mum (aka a tiny tube of fabric made up of random fabric scraps I found laying around) and ever since then, I've been hooked.
Over the years I'd upcycled various charity shop finds, ran a blog documenting my creations, made my own garments and accessories from scratch, and then went on to study Fashion Design at University, and a good pair of scissors (or 5) have been a staple through all of that. Now, I'm not going to lie to you, the final year of University was the most stressful year of my life, so stressful that I didn't even look at my sewing machine for a solid year after that. Don't get me wrong, I loved it and would 100% still do that course at that university if I had to do it over. But there's a certain toll that countless sleepless nights and falling asleep at your sewing machine, has on you.
Nevertheless, it's always been my goal to have my own fashion brand and design and make clothes for a living, and ultimately I came back to it. I honestly can't remember a time in my life when there's been anything else that I've wanted to do. But with the constant barrage of fast fashion and the ever-worrying statistics about textile waste, I really didn't want to add to the problem. So I decided to go back to one of my first sewing passions, and upcycle and rework second hand clothing into new pieces that would actually get worn!
We've all been guilty of buying something on a whim, wearing it once, and then leaving it to gather dust at the back of a wardrobe. I, myself, had a shameless amount of clothes that I'd only worn once or twice, and I hate to say it, but some I'd never even worn and still had their tags on! So I knew that there was a need for reworked clothes. Instead of using up new materials and making brand-new pieces, why not help combat textile waste and actually make use of these currently defunct clothes?
Now whilst cropping tops or turning trousers into shorts is a great way to get more wear out of your own pieces, I wanted to come up with really creative designs that made the most of the original pieces and would really stand out against the sea of clothing that already existed. Streetwear is something I've always appreciated, and a lot of existing streetwear and sportswear brands use good quality materials and trims which makes them perfect for reworking. With a lot of these brands, you know that the fabric can stand up to another life reborn as a reworked piece, which is important, because there's not much point reworking a t-shirt into something else if the fabric is going to wear away after a few more wears anyway.
Over the next few weeks, I started collecting second hand pieces from anyone and everyone that I could, my boyfriend's and family's wardrobes were raided, as well as my friends and I even got a few bits from my work colleagues! I decided to hold myself accountable and do one rework a week, which I'd post about each Thursday and so #thriftflipthursday was born.
My reworks really started to take off when I started making two piece sets, I've always loved a matching set, and it felt right to try and use as much fabric and leftover scraps as possible and create a matching piece, rather than having a standalone top or skirt. After all, making use of textile waste was the main point in doing all of this, so it made sense to use up the waste that came from using the initial textile waste in the first place.
Since then, I've made zip-up corsets with matching shorts from zip thru hoodies, patchwork sweatpants and tops from multiple damaged sweatshirts, and patchwork flares and tops from 2nd hand tees and leftover tie-dye tees that I'd made ten years prior. Using 2nd pieces as the base for my designs keeps my creativity alive, I'm constantly having to think of new ways to rework something as every piece is different. My favourite thing is when I find a beautiful, vintage piece that has some amazing design elements, but isn't getting worn because its torn or stained etc. and I can rework that into a new, amazing, unique piece that somebody is going to love and cherish for another lifetime.
As I mentioned earlier, a good pair of scissors is an absolute staple tool that I couldn't pursue this passion without. Being able to cut apart a garment, often through multiple layers of fabric, or carefully undoing stitches with a pair of snips, is a key part of the process when it comes to reworking, not to mention then cutting out the new pattern pieces and starting the process of reconstructing them. I have at least 5 pairs of scissors that I use on a daily basis, they all take pride of place hanging from my pegboard, always within reach. A few are for paper, a few are for fabric, and one pair I just use to cut up anything else that I need. But if there's one thing that you should take from all this (which I know all seamstresses will agree with) is to NEVER use fabric scissors to cut anything other than fabric!
designers
Designer and Owner of Streetwrk Clothing. Reworked streetwear for the planet 🌎
Receive stories by Emma Naughton in

your feed