Men's Fashion Peaked in the '80s and Here is Why
Disco may have died but '80s fashion doesn't have to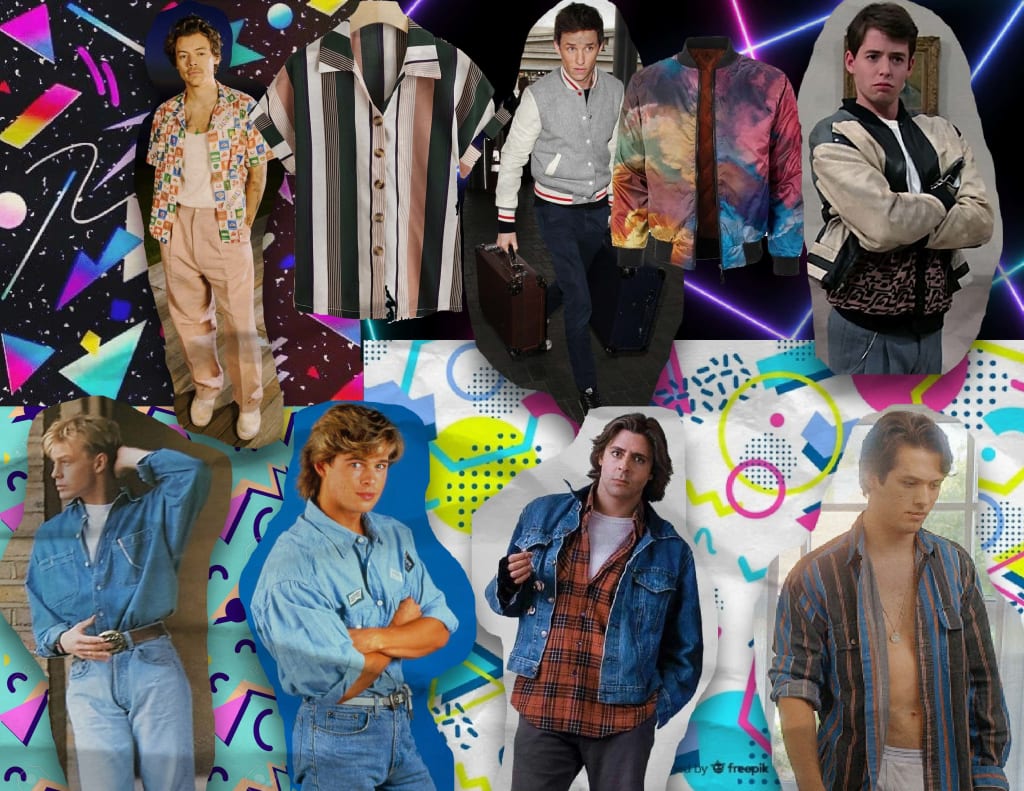 Okay, so maybe the hairstyles were a bit much and the scent of perm solution caused a significant contribution to our o-zone layer, however, I truly think men's fashion peaked in the '80s.
The denim on denim look still is a fashion statement and so effortless and easy yet chic and put together.
Color blocked button-downs and bomber jackets, yes please! The more color the merrier I say.
In fashion, the trends and rebirth of a decade dedicated to looks always seem to fall on the women, but I say the men could start a fashion revolution by bringing back that nostalgic '80s vibe with some modern twists.
Judd Nelson in The Breakfast Club, Mathew Broderick in Ferris Bueler's Day Off, can you tell I am a John Hughes fan? These '80s icons were my adolescent self's dream man, and I definitely wouldn't mind bringing those looks back for my current dream man (my boyfriend). Date nights would never look so stylish!
So how do we push for these looks you may be asking? Well, put away the Aqua Net and the fluorescent leggings! It all starts with these iconic fashion staples.
Button-down shirts, preferably short-sleeved, upgrade the shirt and jeans look to a new level. Wrinkles are welcome here, no need to be a square and have your shirt freshly ironed to crispy perfection.
Flannels, I see this a lot on my college campus, but it never looked so good as when it was paired with multiple layers to achieve that effortless, grungy look. So, to all the frat bros out there, put away your khaki shorts and your Sperry's and try a logo tee and some jeans paired with the flannel instead.
Bomber jackets, be gone hoodies, and say hello to your new best friend, bomber jackets. There are so many variations there is truly something out there for everyone. The beauty, no pun intended, of bomber jackets is you can dress them up for a man about town look, or dress them down for that grungy, we love a bad boy ensemble.
If you are not convinced by the ease of wearing '80s fashion maybe some male celebrities of today can be your inspiration to throw on a bomber jacket and cut Footloose. One of the most notable male celebrities who has revamped this style is none other than Harry Styles himself. He can often be photographed wearing one, or many, of these iconic looks as well as Eddie Redmayne who always looks stylish in an effortless way and rocks the bomber jacket paired with jeans and low-top Converse. Shows like "Why Women Kill" show you how hot the '80s can look without even trying.
The rebirth of men's '80s fashion would be an iconic moment in our current times. All the color, patterns, and mixing of textures from polyester to denim would allow men the creativity and freedom to express themselves in an individualized way. More quiet tones paired with a fun jacket, bold colors from head to toe, comfy fabrics, or the tightest pair of denim pants you can imagine, the possibilities are endless. There is something out there for every type of man and the beauty of it is that these are not wardrobe pieces that would break the bank. We are already seeing a resurgence of some of these looks and most thrift shops are full of authentic pieces.
It excites me to think that this resurgence could be the beginning of a more fabulous and color-filled world and we could see some unique and iconic looks come from this fashion takeover.