Knobs vs. Handles on Cabinets
Weighing the pros and cons to knobs versus handles on cabinets and drawers.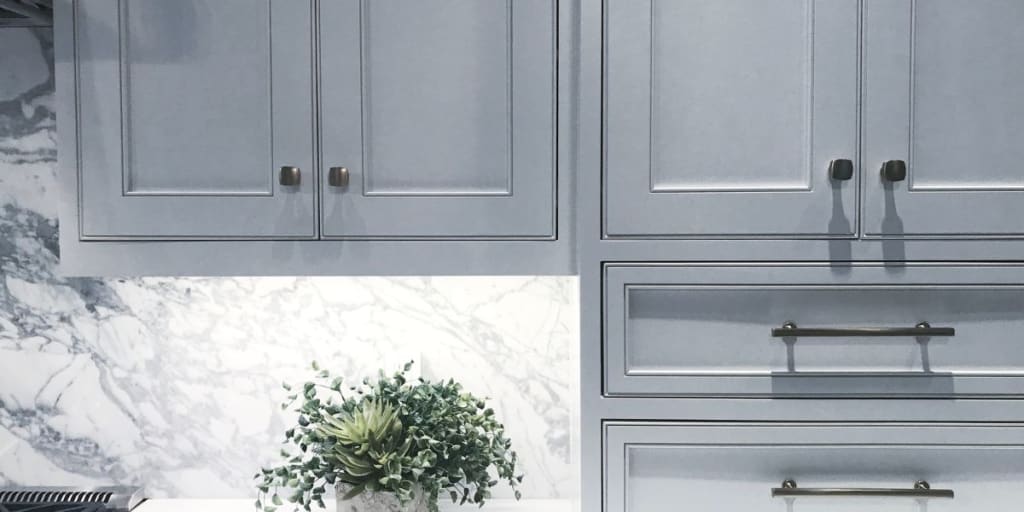 If you are remodeling your kitchen or bathroom and you are done with the process of picking out your cabinetry, then you are looking at the finishes. The debate of knobs vs pull handles now begins. A lot of the time this decision is quickly made and glossed over, and there needs to be some thought put into this hardware that you will use consistently. So, let's dive into some of the factors you should consider.
Pros of knobs on cabinets include:
They are easy to use and can be operated with one hand
They can be easily replaced or changed to update the look of the cabinet
They take up less space than handles or pulls
They can be found in a wide variety of styles and finishes to match any decor
Cons of knobs on cabinets include:
They may be less comfortable to grip than handles or pulls, especially for people with arthritis or other hand conditions
They may be less durable than handles or pulls and can be more prone to breaking
They may not be as easy to grab and pull open as handles or pulls, especially for larger or heavier cabinets.
Pros of handles on cabinets include:
They can be comfortable to grip and easy to open, especially for larger or heavier cabinets
They can be found in a wide variety of styles and finishes to match any decor
They can be more durable than knobs and less prone to breaking
They can provide a more modern or contemporary look to the cabinets
Cons of handles on cabinets include:
They can take up more space than knobs, which can be an issue in smaller kitchens or bathrooms
They may be more difficult to operate with one hand
They may be more expensive than knobs
They may be harder to replace or change to update the look of the cabinet.
Let's break down each of these advantages and disadvantages:
Knobs vs. Handles
Style
You first need to decide what your style is. What is your interior style and what do you prefer, knobs or pull handles. Ask yourself what your design style is and what you are going for. You might surprise yourself. Some go for a mix using knobs on upper cabinets and pulls on lower cabinets. If you have raised panel cabinet doors that keep it simple, you could successfully use both.  If you are working with a Tuscan design then you will not want to use any knobs. An elegant pull is more appropriate for that design style. Contemporary and modern cabinets work with simple knobs and pulls. Traditional-style spaces need more intricate hardware.
Cabinet Placement
Calgary Real Estate Expert Greg Kennedy offers these tips: Cabinet placement has a lot to do with whether or not you will be using knobs or pull handles. Knobs are much easier for upper cabinets in most cases. If you are wanting all the same then you may want to look at how the cabinets open when you have adjacent cabinetry open at the same time.
Cabinet or Drawer Difference
Cabinets and drawers have a different use. Doors of cabinets typically have knobs because overall this makes for the best use. Drawers typically have pull handles because of their placement on lower cabinetry and the direction at which they move, which is outward. In some cases designer knobs are used for under the sink cabinets. For those that desire a more unique style, you can consider mixing and matching different colors and styles of knobs.
So What Do Decide?
Knobs or pull handles? What goes with your cabinets? Ultimately the main reccomendation is knobs for upper cabinets and pull handles for lower cabinets. Beyond that the design and style is your choice and there is a lot to choose from.
In Conclusion
Whatever you are looking to do as far as remodeling, you cant forget the important details. Working with a great remodel company will help you stay on track with every aspect of your remodel process. While you are designing your bathroom or kitchen remodel, your choice in hardware can make a huge impact on those finishing touches and everyday functional use.
About the Creator
Writer, blogger, content marketing, wife and mom! Helping folks increase traffic and leads to their websites since 2004.
Reader insights
Be the first to share your insights about this piece.
Add your insights