"I Love Being Black"; Rihanna on Fenty First-Look and Fashion as a Woman of Color
Her history-making foray into the world of luxury fashion.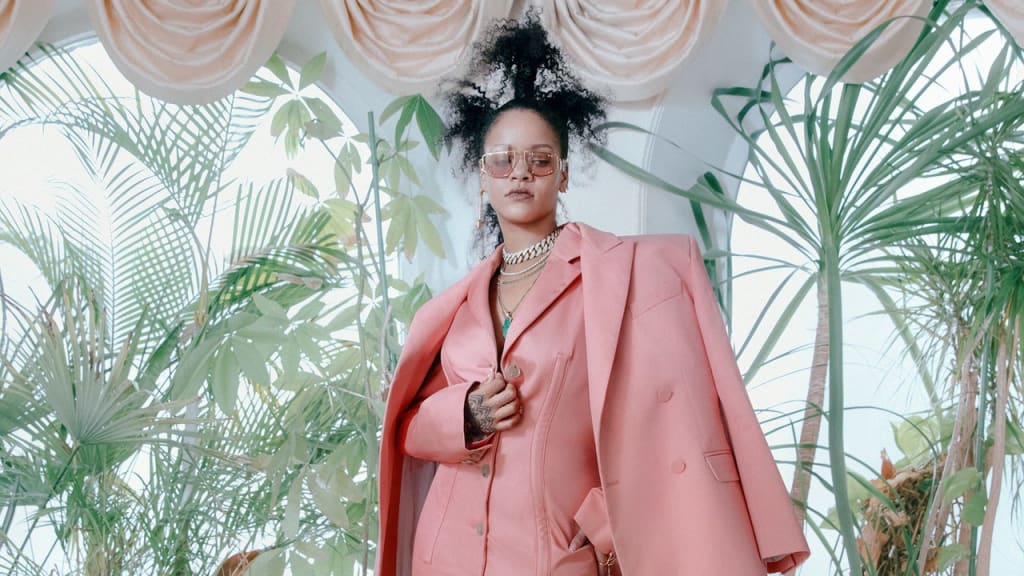 Rihanna has proved herself a skilled entrepreneur. From her musical roots as a performing artist, she launched into fashion with a partnership with PUMA and her lingerie line, and into the beauty space with her industry-shaping beauty brand.
Rihanna has shown her prowess and savvy for creating what the people want.
Her beauty line continues to set records and establish trends (if you don't believe me, think about what the foundation and concealer offerings used to be for women of color. We have come a long way, baby), Puma was revitalized by their collaboration with her, and her lingerie line is both sexy and empowering to women of all shapes and sizes.
Recently, RiRi joined the ranks of the luxury world. Admittedly, I personally have been waiting on bated breath for Rihanna's foray into luxury.
Rihanna's new line, Fenty, will be part of LVMH (short for Moët Hennessy Louis Vuitton), a luxury conglomerate that both owns and operates labels like Celine, Dior, and other fashion houses. With the release of this brand, it will make Rihanna, the first Black Woman to run a major luxury fashion brand.
Rihanna said that Fenty's debut line was heavily inspired by corsets, which appear on unexpected pieces such as suits, shirts, even on denim jackets. The collection that is very much reflective of Rihanna's unexpected aesthetic includes items such as a Japanese corset denim dress ($810); various accessories, strappy, sexy shoes, and some of the funkiest yet wearable sunglasses around; an oversized Japanese denim jacket ($1,100); a pink cotton canvas suit jacket ($1,100) with matching corset blazer dress ($1,100); and a tan suit jacket ($1,100) with coordinating pleated trousers ($485).
What I love most about Rih is that she's so unapologetic about being the first.
"It's never alleviated, you know? You're going to be black wherever you go. And I don't know if it's unfortunate or fortunate, because I love being black. So, sorry for those who don't like it—that's the first thing you see before you even hear my voice."
The 31-year-old Barbados native also points out other ways she stands out in a white, male-dominated industry.
"There are also other factors: I'm young. I'm new to the family. I'm a woman. Those factors do come into play, but I will not apologize for them, and I will not back down from being a woman, from being black, from having an opinion. I'm running a company and that's exactly what I came here to do."
Rihanna discusses the sizing of Fenty, which currently extends to size 14, something plenty of luxury brands STILL do not do. Sizing is still a concern for Rihanna, who talks openly about dressing her own body as it changes.
"It just changed how I dress in terms of my proportions. You wear what looks good on you, and that's it," she told T Magazine.
She explains, "I'm thick and curvy right now, and so if I can't wear my own stuff then, I mean, that's not gonna work, right? And my size is not the biggest size. It's actually closer to the smallest size we have: We go up to a (U.S. size 14). We're saying we can meet you at any one drop that we put out."
Fenty launched on May 24 with a pop-up in Paris, and became available on Fenty's website May 29, and will be available exclusively online.