How to Wear Tie Dye Jeans like a Pro
Out with the hippie and in with the hip. Why not wear tie dye jeans when you can rock them?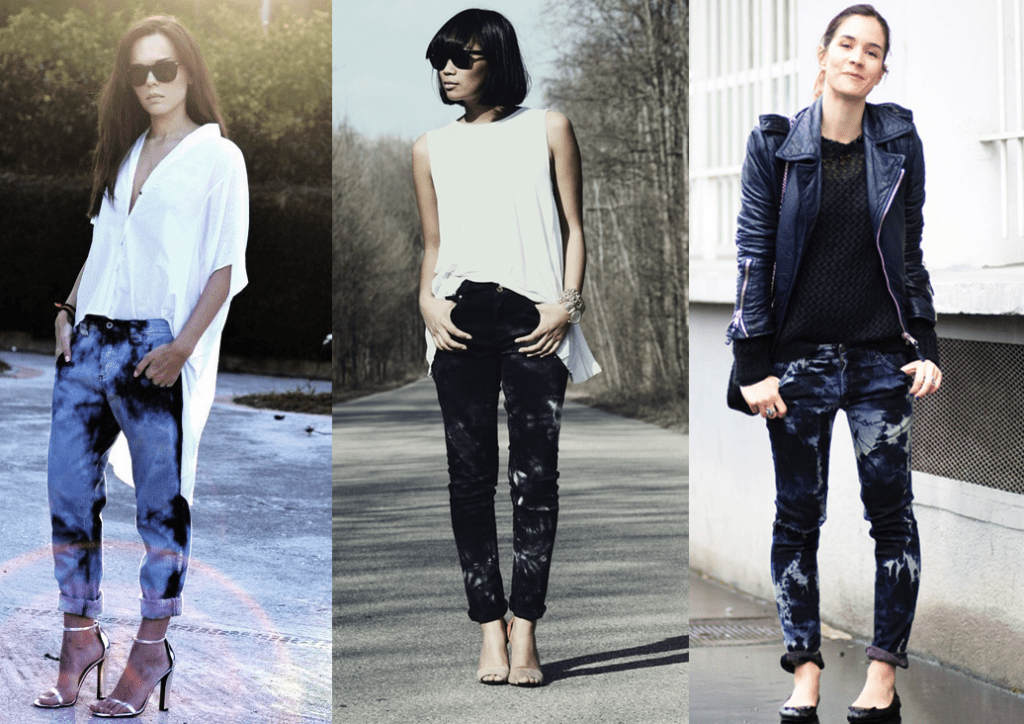 Image from J's Everyday Fashion
Hippies and summer camp gave tie dye a bad rep.
The truth is, cultures around the world have been tie dyeing fabric since the start of civilization, with the oldest piece of tie dyed material dating back to at least 6,200 years ago in Peru.
If you want to wear tie dye jeans like a pro, the first step is to forget what you learned at summer camp. Instead, select or create an attractive pattern and color scheme that reflect the rich history of tie dye and all the elegant pieces it allowed us to produce.
Before there were hippies and boring summer camp activities, there were Japanese shibori, Indonesian ikat knits, and classic Thai mudmee, all of which are gorgeous even though they can still be tricky to wear.
Your goal isn't to merely wear tie dye though; you want to rock it. To wear tie dye jeans like a pro, you will need to follow some of the most fundamental rules of fashion. The most important thing to remember is to believe in your choice of attire, and not care about what other people think.
Know what look you are (or are not) going for.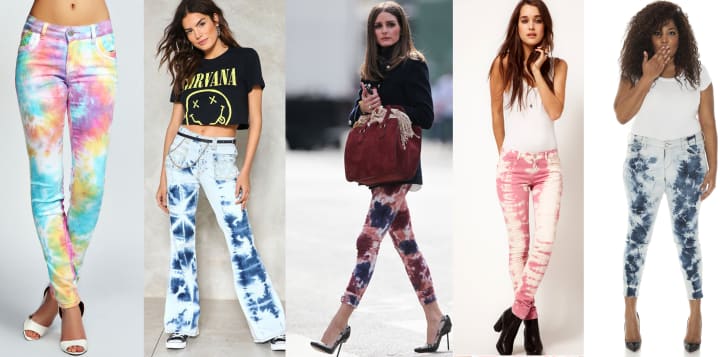 "Style is a way to say who you are without having to speak."—Rachel Zoe
It's one thing to throw on a tie dyed outfit and call it a day, but you should really know what look you're going for if you want to feel confident wearing it.
Consider your individual style while also considering the sort of events you'll be attending while wearing the outfit.
Whether your style leans toward boho, grunge, chic, avant-garde, or a mixture of all of these, there is no doubt that you can incorporate tie dye into your look.
You don't have to be going to summer camp or a music festival to rock hippie-colored tie dye jeans (or jean shorts), but you'll be less likely to look like you got puked on by a hippie if you wear them with intention.
If you are making your own tie dyed jeans, consider the cut you're working with. If you're going for a grungy or edgy look, you might want to consider a boot or boyfriend cut. If you're aiming for a boho look, consider flares. On the other hand, skinny and straight leg cuts are great for every style.
When I say minimal, I mean you should try to avoid wearing multicolored tie dyed jeans unless you don't mind looking like you've spent the last 12 hours caring for a drunk clown.
If you're making your own tie dyed jeans, consider the color of the material you're working with. If your jeans are already a darker color, bleach is your friend. If your jeans are a light color, use a darker shade of that color as your dye.
You can look amazing in anything as long as you make sure your outfit is balanced with itself and with your body.
Balance is the crux of fashion, and wearing clothes that work in harmony, not only with each other but also with your body shape, is the key to making your outfits work.
Balance is especially crucial when it comes to wearing something as hit-or-miss as tie dye jeans, and it is oftentimes one of the signs someone doesn't know how to dress if they cannot just balance out their outfits.
Think about the part of your outfit that draws in the most attention and balance it out with other eye-catching pieces. Since tie dye attracts attention, your jeans will be the focal point of your ensemble unless you balance them out with the other clothes you wear.
Consider the cut of your jeans, your top, your jacket, and the type of shoes you're going to wear. Do they flatter your body shape, or do they weigh you down?
Choosing the right top is one of the most important decisions you'll need to make when you wear tie dye jeans. The least risky choice of shirt to wear with tie dye jeans is definitely a plain shirt.
Do you prefer to play it safe? Wear a solid shirt that either matches or complements only one of the colors on your jeans.
Another good idea is to wear a plain, textured shirt such as a solid knit top. A knitted pattern will keep your outfit simple, but the texture will draw some attention away from your legs.
Many people consider monochromatic outfits a fashion faux-pas, but it's not! Matching the color of your shirt with one of the colors in your tie dyed jeans will add length to your torso and slim you down if you accent your waist properly (I'll get to that soon).
If you want to be more adventurous, or if you're going to rock a colorful tie dye shirt with your tie dye jeans, a cropped tee will make your ensemble way more flattering.
The point is to create space around your waist so that you don't look like you just got out of a fruit blender (but, hey, if that's the look you're going for, you do you—just remember that there are fashion mistakes to avoid at all costs).
If you want to wear color on both halves of your body, but you're not a fan of crop tops, don't worry! Cropped shirts aren't a practical choice for every person, season, or event, and there is no shortage of other tricks to help you balance a multicolored outfit.
"I've always thought of accessories as the exclamation point of a woman's outfit."—Michael Kors
Generally speaking, accessories are a useful way to distribute focal points throughout your outfit to create evenness. The two factors that matter when choosing accessories for any outfit are color and shape.
A necklace will do wonders for you when you wear tie dye—just make sure to choose the right one with a flattering shape and color.
If, for example, you want to wear a collared shirt or a jeweled neck, or if you have narrow shoulders or a long neck, consider wearing a necklace that falls below the neckline of your shirt.
When you select accessories to wear with tie dye jeans, stick to neutral, solid colors.
You might weigh yourself down if you wear a bright pink costume necklace with pink and purple tie dyed jeans. If you go for a gold or nude necklace, it will add a light focal point to the upper part of your body, and this will take some attention away from the bright colors on the lower part of your body.
Belts are a crucial accessory for creating a balance between your upper and lower halves, and you should absolutely wear one if your tie dye jeans have belt loops.
Think of each half of your outfit like a seesaw; your belt is the fulcrum that wraps around the middle section of your body and allows you to level the two.
If your style is modest, consider wearing a black belt with a large buckle. If you're brave enough to wear tie dye though, you should also be brave enough to accent your outfit with a belt that stands out from your jeans.
I know, it sounds counterintuitive, but wearing a bold belt will tie your outfit together not only by accentuating your waist, but also by drawing attention away from your tie dyed lower half.
High waisted jeans look good on everyone, but they are especially adored by those of us who are vertically challenged.
I know this because I am 5'1 with short legs and a relatively long torso. When you're a shorty like me, wearing light pants with a darker shirt creates the illusion of longer legs. On the other hand, pants with patterns and colors can make our legs look shorter and wider.
So, if you want to make your legs look longer when you wear tie dye pants, you can create that illusion by wearing high waisted jeans.
"Shoes transform your body language and attitude. They lift you physically and emotionally."—Christian Louboutin
I repeat: Multicolored trousers have a tendency to make legs look thicker and shorter. It's important to balance out all of your articles of clothing, especially your shoes, and especially if you're short.
If you want to wear tie dye capris, a great tip is to wear shoes that are a similar color to your skin tone. This will create the illusion that your legs are longer than they actually are.
If you're planning to wear jeans that cover your ankles, try to wear shoes that match the dominant color in your jeans.
Finally, if you want to wear tie dye jeans like a pro, the most important thing you can do is be confident. It's cheesy, but knowing how to dress simple but stylish just boils down to this fact. You can break any fashion rule you can think of and still rock tie dye jeans as long as you feel confident.
And, if you love summer camp style tie dye, don't let anyone stop you from wearing it. After all, beauty is subjective and fashion is fleeting.
"I think there is beauty in everything. What 'normal' people would perceive as ugly, I can usually see something of beauty in it."—Alexander McQueen