How to Style Socks with Heels
Although it might seem like a daring move reserved for professional models and 3-year-olds, the truth is, if you know how to style socks with heels, it can be a comfortable, fashionable way to switch up your look.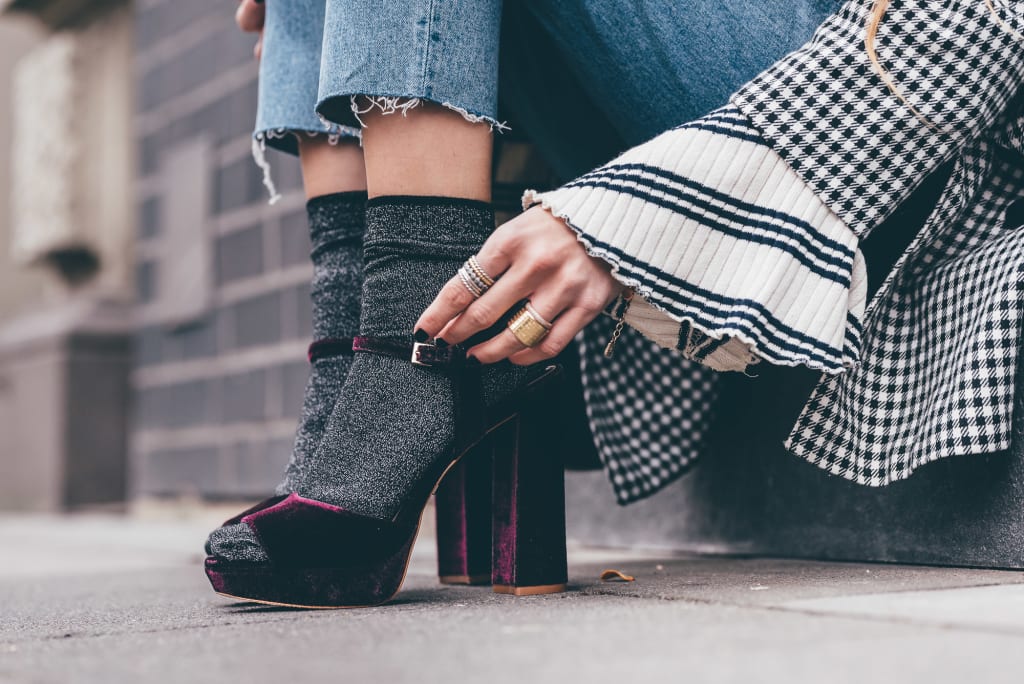 Wearing socks with heels isn't exactly a new style, but it is one that has been slow to catch on. While the most daring and fashionable have been rocking this look for a while and the best fashion photographers on Instagram have been capturing it often lately, many more moderate fashionistas find it just a little too out there. But there's no reason to be intimidated by it—you just have to know how to style socks with heels.
Beyond its high-fashion look and ability to diversify your wardrobe and add something to every outfit, wearing socks with heels is also super practical. Given how painful heels can be, I'm frankly shocked I don't see this look more often—adding socks to your most painful heels provides protection from blisters and keeps your feet comfortable. Plus, this look lets you wear those strappy heels even in the dead of winter. So without further ado, here are a few ideas on how to style socks with heels:
For a particularly festive look, choose a glittery sock and a strappy sandal to show it off. If you're feeling extra fun and daring, you can pair the socks with some bright, reflective heels. But, for a safer option, this look also works great with a pair of simple, black heels or other neutral tones. The glittery sock is also a great way to spice up the rest of your outfit—this look enables you to wear a very simple, basic outfit, like a sexy little black dress, a pantsuit, or dark denim and a simple T-shirt, but still have a splash of life and sparkle. So while the glitter option may seem especially daring, it's easy to tone it down by letting the socks be the boldest part of your outfit.
Much of the most popular street style of the current age involves a lot of leather, denim jackets, sharp edges and neutral, dark colors. And I love those looks! But if you're more of a frills and lace kind of girl, here are some softer options for how to style socks with heels: choose an old-fashioned sock with a ruffly or frilly ankle. This look works especially well with pastel and light colors, to accentuate the femininity of the frills. Pair it with a simple shoe, with a heel 4" or under, and a cute skirt and blouse for the perfect, feminine look. This look also works very well with a lacy sock and solid-colored heel, providing texture and patterning without being over-the-top. For the rest of your outfit, you complement the sweet, girlish look with a light, pastel skirt and frilly blouse to tie the outfit together, or tone down the effect of the socks with a more neutral look.
If you're still a little unsure about how to style socks with heels without looking ridiculous, at least start out with basics—by choosing a simple, black ankle sock with black heels, or another basic or neutral tone, you can be sure your look is subtle and chic, not outlandish. This style has the added benefit of being pretty much guaranteed to match the rest of your outfit, so there's no need to be stressing about finding the right dress or pants to pull off the look. You can do this with thicker, opaque socks (and maybe save yourself some blisters!), or with a pair of sheer socks. The sheer option is even more subtle (in a way, closer to not wearing socks at all, right?) but also adds a little bit of a sexy, chic edge, particularly useful for dressier, more elegant outfits.
We can get a lot of insight into how to style socks with heels by looking at what we already wear. You would have no problem wearing a pair of sheer, patterned tights with heels for a very sultry, classic look, right? So why balk at socks of the same kind? By choosing a sheer, patterned ankle sock and matching black heel, you create a similar effect to patterned tights, just on a smaller scale. In fact, even if you wouldn't normally wear patterned tights with heels, this is a slightly more subtle version of the style, making it an even more approachable option. You can also buy this kind of sheer sock in knee-length versions, for a somewhat more daring look. Another way to spice up the same style is to pair these socks with a brighter, colored heel, creating the same effect with just a little extra pizazz.
If you're taking the leap and figuring out how to style socks with heels, the one thing you want to avoid is getting too crazy with it. You want to make a statement, and a bold colored sock is a great way to do that. But you also want the look to work with the rest of your outfit, so when wearing a brightly colored sock, you should try to tie it in with other pieces or accessories of the same color. This may be as bold as a matching shirt or jacket, or as subtle as a matching handbag or matching jewelry. When going for this bold, solid-colored, opaque sock, you also want to avoid having too many different colors in your outfit. So it might be a good idea to pair this look with mainly black, white, and other neutral toned pieces.
Most people actually already know how to style socks with heels—one way, at least: with boots. The trendy look of thick, bunched-up socks coming up over the top of hiking or combat boots has been very popular for a long time, and there's no reason not to create the same look with heeled boots. This look works especially well with earthy tones, like browns and greens, and heeled boots that are styled after their more practical (though generally less fashionable) hiking boot cousins. This look is especially wonderful for cold weather, as you can keep your feet cozy with your thickest, warmest socks and protect your feet with a more sturdy shoe than most heels.
There's a pretty standard fashion rule-of-thumb about spicing up a basic, colorless look with accessories. You always want to add a little color or sparkle to a little black dress, or simple a generally neutral outfit. Usually, we do this with jewelry, scarves, or handbags, but why not spice up your basic wardrobe with socks, as well? That basic tee, plain dark denim, and black heels will become a whole new outfit with the addition of a pair of colored socks. And the more neutral the outfit, the more fun you can have with your socks: a bold, opaque look is one way to go, but if there's nothing in the rest of your outfit for the socks to clash with, you can also go for fun, patterned socks.
Knee-high socks are very popular in today's street style. They can keep your legs warmer, but create a sweet, sexy look when paired with a miniskirt or dress, or a more casual look with a pair of denim shorts. They are also a great way to introduce your socks to your heels. If the socks-and-strappy-sandals thing is still a bit much for you, this look works wonderfully with a pair of heeled ankle boots. But if you're a bit more daring, a strappy heel can make knee-high socks part of a more fancy, nighttime kind of outfit. With boots, this look is particularly effective with looser, thicker socks that can create a bunched-up look at the top. But if you're going for the fancier strappy heeled look, a more fitted, even sheer sock will fit best with the rest of your outfit.
Fishnets are daring, no matter how they're worn. And yes, wearing socks with heels is also daring. But is wearing fishnet socks with heels more or less daring than simply wearing fishnet stockings with heels? I'm not so sure. In fact, I tend to think they balance each other out—so this is a great way to try out both of these flattering but daring looks.
So if you love that sexy look, but maybe shy away from full fishnet stockings, try pairing some fishnet socks with your favorite black heels for a sexy, sultry, but still subtle look. A longer skirt or dress also tones this look down, making it a versatile option for day- or night-wear. Go the extra step and match your heels with your lingerie as well as your fishnets to make the daringness of your outfit last you past the end of the night.
Another way to make the socks-and-heels look a bit more subtle is to pair the socks with oxford heels. You can go a lot of different directions with this look: a frilly, lacy ankle sock will create a very cute, old-fashioned look, while a pair of knee-high socks can spice things up a little—and keep you a little warmer in the cold months. Depending on the color of your oxfords, you may want to stick with neutral-colored socks—but a simple black oxford heel, for example, creates a great opportunity to break out some more daring socks - maybe even that glittery pair I was talking about earlier.
A sheer sock with embroidered patterning takes a classic look from boring, to artsy. You might go for a sheer sock with a pattern that falls just on the top of the foot, to pair with a closed-toed heel that shows off the design. But you may also want to choose a sock that has more subtle embroidery all over—those go well with just about any heel, and give you a variety of color and design options so you can be sure to match well with the rest of your outfit. This look is also pretty versatile, and can be worn out and about during the day, out on the town at night, or even to work. However you choose to style it, a little embroidery can go a long way in taking your outfit to the next level.
tips