How to Dress for Festivals If You're a Guy
It's summertime, and that means festival season, fellas! This year, avoid those embarrassing wardrobe faux pas and dress your festival best! Check out our handy style guide for how to dress for festivals if you're a guy!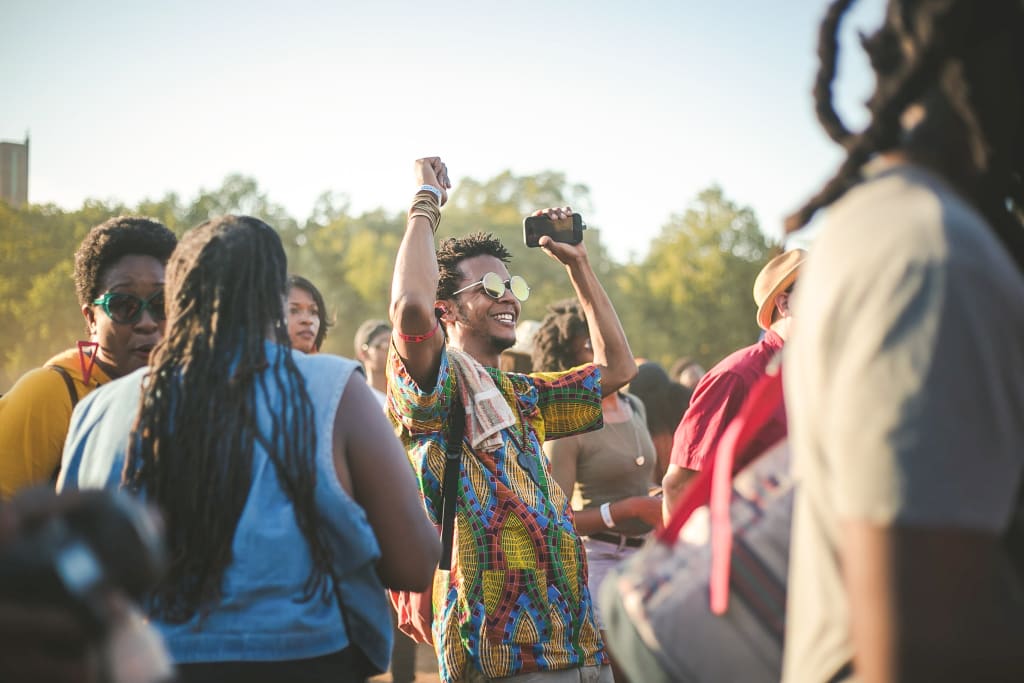 Photo by Vonecia Carswell on Unsplash
Ok boys, this one's for you! Now that we're more than half-way through June, I'm sure you're gearing up for some awesome summer festivals (if you haven't already been to a few). Whether you're headed to a large, national festival like Bonnaroo or Lollapalooza or a small, local festival... you'll want to be comfortable and happy while showing your true style.
Learning how to dress for festivals if you're a guy can be tough work, but don't worry... we've got you covered! Check out these awesome tips and suggestions!
Be rain ready.
Outdoor festivals are at the mercy of the weather, and the last thing you want to do is be caught unprepared. When prepping your wardrobe for festival season, you'll want to be prepared for whatever weather Mother Nature throws at you.
This tan colored jacket is the perfect lightweight protection from the rain for those hot festival days. It comes in a variety of sizes from XS all the way to XXL, and features a drawstring hood and hidden pockets to store all your goodies. Topping out at $90, this fashionable hooded jacket is a great way to be rain ready this summer! And the best part is that you'll be hands free to enjoy all the good food that your festival has to offer! You don't need to worry about knowing how to stay healthy on a budget at a festival.
Collar and Cuffs was not messing around when they launched their StormDefender series of umbrellas. These come with the sturdiest of materials and are made to last! With multiple color options, these umbrellas are stylish, upscale, and look like they're worth a million bucks. But the best part is the price... at only $35, you don't have to worry about losing out if it becomes lost or stolen while you're dancing.
Let's be honest: those knee-high rain boots are not really a stylish choice for festival wear. That's where these awesome rain shoes come in... they provide the moisture protection you'll need without sacrificing the style. At less than $40, these are an affordable and worthwhile investment for your wardrobe.
Be comfortable.
A lot of people assume that fashion needs to be top priority, but they're wrong! Perhaps the most important part of how to dress for festivals if you're a guy is this: you need to be comfortable. Choose clothes that match your style, that are appropriate for the weather, and that will give you room and space to do the fun activities you won't want to miss. Love the mesh crop top look? ROCK IT! Here are some tips for what's in style right now.
Yes, that's right! Floral print button-down tees are back in style, and can be the perfect choice for you! These shirts are thin and cool to combat the hot, summer air and loose-fitting, too. This red and orange collared shirt from Urban Outfitters is a perfect choice at $49, and comes in sizes from small to xlarge. You'll look so good you might just hear some of the cutest things you can say to your boyfriend.
No need to sweat it out under long pants if it's hot outside. Grab a nice pair of breathable shorts like these Patagonia Baggies and enjoy the coolness that comes with them. These will cost you a cool $55 from Urban Outfitters, but they are worth every penny.
To really show off your style and personality, pick up a few thin, lightweight graphic tees. These are festival-ready because they can handle the crowds and high temps, but they are comfortable and relaxed enough to feel like home. Plus, they really let you show off who you are. Going to a music festival? Rock your favorite band tee! Or go with something funny... this Rick And Morty tee is perfect if that's your thing, but there are thousands of options. Find a few that fit and you'll be set all summer!
Be foot-focused.
If you're a dad, you might be lugging around more than just yourself this summer. Pushing strollers, carrying toddlers, and hiking around a bunch of supplies can be really fatiguing for a father, and festivals can be rough on the feet even without all those extras. And just imagine you're also carrying one of the best backpacking tents to bring on your next trip!One of the most important aspects of how to dress for festivals if you're a guy is about your footwear! You'll want a few pairs that are stylish but functional, and we've got some great recommendations!
Amazon has a whole selection of Vans in a rainbow of colors and designs, and it's definitely worth your while to invest in a pair or two of these comfy, stylish shoes. They sit low, below the ankle, so they're great for hot weather... but they also provide the support you'll need to walk all over creation exploring foods, bands, and other festival attractions.
For something with a bit more cushion, consider these dapper-looking sneakers from Adidas. Made for walking, these have a knit look on top and fit like a sock, which makes them really comfortable. Pair these with shorts or long pants and you'll be all set.
If you really want to go the route of flip flops, you can. Just be sure to invest in a pair with memory foam or extra cushion to support your feet even when you've been walking a long time. This pair is on Amazon and comes in a variety of colors, so you can get one to match your wardrobe!
Be in-theme.
No real style guide is complete without talking about themed events. A lot of festivals come with a theme... Pridefest, German Fest, Italian Fest, etc. To really amp up your festival game, grab a couple of related items to show your pride and your style. Luckily, it's easy to find the good stuff.
Nowadays it's not hard to find some awesome Pridewear. This tee is from Urban Outfitters and costs an easy $24, but other companies like Target also carry a great selection of Pride-related apparel and accessories. Pride is full of diverse festival fashion, so grab a couple of items and be ready to show off your style!
No matter your background, you can get some amazing clothes to show off your proud heritage. Amazon has great options at really low costs, so you can find exactly what you need. Proud, funny, stereotypical... no matter what you're looking for, you can find what you need.
Remember, the most important part of your festival fashion is that you are happy and comfortable in your clothes. Wear what makes you happy, and what feels best, and you'll be good to go! Take care of the essentials (like weather and foot support), and the rest is aesthetic. Enjoy your festival season, gents!