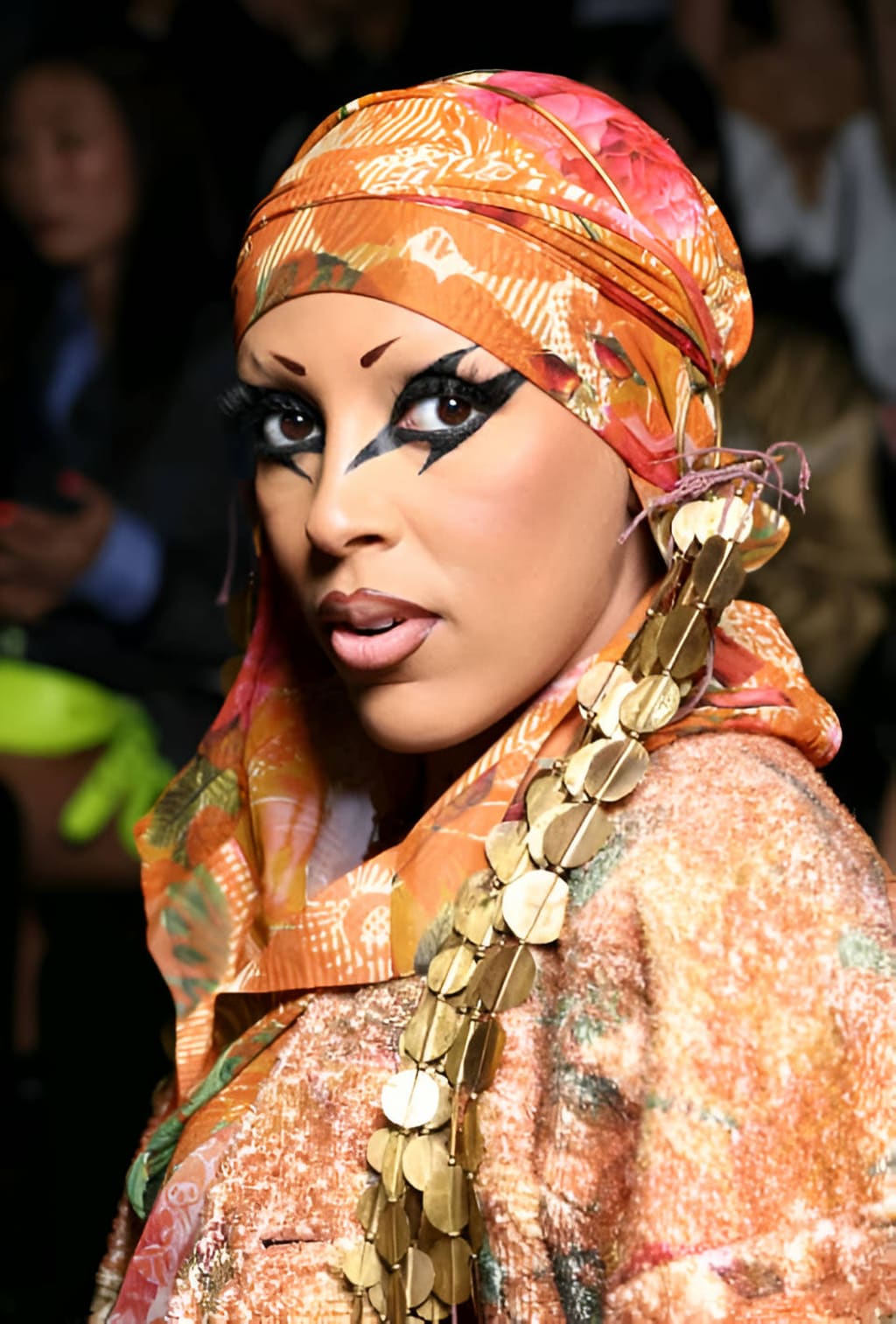 Doja Cat : The Daring And Eclectic Fashion Icon
There are a couple of names that come to your mind when you think of celebrities on the music scene that really push the envelope with their over the top fashion. Lady Gaga, Janelle Monae ...more recently Doja Cat.
This dynamic rapper, pop-singer has shown that her style is just as dynamic as her music.
For one, Doja Cat's fashion choices are polarising, her looks inspire anything but indifference in anyone's mind with many hailing the rapper for breaking out of conventional beauty standards in pop-culture with her dedication to out of this world, well thought out looks on the other hand her outfits have prompted many to wonder, Doja are you okay!
But the progression of Doja Cat's style arch is perhaps not as sudden or emerging out of the blue as one might think, after all she did shoot onto the music scene with a cow themed song for crying out loud. Doja became a mainstream sensation following the release of her funny 2018 single "Mooo" on which she sang about being a cow. This quirky, silly song unexpectedly turned out to be the pivotal moment that would propel her to mainstream stardom. Since then as she's evolved into one of the most sought after female rappers of today, her statement making fashion has continuously reflected her sense of humour and daring, quirky, adventurous sides to her personality.
Her ability to inject a whole lot of personality into her ensembles is exactly what makes every one of Doja Cats fashion moments buzz worthy. Doja's fashion is a breath of fresh air in an industry that capitalises on the hyper-sexualisation of women.
Opting for a futuristic and what has been described as an anti fashion aesthetic, Doja continuously keeps the audiences guessing about what unconventional wardrobe and makeup choices she'll be stepping out in next. This is genius on her part as she plays into the exact the kind of modern celebrity the internet world is hungry for today.
The "say so" hit maker is personable while still managing to embody that otherworldly quality celebrities are worshipped for with her jaw dropping ensembles. She will shave off her eyebrows, wear a fake moustache or even show up as a cat. Every moment she steps out Doja's statement making pieces solidify her place as a modern fashion icon and this is well deserved:
Her fashion choices are attention grabbing to say the least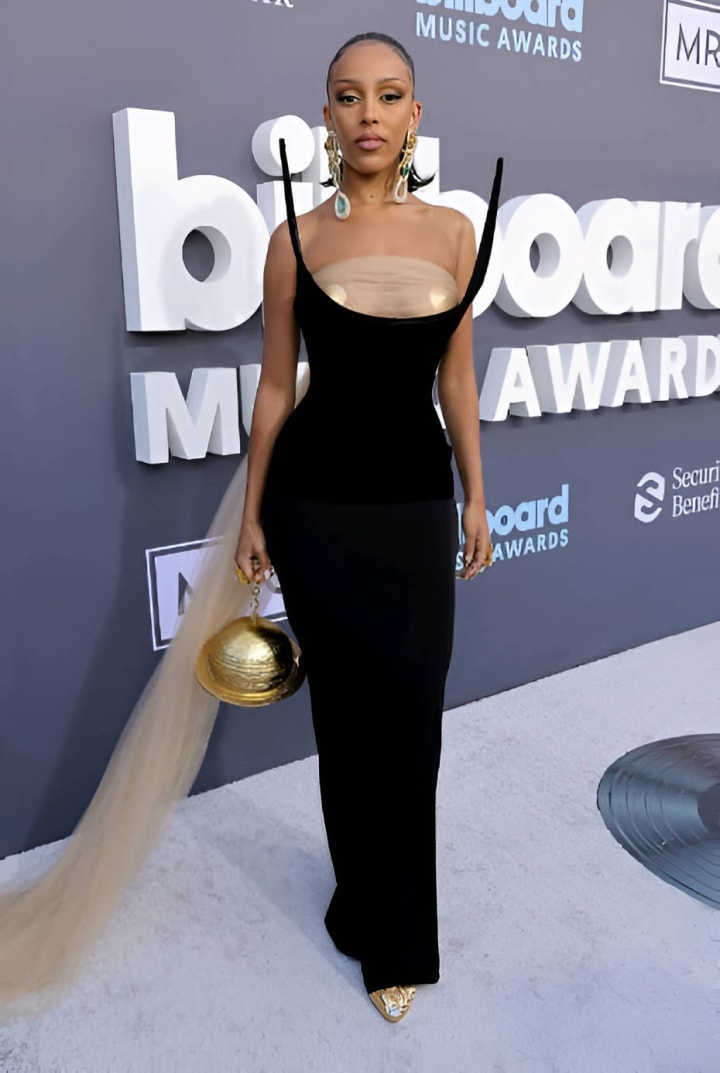 Doja rocked the red carpet for the 2022 billboard awards in a formfitting Schiaparelli gown with a sheer beige top with golden pasties the look accessorised with a planet her Saturn bag, the almost topless look might be one of the more toned down of her looks since.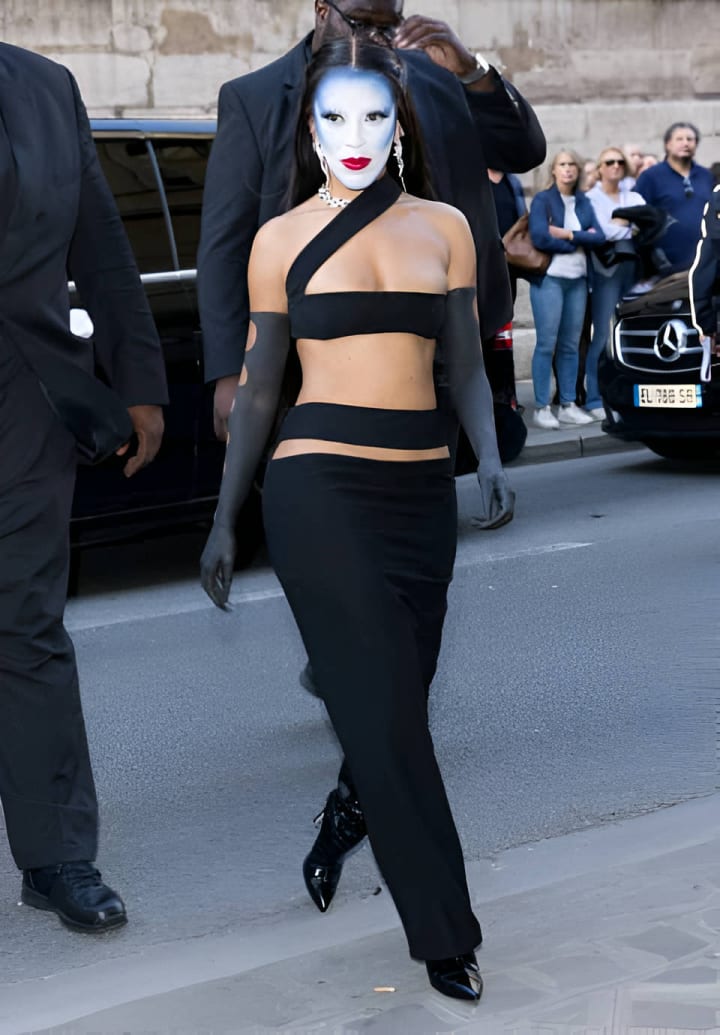 Doja cat stunned with a cut-out bandage dress for Monot's spring 2023 runway show but she added an edgy twist to the already edgy look off course because she's Doja cat by completing the look with blue and white face paint and a red lip.
For the 2023 Schiaparelli runway show, Doja was quite dedicated to the 'inferno couture" theme of the event that showcased a Dante's inferno inspired collection with her custom Schiaparelli 'Doja's inferno ' look. The head to toe red ensemble featured a silk bustier, a skirt covered in lacquered wooden beads and a pair of matching red boots and 30,000 Swarovski crystals.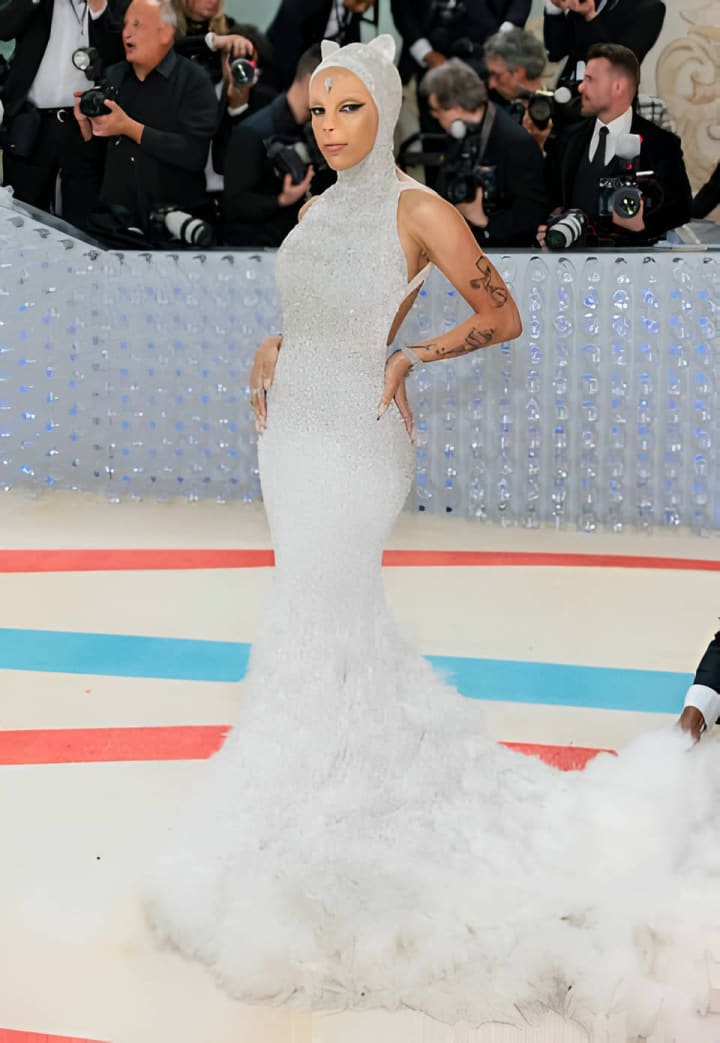 At the 2023 Met Gala Doja Cat transformed into Karl Lagerfeld's cat Choupette in an Oscar de La Renta beaded gown with a face-framing hood and cat ears.
She has creatively shown off her sense of humor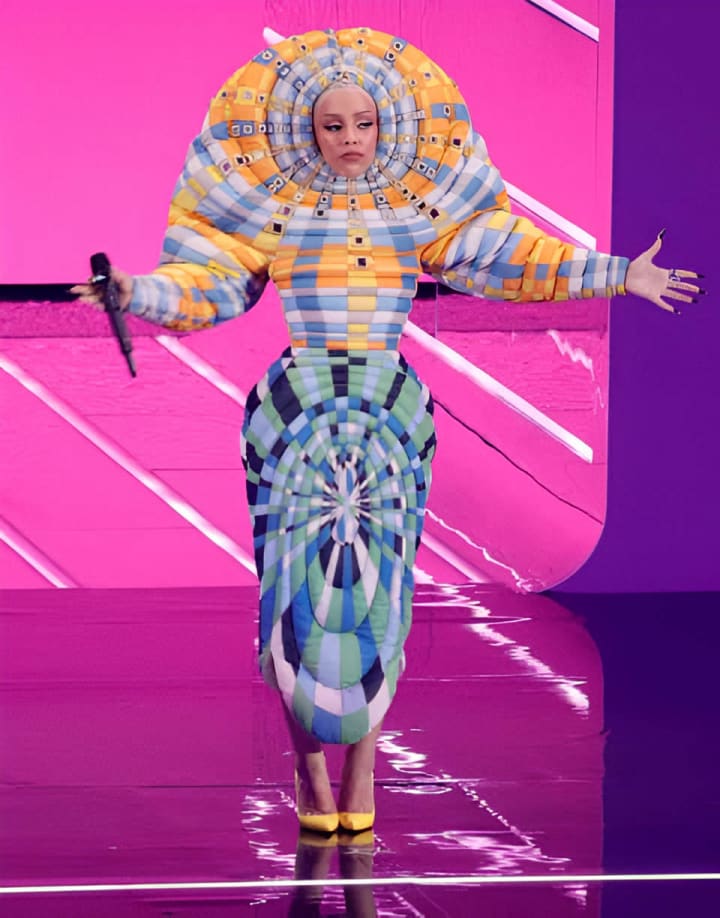 It goes without saying that Doja Cat has got an incredible sense of humor and the rapper has many times literally worn that on her sleeves. Doja caused a stir at the 2021 MTV Video Music Awards in a Thom Browne spring 2018 psychedelic yellow and blue tiered worm costume.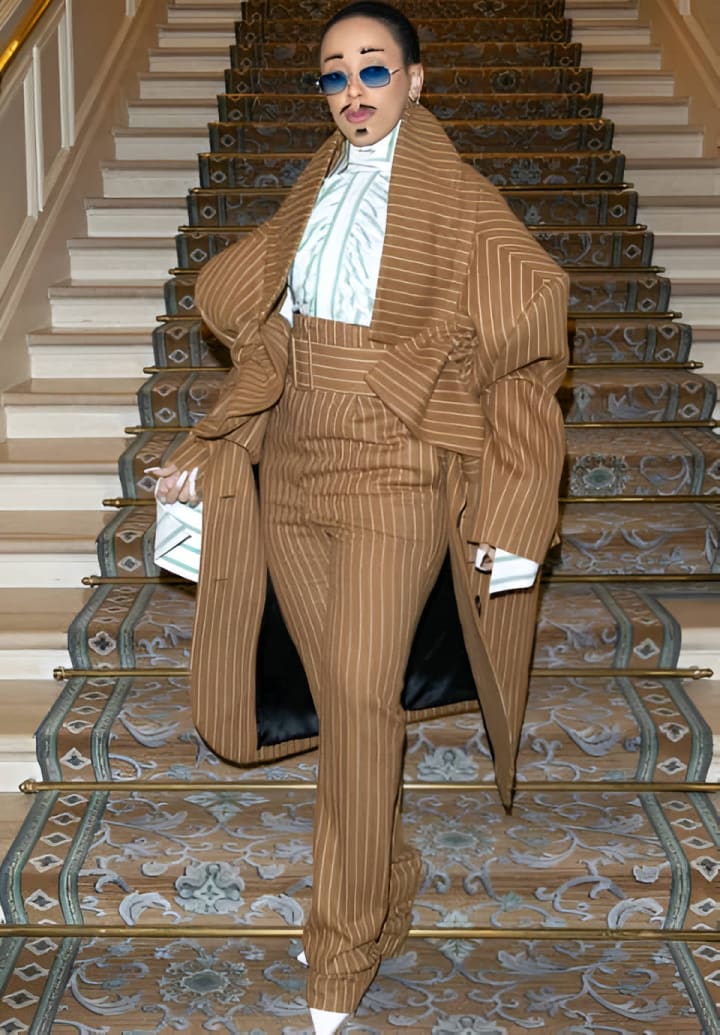 At the Viktor and Rolf Haute Couture spring- summer 2023 show, Doja proved that she does hear what her fans say in the most hilarious way when she sarcastically improvised with false eyelashes in the place of facial hair in response to criticism on social media over her lack of eyelashes.
Each time Doja Cat steps out, it is unpredictable as to what show stopping fashion move the rapper/ singer will be donning and she has only just began. While not everyone finds Doja Cat's fashion sense agreeable, that's what makes it so interesting to watch .Her style progression is symbolic of the reclamation of her own image and her path to coming into her own. Luckily for us she is taking us along on that journey. For sure Doja will for a long time to come continue to live in our minds rent free with her eclectic take on fashion.
About the Creator
Fashion and writing are my twin obsessions. From runway to everyday, I'll keep you updated on the latest trends and share my own unique style perspective.
Reader insights
Be the first to share your insights about this piece.
Add your insights