Black Creatives in the fashion industry that you should be following now.
These designers are offering a new age perspective on the fashion industry and are paving the way for more representation on the runway.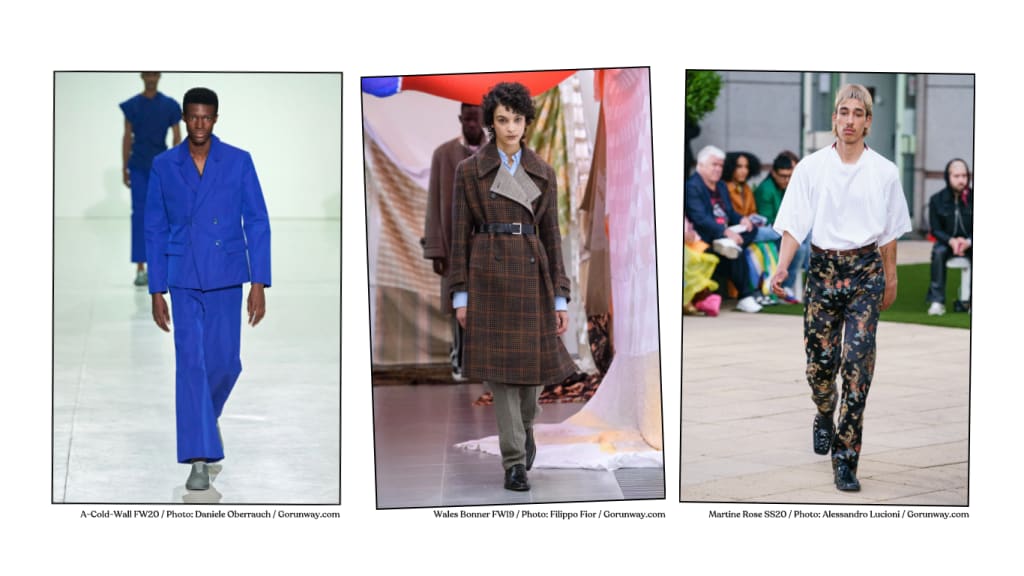 The fashion landscape is ever-changing, ebbing and flowing around the current trends and offering a response to the societal pressures that people face. So, it's appropriate that during these tumultuous times and with everything negative going on in the world, we should appreciate the achievements of people as a positive note. In light of the "Black lives Matter" movement, it's the time for black creatives to take the spotlight and ultimately pave the way for better representation for the whole industry. So, in this article, I'll divulge into a couple of my favourite black designers that should be or currently be on your radar.
A-Cold-Wall – Samuel Ross: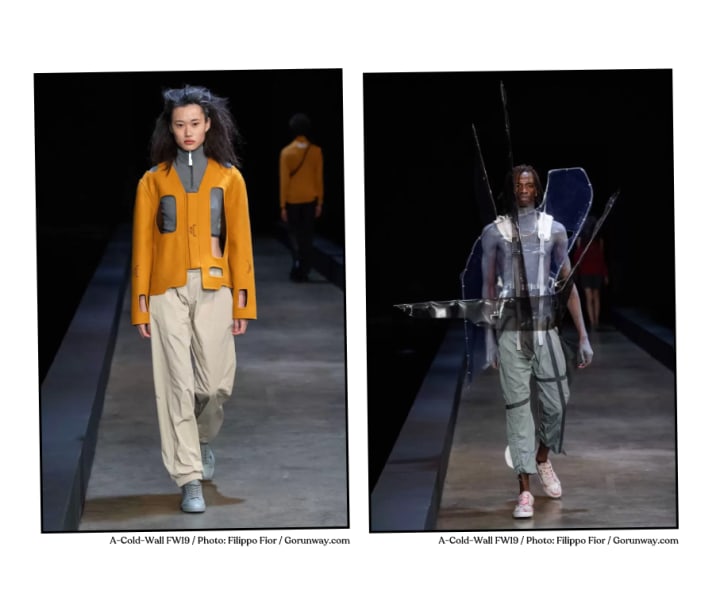 An emerging fashion designer from the heart of England, Samuel Ross has combined a vision of a utilitarian future and streetwear to produce something unique. The designers varied use of materials has allowed him to create visuals that are based on abstraction that sets him apart from the high fashion crowd. His humble beginnings of a graphic designer and then being picked up by Virgil Abloh as an intern cemented his journey into the fashion industry, with his experiences culminating into what is known as A-Cold-Wall. A-Cold-Wall was a response to the cultural blend of experiences and people within London and has then grown to be something greater ultimately becoming a representation of the modern youth.
My personal favourite runway he has done would be the AW19 Menswear collection. It's brighter than any of his other collections, with bold hues tinting the fabrics and materials. The construction also takes a turn with the experimental as he moves away from traditional silhouettes in favour of more abstract shapes, cut-outs and odd patterns make up most of the runway pieces with some even acting as centre pieces. The runway itself acted as a representation of the cultural problems at the time with immigration and the ambiguity with nationality being the underlying themes of the show. There's a certain commonality with Ross's show as his shows usually transcend fashion and enter the realm of experiential, and If we overlook the fashion the aim is clear as he wants to provide the younger generation with an escape from the ongoing commentary that is called life. ­ As of writing he has also responded to the current situation with the BLM movements and has offered his solidarity with the protestors and money in forms of grants towards black-owned businesses.
Wales Bonner: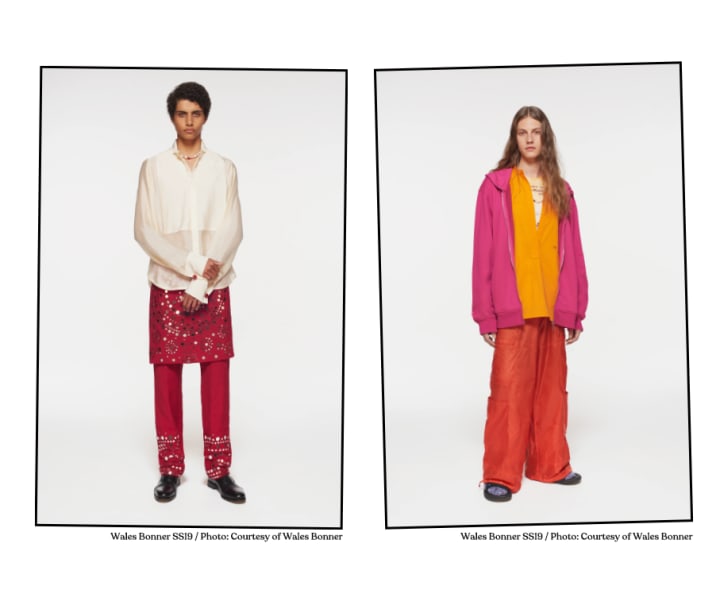 Another British fashion Designer, Grace Wales Bonner approached fashion with the central theme of race and gender with her English/ Jamaican heritage acting as the main inspiration. The exploration of European and African culture through the guise of traditional tailoring offers a refreshing perspective on an otherwise white-washed fashion industry. The cultural references towards black folklore would otherwise be lost to the general public but her use of specific patterns and African palette tells a story that guides onlookers towards her intended message. Winning a multitude of awards including the LVMH and L'Oréal Professionnel, she has made a name for herself in the fashion industry. And although this summary doesn't begin to delve into the abundant talent and research that's needed to make it this far, she has already become a voice for the black community and is definitely a force to be reckoned with.
My current favourite collection of hers is the SS19 menswear line which is an assortment of textured light fabrics based in a southeastern style and warmer hues that interplay with her tailoring to create this cultural hotspot of Indian inspired garments. The relaxed look of most of her pieces in this collection also hints at throwback of some sort as there are suits with activewear interspersed in between some looks. You can tell how much the idea of multiculturality plays a defining role in how she designs as many of her runways and collections have hints of ethnic diversity and coupled with her rising popularity, it looks like her future runways will explore greater representation than before.
Martine Rose: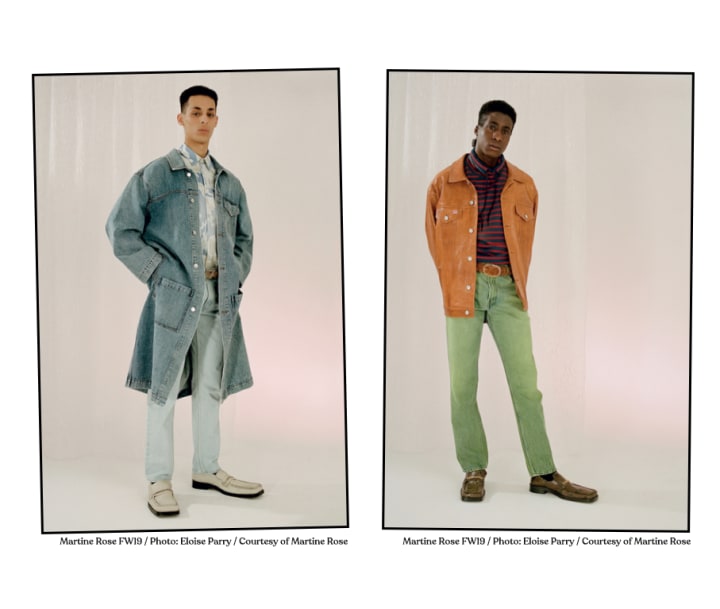 Prior to Bonner, there was another British/ Jamaican woman making waves in the fashion world. Martine Rose, a London based menswear designer has been creating garments as early as 2007 which garnered a large following and continued to do so until now. Being raised in the cultural epicentre of South London the experiences she faced growing up dictated her overall style and design when it comes to fashion. Her current SS20 collection focuses on said experiences such as reggae and other British subcultures during her early life, and visually it's very reminiscent, the exaggerated silhouettes and poorly applied wigs add to the trashy chic look of the 80s onwards. And although her clothes have some sort of humour around them, it is still based in reality with underlying political statements some ranging from subtle to obvious such as the clown motif and the title "Promising Britain". Her work is a response to the changing climate of Britain and how it affects our generation as a whole, and her belief of how our generation can overcome crisis.
The favourite collection of mine has to be the AW19 menswear line up where she simplified her process and focused on the top and bottom of a person. Clearly borrowing the oversized trend that seems to be still persistent in our culture, it almost feels nostalgic in the way they're cut but still refreshing enough to seem different from her other collections. You can see similarities with her AW14 line where the silhouettes are similar but small details like side button blazers and boxy shoulders just really remind me of the '80s. This could be just me wanting to experience the fashion landscape of the '80s but I do believe what she offers here in terms of cuts and colours attract me more. Her optimistic outlook can definitely be seen here, and I feel like the way she creates clothing is representative of how she wants us (the current generation) to see the future; together and united.
About the Creator
Graphic Design student from the UK, Beginner interest in fashion and looking to expand my knowledge on all things design.
Reader insights
Be the first to share your insights about this piece.
Add your insights