Best Suspenders for Women and How to Wear Them
Once you're sporting some of the best suspenders for women, you've got to find the best way to wear them with your style.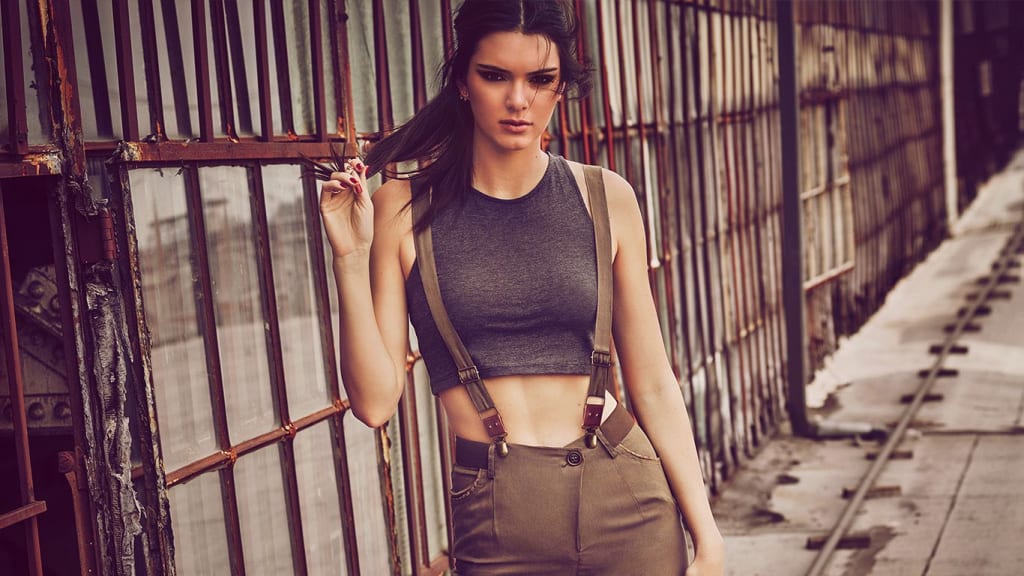 If you thought suspenders are fashion accessories strictly for men, I've got some very cute and sexy styles to open your eyes up to.
Now, the key to pulling off suspenders is absolutely what you wear them with. Not just anything will work. They can be a fantastic fashion accessory, but they are perhaps a bit harder to coordinate than other accessories. Regardless, the end result is well worth the effort.
I'm a big fan of this style, so I'm always on the hunt to find more of the best suspenders for women. It can be tricky sometimes, but with the right combinations, suspenders look great.
Pair Suspenders with a Skirt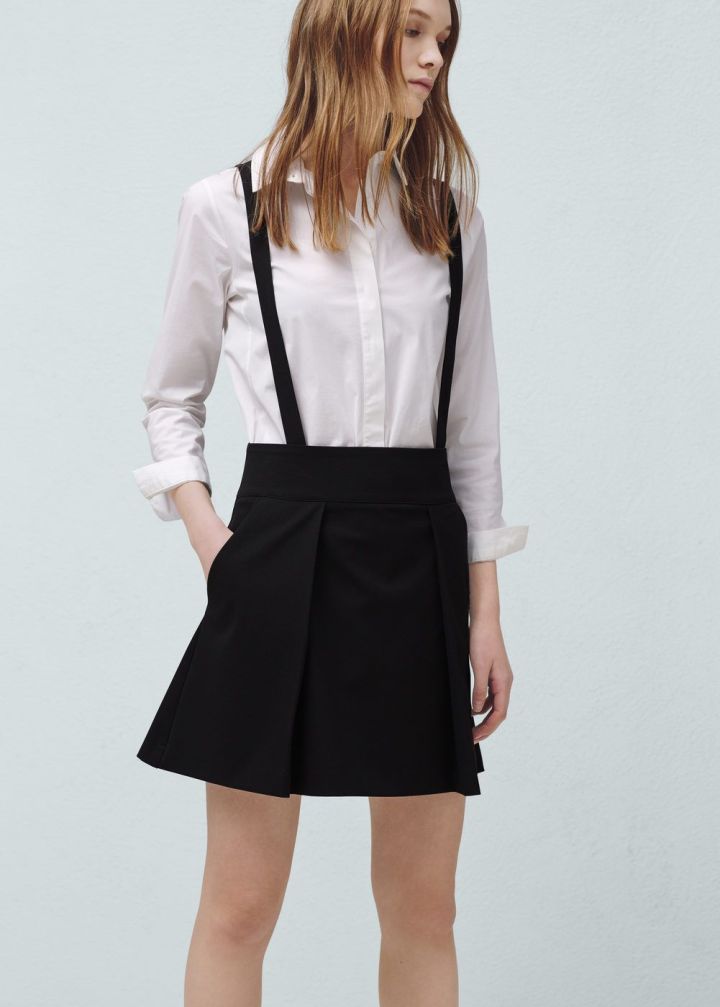 If you're uncertain of what color to choose when you're wearing suspenders, using a simple solid colored skirt and matching suspenders is a surefire option. If you want to start out by defaulting to black, it's a good color to choose since you can match it with any top you want. If you prefer longer skirts, don't despair; suspenders look great with short skirts, mid-length skirts, and even maxi skirts that reach your knees.
You can also make things easy for yourself and get a jumper that already has little suspenders attached to the skirt. This jumper has very skinny suspenders, giving the outfit a certain elegance.
If you want to get a color like this gorgeous red wine shade, you'll save yourself the trouble of trying to find suspenders in a color that matches the skirt. I'm generally running late in the morning, so an all-in-one job like this really makes me happy. It's hard to figure out the right fashion accessories to go with some outfits, but this one is simple enough that any bracelet or necklace will tie the outfit together remarkably.
If you're a fan of patterns, this is another combined job that will save you some time when it comes to mixing and matching. If you're the type of fashionista who still needs to get out the door in a reasonable amount of time to get to work on time, this is an easy option when it comes to owning the suspenders style. The pinstripes make it absolutely perfect to match with a solid shirt, and bam, you're business professional and ready to rock and roll.
Spiced Up Business Casual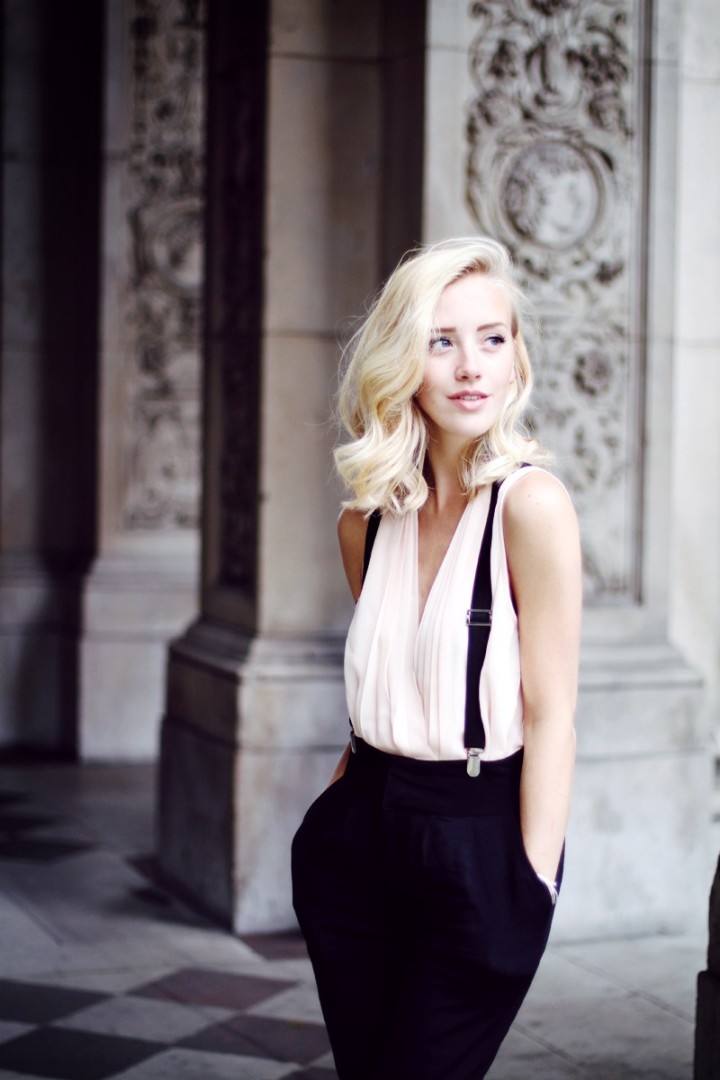 Business casual is hard sometimes. You want to look good, but you also have to look presentable at your next meeting. Plus, it always seems like, on the day you dress down a little, some high-level exec decides to spontaneously drop by the office.
If your typical office outfit is slacks and a button up shirt, you can add a pop to your business casual attire and wear suspenders that match your pants. If you're worried it won't look feminine enough for your style, add some high heels, perhaps a bracelet, and you should be good to go. Wearing suspenders with your work outfits is always a great option.
Something a little bit annoying; if you buy independent sets of suspenders and match it with your current wardrobe, you're probably going to have to browse the men's section at the store, or at least search for results in the men's section of the store's website.
Regardless, we're starting a trend here. So don't worry about that. The whole point of suspenders is having them be adjustable, so you shouldn't run into any problems making them fit and look great.
Here's perfect proof that suspenders are for men and women. For a little more professional goodness, these pants with ruffled suspenders are the perfect example of how women can own the suspenders look. This pair of pants has the suspenders attached, and the ruffled edge on them ensures that these aren't your average suspenders. It's so cute, it's absolutely one of the best suspenders for women.
Boys can wear floral prints and girls can wear suspenders. I know these also say men's, but c'mon, us girls know we can pull suspenders like these off perfectly. If you're still a little hesitant to mix suspenders into your wardrobe, choosing a more feminine print like this will make it a little easier. We live in a modern society, suspenders can be for men and women, especially with a pattern like this one. As far as fashion accessories go, this one is a win, but definitely pair it with solid colors.
Casual Suspender Styles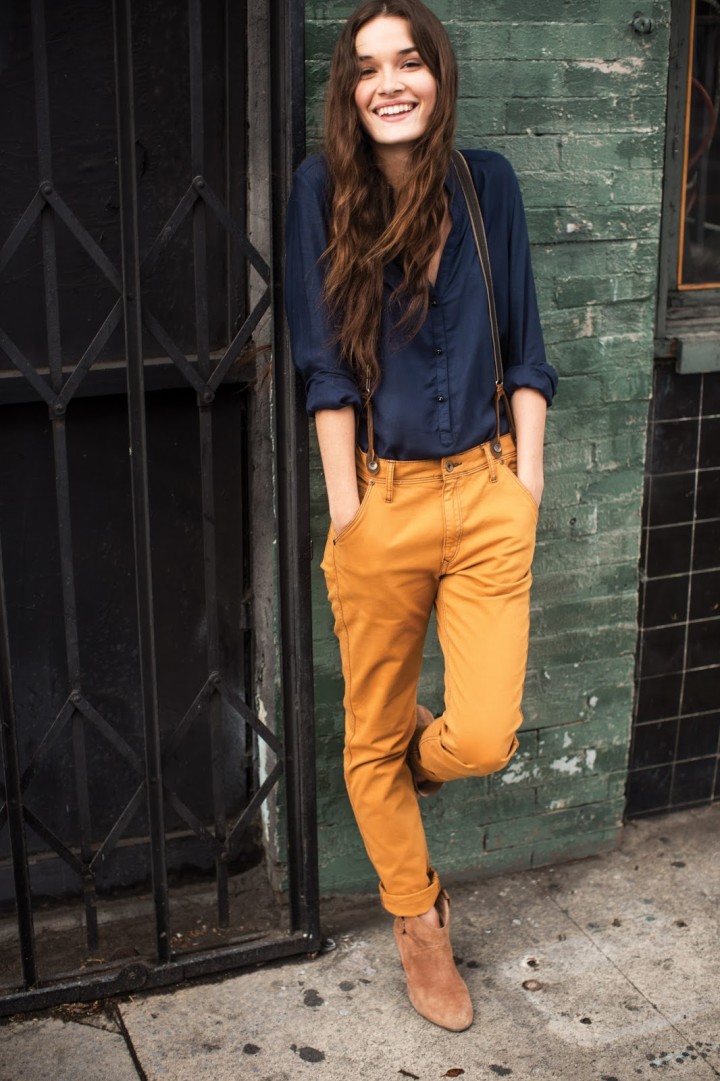 You can pair any kind of suspenders with a pair of baggy jeans and a comfortable sweater. If you're staying in or hanging out with friends, this is a fun way to keep things casual, but still look unique. Wearing an oversized sweater is key if you go for the baggy jeans look; sometimes, mixing form-fitting and loose can be a little weird. If you're a practitioner of the art of thrift-shopping, you can find cozy, loose-fitting clothes like this no problem.
Trust me, overalls can be fashion accessories. Stylish denim suspenders paired with jeans technically count as overalls, but only in the loosest definition of the word. No one is wearing this fashionable ensemble to ride a tractor in a field. Denim is practically a style for suspenders all on its own; denim suspenders and jeans are a match made in heaven. It has the unity to make suspenders look perfectly natural with the rest of your attire.
For a little more suspender awesomeness in the summer, grab a pair of shorts with suspenders. This is a fashion trend that isn't just limited to spring, fall, and winter. These shorts are actually great for summer, and the added suspenders won't make the outfit any warmer than regular shorts.
It's hard to find a lot of combined pieces like this one, but I appreciate Forever21's variety of options. Half the time, when I search for suspenders, more than half the fashion websites out there fail me and have no results at all. Forever21's prices are low enough that it makes it easy for their clothes to count as sustainable shopping.
Suspenders are incredibly adaptable. If you want to go for the tough girl look—one of my personal favorites, really—suspenders and cargo pants actually go great together. This style proves you can add a pop and still look like a badass. This particular pair as some gorgeous red stitching that really makes it stand out.
Red is actually my favorite color, so I have a deep, squishy, soft spot for this pair of pants. Wearing suspenders doesn't have to be scary, so grab a red top with these and be confident.
Both Straps Over One Shoulder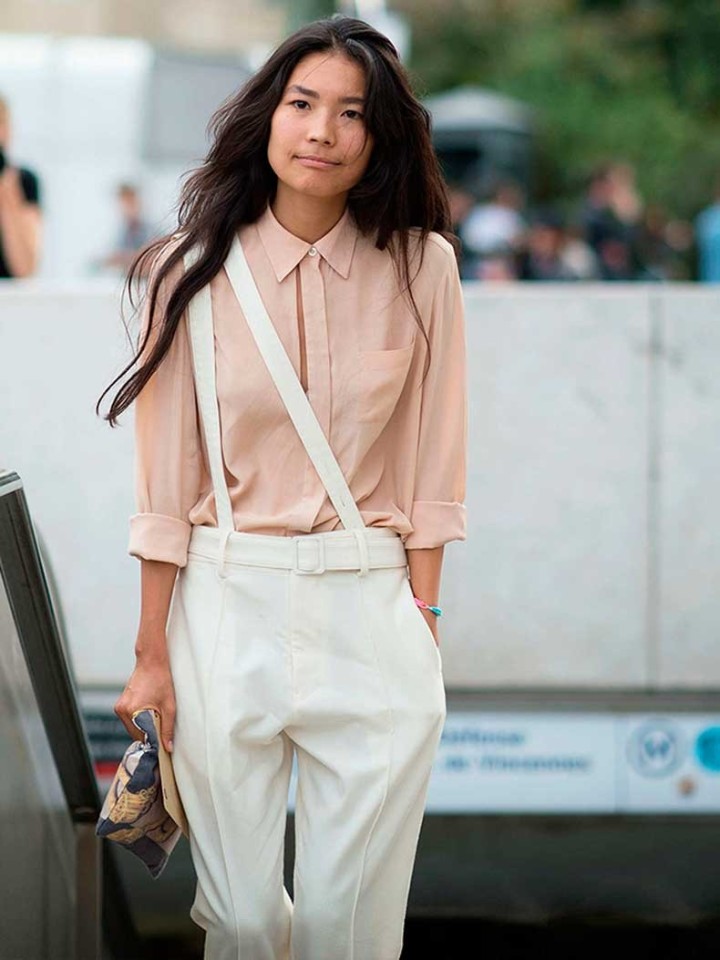 Here's a suspender style only for the most daring. This is very different, but you can still make it look good. Pull both suspender straps over one shoulder. You will, obviously, have to adjust them a little bit to make one side a bit longer than the other, but I personally think this style looks really nice with a professional blouse and pants. It's daring, so matching it with a classy look puts your outfit in perfect balance.
Here we go, fighting gender stereotypes again.
If you're trying the two-straps-over-one-shoulder style, or if you're just more on the petite side, you might want to get skinny suspenders. Some suspenders are made to be pretty thick, which may not go with every outfit, especially if you want your suspenders to be a little more muted. Thin suspenders like these harmonize well with a professional and a casual outfit. I'd probably give the bowtie in this set to my cat and try to get it on her collar, but getting youth-sized suspenders will absolutely make them thinner.
This piece is a slightly looser definition of the term suspender, but it still counts! Technically, suspenders don't need to have clips and adjustable backs. They can just be cute strings that you tie into little bows above your shoulders. With the right top, you could transform these into business casual attire, or simply wear them with a t-shirt to have a stylish weekend outfit.
If you want to wear one of the best suspenders for women, this outfit has got your back. But don't be afraid to be daring with your fashion choices! You shouldn't be afraid to try a new style with suspenders. If your closet is already too full, perhaps single out your older items and try selling them on Poshmark. Then you'll have ample room for cute outfits with suspenders!
women

Trish Gilmore
I'm a creative writer, blogger, and IT person from Charm City, Maryland. If you're not from around here, that means Baltimore. If you see someone in Fells Point pouring over a tiny Windows laptop that's a bit too old, you might just have spotted me.
See all posts by Trish Gilmore →