A 30-Piece, French-Inspired Capsule Wardrobe
Mix, match, and look chic.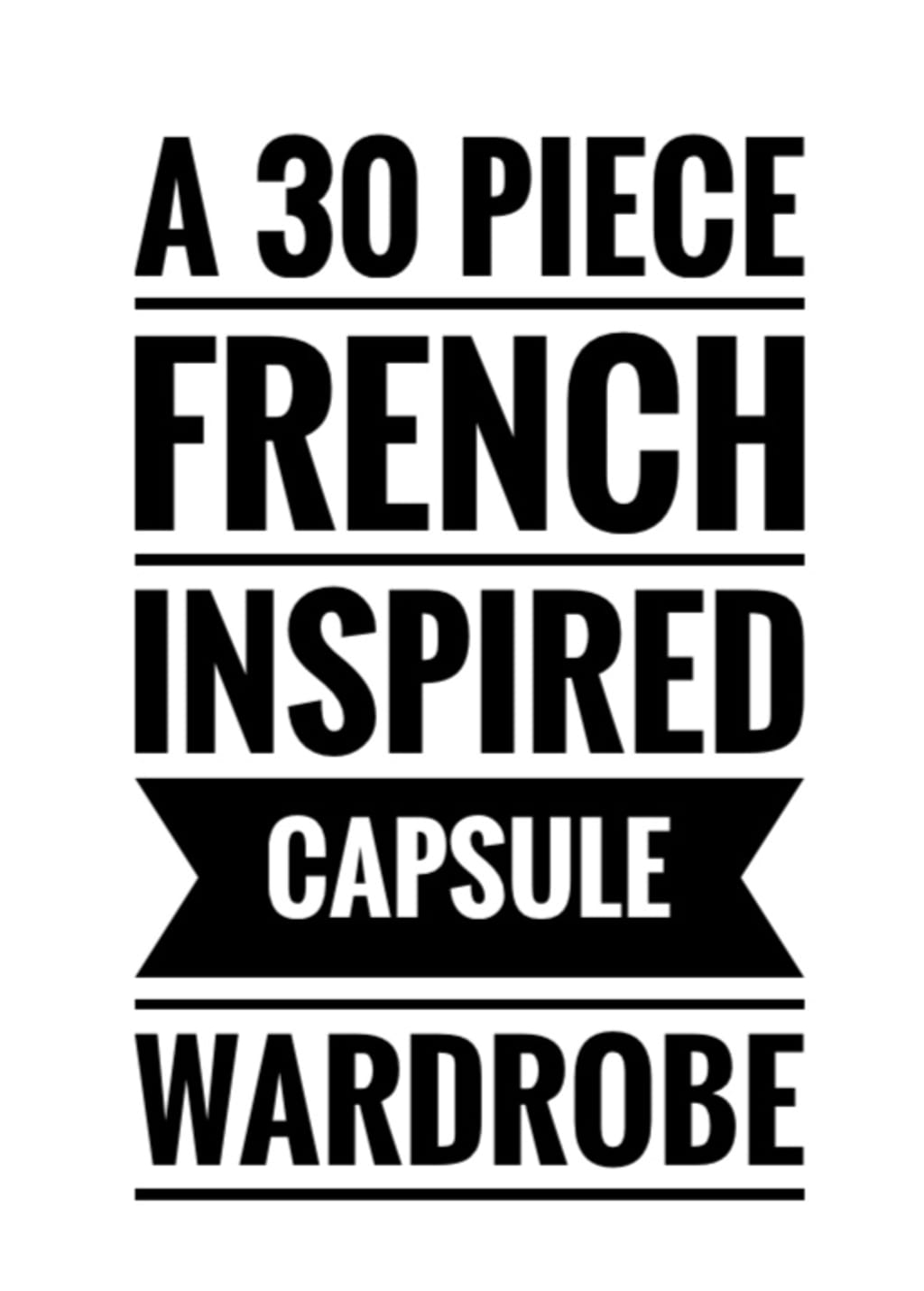 Is it just me or does the French look never get old? To me, it is the ultimate look, timeless and classic.
But how does a normal girl get this undone yet oh so put together look? Well, it's a mix of classic wardrobe essentials teamed up with some pretty accessories and that sexy red lip.
I have been perfecting and researching the French look for some years now. I devour books and articles on the subject, even when they basically all say the same thing. So I am going to share my capsule wardrobe with you today, so that you can mix, match, and look oh so chic.
Your Capsule Wardrobe Checklist
The French girls wardrobe is capsuled into items that she can mix and match easily for that "no effort" look. It is quality over quantity, always, and made up of basic and often timeless pieces.
Bottoms
Jeans: Black, dressed up or dressed down, they basically go with everything. Blue jeans, comfy and casual, again, can be dressed up or down, but generally not as dressy as the black version.
Skirts: Pair with a pretty top or go casual with a plain tee. Also good for the office!
Cigarette pants (black and beige): Dressy or casual, wear them with everything!
Tops
A white t-shirt: It goes with everything and it is super versatile. Need I say more?! Wear it with jeans and a diamond necklace…
A striped top: Wear it with jeans, shorts, skirts or cigarettes. Anything goes, and it will look chic and cool, especially in the countryside or by the sea.
A white shirt: Ahhhh, that beautiful white shirt. Suitable for the office or for a little seduction with the other half when the little person finally drops off. (Just undo a couple more buttons...)
Camisoles: Super easy and great for layering. You can get some really pretty ones with lace trims. Pair it with a cardigan slightly undone to show the lace! Parfait.
A pretty top: For those days when you just need a lift. Play it down with jeans or rock it up with a leather jacket.
Cardigans: Goes with camisoles, dresses, t-shirts, etc. Think layer, layer, layer!
Navy jumper: Super versatile and chic. Enough said.
Tux jacket: Because we love to add a bit of masculinity to the wardrobe.
Trench coat: The perfect lightweight coat for pretty much any occasion.
Leather jacket: To rock up an LBD.
Dresses
Black dress: Because every girl should own an LBD...
Casual dress: Because you should always feel pretty, feminine, and comfy. Plus you can just chuck it on a go without having to think about it.
Shoes
Ballet pumps: Simple, versatile, and comfy!
Ankle boots: For those days when there's a slight chill and ballets are a little too chilly. Wear them with jeans or dresses.
Sandals: Well, just because on those hot days does anything else need to exist?!
Heels: Date night calls for something a little sexy.
Long boots: To go with that warm coat on cold wintery days.
And penny loafers.
Extras
Swimwear: For when those snap worthy holiday occasions.
Nightwear: Have some standard pajamas for those comfy evenings when lounging is a must, but don't forget that sexy little slip-on those nights that the little ones sleep. At first, that really is the last thing on your mind, but as time passes, things will progress again. Trust me!
Accessories
A pretty square scarf: Tie around the neck or onto your bag.
Jewelry: Dainty chains, stacking rings, and a pair of hoop earrings… although not all at once!
Ladies handbag: For dressed up and working occasions.
A basket for the market and casual days.
A clutch for the evening.
Cross body bag for easy casual days.
Red lipstick: Apply liberally in the evening and simply coat on during the day for that bitten lip look.
Conclusion
A women's wardrobe is a very intimate thing. It tells you a lot about her and her style. So, ensure you don't lose yourself amidst the craziness of downscaling. At the end of the day, you still want your wardrobe to say "This is me," just the "This is me" in a more scaled down, simple, and less stressful kind of way. Take a little careful planning time now and save a lot of stressful time in the future. Time where you can sit down and relax with a coffee for instance... knowing full-well that you know what you're wearing and can achieve a great look in seconds rather than minutes!
A little note when shopping: When you are out shopping for new clothes, remember to think about what suits you and your body shape. Then think about the colour and whether that suits you. There is absolutely no point in having that gorgeous top if neither the colour or the shape of it suits your body. French girls know what suits them.
Same goes when you see an item in the sale. Yes, it might be designer and it might be half price, but if it isn't going to suit you, then you should spend that hard earned cash on something that will. Above all, you want to feel confident and comfortable in what you are wearing. That's how the French girls really look so good!