3D Clothing Technology Helps Fashion Brands Survive COVID-19 Crisis
3D clothing technology started to grow its presence at an eye-popping speed, as it enables fashion brands to work remotely and keep their business moving during the lockdown.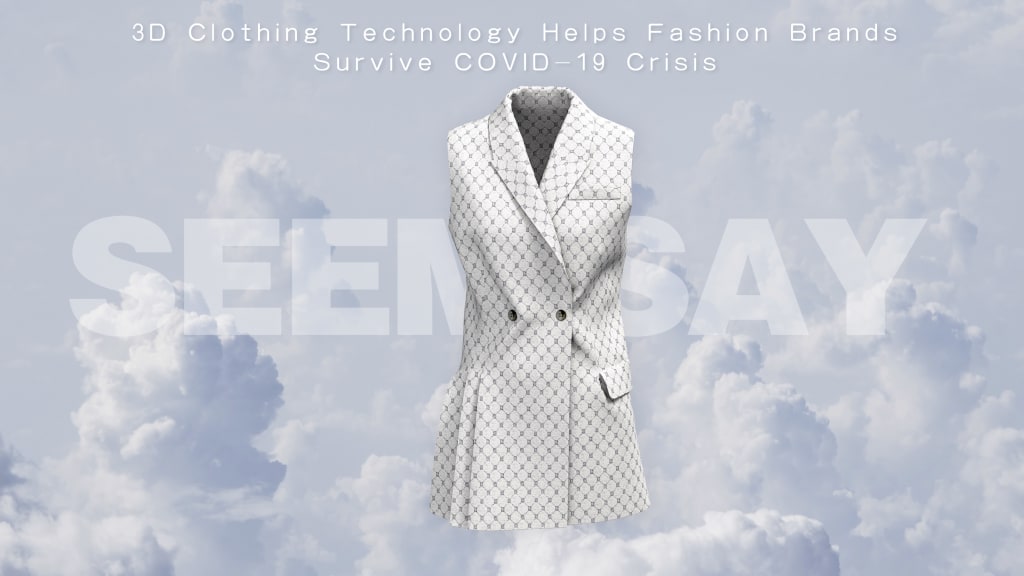 3D Clothing Tech Helps Fashion Brands Survive COVID-19 (3D Garment Created by Seemsay)
During the past few decades, the fashion industry has made great progress in material innovation, weaving technology improvement, sales model upgrade, etc. However, there is nearly no change in the way we develop products. When the COVID-19 pandemic hit the global fashion market and forced the whole world into lockdown, fashion brands, material suppliers and clothing manufacturers began to realize that the old way they ran their business in the past would no longer be feasible in the pandemic and post-pandemic era.
Some of the industry pioneers turned to advanced technologies for help. 3D clothing technology started to grow its presence at an eye-popping speed, as it enables fashion brands to work remotely and keep their business moving during the lockdown.
No Person-to-Person Contact
Owing to the social distancing policies imposed by governments, fashion companies were exploring innovative product development practice. How can designers develop a garment without physical samples? 3D clothing technology seems to be the optimal solution.
The old-fashioned product development process involves plenty of in-person meetings during the physical sample review and editing phase. Since it's hard for designers to get access to physical prototypes due to the shipment and transportation restrictions during the pandemic, product design teams needed to change its working practice. With 3D technology, designers can create digital garment with the fashion design software like Clo3D and Tuka3D, or transform their 2D fashion sketches into 3D models on the 3D digital clothing service platform like Seemsay. So, further changes, editing and modifications can all be made on the 3D virtual model, and designers and decision makers can see amendments and make decision in real time, instead of relying on physical patterns and garment samples. 3D fashion design eliminates the need of in-person meetings during the garment development process, and allows brands to continue their business while isolating at home.
How can brands purchase fabric without feeling its textures? This is a crucial question facing apparel companies as the industry adjusts to the "new normal" brought about by the COVID-19 pandemic. 3D technology might be the answer. Digital clothing technology assists apparel companies to fundamentally reshape their out-of-date supply sourcing models featured by long lead times and low agility.
In addition to providing a new fashion design method, 3D digital clothing technology is also a perfect base for establishing a comprehensive clothing solution platform, where fashion brands can manage and optimize their supply chains. One such platform is Seemsay, which provides fabric and trim supply information and compiles yellow pages of reliable clothing manufacturers. 3D clothing technology can create digital image of fabrics and trims, display their appearance and simulate their behaviors on human avatars. Through checking those digital fabric and trim assets, fashion brands can complete material sourcing online.
Cope with New Customer Behavior
Attributable to the COVID-19 epidemic, there is great shifts in people's clothing consumption habits. People are becoming more comfortable staying at home, searching the Internet to keep up with news and trends, and browsing clothes on e-Commerce platforms. 3D clothing technology has brought new opportunities to fashion brands to upgrade their merchandising models.
Without exaggeration, consumers hardly differentiate between the 3D image of digital garments and photos of real physical clothes. With the help of digital clothing technology, customers can purchase garments based on the digital images. Moreover, 3D modelling technique have created a brand new business model: virtual fitting room, where consumers can try digital clothes virtually to check the size and fit. 3D technology transformed the way brands showcase their products, change the online shopping experience, and thus to cater for consumers' new shopping habits and reduce return rate.
* * *
Adoption of 3D clothing technology has surged since the pandemic hit the fashion industry. Some industry leaders, especially luxury brands, has recognized the great potential of 3D clothing technology long before it drew the public's attention, and started to use such advanced technology in their business activities. It was only a matter of time before 3D technology became widely used by fashion brands. The COVID-19 pandemic happened to accelerate its adoption because it supports remote work and collaboration. Although a majority of apparel companies adopted 3D fashion design due to their needs of digital workarounds to maintain business activities during the pandemic, they will definitely find out that the benefits of 3D clothing technology is far more than that. Leveraging this opportunity, it's time for fashion brands to digitize their workflow and improve their business model.
industry
About the author
We talk about fashion, styles, 3D fashion design and other things related to the apparel and clothing industry. We operates an easy-to-use 3D digital clothing industry service platform.
Reader insights
Be the first to share your insights about this piece.
Add your insights