11 Cute and Funky Socks You Can Buy On Amazon
The rising trend of bold patterns and catchy puns takes boring socks and makes them extraordinary. We found the funniest​ and most funky socks you can buy on Amazon!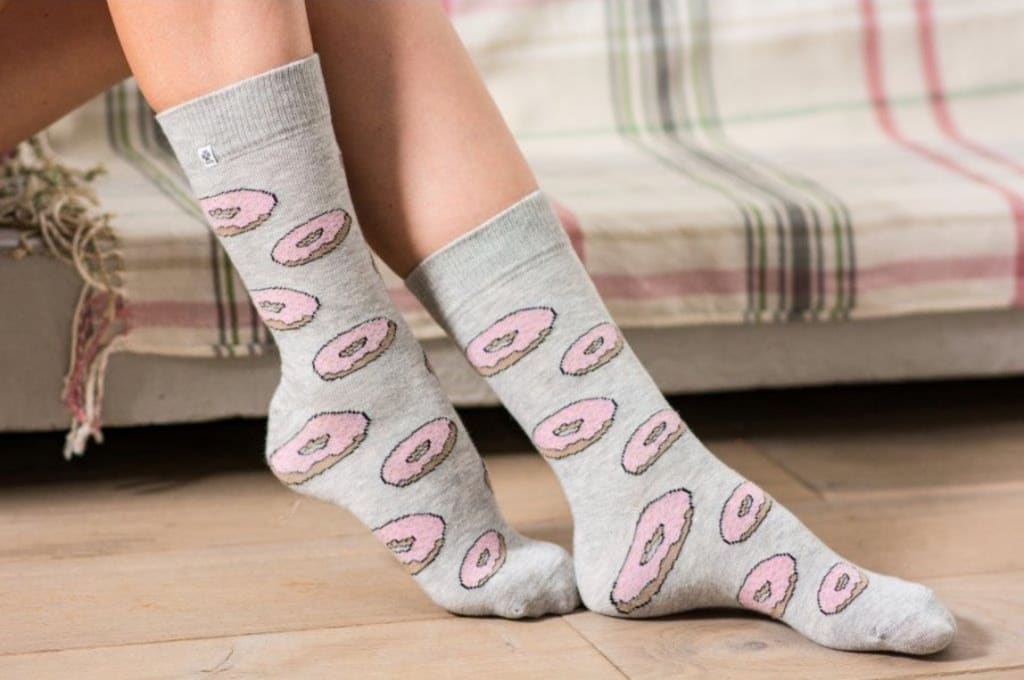 Are socks the new secret art of expression?
Maybe, or maybe not, we like to not take socks that seriously. Instead, we rock fun and funky socks all year round to keep the days interesting. Replace boring, white ankle socks with cute designs to keep a spring in your step all day long!
Best of all, these are all funky socks you can buy on Amazon. No need to go to the mall and wait in long lines with other holiday shoppers, all of these socks will be shipped right to your door.
We love these socks almost as much as we love Bob Ross. You can have these at your door in two days with Amazon Prime! The socks are a standard crew height and ideal for men who need a little pop in their day. Across the United States, people have Bob Ross fever and socks aren't safe. The unique pattern is set within combed cotton.
These socks fit men's shoe sizes 6 to 12 which covers most men. Take on these bold, bright, and unique socks with any outfit. You can match your cleverly chosen socks from Amazon with a suit to surprise your coworkers or relatives. Or you can wear them with casual jeans for an extra skip in your step throughout the day.
What's better than showing your inner cat lady or gifting cat inspired products to the budding cat lady in your family? Cat socks, that's what! You can't not love these socks, they're a pack of five socks that are as comfy as they are fun to wear. These cute socks showcase little cat paw prints all other the foot, and across the ankle have a cat face with uplifted ears!
They come in a "free size" which is similar to one-size-fits-all but has a little more structure. Ideally, these socks are comfortable for any lady wearing a United States women's size 5 to 8 shoe. They are a cotton acrylic blend and stretch easily but rebound into their original shape. These are the kinds of socks that can be shown off as a sign you understand your personal style. Pair these with similar pastels and cute dresses and you'll be ready for the catwalk.
Available in seven different colors, with thick and comfortable cotton and polyester these socks make the perfect gift for the Grey's Anatomy fan in your life. Or you can show off your love for the show with them. Prop your feet up and let everyone know that you're not to be bothered while your show is on!
We love these socks because they are fun to wear and very comfortable. There is only one size, but the thick cotton layers don't stretch over too well, so it's best for women's shoe sizes 5 to 9. They are great feeling socks which work just fine throughout the night, especially if you like to moisturize and lock the lotion in place.
Get these "Please Do Not Disturb, Grey's Anatomy is On" socks on Amazon! We highly recommend these fun socks for cozy nights spent in front of the TV.
These food-themed, unisex baby socks are fabulous for any little one who is learning to walk. They're even more fun for the parents to watch! These little socks showcase burgers and fries with plush rattles in plushie burgers and fry boxes. Fun socks for babies need to have some level of comfort and safety. These premium, stay on socks are cotton, crew cut, and have a gentle elastic so there won't be any stress lines after you remove them. For safety, there's a thick non-slip grip on the bottom to help those who are new to walking avoid slipping.
These funky socks on Amazon have caught a ton of attention! If burgers and fries aren't your things, the seller Waddle has varieties including donuts, eggs and toast, ice cream cones, and pineapples. Get your baby into the fun socks craze that's taking over the internet.
Long dress socks are typically boring with argyle print and only available in shades of navy, burgundy, and grey. Ditch the boring colors and boring patterns for fun socks that will be the talk of your office. These funky socks on Amazon are comfortable and come in a wide variety of designs.
Have you thought that your socks needed some class, such as a panda in a suit and tie? Perhaps you want to keep your penguin spirit animal close by throughout the day. Well, these power socks are in various shades of navy and bright blue but get a pop with animal and food prints.
Cotton Idea has five variety packs that range from flamingo and sloth patterns to succulents and chiles.
The gift everyone needs in the morning, a cup of coffee. Yet sometimes, others in the house forget how much we appreciate the gesture. Remind them by putting your feet up so they can see the reminder, "if you can read this, bring me coffee."
These funky socks you can buy on Amazon are the perfect gift for anyone and are an inexpensive stocking stuffer. The funny slogan is sure to grab attention and any coffee-lover can't deny that the constant need for a cup of joe. They're also a great way to fill in the gaps of a Secret Santa budget because everyone loves novelty socks!
You (or your gift recipient) will enjoy these great feeling socks as the material is a premium combed cotton. They are hilarious novelty socks that you can pair with any outfit, and they'll initially look like plain white socks.
Have you ever secretly wished you were a dog? Maybe you hoped you could turn into a tiger or a zebra? Now you can start your transformation from the toes up with these crew cut animal paw socks. These are some funky socks that are great for men or women.
The socks fit the United States sizes 5 to 11 with a polyester, spandex, and cotton blend which stretches easily. The socks make your feet look just like animal paws or hooves. They're perfect for animal cosplay, Halloween, Christmas or just for wearing around the house. Get ready for fun socks to take over your household because everyone will expect a pair depicting their favorite animal.
These socks are cute, funny, and best of all, comfortable. These thick cotton blend socks have fun prints highlighting your favorite animals or anime characters. There are 40 different print combinations to choose from, but each set has the same high-quality cotton blend and crew cut height.
Funky socks from Amazon must be the most exciting part of your outfit, and these socks can take the sleek jeans and sweater look into something fun as soon as you take off your shoes! As you're looking to get the best jeans for your body, consider rolling your pant legs up to tastefully show off some stylish socks. Wear comfortable socks that turn your heels into chubby penguins, whiskered cats, or your favorite Sailor Moon character.
The wide range of fun prints and the fact that they're super comfortable making them a highly recommended item!
Sometimes, your socks don't get enough attention because they're always stuck in your shoes. Free your socks and expose your fun prints with these knee-high options. You can wear green cats and dapper bears that have fun ears poking up over the top of the sock line!
Funky socks are always about variety, and with these eight different prints, you'll find something that you'll love all year around. The sizes are reasonable for small girls and young adults because the cotton and spandex blend stretches easily. The material breathes easily making these socks temperate and fun to wear!
These great feeling socks will keep your calves warm and your feet happy as you slide around tile or wood floors. If you're feeling daring, you can even try to style these socks with heels.
Crazy Dog T-Shirts has been making fun t-shirts for a while, but now they're making fun socks too. With a 70 percent to 30 percent blend of cotton and spandex, these are comfortable socks! Unlike other fun socks, these funky socks you can buy on Amazon feature designs from every angle.
These "Fitness Taco" socks have designs of cheddar cheese shreds, meat chunks, lettuce, and tortilla pieces making them fun all around. You can wear them on Cinco De Mayo, at a community taco festival or any other day of the year to show your love for the cuisine!
This four pack of socks features colorful cartoon images of everything from food to corgis. These socks fit best for women who wear a shoe size in the United States size 6 to 12 range. Because they're 80 percent cotton and 17 percent polyamide, they don't stretch as much as you might expect from a novelty sock.
These comfortable socks hold up well through many wash cycles, are excellent to pair with boots, low cut sneakers, and even dress shoes. The women's power sock that you never knew you needed is fun, colorful, and comfy. Celebrate crazy sock day, or showcase your love for Christmas cookie patterned footwear with these funky socks you can buy on Amazon.