10 Witchy Fashion Items for Your Favorite Goth Chick
Channel your inner Wednesday Addams or Stevie Nicks with these epic, witchy fashion items.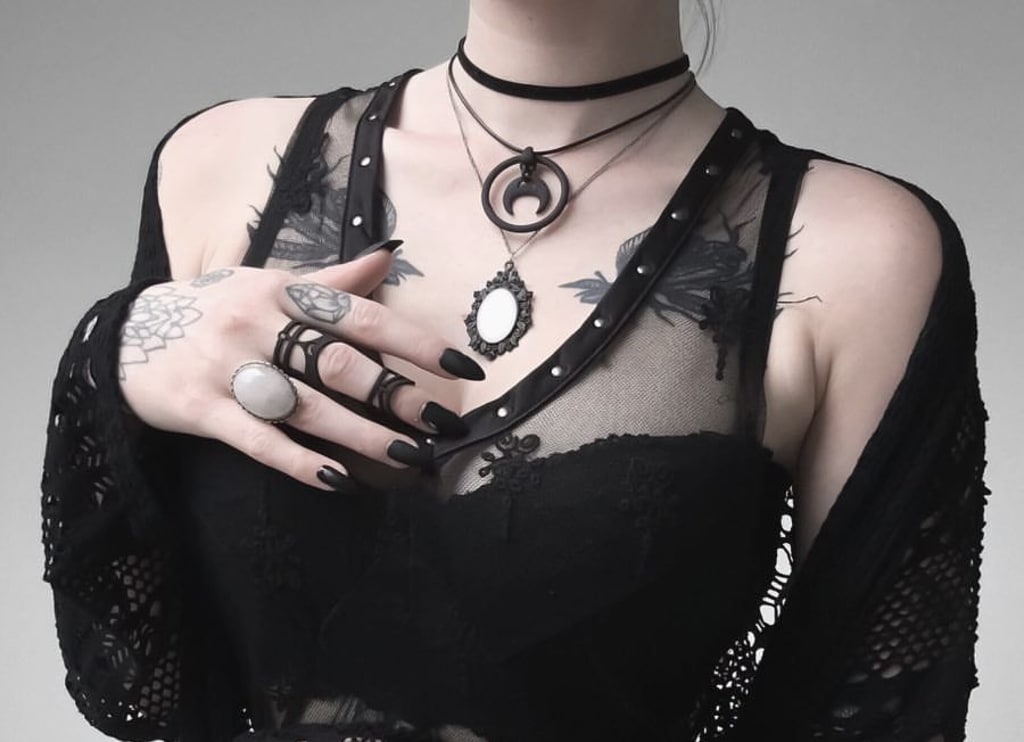 Ladies and gentlemen, I have a confession to make. This is not a witch hunt; I am, in fact, a witch. As a pagan, I have a penchant for loving all things dealing with the occult—including witchy fashion.
Recently, I found out that there's a new trend among goths and other alternative fashion lovers. You see, they have started to incorporate pagan elements into clothing design, and I'm totally thrilled about it!
After having so many people call paganism "weird" or "creepy," I can't even describe how nice it is to see people change their tune. This is a perfect example of fashion changing the way people see things for the better.
Witch-themed fashion is helping people see paganism in a better light, at least, from what I've noticed. It's a trend that grabs attention, gets compliments, and remains sexy as ever.
If you love the darker side of life or just want to flaunt some witchy vibes, give these cool things I found a look-see.
I don't know any goth (or witch, for that matter) who didn't love Wednesday Addams growing up. She was the coolest girl in fiction, and not just because of her deadpan humor.
Her style, her quiet badassery, and her overall epic personality made her a favorite among goth kids and TV fanatics alike. Major witch-oriented fashion designer Disturbia brought her outfit to life in a sleek dress that is fit for adults.
Believe it or not, witchy fashion actually caught on in Asia, too. The visual kei crowd has been using witch-themed elements in their outfits for years. (I mean, heck, have you seen Mana or the Gothic and Lolita Bible? Point proven.)
One of the hotter designers in these circles is Lai Meng Five Cats, a company known for surprisingly conservative, yet gothically styled dresses and coats. This midi dress brings witchy fashion to the next level.
So far, a lot of the little fashion finds I've shown you are relatively subtle. That can't be said for this bat tank top from Pretty Attitude. This tank top features a beautiful "old world-style" illustration of a bat about to strike, underneath a triple moon.
As far as summer wear goes, you won't find anything that's more eye-catching than this. The question is, are you bold enough to wear this shirt in broad daylight? Or will you save this for an underground show?
In many religions, some ceremonies revere the sun. Many Wiccan ceremonies, on the other hand, tend to focus on the moon, associating it with feminine energy. It's nice to see the moon get its own, right?
A lot of the aesthetics you'll see in "witchcore" fashion will try to involve some of the symbols of paganism in clothing. This cool, gothic tunic dress is a subtle nod to moonlit ceremonies, all while providing a cute and mysterious vibe to one of the hardest styles to pull off.
Did you know that the upside down pentagram really wasn't initially a satanic symbol? It's true. When pointed upwards, a pentagram initially meant to look into the divine above us. When pointed downwards, it was a grounding symbol.
Of course, people who see you wearing this won't know that. However, that doesn't mean this nifty sweater won't be able to help you educate others so they stop the anti-pagan paranoia. It also just looks totally badass, so if you're into edgy, winter streetwear, you really can't go wrong with this.
Do you feel like an alien among humans, or like you just don't belong? LookHUMAN has a designer who totally understood that and created witchy fashion gear that lets you express yourself in a cool, unique way.
This tank top has a faux tarot card design featuring an alien, three moons, and a title of "The Loner." I want to believe that I'm not the only one who thinks this is amazingly awesome.
Right...?
Coffin bags are about as much of a goth tradition as looking morose, listening to Morrissey, and wearing Demonias. Considering that witchcore tends to borrow a lot from great books about goth fashion, it's not surprising that coffin symbolism tends to run alongside moons and cats.
The witchy fashionista in your life will love this bag. It stores plenty of goods, looks badass, and will really pull a club outfit together in a pinch.
If there's one animal witches are known for being fond of, it's black cats. Admittedly, I am a fan of felines, too. I have one cat that I raised from the time he was a kitten. I grew up with pet cats all the time as kid. Cats are my homies!
That said, you don't have to be a goth or a witch to find this gorgeous sterling silver necklace beautiful. It features a cat joyfully playing with a crescent moon. Isn't it pretty?
Acrylic jewelry is just so cool, and it's so woefully under-appreciated. Unlike metal jewelry, you don't have to do too much cleaning to maintain acrylic so that it maintains a like-new condition. Thankfully for the witch in your life, a lot of cool gothic streetwear accessories come in acrylic.
This beautiful pair of acrylic, laser-cut earrings show the moon as a beautiful woman. Once again, it celebrates the divine feminine of the night—witch style!
What witchy woman wouldn't want to know how to dress like a goth without looking terrible? Well, one of the mainstays of looking good in the fashion world is accessorizing, so why not wear a pendant that combines several iconic symbols of paganism together? This badass amulet has the moon, crystals, a black cat, a classic Celtic-themed circle, and, not to mention, a pentagram, too.
If you have a friend who's into witchy fashion, or you just want to get something that impresses their inner Pagan, this necklace will be their new favorite accessory.
trends
About the author
Ossiana Tepfenhart is a writer based out of New Jersey. This is her work account. She loves gifts and tips, so if you like something, tip her!
Reader insights
Be the first to share your insights about this piece.
Add your insights